What is the Best Car to Rent in Iceland? A Complete Guide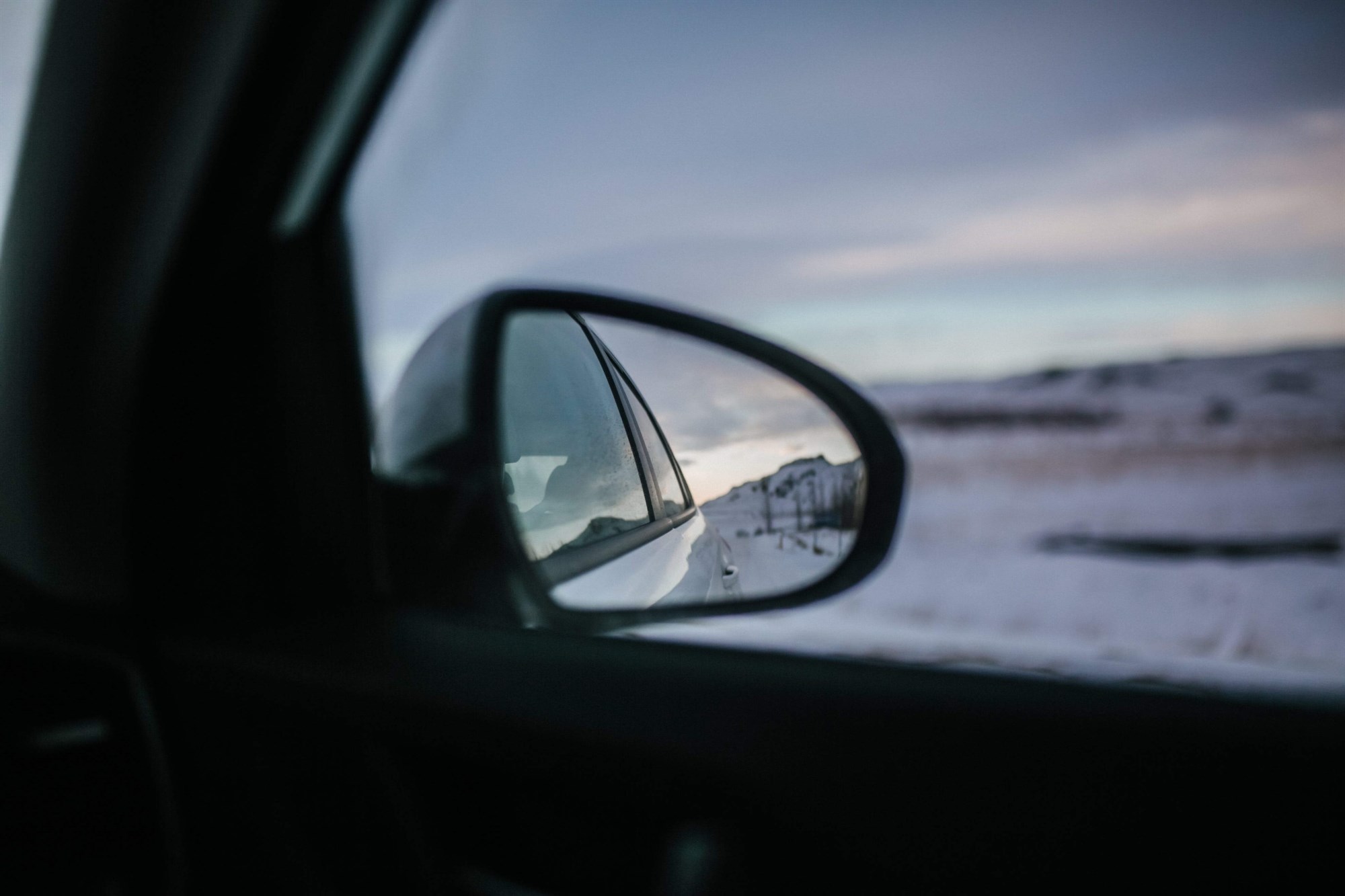 Renting a car while on vacation has long been a popular choice among many thanks to the enhanced freedom on offer. However, picking the right rental car can be challenging, particularly in countries where conditions vary based on your chosen activities and time of year.
If you plan on visiting Iceland and are unsure which is the best rental car for you, there are various factors to first consider. To help you find the right fit for your adventure, we've explained why you should choose each type of car below.
Want to skip to a specific section in this article? Use the jump links below:
Should I rent a car in Iceland?
In simple terms, yes, you absolutely should. Renting a car in Iceland is a great way of getting around and exploring the country on your own terms and easily organizing your own itinerary. It is especially convenient for easily getting to Reykjavik directly from Keflavik International Airport, avoiding the costly bus service.
In a country with no trains, expensive public transport, and many remote areas only accessible by road, having your own rental car will give you the freedom, comfort and flexibility to explore wherever you want, at your own pace.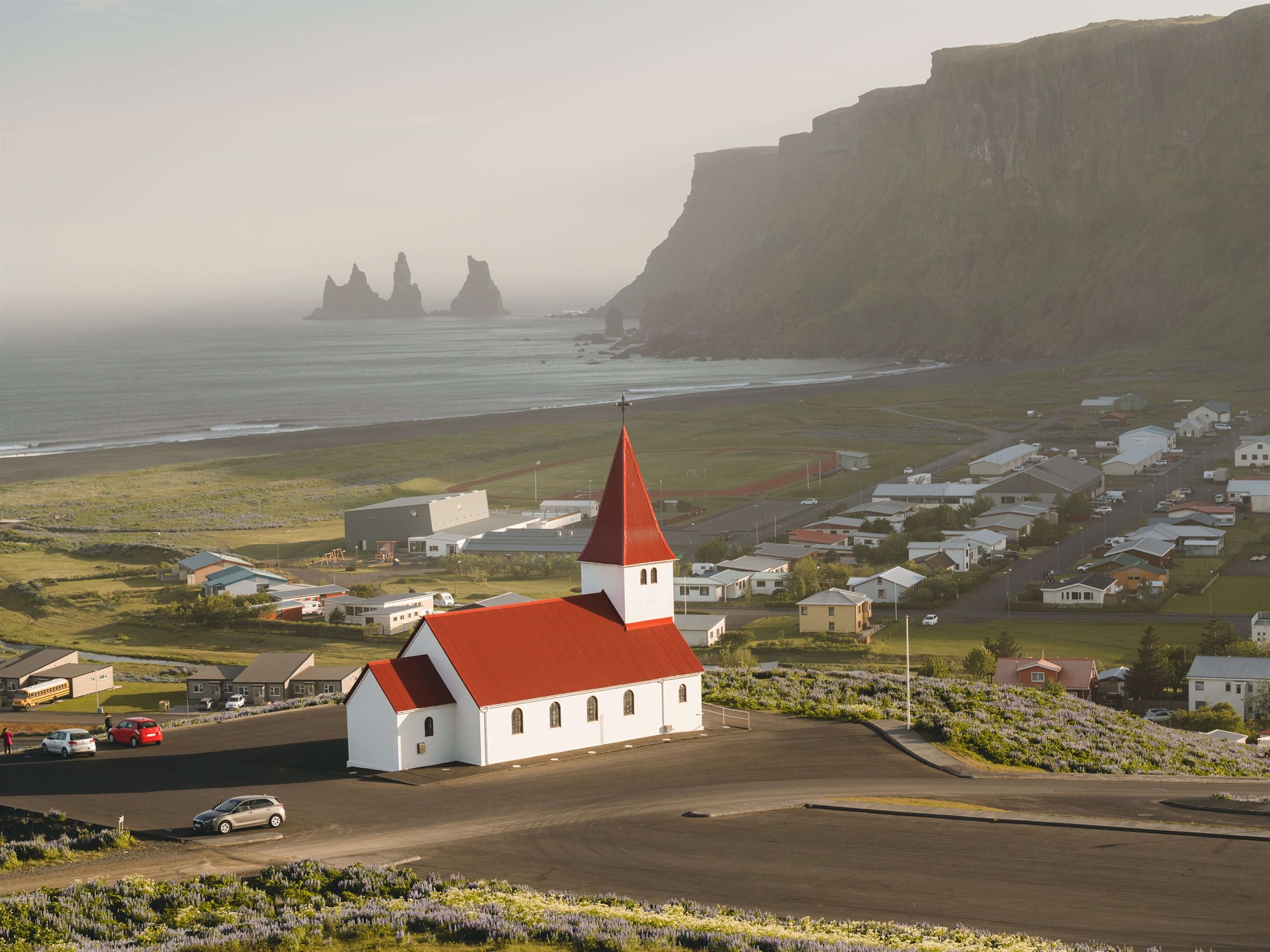 Key factors to consider when choosing a rental car for Iceland
Generally speaking, conditions in Iceland are fairly consistent year-round, but there are a range of elements to consider when exploring the country in a rental car. Much like you would when choosing your personal car, you'll need to consider generic factors such as required seating and storage as well as your budget.
You may also want to consider:
The different types of roads in Iceland
In Iceland, you'll find three different types of roads: paved roads, gravel roads and F-roads.
The country's most popular routes (such as the Golden Circle) are predominantly made up of paved surfaces and are suitable for all vehicle types. Those planning on staying on paved roads may find the likes of small or medium cars appealing depending on their preferences.
Some of the country's attractions may require the use of a gravel road which, while a bit more adventurous than the paved roads, are well-marked and easy to follow. All vehicles can travel on gravel roads, so there's no requirement to have a car that's capable off-road. However, you should consider how often you'll be heading on this type of road and choose your vehicle accordingly - those using gravel roads frequently may prefer a larger vehicle to reduce the risk of damage.
Finally, there are Iceland's wild F-roads, which only open for short periods during the summer. These highland roads are classified as potentially dangerous but unlock the heart of Iceland for those who want to explore the country's lesser-visited wonders. To use the F-road system you'll need to ensure your car is equipped with four-wheel drive technology to reduce the risk of accidents.
Iceland's climate, weather & seasons
Situated just south of the Arctic Circle, many would assume that Iceland is hit with sub-zero temperatures, non-stop snowfall and icy conditions all year round, but the country's climate is much more diverse than initially expected.
During the winter months, you can expect these sub-arctic conditions so it's worthwhile ensuring your rental car is equipped to deal with this challenge. 4x4s are particularly popular during this time of year due to their enhanced ability on trickier terrain. That being said, Iceland's main roads are well-maintained and cleared during winter, so a 4x4 may not be absolutely necessary if you plan on staying in urban areas of the country. It's worth ensuring that your rental car comes equipped with studded winter tyres anyway, just in case you're ever caught out in harsh conditions.
In the summer, conditions are much milder and prove to be popular for activities such as visiting Iceland's hidden gems, hiking and whale watching. During this time of year, there are fewer challenges to think about, giving you a more flexible choice of cars to choose from. The heavy majority of Iceland's F-Roads will be open too, so if you plan on heading off the country's main road system, ensure your vehicle is up for the task. Again, a car that's capable off-road will be your best choice, such as a 4x4.
General factors to consider
Aside from Iceland's unique conditions, there are various general factors you'll want to consider, including:
Size of the vehicle: Ensure that any rental car you consider offers enough space for all passengers as well as their luggage. Squeezing your equipment in is never a pleasant experience, particularly if you're traveling long distances regularly.
Powertrain type: Most rental companies will offer different types of engines (or powertrains). Traditionally powered petrol and diesel engines are popular thanks to their familiarity, but electric cars are more eco-friendly and cheaper to run. You will need to consider charging times if opting for an electric vehicle, though.
Budget: Larger vehicles are more practical and are suitable for trickier situations but will typically come at a premium compared to smaller vehicles. Consider your budget and select a vehicle that can do everything you need it to.
Technology and refinement: Equipped for the modern age, most rental cars offer a wide variety of advanced technology to help out while out on the road. It's worth considering whether you'd like features such as satellite navigation and heated seats and finding vehicles based on those preferences.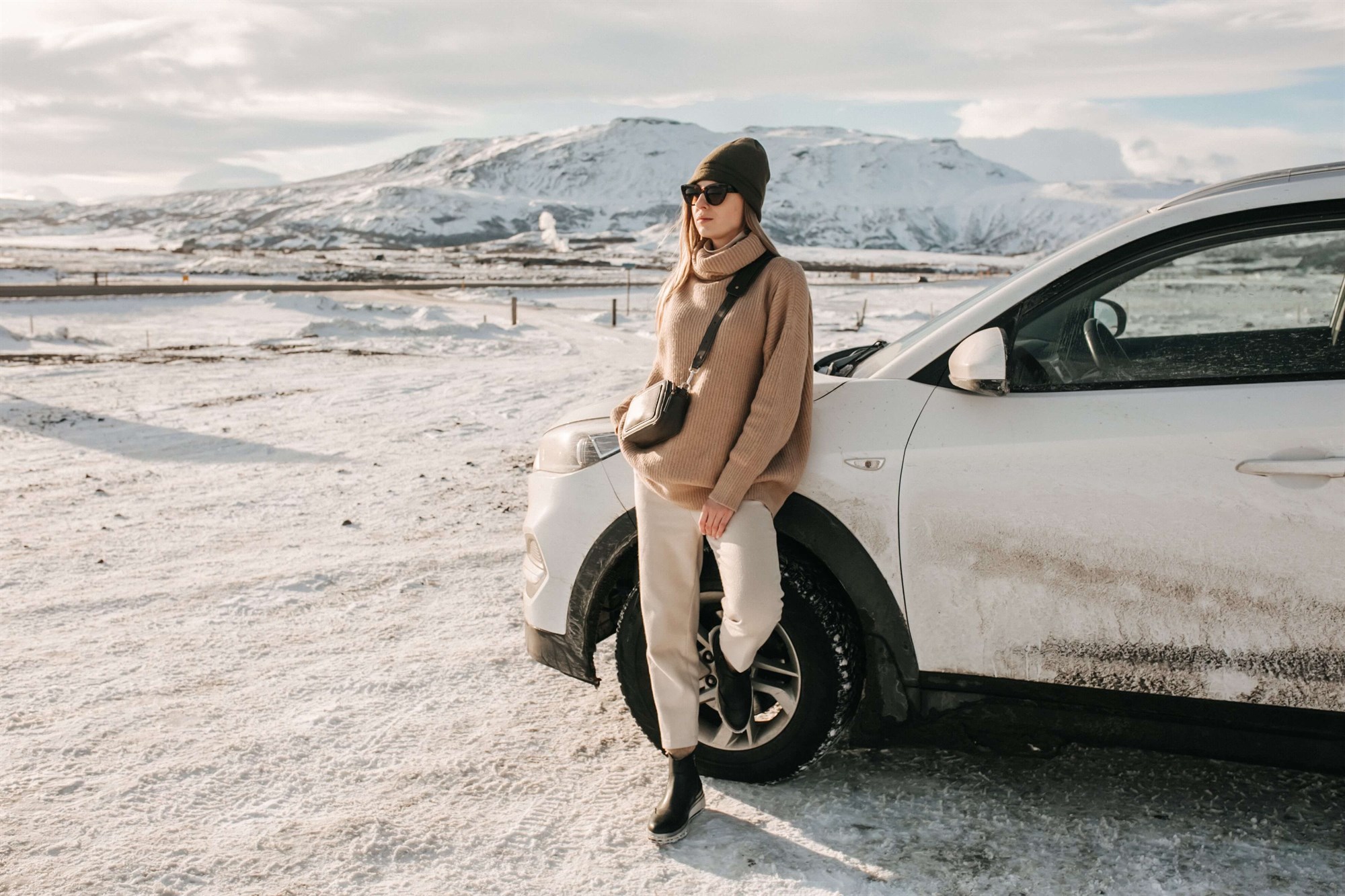 The different types of rental cars available in Iceland
The best car rental companies in Iceland will offer a varied fleet to cater for a wide range of needs and preferences. You can typically expect to find:
Small & Medium cars
Best for couples or small groups of friends/family that plan on staying in urban areas or on paved roads.
Small and medium cars include the likes of city cars, hatchbacks and estates and are a popular choice amongst couples and small groups of friends.
Lower to the ground, these vehicles aren't typically at home on tougher terrain and are unsuitable for F-roads. However, they are very well-suited to urban life in cities such as Reykjavik and are suitable for short stints on gravel roads when required. That being said, there are some small or medium SUVs available that are equipped with 4x4 technology, making them suitable for F-roads.
The most popular small or medium cars include the likes of the Toyota Aygo city car, Tesla Model 3 and Kia Ceed wagon.
Large cars & SUVs
Best for families that require more space or explorers looking to use a mixture of paved and gravel roads.
The most common Large cars you'll come across will be SUVs such as the Kia Sorento and Toyota Highlander.
Often offering more luggage space and seating for up to seven, these vehicles are popular amongst those looking to have a mixed adventure, exploring both urban and rural areas of Iceland.
A wide variety of large vehicles comes with four-wheel drive technology too, making them suitable for F-roads. However, it's worthwhile double-checking whether your chosen vehicle is approved for this terrain with the rental company.
4x4s
Best for individuals, couples and groups planning on exploring Iceland's trickier F-road system.
Most 4x4 vehicles will look similar to your typical SUV but will come equipped with four-wheel drive technology and a more rugged nature to ensure they're a match for tough conditions and terrain. In fact, 4x4s are one of the most popular vehicle types to rent in Iceland thanks to this ability, allowing visitors to explore the country with complete freedom.
The most popular 4x4s include the likes of the Land Rover Defender and Toyota Hilux.
Campers
Best for individuals and couples looking to explore the country's natural wonders and sleep under the night sky.
Campers prove to be a particularly popular choice for those visiting Iceland thanks to their flexibility, allowing you to find a campsite and relax in the wilderness.
Traditional van-like campers have been popular for a while but in recent times cars with rooftop tents (such as the Dacia Duster) have seen a surge in popularity. Wild camping is not permitted in Iceland, so unfortunately you cannot pitch up anywhere, but there are plenty of campsites that have spaces available for camper vans around the country.
If you plan on hiring a camper while in Iceland, it's worthwhile considering whether you have suitable equipment such as sleeping bags and cooking equipment. Some car rental companies will offer equipment rental too, if required.
Minivans
Best for large groups of family or friends looking to explore the country's main road and gravel road system in comfort.
With a van-like look, minivans and passenger vans are a great choice if you need a lot of space for multiple people. Most minivans offer seating for up to nine people, making them popular amongst larger groups of travelers.
While some minivans come equipped with four-wheel drive technology, most rental companies don't permit this vehicle type to travel on F-roads due to the dangers involved. If you plan on exploring the areas unlocked by F-roads, then you may want to consider splitting your party up into two 4x4 cars that are suitable for this challenge.
The most popular minivans include the Volkswagen Caravelle and Mercedes-Benz Vito.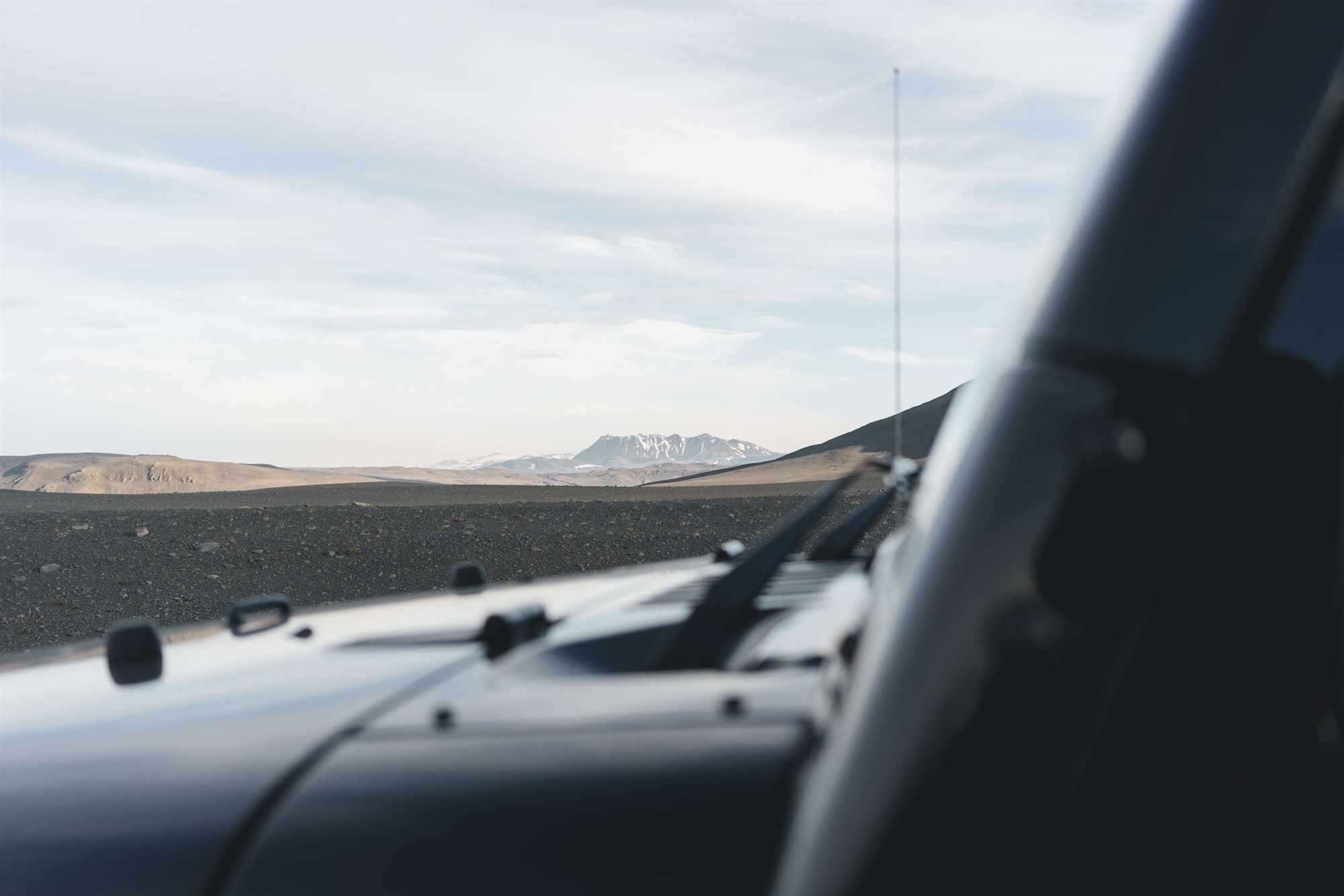 Tips for renting a car in Iceland
Before you go ahead and book a rental car for your trip to Iceland, there are some factors to consider: 
Rental company policies: Double-check any policies provided by the rental company to ensure the vehicle is suitable for your needs and that you're eligible to drive it. For example, most rental companies won't allow you to hire a car if you're under the age of 20, while larger vehicles may have further restrictions applied.
Select the right insurance: There's nothing worse than being hit with a bill at the end of your journey due to damage that has occurred. However, most rental car companies will offer additional insurance policies to cover you from certain incidents and reduce the premiums of a claim.
Book in advance: Planning your trip and rental car ahead of time allows you to visit the country with minimal stress and can help to save money. It also ensures that you're able to get the exact vehicle you want instead of having to make do with the closest alternative you can find.
Read company reviews: There are various rental companies to choose from when visiting Iceland, but how do you know which is the best? One way to do so is by taking a look at the rental company's reviews to see whether others recommend them. This way, you can be sure to avoid companies that follow unethical practices.
Consider the location: Most visitors to Iceland will want to rent a car from Keflavik International Airport as soon as they arrive, but if you want to rent a car from a less popular area of Iceland or would like to have the vehicle dropped off at your hotel, then it's worth considering this in advance. Some rental companies don't offer pick-up/drop-off services either (unlike us!), so you'll also need to work out how you're going to get to their office if this is the case.
If you'd like further information, we've provided in-depth advice in our comprehensive car rental guide.
Tips for driving a car in Iceland
If you've ever driven in Europe then you should be pretty well set to drive in Iceland as the fundamentals don't change. However, there are various factors you'll need to familiarize yourself with before getting behind the wheel.
Read up on local laws: There are a few unique rules of the road when driving in Iceland so it's important to review guidance and ensure you follow them to stay safe. This includes using headlights at all times of the day and sticking to speed limits depending on which type of road you're driving on.
Regularly monitor weather forecasts: With its wild nature, conditions in Iceland are known to be quick-changing, so it's worth keeping up-to-date with weather forecasts when exploring to ensure you're well prepared for anything that may come.
Take your ID everywhere: When driving in Iceland, you'll need to ensure that you have your ID with you at all times. Your normal driving license will suffice, so you can keep your passport somewhere safe, but a police officer will request to see some sort of ID to ensure you're legally driving the vehicle if you're ever stopped.
Plan your route in advance: With various road types to consider, you should plan your route in advance and familiarize yourself with what's to come. Ensure there are enough rest stops integrated into your plans and double-check that there are no tolls or entrance fees you'll need to pay.
Prepare contact numbers: In the event of an accident or emergency, you should have emergency contact details written down to call for help if required. 112 is the general number for emergency services, but you may also want to consider including numbers for recovery or breakdown services if not provided by your rental car company.
Explore Iceland with Lotus Car Rental
As one of the most popular forms of transport when visiting Iceland, renting a car can unlock further freedom and allow you to experience your adventure as planned.
At Lotus Car Rental, we have a wide range of rental cars available to cater for various needs and preferences. We also offer a pick-up/drop-off service to help you get behind the wheel of your car and have no limit on how far you can travel.