Reykjavík's Districts Explored: Where to Eat and Stay and What to Do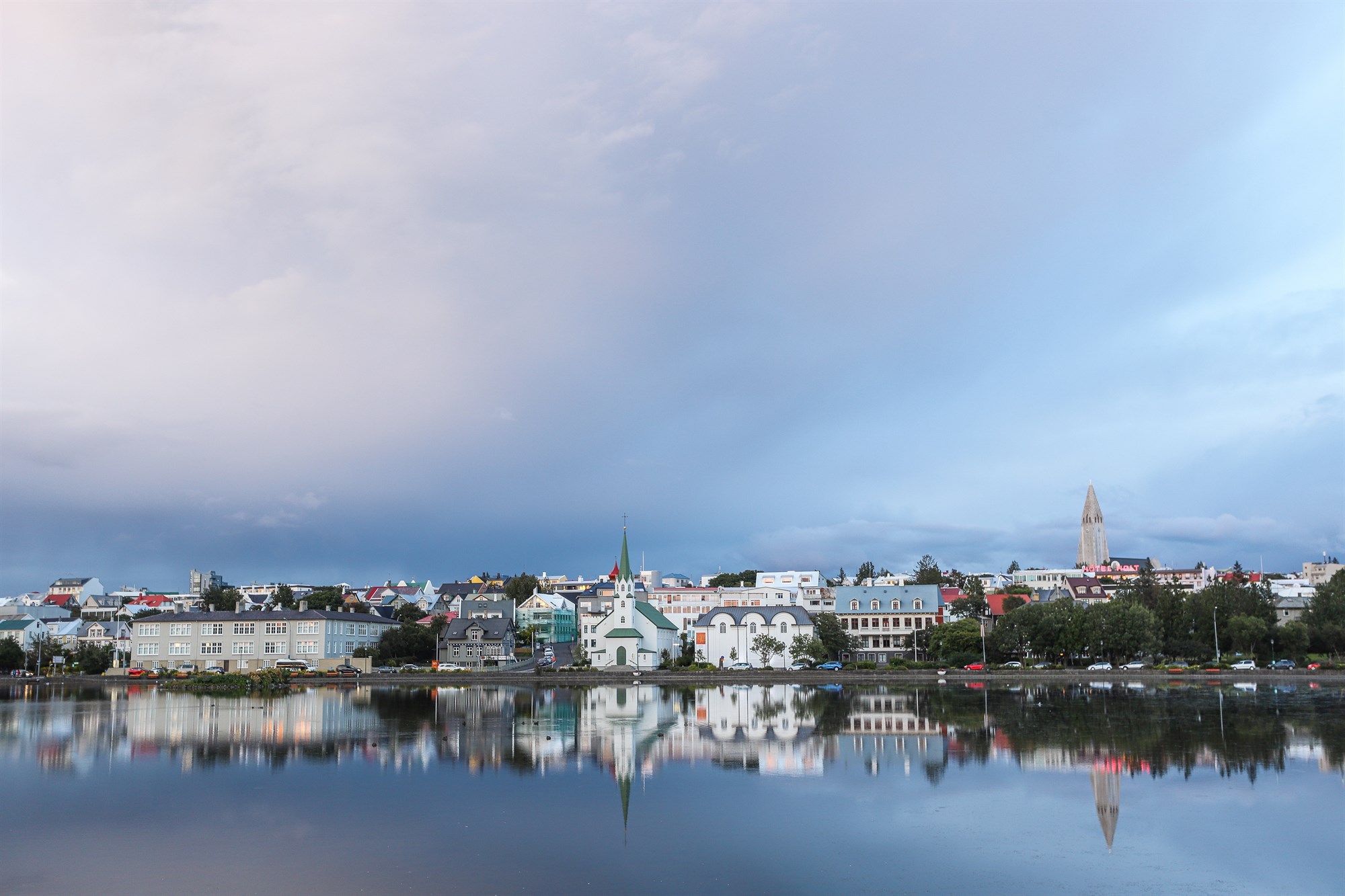 A photo of the skyline of Reykjavik from the water
You'll no doubt want to visit the entire island during your visit to Iceland, but we absolutely recommend soaking up the culture and atmosphere of the capital city Reykjavik. Since you'll be landing at Reykjavik airport either way, why not plan a few days to explore everything Reykjavik has to offer. 
There are 10 unique districts spread throughout the capital itself, each with their own style and reasons to visit. We've brought the highlights of the most popular districts - Vesturbær, Miðborg & Hlíðar - and discuss the places to eat at, stay in and see while you visit.
About the Capital Reykjavik
As the capital of Iceland, Reykjavik is home to a large portion of the entire country. Of the approximate 365,000 natives across Iceland, there are roughly 131,000 living in Reykjavik - that's around one-third of the entire population located in the capital. For this reason, it has the greatest level of infrastructure and places to stay and eat throughout Iceland. Furthermore, it's regarded as one of the greenest and safest cities in all the world, so you'll be sure to have a fantastic time.
Vesturbær District
One of the most sought after residential districts in Iceland (with the relevant prices to match), Vesturbær - also known as West Town - has historically been a largely real estate-focused area. Recently, however, the harbor area has seen an increase in tourist and commercial activity since it's revival. The neighbourhood has become one of the trendiest places to be in all of Reykjavik, with a host of boutique shops, eateries and coffee shops rising up around the centrally-located district.
Things to see in Vesturbær
If you're spending a bit of time in West Town, you'll want to check out the following.
This huge water complex has everything you could want for a splash. Steam rooms, saunas, hot tubs and geothermally-heated swimming pools are all here if you fancy a swim. It's a local favourite for a reason! 
A once in a lifetime experience that you'll struggle to find anywhere else in the world, take to the seas and witness the majesty of these gentle giants. Whales are typically an elusive creature, but you'll see them up close in this exhilarating activity.
Places to stay in Vesturbær
There are a number of fantastic places to stay in West Town, Iceland, and you'll be sure to find something that suits your budget. We've selected a few recommended options below. 
For anyone who is looking for affordable accommodation situated in a prime location, Blue House B&B is a great option. Located right near the waterfront, you'll have access to incredible views from the comfort of your room. 
Full spa suites, exquisite rooms and all the amenities you could want, this luxury hotel is designed with an Art Deco influence and is brimming with character. This is an ideal choice for those seeking a romantic getaway vacation. 
Places to eat in Vesturbær
There are a range of incredible restaurants to try in Vesturbær. We've picked a few favourites that offer something a little different. 
From classic breakfasts to get your day started right, all the way to evening meals, Kaffihús Vesturbæjar offers something for everyone. 
For those looking for a fine dining experience, Kopar delivers. Situated on the waterfront, Kopar is the perfect choice for a romantic evening or intimate dinner. 
Quick, easy and incredibly popular in West Town, Lamb Street Food is a low-key meal that you'll absolutely love. 
Miðborg District (City Center) 
Miðborg is one of the most frequented locations in Reykjavik for tourists, particularly due to the bustling nightlife scene and a range of tourist hotspots. Also known as 101 due to it's postcode, it borders on Vesturbær and is likely to be one of the locations you'll spend the majority of your time in Reykjavik. 
Things to see in Miðborg
If you're spending a bit of time in Miðborg, 101, you'll want to check out the following.
If you're interested in the heritage and culture of Iceland, look no further. With exhibitions showcasing Iceland all the way back to it's Viking origin and over 2,000 artefacts found across the country, it's an amazing way to learn more about this Nordic nation. 
Constructed in 1986 over a 41 year period, this Lutherian (Church of Iceland) parish church is an architectural masterpiece. It was named after poet and clergyman Hallgrímur Pétursson, and the building can be seen from all over the city, measuring nearly 75 metres in height. 
One of the most remarkable landmarks in all of Reykjavik, Harpa stands as a significant cultural hub for all of Iceland. Consider catching one of the many incredible events available, such as the Iceland Symphony Orchestra, or even visit for a tour and meal. 
Although you might not think to visit during the winter, this pristine beach is an amazing place to spend some time during the summer. The unique lagoon uses geothermal heating to increase the temperature above sea level, and there are even hot tubs and a steam bath. 
Places to stay in Miðborg
Miðborg is a great place to stay as you'll be so close to the many amazing shops, bars and nightclubs. There's an absolutely huge selection of hotels and places to stay for a night or two, so we've picked a few that fit the budgets of any visitor. 
While this is unlikely to be the most Icelandic of hotels you could stay in, the Canopy by Hilton is undeniably luxurious. In keeping with the Hilton brand across the world, you'll have a second-to-none experience during your stay. 
A more affordable option for those on a budget, the Hótel Klettur is nevertheless a stunning choice to get some rest and relaxation after a long day in Reykjavik. 
Another 4-star hotel with all the amenities to ensure a pleasant stay, the KVOSIN even has apartment suites available for rent, should you have a larger family or simply want a bigger space to claim as basecamp for your holiday.
Places to eat in Miðborg
Miðborg has so many amazing restaurants and eateries that it could warrant an entire guide itself! You'll be spoilt for choice as you explore the city center, whether it's for breakfast, lunch or evening meals. 
This trendy eatery is an affordable way to enjoy a quick bite in the evening, making it perfect for those on an action-packed day looking for a break. It's highly reviewed and is a local favourite. 
A high-end luxury dining experience, Kol Restaurant should be seen as much an experience as a meal. They also make incredible cocktails for anyone looking for a slightly boozier evening. 
Another option for fine dining in Miðborg, the Old Iceland Restaurant is the perfect backdrop for a cosy evening filled with fantastic food. It leans towards more traditional Icelandic cuisine, so you can experience a taste of Iceland here. 
Hlíðar District 
While much of Hlíðar is mostly known as a residential area, there are some interesting and unique attractions to see, as well as a dedicated commercial section. There are three smaller neighbourhoods in Hlíðar - Hlíðar, Háteigshverfi, and Öskjuhlíðarhverfi - and Hlíðar has a large proportion of outdoor greenery compared to the rest of Reykjavik. Addresses in Hlíðar share the 105 postcode. 
Things to see in Hlíðar
If you're spending a bit of time in Hlíðar, you'll want to check out the following.
Full of art and sculptures from prominent Icelandic artists and creatives, the Reykjavik Art Museum is a fantastic way to spend an afternoon. There's also a cafe and gift shop to pick something lasting up to remember your visit. 
Another of the amazing outdoor areas for you to visit, this huge hill was used during World War II as a key area for bunker production. Atop the hill is Perlan, an incredible landmark building that is used as a planetarium and cultural hotspot. 
Places to stay in Hlíðar
If you're looking to stay in Hlíðar, 105, you'll want to check out the following.
This 4-star hotel is designed with a bohemian and maximalist approach to decor, offering a really unique vibe compared to many other hotels. This is part of a larger chain of hotels across Iceland, so you can always find another Guldsmeden hotel if you fancy staying elsewhere in Reykjavik.
Another 4-star hotel that offers a more traditional experience, the Grand Hotel Reykjavik has a large number of rooms and amenities for you to enjoy. There's even a high-class dining experience and full spa suite to really relax you after a long day. 
For anyone seeking a budget-conscious place to bed down for the night, the offbeat Hlemmur Square could be a great choice. Hostel space is available for this 1930's building-turned-hotel and there's even a craft bar for those looking for a drink. 
Places to eat in Hlíðar
If you're getting hungry while checking out Hlíðar, 105, you'll want to check out the following.
Voted as part of the best 2020 bar food destinations in Reykjavik, Iceland, KRÖST is a must. A fully-stocked bar and casual atmosphere set the tone for a perfect evening of laughs and good food. 
Voted as one of Reykjavik's 19 essential restaurants to visit, Skál! Is another casual eatery that has loads of praise for it's incredible food and incredible prices. We couldn't leave it off the list!
Laugardalur District 
Laugardalur is one of the main hubs for all outdoor activity in Iceland, from sporting events at the Laugardalsvöllur stadium to zoo experiences and outdoor hot tubs. There's even hiking trails and a range of green spaces to enjoy. For anyone looking to get away from the hustle and bustle for an afternoon, Laugardalur has everything you need.
Things to see in Laugardalur
If you're spending a bit of time in Laugardalur, you'll want to check out the following.
Built in 1961 on the 175th anniversary of the city, the Reykjavík Botanic Garden is an amazing experience, with guided tours across the 5 hectare space showcasing the greenery and wildlife that inhabits the garden. Many of the 5,000 plants are labelled to educate and inform, making it a real sensory treat for all ages. 
Housing many species native to Iceland, as well as a collection of more exotic animals, this zoo is a great family trip for a day out. Explore the wildlife of Iceland - reindeer, arctic foxes, harbour seals, and more - and make use of the on-site play facilities for any young ones visiting. 
Places to stay in Laugardalur
If you're looking to stay in Laugardalur, you'll want to check out the following.
Everything you could expect from a 4-star hotel experience, the Hilton brand is highly regarded for a number of reasons. You'll be sure to enjoy your stay in premium accommodation and comfort. 
This 3-star hotel is located near a number of excellent hotspots, including the main shopping strip of Laugardalur, as well as the Harpa Concert Hall in the Miðborg district. An ideal choice for two travellers. 
Another in the Kea Hotels chain, the Storm Hotel is a modern 3-star hotel with 93 rooms. It is located directly between the main district and Laugardalur, making it an ideal choice for visits to both. 
Places to eat in Laugardalur
While there are a number of amazing eateries in Laugardalur, we've picked a couple of our top choices. Give them a try after an outdoor-filled day! 
This Japanese Teppanyaki restaurant is a stylish and casual locale for an evening meal. If you're looking to spend an evening, 
A great spot for anyone looking to grab a slice, Blackbox Pizza is a great choice. They have everything from the classic pepperoni to outlandish creations topped with apples and mayo! Maybe go safe if you're unsure whether apples go on pizza. 
Breiðholt & Árbær Districts 
Breiðholt is among the largest of districts in Reykjavik, sporting a population of approximately 20,000. As it is located outside of walking distance to the centre of the city, we recommend visiting if there's something you're really keen to check out. Árbær borders on Breiðholt and is renowned for its greenery and natural surroundings. As they're relatively close to one another, you can visit both with relative ease. 
Things to see in Breiðholt & Árbær
If you're planning to make the trip over to Breiðholt or Árbær, here are some of the landmarks and locations we'd recommend paying a visit.
The Elliðaár river can be found on the border of both districts, running all the way down to the Elliðavatn lake. It is one of the main green recreational areas, sporting numer biking and hiking trails, along with additional facilities for use. Elliðaár runs through the centre of the Árbær district. 
This massive near-8,000 acre space is a huge part of the Icelandic green initiative, with over 4 million planted trees over the past 70 years. There is a range of recreational spaces and facilities within the location, although you will need to travel a short distance (approx 6 miles) outside of the city itself to reach it. 
This is the official historical museum of Reykjavik, providing insight into the history of Reykjavik life, including a range of 'open air' attractions, such as houses and buildings important to the growth of the city. 
Places to stay in Breiðholt & Árbær
If you're looking to stay in Breiðholt or Árbær, you'll want to check out the following.
Blue Mountain Apartments offers a range of studio and family-style spaces to rent during your stay. Much more of a 'home away from home' vibe, you'll have everything you need to enjoy your stay, including kitchen facilities. If you're looking to stay for a lengthier period of time, the added functionality could be handy. 
Another apartment offering in the district, with kitchen facilities and all the amenities to suit small and larger families during an extended stay. 
Places to eat in Breiðholt & Árbær
If you're getting hungry while out in Breiðholt or Árbær, try one of the following restaurants.
Classic burgers and fries eatery with something to please everyone in your group - even the picky eaters! Great for a light lunch or relaxed evening meal. 
Highly regarded among patrons, with a range of superb reviews, this cosy dining experience has an eclectic menu and a range of desserts on offer. 
This trendy destination can be found in the Árbær district and has a range of seafood and vegan options, all made from scratch to order. It's a great experience and well worth the visit. 
Grafarvogur District 
Grafarvogur is a relatively new district in comparison to the majority of Reykjavik, as it was not until the late 80's and early 90's that the bulk of construction work on the area began. Despite this, it's become one of the largest residential areas in the entire cities, with 14 unique neighbourhoods spread along the large coastline. 
Things to see in Grafarvogur
Although this district is largely residential, you might consider making the journey for a few interesting activities! 
While the location isn't technically in the district (we don't remember seeing residential neighbourhoods in Game Of Thrones anyway), the pickup location is in Grafarvogur, where you'll be taken to the actual locations used during the series. 
A once in a lifetime experience that you'll struggle to find anywhere else in the world, take to the seas and witness the majesty of these gentle giants. Whales are typically an elusive creature, but you'll see them up close in this exhilarating activity.
Places to stay in Grafarvogur
As Grafarvogur is further out from the centre of the city, options are somewhat limited. We have, however, found a pretty unique place you could stay - especially if you're looking for a different kind of holiday. 
If you're looking for an unusual stay, these domes are a true oddity that you'll love. They come packed with everything you could expect, including a shower and bathroom suite, as well as kitchen amenities. Plus, who doesn't want a wood-burning stove in their giant dome! 
Places to eat in Grafarvogur
Just because you're away from the hub of Reykjavik, it doesn't mean you can't enjoy some great food. Check out these restaurants if you're in the area. 
True artisan burger joint that grills amazing hearty meals. A great choice for families and casual diners, these mouth-watering burgers will be a hit after a day out in the city. 
It's a pretty no-frills affair, but everybody who has reviewed Hlölli has the same message - you have to try one of their sandwiches. Pick one up for a lunchtime snack and let us know what you think. 
Additional tips for your holiday in Iceland
We hope this information has been helpful in planning your holiday to Iceland. For additional information about your journey to Iceland, including driving guidance, please see our guides below.