Off The Beaten Path: The Best Of Iceland's Hidden Gems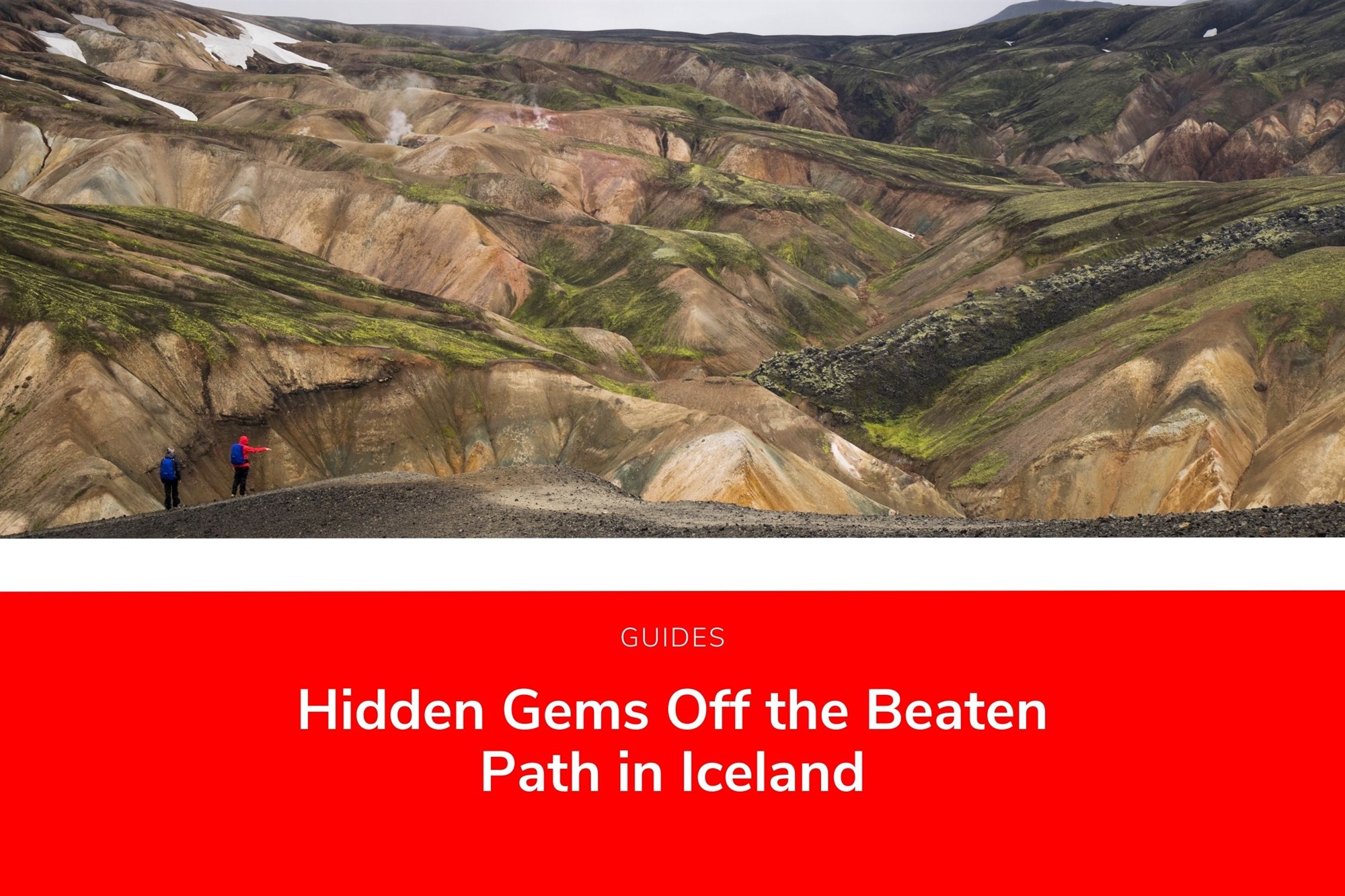 Are you looking to get off the beaten path and explore the best of Iceland's untouched hidden gems but not sure where to find them? Don't worry, we've got you covered with this guide.
Most people know about the top tourist attractions in Iceland such as the Golden Circle, Kerið crater and impressive volcanoes, but as the most popular locations become increasingly crowded, adventurers are turning their attention to the hidden gems that are well off Iceland's beaten path in order to experience that untouched natural beauty that so many associate with the land of fire and ice. 
Want to jump to a particular section of this article? Use the links below to take you there!
Iceland's Best Hidden Gems
If you're looking to create the ultimate off the path itinerary for your trip to Iceland, we recommend including at least a few of the following hidden gems for a truly unique experience. 
Hofsós Swimming Pool
The stunning infinity pool nestled amongst the hills and overlooking the fjord in Hofsós on the Tröllaskagi peninsula in the North of Iceland isn't exactly Iceland's best kept secret, but it is certainly worth a small detour if you're planning on exploring the Northern regions.
Bathe under the midnight sun in the summer months, or watch the beautiful Northern Lights shimmer over the adjacent fjord in the winter for an experience you simply cannot get elsewhere.
Hofsós is accessible via road 76, and we would recommend booking your own rental car as public transport in this area of Iceland can be infrequent.
Þjórsárdalur Valley & Waterfalls
Þjórsárdalur valley is a treasure trove of stunning waterfalls that get missed by the majority of tourists that visit Iceland. 
Amongst the highlights of Þjórsárdalur valley are the waterfall at Gjáin canyon, Háifoss waterfall (Iceland's third-tallest standing at 122 metres), and the impressive Granni waterfall, all within a stone's throw away from each other. A little further down the valley you'll find the ominously named Hjálp waterfall (which translates to 'help') and Þjófafoss a little further away on the other side of mountain Búrfell, but well worth the effort to get there.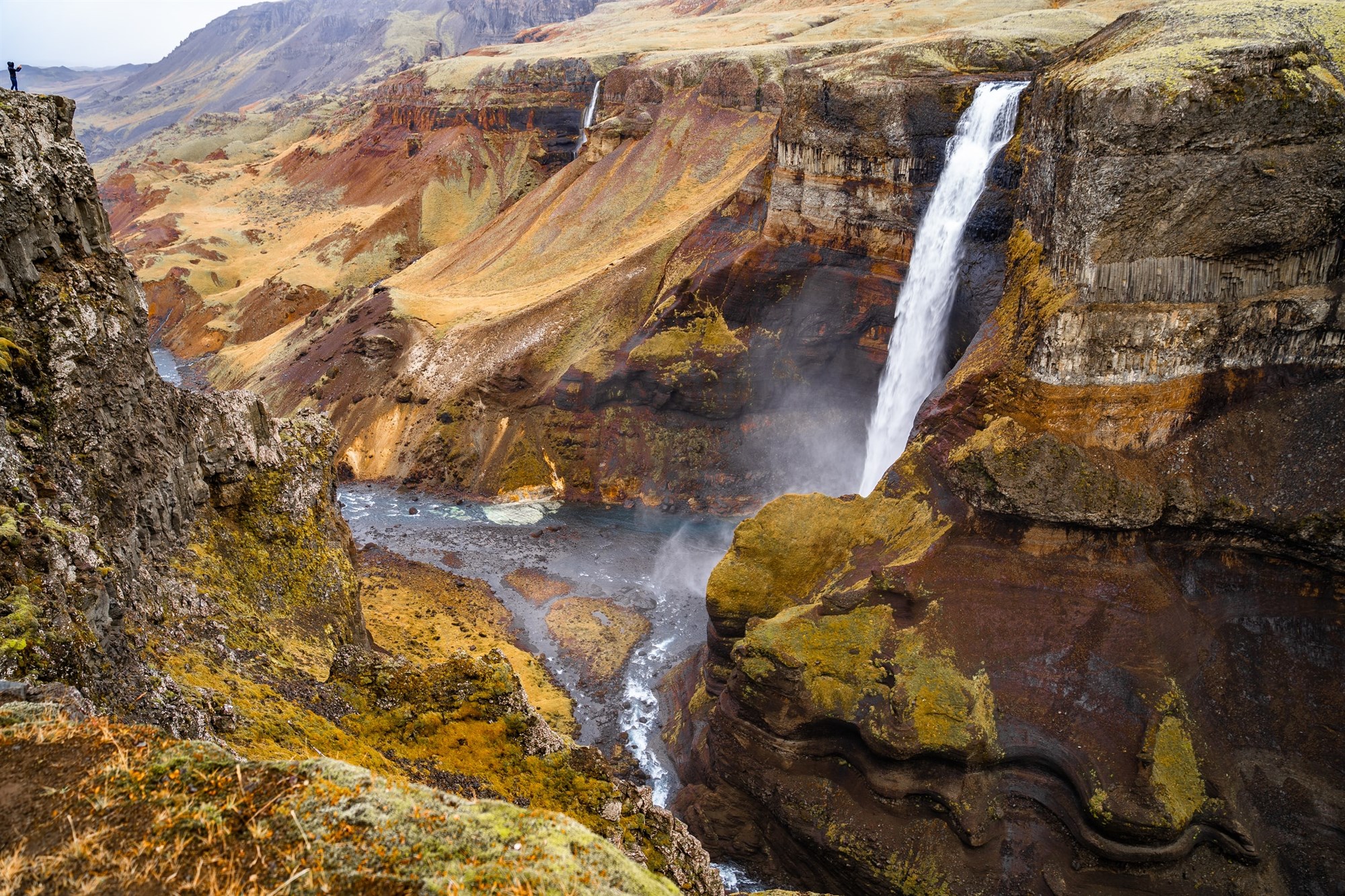 The best thing about Þjórsárdalur valley is that all of these stunning waterfalls are in the same area, allowing you to experience multiple hidden gems in Iceland on the same day. The area can be easily reached on the 32 and 26 roads, around a 2-3 hour drive from Reykjavík.
Kjölur Road
Driving on one of Iceland's highland roads (also known as F-roads) is definitely an experience you won't forget in a hurry. These roads are only open in the summer months and can only be used legally in a suitable 4x4 vehicle. If you are confident in tackling these highland roads and have rented a 4WD vehicle, we highly recommend taking the Kjölur road, also known as road 35. Discover more information about driving in Iceland's F-roads.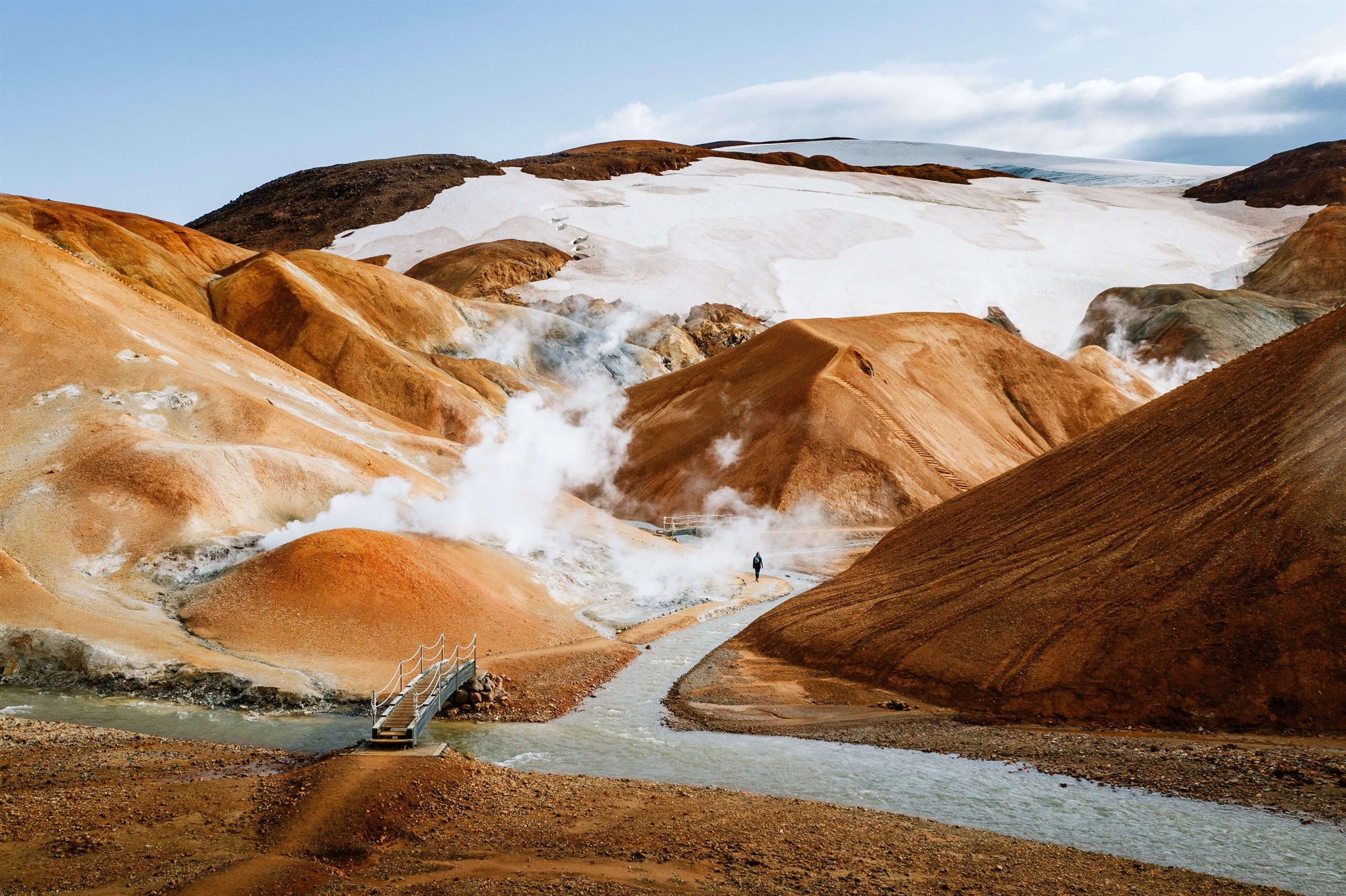 Connecting the north and south of Iceland, this road lies between the Langjökull and Hofsjökull glaciers and is the same road that can be used to reach the famous Gullfoss waterfall.
Aside from the breathtaking views you experience on this stretch of road, there are several hot springs that make excellent bathing spots, and some stunning hiking trails. We would recommend making a stop at Kerlingarfjöll (Hag's mountains) and Hveravellir (hot spring fields).
Stakkholtsgjá Canyon
If you're looking for a relatively easy hike with a rewarding treat at the end, then Stakkholtsgjá canyon is well worth a visit. 
Close to Þórsmörk, this canyon hike takes around 2 hours, after which you will be rewarded with an impressive waterfall that makes for a variety of photo opportunities to make your social media followers jealous.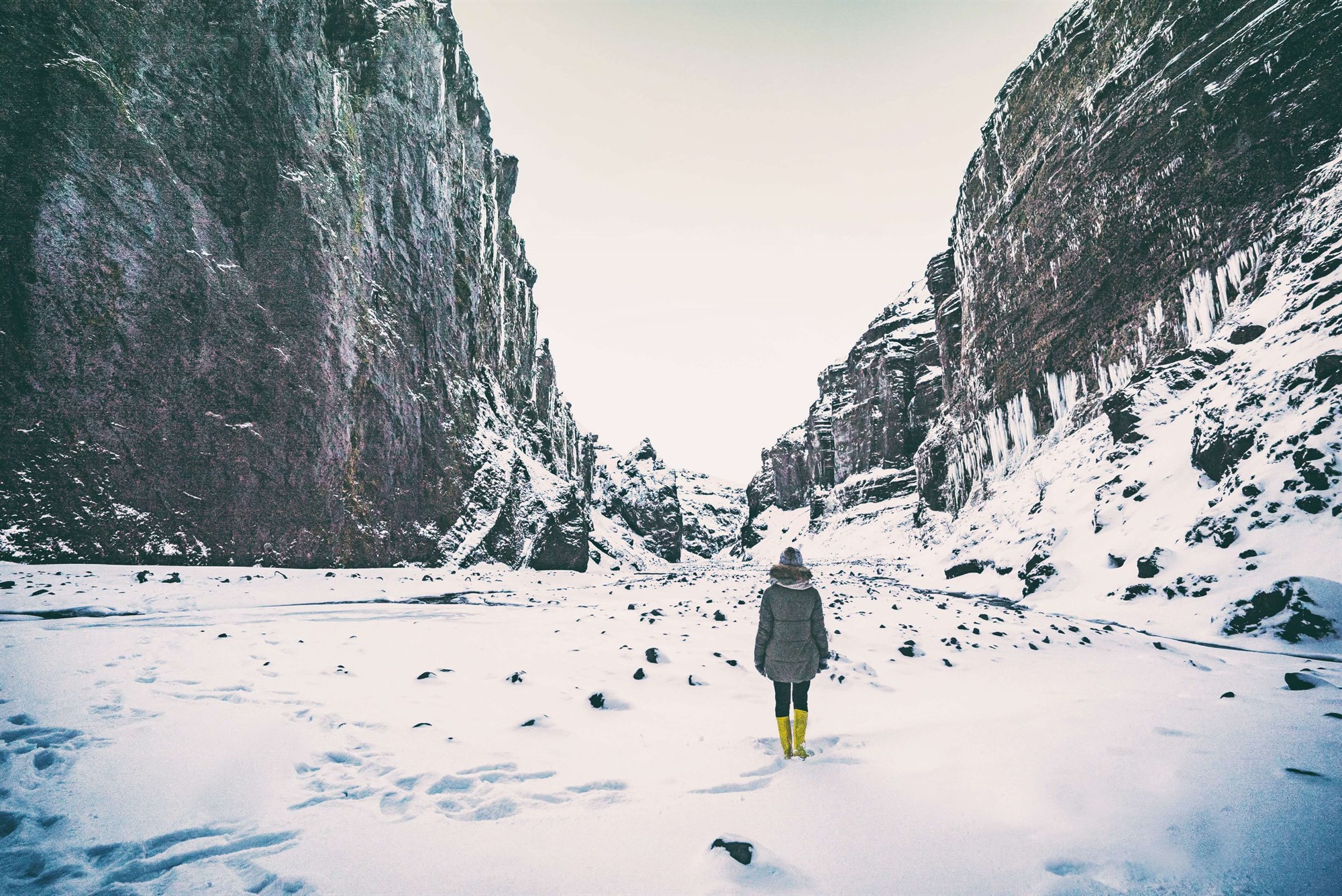 As mentioned, this hike is easy and suitable for the whole family, although there is a small river to wade at the foot of the canyon before the waterfall and we would recommend wearing appropriate waterproof footwear.
Hvítserkur Rock
Hvítserkur is a beautiful uniquely-shaped rock formation poking out of the water just off the shore of Húnafjörður fjord in the North-West of Iceland. For one of Iceland's most picturesque hidden gems, Hvítserkur is relatively easy to get to, located between Reykir and Blönduós and just a small detour on road 711 off of the main ring road.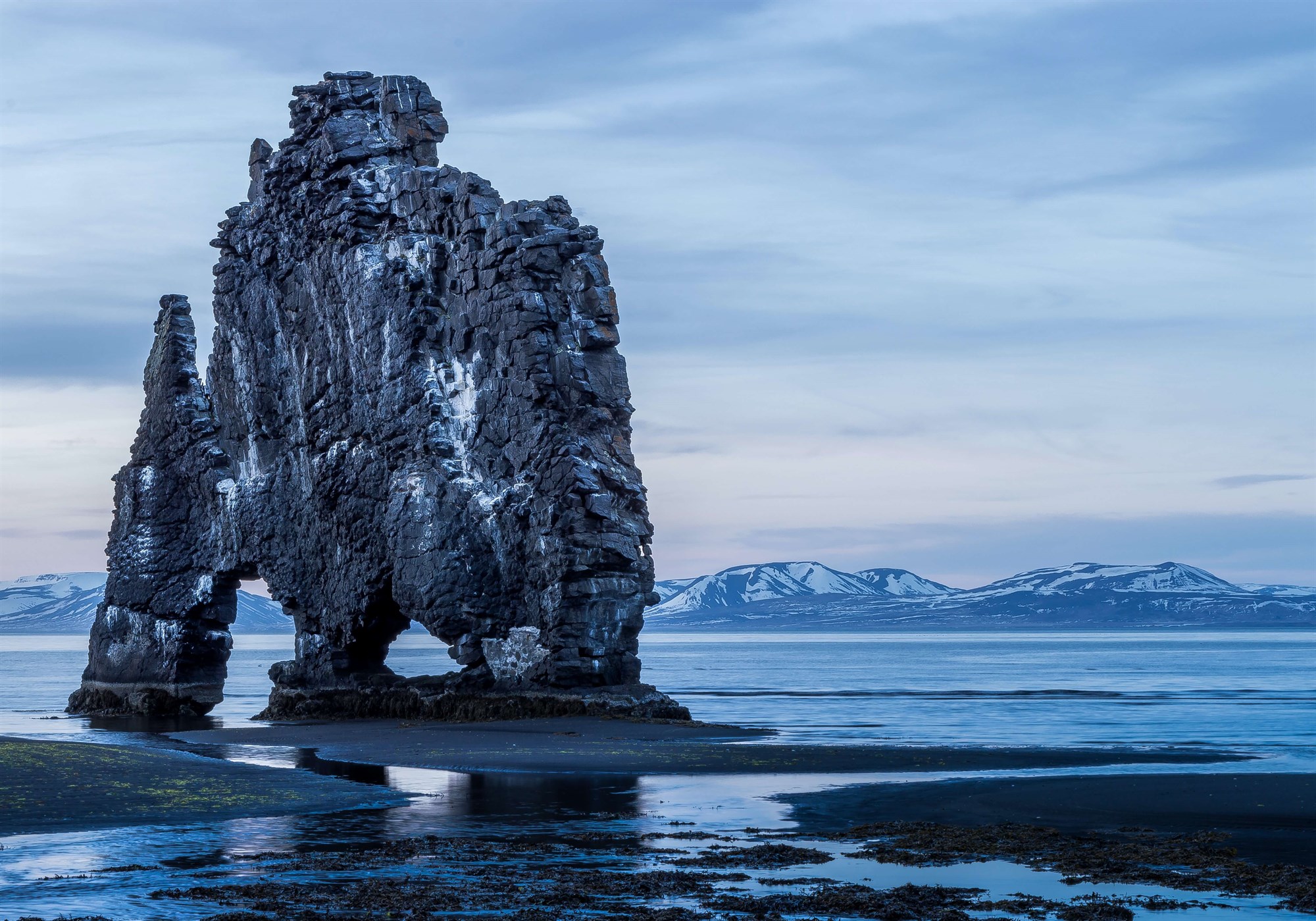 Hvítserkur can really come into its own in the winter months, and make the perfect foreground for photographs of the northern lights if you are lucky enough to visit on the right night.
Gljúfrabúi Waterfall
Most tourists will have heard of Seljalandsfoss in the south of Iceland, but what many don't know is that a 5-minute walk away lies an equally impressive waterfall - Gljúfrabúi.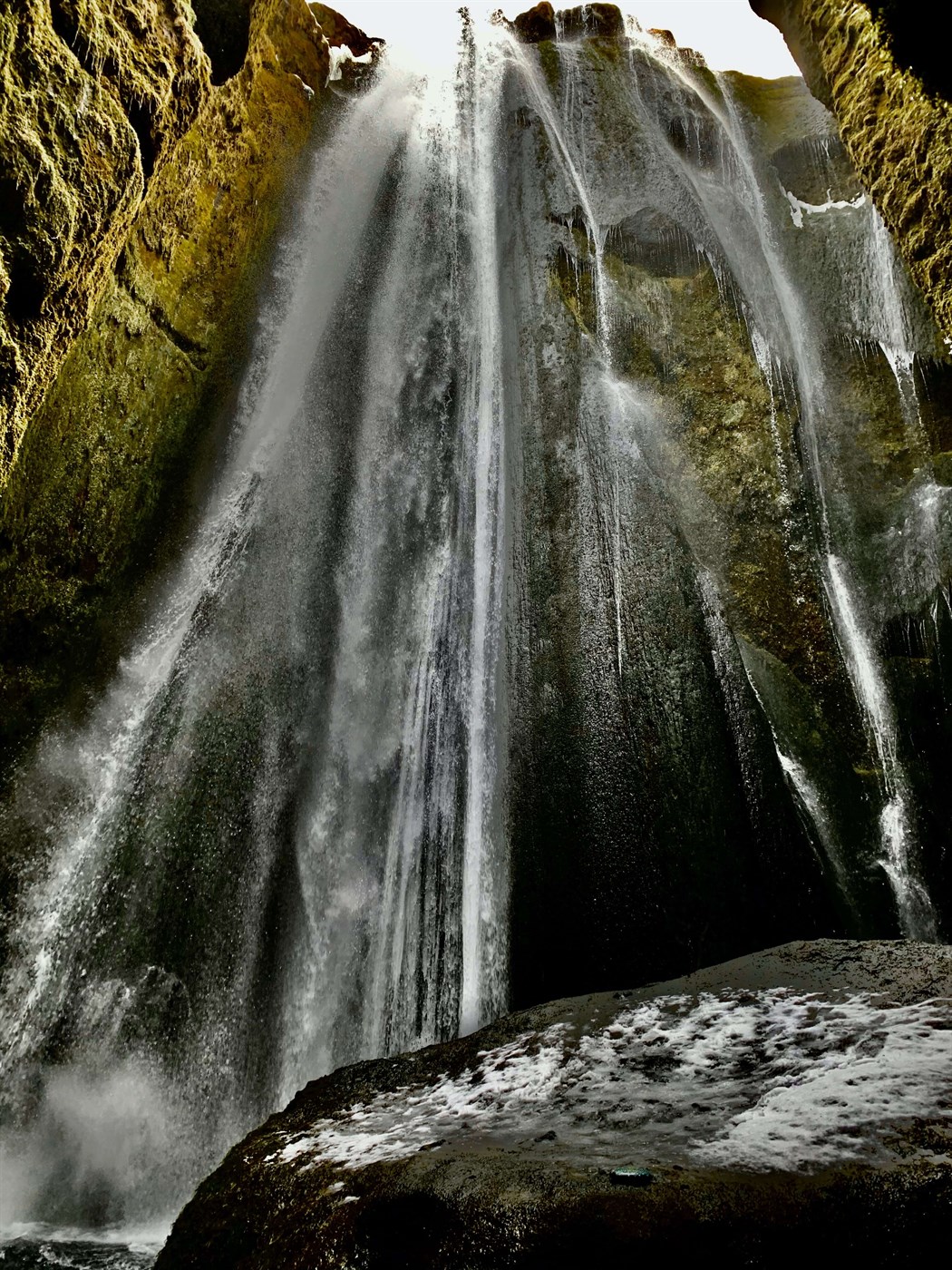 Accessing the waterfall can be tricky as you have to squeeze between a couple of rocks that form the entrance to the Gljúfrabúi waterfall cave, but once you're inside you will be able to stand right underneath the gushing water. Getting wet is a near inevitability, and we strongly recommend taking a rain coat to avoid a soggy journey home. As well as waterproof clothing, a sturdy pair of shoes would be wise as you will need to cross a fast flowing stream on your route to the falls. 
Fjaðrárgljúfur Canyon
As with a few locations in Iceland that were previously almost unheard of hidden gems, Fjaðrárgljúfur canyon gained notoriety after its appearance in the hit HBO series Game of Thrones and is widely regarded as one of Iceland's most picturesque locations.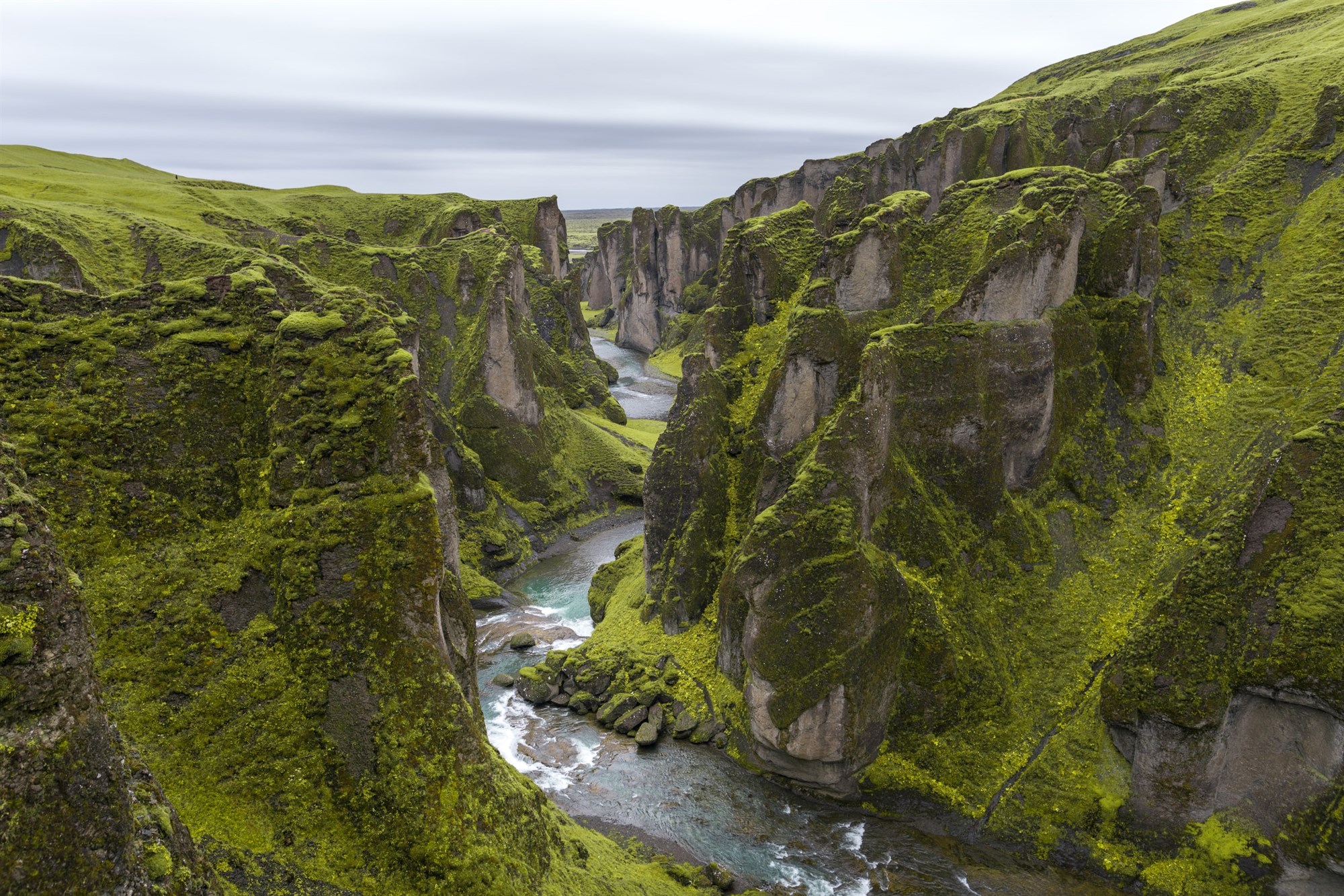 There isn't a particular landmark at Fjaðrárgljúfur that tourists flock to, it is simply a great place to hike amongst stunning scenery and take in the natural beauty of the crooked cliff faces and earthy green mossy landscapes. A dusting of snow in the winter months transforms Fjaðrárgljúfur into an eerie yet equally stunning location. 
Located close to the ring road, you can reach Fjaðrárgljúfur by driving towards Kirkjubæjarklaustur on the South Coast of Iceland. If you are driving from Reykjavík, the canyon will be on your left-hand side just before reaching Kirkjubæjarklaustur.
Rauðasandur Beach
One of the stand out features of Iceland is its black sand beaches, so visitors may be surprised to learn that it's also home to several white beaches, as well as the stunning "red" Rauðasandur beach in the Westfjords. 
Whilst Rauðasandur is known as a red sand beach, the sand can actually play tricks on your eyes and appear white, golden, orange, yellow, or vibrant red depending on the daylight.
Aside from the unearthly coloured sand, another reason to visit Rauðasandur is it's the perfect place to be at one with nature and take a long walk with no distractions. You won't find any shops or vendors here, just 10km of breathtaking Icelandic coastline. If this doesn't count as getting off the beaten path in Iceland, then we don't know what does!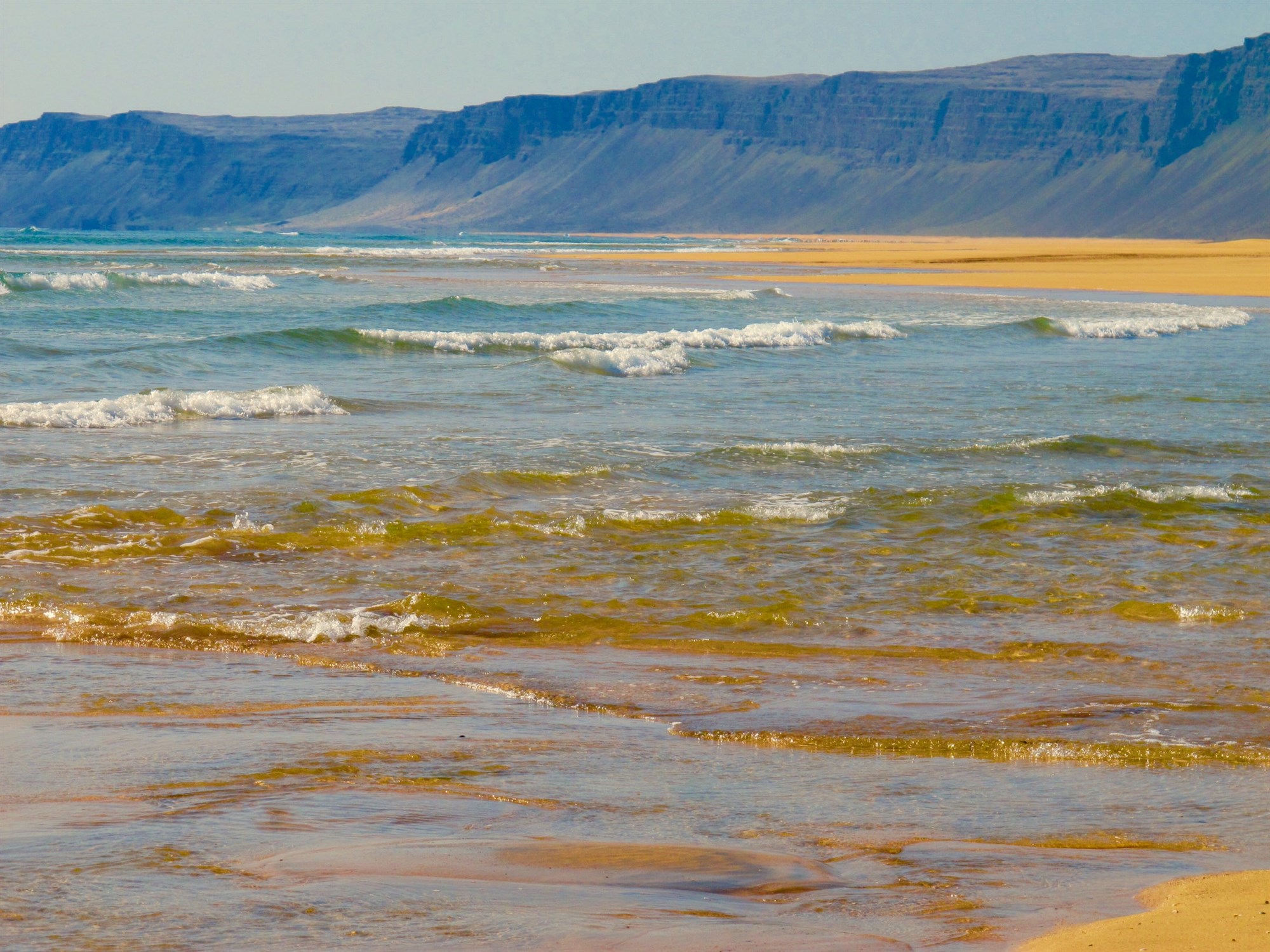 If the beach alone isn't enough to satisfy your craving for adventure, then a little further along the coast you can find Látrabjarg cliff where thousands of majestic puffins reside during the summer months. 
You can get to Rauðasandur by either driving all of the Westfjords, or getting the ferry from Stykkishólmur to Brjánslækur and driving from there. We recommend avoiding visiting during the winter months as the area may not be accessible, and hiring a four-wheel-drive vehicle if you plan on driving in the Westfjords.
Víknaslóðir Hiking Trails
All the way over in the far East of Iceland, nestled away in the Borgarfjörður Eystri area lies the glorious Víknaslóðir which in Icelandic means 'trails of inlets' and is widely regarded as one of Iceland's best hiking areas.
The are a number of different hikes you can do in Víknaslóðir, although the most popular takes you from Borgarfjörður Eystri down to Seyðisfjörður over a total distance of 55km and usually completed in around 4 days. If you're looking for even more of a challenge, you could even take a 5-10 day hike around the area in its entirety.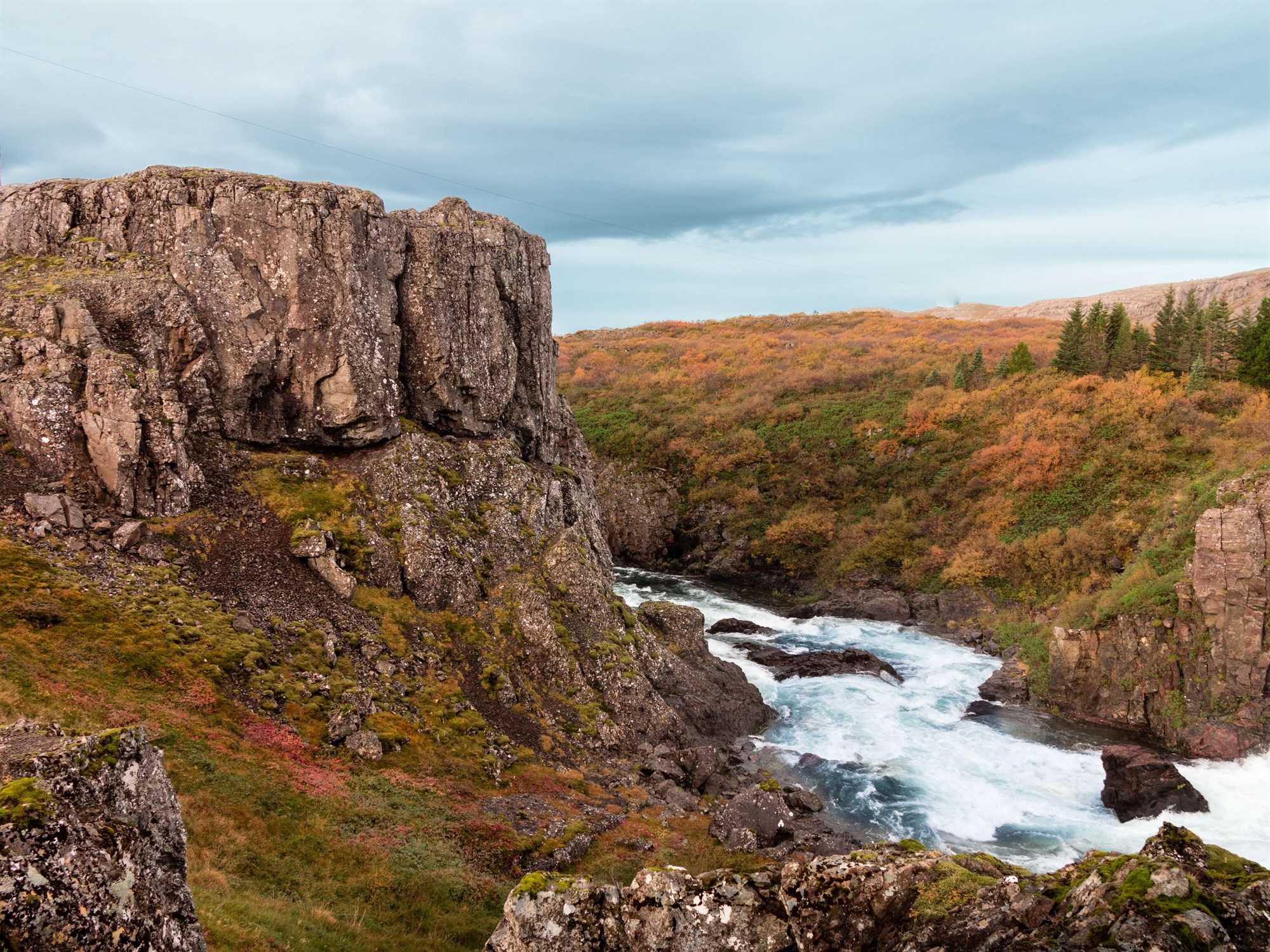 Wherever you go in Víknaslóðir, you're guaranteed to experience stunning panoramic views including mountains, valleys and fjords. Make sure you don't miss Stórurð, a beautiful crisp blue lake surrounded by giant boulders and vibrant untouched green meadows. 
For more great hiking spots, check out our article on the best places to hike in Iceland in the summer.
How to get to Iceland's Hidden Gem Locations
The downside to the majority of the off the beaten path locations on this list is that they aren't the easiest to get to, but then again that's a big factor in why they are considered to be hidden gems. To reach them, we would recommend renting a sturdy four-wheel-drive vehicle as it is likely you will have to drive on unpaved gravel roads, and even highland roads (F-roads) in some circumstances. 
Driving in Iceland is unlike anywhere else in the world, which is why it is important to ensure you have sufficient insurance cover, allowing you to explore with the peace of mind that you won't be left with a large bill at the end of your trip. Learn more about the unmatched rental car insurance cover packages available to Lotus Car Rental customers.
As with driving anywhere in Iceland, remember to drive safely and keep a regular eye on both the weather forecast and accessibility of the roads. This is especially important if you are venturing into the more remote areas of the country. 
For more information on driving in Iceland, check out our ultimate guide to renting a car in Iceland.
Our Iceland Off The Beaten Path Map
The importance of respecting hidden gems in Iceland
Before you finish this article and start putting together an itinerary for your off-the-beaten-path adventure in Iceland, we would like to remind everyone of the importance of respect. 
To ensure the places on this list remain locations of wild, untouched beauty, it is everyone's responsibility who visits to ensure that the delicate Icelandic ecosystems are treated with respect and consideration. As a minimum, visitors should always remember to take any litter back home with them, stay on designated trails, and always follow any given rules. 
If you are planning on flying a drone or doing aerial photography, ensure you are doing so safely, legally and respectfully. For more information on drone laws, check out our guide to flying a drone in Iceland.
Ready to get off the beaten path?
Tourism in Iceland is growing exponentially and escaping the crowds and getting off the beaten path can seem difficult. Hopefully, this guide has given you the locations and the knowledge to build an itinerary to visit and explore Iceland's many gorgeous hidden gems. 
Planning on taking a self-drive tour around Iceland to tick off more than one hidden gem? Here at Lotus Car Rental, we offer a wide range of high-quality rental cars available with an unmatched level of cover. Book your rental car today.