One Week In Iceland: 7 Day Self Drive Itinerary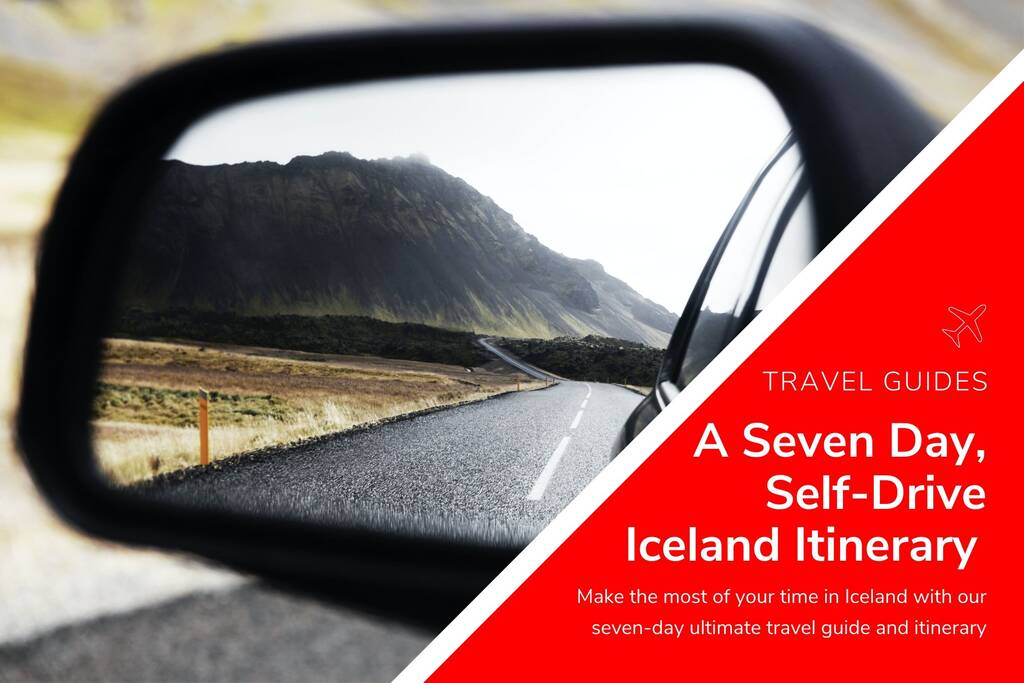 One week in Iceland gives you enough time to see most of the country's main highlights, without having to rush around too much. At least, as long as you plan ahead and have an itinerary in mind that fits your vacation style.
You see, the island has so much more to offer than what can be packed in just one epic 7 day Iceland itinerary. And although we've included all the must-see high spots and natural spectacles, you might want to tweak the itinerary here and there based on your own interests.
That's why we've added a lot of optional tips and suggestions to this one week tour as well. This way, you can easily use it as a basis to create your own complete Iceland itinerary.
One thing we do recommend to everyone going on a 7 day holiday to Iceland is to rent a car. It's the easiest way to get around, explore the island at your own pace, and see just the sites you want to see. So that's why the day-to-day guide below is specifically an Iceland self-drive itinerary. It gives you maximum freedom to create your unique dream holiday.
Ready to be amazed?
Iceland 7 Day Itinerary
One week in Iceland:
Day 1: Blue Lagoon - Reykjavik
Day 2: The Golden Circle
Day 3: Part of Western Iceland
Day 4: Snæfellsnes Peninsula
Day 5: The South Coast
Day 6: South East Iceland - Jokulsarlon - Fjallsarlon
Day 7: Höfn - Airport
Below we'll give you a breakdown of your full itinerary for each day. Note that we've actually already shared a 3 day Iceland itinerary in one of our previous posts. It consists of days 1, 2, and 5 listed above. So you can see this 7-day itinerary below as an extension of the previous one.
One more thing, be sure to check out our driving in Iceland guide as well to fully prepare yourself for your road trip! If you're thinking about renting one of our fully-electric Telsas for your adventure, discover more about driving a Tesla in Iceland.
Day 1: Blue Lagoon - Reykjavik
Hate it or love it, a trip to Iceland just wouldn't be complete without a dip in the famous Blue Lagoon.
We recommend you visit it straight away after you land at Keflavik Airport since it's only a 15-minute drive away. You can just hop in your rental car and before you know it you're dipping your toes in this geothermal spa. What a way to start your holiday!
After you're all refreshed and relaxed it's off to Reykjavik, which is less than an hour away from the Blue Lagoon. The capital of Iceland is relatively small, but don't let its size fool you.
Reykjavik is the perfect place to get to know Icelandic culture, try out some national dishes, or see sights like the famous Hallgrímskirkja. For tips on what to do and where to stay, you can check out our special Reykjavik guide.
Top tip: Depending on your flight times, you might want to visit the Blue Lagoon at the end of your trip instead! Just make sure you leave time to get to the airport, return your car, and through security with plenty of time!
Day 2: The Golden Circle
Next up is Iceland's most iconic route: The Golden Circle. The route loops from Reykjavik land inwards and back, taking you along some of the main sights in Iceland.
The three most popular stops on the Golden Circle are:
Þingvellir National Park
Gullfoss waterfall
Haukadalur geothermal area with the Strokkur and Geysir geysers
But don't think that's all you'll get to see…
The Golden Circle covers over 300 kilometres of natural beauty, historic towns and luxurious outdoor spas. No matter the type of travel you are: You won't get bored on the Golden Circle!
For more top tips be sure to check out our ultimate Golden Circle guide.
You can drive the whole loop within a day and still have time to visit all the sights you like at a normal pace. On your way back, you can decide to return to Reykjavik or already make a little head start for the drive for day 3 by going straight away to Borgarnes.
Which of the two you choose really depends on how much you want to do along the Golden Circle, and how much you got to see of Reykjavik on day 1. Personally, we'd recommend you stick to Reykjavik, just so it's a bit less driving and you can fit in another evening in Iceland's lovely capital.
But remember, this trip is completely yours to fill in. Maybe instead you'd much rather stay at the luxurious ION Adventure Hotel in the Golden Circle? It's up to you!
Day 3: Part of Western Iceland
In the morning it's time to get back in the car and make your way north towards Borgarnes. You can either take the tunnel at Hvalfjordur or follow the road along the coast.
Although the tunnel saves you time (about 30 minutes), the coastal road is a lot more scenic, so we'd recommend you stick to that.
Some great places to visit during day 3 are:
Borgarnes
Reykholt
Húsafell
Vidgelmir Cave
Borgarnes itself is a historic town situated next to a fjord. If you like museums you should check out the Icelandic Settlement Centre. Here you can learn more about the early days of Icelandic settlement, as well as one of Iceland's greatest heroes, Egil Skalla-Grimsson.
After Borgarnes, culture lovers can visit the village of Reykholt for the Snorrastofa, a small museum dedicated to one of the country's greatest writers, Snorri Sturluson. Alternatively, you can stop at the Deildartunguhver hot springs (or warm up in the Krauma Baths next to the hot springs).
Either way, you'll make your way to the endpoint of today's loop: The Vidgelmir Cave. This lava cave is the largest in Iceland and definitely worth the visit! On the way there, be sure to check out the Hraunfossar and Barnafoss waterfalls as well. Lastly, you can fit in a tour to the Langjökull Glacier if you have enough time.
Once you've seen all you wanted to see it's time to head back to Borgarnes for the night.
Day 4: Snæfellsnes Peninsula
Today you're exploring the breathtaking Snæfellsnes Peninsula. This area is packed with scenic routes, volcanoes, waterfalls and more. It's also a great location to go on a boat tour and try and do some whale or puffin spotting.
Some highlights of the peninsula are:
Mount Kirkjufell
Kirkjufellsfoss Waterfall
Bjarnarhöfn shark museum
Stykkishólmur
Snæfellsjökull National Park
We'd recommend that you start the day by driving from Borgarnes to Stykkishólmur, which is the largest village on the peninsula. It's located at the beginning of the peninsula on the Northside, making it a great starting point for your little roundtrip of Snæfellsnes.
You can stock up on food for the day, grab an early lunch, or visit a museum (like the Volcano Museum).
From here you're going to circle your way around the peninsula. There is so much to see here, so you really have sights for the picking!
If you have the stomach for it then stop at Bjarnarhöfn shark museum to try the local Icelandic specialty: Hákarl (fermented shark meat). Also be sure to go to Mount Kirkjufell and Kirkjufellsfoss Waterfall, which is one of the most famous and photogenic locations in all of Iceland!
Finally, a real highlight of day 4 is Snæfellsjökull National Park, so leave enough time during your day to wander around a bit.
Where you want to stay tonight depends on what you like to do during the day. If you have a packed program, you might want to stay somewhere on the peninsula. We can recommend Arnarstapi Center for beautiful coastal walks and a private cabin under the stars.
Otherwise, you might want to head back to Borgarnes to save yourself some driving the next day.
Day 5: South Iceland - Vik
After a two-day detour to Western Iceland and the Snæfellsnes Peninsula, we're now rejoining our original 3 day Iceland itinerary.
Today, you're driving down to the South Coast of Iceland, which is known for its raw and rugged landscapes. Expect roaring waterfalls, unearthly lava fields, and black beaches all around. This is Iceland at its best!
Some highlights include:
Skógafoss Waterfall
Seljalandsfoss Waterfall
Reynisfjara Beach
For most visitors, the Skógafoss Waterfall is the highlight of the day, so we'd advise you to leave enough free time for it during your day.
And we're not sure if beautiful is the right word to describe the somewhat eerie Reynisfjara black sand beach, but we definitely think it's a must-see during day 5 of your Iceland itinerary!
Now you can choose to call it a day once you reach the town of Vik, or keep driving a bit further to also include Skaftafell National Park. But not to worry if you don't have time for Skaftafell yet, because you can just do it on day 6 instead.
Day 6: South East Iceland
Whether you stayed in Vik or somewhere further down the route already, on day 6 we continue driving along the scenic south coast of Iceland. Your final destination of the day will be Höfn, with some of Iceland's most beautiful spots along the way.
Our top tips for day 6 are:
Skaftáreldahraun lava field
Skaftafell National Park
Skaftafellsjökull glacier
Svartifoss waterfall
Jökulsárlón glacial lake
As you can see, day 6 is jam-packed with pretty hotspots! Especially Skaftafell National Park offers a breathtaking experience, with so many hikes and paths, glaciers and mountains. You'll probably want to spend most of the day in the park as this is the main attraction in the area. Do also make sure you stop off at Jökulsárlón glacial lake for some stunning icy scenery.
After a busy day of sightseeing, you'll end in the small but charming town of Höfn, which offers some of the best restaurants in all of Iceland. And it's your last night in Iceland, so need to hold back!
Alternatively, you can already start heading back towards Reykjavik to save yourself some driving time tomorrow. Especially if you have a relatively early flight, you'll want to skip Höfn and instead stay somewhere closer towards Vik.
Day 7: Höfn - Airport
The final day is all about getting your flight back home. That's why we've made sure not to add any "essential stops" on this day.
Höfn to Keflavik airport is a six-hour drive, so do bear this in mind. That's why you might not make it all the way to Höfn, but stay somewhere further west instead.
With whatever spare time you have during your drive back we advise you to just stop over at places that you didn't have time for on days 5 and 6. Try to pack in as much of Iceland as you can, before heading home!