The Complete Guide To Flying A Drone & Aerial Photography In Iceland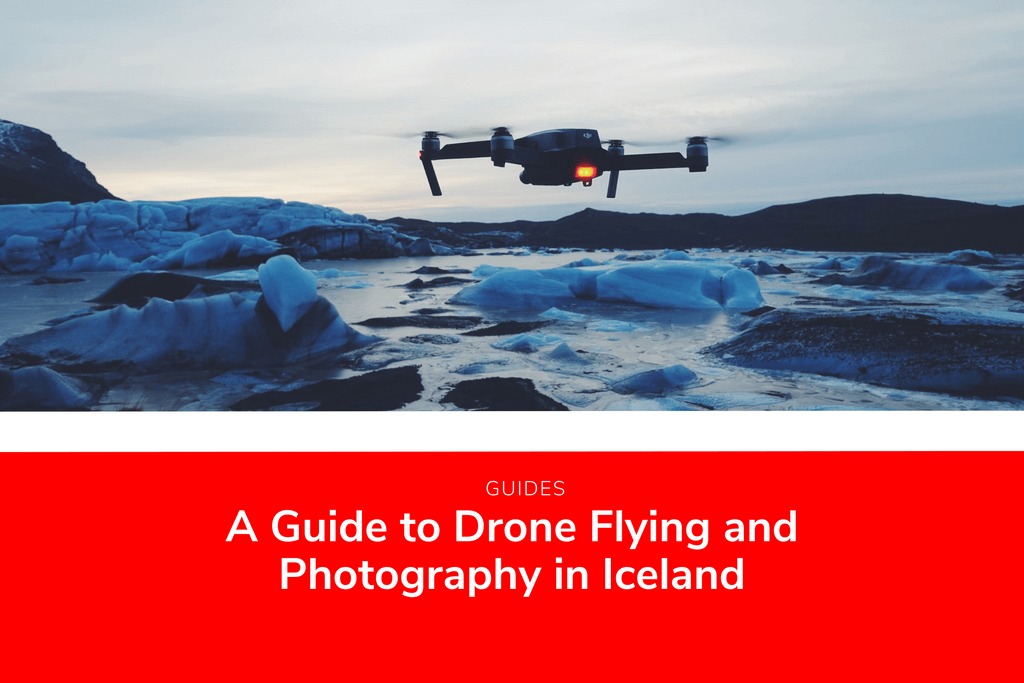 With its infinitely beautiful panoramic landscapes, dramatic volcanic activity, and expanses of untouched wilderness, it's almost like Iceland was created with the drone photographer in mind!
It won't come as much of a surprise, therefore, that the popularity of drone flight and aerial photography in Iceland has increased exponentially over the last few years.
Whilst Iceland is a very accommodating country when it comes to drones, there are very clear rules and regulations around flying that should be followed to help maintain the privacy and safety of Icelandic citizens and other tourists, as well as protect Iceland's precious nature and wildlife.
In this guide, we cover everything you need to know about the latest drone laws in Iceland, our top flying tips, as well as the best locations for safe and legal operation and capturing the best aerial shots possible in this beautiful country.
Want to jump to a particular section? Use the links below to take you there! 
Iceland's Drone Laws
Before you even think about flying a drone, not just in Iceland but anywhere, you should make sure you are doing so safely, legally, and complying with any rules that are in place in that area.
There are many reasons why we urge you to comply with drone laws and regulations in Iceland.
Not only do drone rule-breakers risk having their equipment confiscated and being slapped with a hefty fine, but they also damage the reputation of their fellow drone pilots and give local authorities the mandate to impose more draconian restrictions.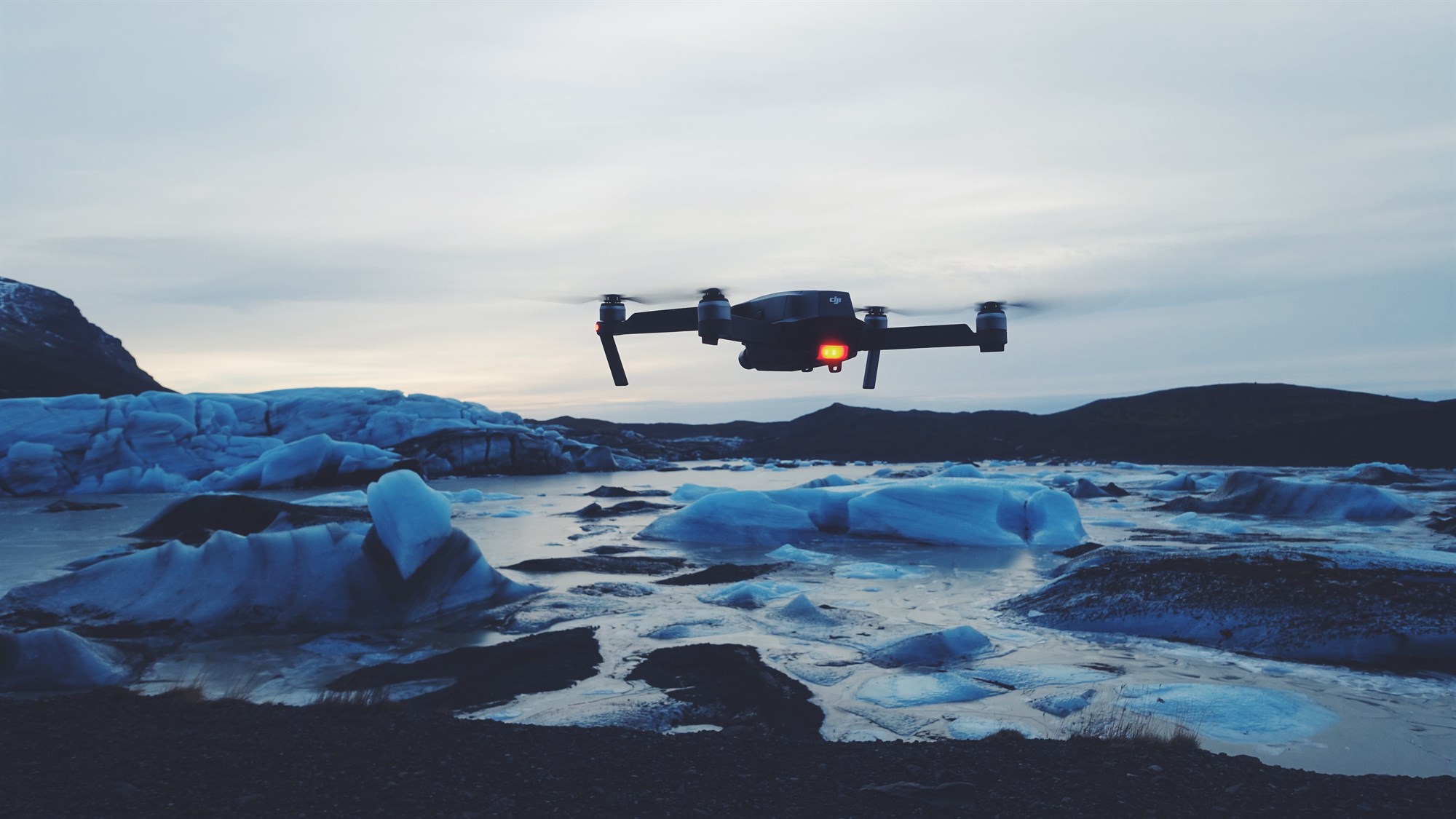 Is It Legal To Fly A Drone In Iceland?
The Icelandic Transport Authority (ITA) states that whilst flying a drone is legal in Iceland, you must follow the rules set out by the European Union Aviation Safety Agency, as well as any additional national or area-specific rules.
The EU drone regulations are divided into 3 separate categories based on the specifications of the unmanned aerial vehicle (UAV): open, specific, and certified.
It is important to be aware of the category in which your drone is classified as this determines the regulations that apply to you. For the purposes of this post, we shall focus on drones in the open category as drones used for leisure and commercial purposes will most often fall under this classification.
Under EU law, a drone can be operated under the open category rules if it:
Has the class identification labels 0, 1, 2, 3, or 4.
Was purchased before 1 January 2023 with no class identification label.
Has a maximum take-off mass of less than 25 kg (55 lbs).
Is not operated directly over people unless it has a class identification label or is lighter than 250 g (0.55 lbs).
Will not carry any dangerous goods and will not drop any material.
Under the open category, the pilot must keep the drone a safe distance from people at all times, operate the drone at no higher than 120m (400ft), and always maintain a visual line of sight unless using a UA observer.
A full publication of the EU drone laws is available on the European Union Aviation Safety Agency website.
What Are The Rules For Flying A Drone In Iceland?
The complete list of drone laws in Iceland can seem very lengthy and complicated.
To try and simplify things, we've listed the most important rules to be aware of when flying a drone in Iceland for leisure purposes.
The drone must be marked with the pilot's name, address, and phone number.
The drone must weigh no more than 3kg when flying in urban areas.
The drone must weigh no more than 25kg when flying in rural areas.
Drones weighing more than 20kg must be insured.
Do not fly above 120 meters over either land or water.
Do not fly above crowds or people.
Do not fly within 2 kilometres of any international airports.
Do not fly within 1.5 kilometres of any other airport.
Do not fly within 50 meters of buildings in urban areas and 150 meters in rural areas.
The pilot must maintain a visual line of sight with the drone when flying.
Drones must not interfere with air traffic, nor must they be flown above vehicles or boats.
The pilot is responsible for any damages caused when operating a drone.
Drones used for commercial purposes follow the same rules as above, but they must be registered with the Icelandic Transport Authority and have the respective ID number attached to them. They can also weigh up to 7kg when flying in urban areas. Exemptions to Iceland's drone laws may be granted if the UAV is being used for scientific or research purposes.
Owners can register their drones for commercial use, as well as apply for exemptions to drone regulations on the Icelandic Transport Authority website.
Flying A Drone In Reykjavik
If you visit Iceland, chances are you'll spend at least a day in Reykjavik. It may be tempting to send your drone up high to capture some beautiful aerial shots of the colourful city, however, you are not permitted to fly your drone in Reykjavik above the height of the buildings due to the close proximity of the airport.
Tips For Flying A Drone In Iceland
As with any other location, there are varying factors and things to take into consideration when piloting a UAV. In this section, we'll cover our top tips for flying your drone in Iceland and making sure you get the most out of your flights and photography.

Respect Rules & Etiquette
We've already touched upon the rules and regulations you need to be aware of, but it is important that you make sure you follow and respect them to ensure the safety and enjoyment of others nearby.
Always research the rules of an area you intend on flying in before attempting to, and seek permission from the authorities if you are unsure whether it is permitted or not.
Even if you are well within the rules, you should still exhibit good etiquette when it comes to flying.
The majority of popular tourist spots are, predictably, no-fly zones, but even when flying in permitted less-popular areas, you should make sure you are not disturbing other tourists or residents by flying near or above them.
One aspect that attracts so many visitors to Iceland is its serene natural wonder, and it would be a shame to ruin someone else's precious experience for the sake of an Instagram post with a loud drone buzzing nearby.

Monitor The Weather
Whether you're planning on flying a drone or not, the unpredictable weather is one of the biggest considerations when it comes to visitors making plans in Iceland.
As a general rule, if there is rain or snow, you can forget about sending your UAV into the skies; it is simply not worth the risk. Be sure to check the forecast ahead of time and plan your flight windows for periods when the weather is looking its calmest.
Whilst checking the forecast is useful when making your plans, Iceland's weather can change for better or for worse in a flash, so be prepared to react quickly and land safely if it begins to rain.
Alternatively, don't hesitate to take flight if you see a gap in the clouds and the sun looks to be making an appearance. You can never be sure how much good flying weather you'll get, so make the most of it while you can!
Another factor to consider is wind. Iceland's wind can be incredibly fierce, making drone flying much more challenging, as well as interfering with capturing smooth, cinematic aerial shots. Drones have to work extra hard to remain stable in windy conditions which can severely compromise battery life, so we would advise making the most of the less windy days.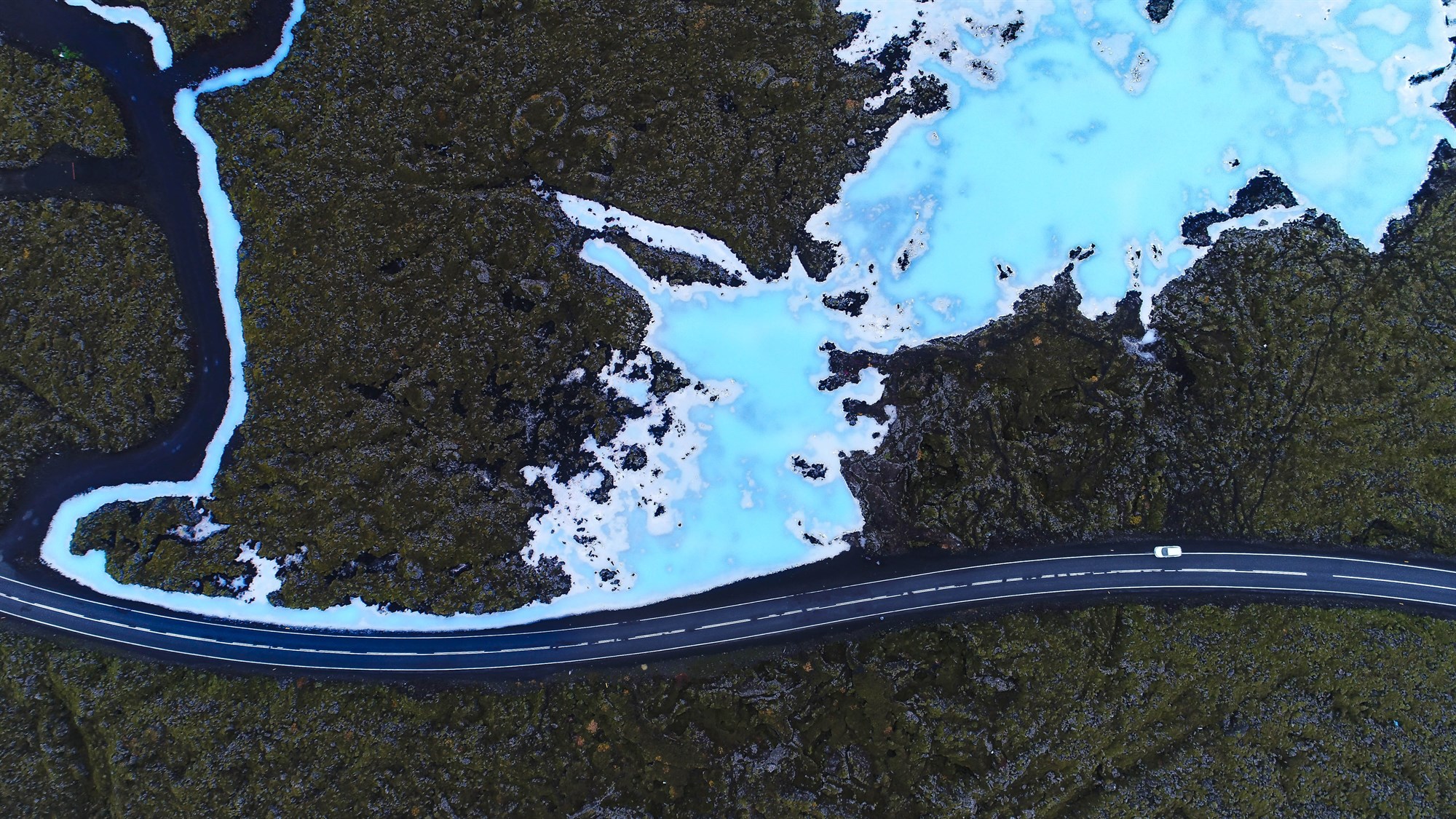 Transporting Your Drone
A common sticking point for drone enthusiasts is how to safely transport their drone in between countries. The first thing to say is that there is no right or wrong way, and the first port of call should be to check the specific details with your airline to understand their policies when it comes to transporting drones and their batteries.
That being said, there are a few things to bear in mind when taking your drone on an aeroplane to prevent damage and avoid problems with airport security.
The first thing to consider is whether you are going to carry it onboard the aircraft or get the drone checked in as luggage.
Drone technology is often incredibly thin and fragile, making it unsuitable for the often negligent way in which baggage is moved between the terminal and aircraft. If you do decide to check in your drone, you should make sure it is adequately protected inside an appropriate case and clearly marked with "FRAGILE" labels.
Check your airline's policy with regards to damage or theft before you leave and don't simply assume that they are liable to cover the entire cost of any damaged or stolen goods.
Smaller drones will usually be allowed to be carried onto the aircraft as hand luggage, and there are specialist drone bags that are specifically designed to offer maximum protection and have ample space for storing the various components.
If your drone is too large to be carried on board and you don't feel comfortable checking it in as luggage, you can have the drones shipped with full insurance to your destination separately, albeit at greater expense.
Drone batteries can be a problem when travelling on an aircraft.
It is essential to transport your drone batteries in a sealed lipo battery bag when travelling overseas for safety reasons. If you do not have a lipo battery bag, it is likely your airline will confiscate the batteries as they are considered to be dangerous goods due to their flammable nature.

Practice Flying Before Getting To Iceland
If you're relatively new to drone flight, chances are that Iceland will be something of a baptism of fire, so we recommend getting lots of flight practice in stable conditions before you arrive.
Iceland's windy and unpredictable weather can catch out even the most seasoned of pilots, and the last thing you want to do is see your precious drone fall towards the ground or, worse still, blow away out of sight.
Things To Avoid When Flying A Drone In Iceland
Once you're familiar with the rules and comfortable in control of your UAV, there are a few things you'll want to avoid doing when flying around Iceland and trying to capture that flawless panoramic shot.

Forbidden Zones
This may seem an obvious one, but as well as major tourist attractions and national parks where drones are banned, you must be careful to not fly close to or within controlled airspaces such as airports or sensitive areas such as military zones.
This is not only from a health and safety standpoint, but it could also lead to serious reprimands and confiscation of equipment.

Flying Without Calibrating Your Gimbal
Whilst by no means a disaster, having a properly calibrated gimbal is a step that can easily be forgotten amongst the eagerness to explore the Icelandic skies.
The gimbal is the platform on which your camera sits to absorb the vibrations during flight, making sure your footage is stable.
If you fail to calibrate your gimbal properly and line it up with the horizon, your shots can come out tilted and misaligned, which can look particularly jarring with the vast, sweeping landscapes of Iceland. Pilots may only realise this issue when it's too late and they sit down and go to edit the photos in post-production, so it's important to make sure you remember to calibrate your gimbal before taking off.


Disturbing Other People
Unfortunately, drones are unquestionably noisy, and the likelihood is that fellow travellers and photographers won't take well to having a prominent buzz following them around and getting in the way of photographs.
The only thing you can do is be respectful and open with other travellers as to what you're doing. If you can, ask if they mind you flying around for a few minutes to get some shots, and make sure to not overstay your welcome.
If you're worried about disturbing others, you can always try and visit sites at times that you know will be less busy.

Not Having Spare Batteries And Storage Space
Iceland's remote locations are one of the many things that make it great for capturing amazing drone shots, but it's also one of the things that means you could miss the shot of a lifetime if your drone battery runs out of juice with no facilities around to recharge your gear.
With this in mind, you should consider being prepared with spare batteries and portable chargers should you run out of charge in between locations.
As well as battery life, a drone's storage space can also become quickly depleted. This is especially true when shooting in high-quality 4K video which takes up lots of memory.
To help your storage space last longer, consider shooting in lower resolution, or if you aren't willing to compromise on quality, carry an external hard drive which you can quickly transfer files to and keep your memory cards free.
The Best Places For Drone Photography In Iceland
They often say, if you're going to take one thing when visiting Iceland, it has to be a camera! And with a drone camera, you open yourself up to an even more incredible world of stunning natural vistas.
Unfortunately, many of the places that immediately spring to mind when thinking about perfect drone photography locations in Iceland will invariably have a UAV ban unless the pilot is granted an exemption.
The Gullfoss, Seljalandsfoss, Skógafoss, and Reynisfjara Beach are all popular destinations where drones are not permitted. This ban includes all national parks in Iceland: Vatnajökull, Snæfellsjökull, and Þingvellir.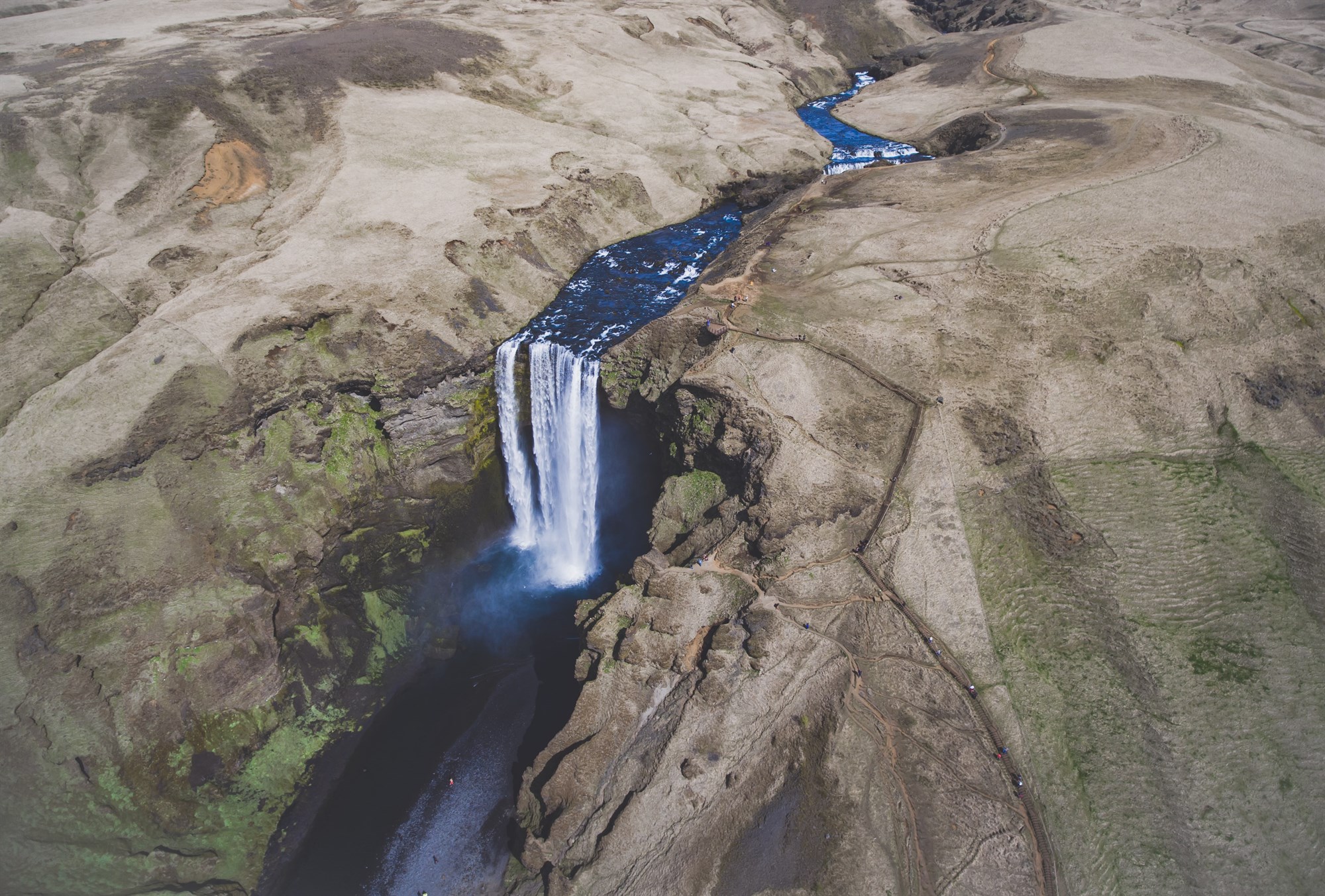 This is not a total ban, however, and you can apply for a permit to fly in the Vatnajokull National Park area. This can be purchased online via email. If you are granted permission, we highly recommend visiting during the winter months when the light makes for some seriously stunning photography!
You may think that this doesn't leave you with much in the way of legal drone flying locations, but remember if you are in a rural area that is not part of a national park and you cannot see any "DRONES ARE FORBIDDEN" signs, you can safely assume that you are able to fly your drone within the EU rules.
Notable locations for drone photography in the Westfjords include the stunning Arnarfjörður fjord or Rauðisandur beach. But, be aware that drones at Látrabjarg cliffs are forbidden due to the precious wildlife there. The same restrictions are also in place at the Dynjandi waterfall to maintain its natural peace and serenity.
In short, the areas we have mentioned are merely recommendations, and there are no real "best" places for drone photography in Iceland as the whole country is, quite simply, a photographer's paradise.
Our recommendation is to note the areas where you know drones are banned, and then try exploring the areas you know there aren't any restrictions and see what amazing aerial photography gems you stumble across.
Need a way of reaching those remote areas perfect for flying? Why not rent a car in Iceland from us here at Lotus Car Rental? We have a huge range of great rental cars at affordable prices to get you out on the road and exploring all the ultimate drone flying spots Iceland has to offer.
Drone film and photography isn't limited to professional photographers and is an amazingly rewarding activity for the general tourist, providing some incredibly unique souvenirs.
Just remember to have up-to-date knowledge of the legislation, brush up your flying skills beforehand, and then you're well on your way to capturing Iceland in all its aerial glory!