How to Drive a Tesla 2023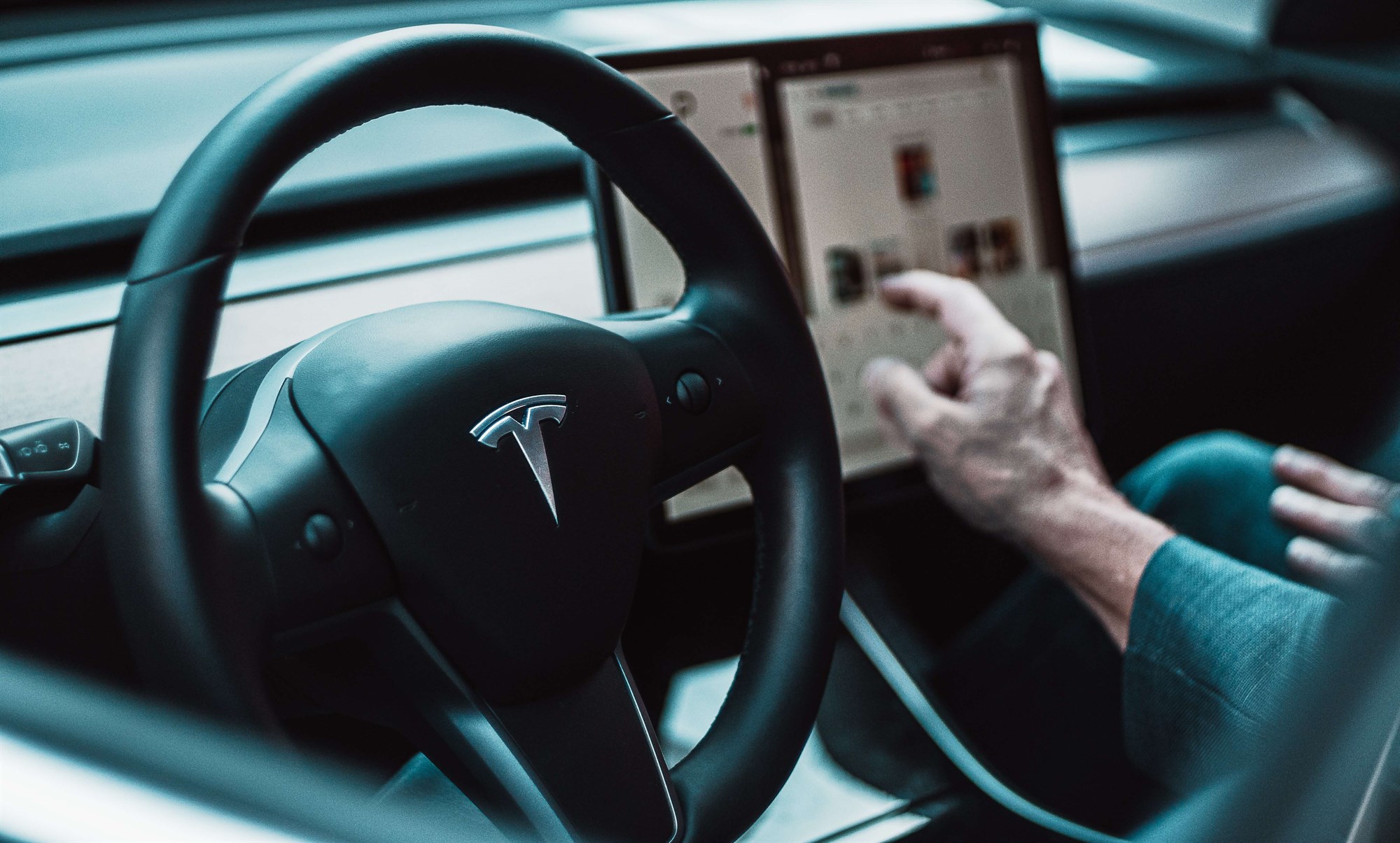 Are you interested in learning how to drive a Tesla? Whether you're considering renting a Tesla, or you've just made the purchase, you've come to the right place! In this blog post, we'll explore everything from Tesla's unique features to the basics of driving one. We'll cover what to expect when you first sit in the driver's seat, how to adjust the seats and mirrors, and all the safety features to help you feel comfortable straight away.
By the end of this post, you'll have a better understanding of what it's like to drive a Tesla and all the features that make it so special.
Want to skip to a specific section in this article? Use the jump links below:
How To Enter And Exit
How To Turn On A Tesla
How To Turn Off A Tesla
How Do You Lock And Unlock A Tesla?
How To Put A Tesla Into Gear
How To Adjust A Tesla's Rear-View Mirror
How To Adjust Tesla's Wing Mirrors
How To Adjust Seats In A Tesla
How To Adjust The Steering Wheel In A Tesla
How To Find Charging Stations In Iceland?
How To Pay For Charging And Supercharging With A Rental Tesla
How Do You Open The Charge Port?
How To Charge A Tesla
How Long Does It Take To Charge A Tesla?
How Do You Know When A Tesla Is Finished Charging?
The Different Types Of Tesla Chargers
Can A Tesla Battery Die?
What Do The Colors On The Charge Port Logo Mean?
How Far Can You Drive A Fully Charged Tesla?
Can You Stay In A Tesla Whilst It Charges?
Automatic Emergency Braking
Advanced Airbags
Thermal Protection
Cabin Camera
Forward And Blind Spot Collision Warning
Lane Departure Avoidance
How To Open And Close The Rear Trunk
How To Open And Close The Front Trunk
How To Open And Close The Glovebox
How To Use Voice Command
How To Charge Your Smartphone
Tesla's Regenerative Braking System?
How To Operate The Autopilot (Cruise Control)
First driving a Tesla in Iceland
How to enter and exit a Tesla
How to enter a Tesla
Press the tallest part of the door handle with your thumb to eject the handle and pull it open
Exiting a Tesla
Whilst sitting in the car, press the button at the top of the armrest handle and exit the car
Firmly push the Tesla door to close it


How to turn on a Tesla
How to turn on a Tesla with a key fob
To turn on the Tesla, place your key fob anywhere in the vehicle
Once seated with your seatbelt fastened, press the brake pedal with your foot and move the gear selector stalk into your chosen gear to turn it on 
How to turn on a Tesla with a key card
Place your key card on the Tesla console, such as in the cup holders
When seated with your seatbelt on, press the brake pedal with your foot and use the gear selector stalk to find your chosen gear to turn the vehicle on
How to turn off a Tesla
How to turn off a Tesla with a key fob or key card
Teslas turn off automatically when you exit the car, but make sure that you take the key fob or key card with you and close all doors
If you want to turn off a Tesla without exiting the car, use the touchscreen and press Controls > Safety > Power Off and wait at least two minutes without interacting with the vehicle (do not open the doors, touch the brake pedal etc.)
How do you lock and unlock a Tesla?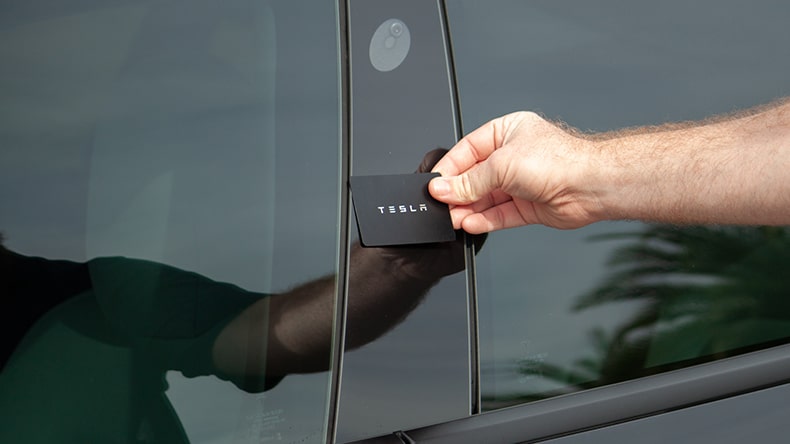 How to lock and unlock a Tesla with a key fob
To lock, press your key fob once and wait for the vehicle to beep once. This means the Tesla is locked
To unlock, press the key fob twice and the vehicle will beep twice. This means the Tesla is unlocked
How to unlock a Tesla with a key card
To lock and unlock a Tesla from outside of the vehicle, place the key card near the circle on the driver's side window. The wing mirrors will rotate outwards to indicate that the car is unlocked, or inwards if it is locked
To lock and unlock from inside the Tesla, press the lock image on the touchscreen. The doors will lock automatically within 15 seconds of driving and unlock automatically when you shift the gear to park
How to put a Tesla into gear
Locate the gear selector stalk behind the right-hand side of the steering wheel
To drive, press down
To reverse, push up
To park, press the button at the end of the stick
The touchscreen will indicate your gear selection
How to adjust a Tesla's rear-view mirror
Tesla rear-view mirrors can only be adjusted by hand. Manually adjust for an unobstructed view in the rear window when you are sat in the driving seat in the normal, usual position that you would drive in
How to adjust Tesla's wing mirrors
Press the car icon in the bottom-left corner of the touchscreen to access the Quick Controls panel and select Mirrors
Select the left or right wing mirror and use the scroll on your steering wheel to adjust the mirrors
How to adjust seats in a Tesla
How to adjust the front seats in a Tesla
Push or pull the shortest sides forward and back to move your chair forwards or backward
Push or pull the longest sides up or down to bring your chair higher or lower
Push or pull this lever to raise or lower your seat back
Press the top or bottom of the circular button for lumbar support or the sides of the button to customize the inflation of the seat
How to adjust the steering wheel in a Tesla
Press the car icon in the bottom-left corner of the touchscreen to access the Quick Controls panel and select Steering Wheel
Using the left-hand scroll on the steering wheel, scroll upwards to raise the steering wheel higher or downwards to lower it
Using the same left-hand scroll, scroll towards the right to bring the steering wheel closer to you or left to move it further away
Where to charge Teslas in Iceland
How to find charging stations in Iceland?
As you explore Iceland, the time will come for you to pull over and recharge your vehicle's batteries. But don't fear, as there are various ways of finding a charging point within Iceland's extensive charging network making renting an electric car in Iceland an enjoyable and stress-free experience.
If you're in need of a charging point immediately, then the easiest way of finding one is through the car's onboard infotainment system, as all models come equipped with a map of Tesla's supercharger network. You can also access the supercharger map through Tesla's mobile app, which offers additional features such as real-time charging station availability. When a suitable supercharger isn't available, you're able to charge your Tesla through a regular charging station too. These can be found through various charging network tools and apps, but we'd recommend Orka Náttúrunnar's charging point map.
If you'd prefer to plan ahead, Tesla's useful Trip Planner allows you to enter your destination(s) and will automatically calculate your route, integrating supercharger stop-offs wherever necessary. This can be found within your car's onboard infotainment system, on the Tesla app, or online.
How to pay for charging and supercharging with a rental Tesla
After finding a charging station or supercharger, you'll usually need to set up a payment option before charging commences. This is typically done via a charge card, smartphone app or on the charging station itself allowing you to pay for your charge in a convenient manner. Each charging station should come with its own step-by-step instructions to assist.
However, when you rent a Tesla with Lotus Car Rental, you can rest assured knowing that your charging costs are completely covered. If you choose to use a Tesla supercharger, simply plug the car in and the bill will be taken care of by Lotus Car Rental. We will also provide you with two key fobs, one from Orka Náttúrunnar and one from Isorka. These key fobs allow you to recharge your Tesla free of charge at their various charging stations across Iceland.
How to charge a Tesla
How do you open a Tesla's charge port?
There are various ways to open a Tesla charging point depending on which type of charger you're using.
If you're using a supercharger:
First, you'll need to park the vehicle within range of the cable and ensure it's in park. After that, simply hold the charging cable up to the port and press and release the button.
Alternative ways of opening the charge port:
Within the car's infotainment system, you can head to 'Controls' and tap the charge port icon.
Within the car's infotainment system, select 'Controls > Charging > Open Charge Port'.
When the vehicle is unlocked, you can press the bottom of the charge port door and it will open.
If the vehicle is supplied with a key fob accessory, hold the rear trunk button down for 1 to 2 seconds.
Voice commands are also available that allow you to open the Tesla charge port.
How to charge a Tesla
Open the charging point and determine which type of connector is being used. You may find that an adaptor is required, so ensure this is plugged into the vehicle's charging point before you attempt to insert the charging cable.
Once the cable is correctly inserted, it will begin charging automatically - if the charge port logo starts to flash green, the vehicle is being charged.
If you've reached the defined charge limit or are happy with the amount of range you've got, you can press the 'Stop Charging' button on the car's touchscreen and disconnect the cable by pressing and holding the button on the connector handle and pulling it away from the car. 
If an adaptor was required, pull this out with the cable and press and hold the connector handle button again to release the adaptor.
Pack the cables and adaptors back into their storage place, close the charge hatch, and get back to exploring Iceland.
How long does it take to charge a Tesla?
How long it takes to charge a Tesla depends on which specific model you have and which type of charging point you use. The shortest charging times will be found when you visit a Tesla supercharger, as these can add up to 200 miles per 15 minutes of charging. Other public charging stations are available, with rapid 50kW charging stations taking approximately 60 minutes to go from 20% to 80%, and common fast 22kW charging stations taking approximately 8 hours.
How do you know when a Tesla is finished charging?
There are various ways of knowing when a Tesla has finished charging, but the easiest way is to simply check the car's charge port logo - if it's a solid green, it's finished charging. You're also able to check the vehicle's charge status through the infotainment system and instrument panel if sat inside the car, or through Tesla's mobile app if you'd like to access this information remotely.
The different types of Tesla chargers
When you're traveling around Iceland in a Tesla you may come across a variety of chargers that offer different charging speeds:
Slow Chargers - Typically found within accommodation or work locations, slow chargers include domestic plugs and wall boxes that offer a power rating of around 2 to 3kW. Charging a Tesla through a slow charger can take as long as 36 hours for a 20% to 80% charge.
Fast Chargers - Typically found in public locations such as shopping malls and supermarkets, fast chargers tend to offer a power rating of between 7kW and 22kW. This type of charging usually takes between 8 and 12 hours for a 20% to 80% charge.
Rapid Chargers - Typically found in public locations such as service stations, rapid chargers offer a power rating of over 50kW. This means you're able to give your Tesla a 20% to 80% charge in as little as 20 minutes. Tesla superchargers are classed as rapid chargers.
Can a Tesla battery die?
Theoretically, a Tesla battery can die. However, before it does, the car's infotainment system will provide you with plenty of notifications and alerts to inform you of the remaining range, giving you a sufficient amount of time to find a nearby charging station. 24/7 roadside assistance is also included in our rental prices, if you do find yourself stranded due to a depleted battery.
What do the colors on Tesla's charge port logo mean?
Green - The vehicle's charge port logo will flash green whilst it's charging and will be solid green once the charge has finished.
Amber - When the vehicle's charge point is amber, this means that the connector has not been correctly plugged in. Simply realign the connector and make sure it's inserted fully.
Red - If the charge point is red, this means that a fault has been detected. The charge will stop and you should check the vehicle's infotainment system for further information.
Blue - This indicates that the vehicle recognizes that a connector has been plugged in. If you have a blinking blue light, this means that it's preparing to charge or that a charge has been scheduled for a future time.
White (or Light Blue) - A white (or light blue) light shows that the charge port door is open and that the vehicle is either ready to be charged but the connector is not inserted, or that the charge port latch is unlocked and the connector can be removed.
How far can you drive a fully charged Tesla?
The overall range can be influenced by various factors including weather conditions and driving style, but the Tesla Model Y vehicles we have available offer up to 315 miles of driving between charges. This means you can embark on day trips from Reykjavik, taking in famous landmarks such as the Þingvellir National Park and the Strokkur Geysir geothermal area along Iceland's Golden Circle and still have over 100 miles of range remaining.
Can you stay in a Tesla whilst it charges?
You sure can. Tesla models come equipped with a range of technology to keep you comfortable and entertained whilst you wait for the vehicle to be charged, allowing you to escape Iceland's temperamental climates whenever necessary. However, using equipment such as air conditioning will slow your overall charge time down.
What safety features do Teslas Have?
Driving in Iceland can be a magical experience as you take in the country's various sights, but there is a range of hazards that require your attention. To ensure you enjoy your adventure within Iceland in the safest of manners, Tesla vehicles come equipped with a range of safety features, including:
Automatic emergency braking
When an unavoidable hazard such as another vehicle, pedestrian, or other object appears in front of you, your Tesla will automatically apply the brakes to limit the impact. When this feature activates, a notification will appear on the touchscreen display as well as a chime through the vehicle's speaker system.
There's nothing you need to do to turn automatic emergency braking on as it's always enabled when driving.
Advanced airbags
Should a collision occur, your Tesla is fitted with a range of strategically-placed airbags to reduce the impact for you and your passengers. For example, Tesla Model 3 vehicles come with front, seat-mounted side, and curtain airbags, giving you extensive protection. The required airbags will automatically inflate when the sensors detect an impact that exceeds the deployment thresholds. When the airbag system activates, it will also:
Unlock all doors
Turn on the vehicle's hazard warning lights
Turn on the vehicle's interior lights
Disable high voltage
Thermal protection
With approximately one fire for every 210 million miles driven, Tesla vehicles are far less likely to catch fire compared to average gasoline vehicles. However, in the instance where a fire does occur, you can rest assured knowing that Teslas are designed to spread heat away from and protect the cabin, allowing you to exit the vehicle in the safest possible manner.
Cabin camera
Another useful safety feature comes in the form of a cabin camera that's located above the rearview mirror. The camera monitors how much attention you're paying to the road, providing you with audible updates to keep you focused on any potential hazards that may occur.
The images and videos captured by the camera do not leave the vehicle itself, by default. 
Forward and blind spot collision warning
To enhance your awareness, Tesla vehicles come fitted with forward and blind spot collision systems which prove particularly helpful when driving in urban areas or on Iceland's Ring Road - Route 1. 
When a hazard is detected in front of you, the forward collision system will provide audible and visible notifications to prompt you to take immediate corrective action. If you don't, automatic emergency braking will be applied to reduce the impact of the collision.
To spot objects hiding away in your blind spot you can make the most of the vehicle's automatic blind spot camera whenever you engage the turn signal and activate the blind spot collision warning chime to receive audible notifications when a hazard has been detected.
Lane departure avoidance
Designed to warn you as you drift out of, or near the edge of, your driving lane, lane departure avoidance is an automatic system that can provide warnings or assistance to keep you safe. It will only operate as you drive at speeds of between 64 and 145km/h and requires road markings to be clearly visible.
When the system activates, it will also check to see if your hands are on the steering wheel. If they're not, it will feed various alerts to the touchscreen to ensure you're operating the vehicle correctly.
Tesla features
How to open and close a Tesla's rear trunk
Put your Tesla into Park mode and either:

Touch the "Open" or "Close" button shown at the rear of the car on the left-hand side of the touchscreen
If you have a key fob, double-click the rear trunk button. This will both open and close the rear trunk
If you have your key fob or card nearby, you can open and close the rear trunk by touching the switch under the liftgate's exterior handle shown in the image below. Use this method with caution if in an enclosed area such as a parking garage with low ceilings
How to open and close a Tesla's front trunk
Put your Tesla into Park mode and either:

Touch the "Open" or "Close" button shown at the front of the car on the left-hand side of the touchscreen
If you have a key fob, double-click the front trunk button. This will both open and close the front trunk
How to open and close a Tesla's glovebox
Open the glovebox by pressing Controls > Glovebox on the touchscreen
The glove box will automatically open and its interior light will turn on
To close the glovebox, gently push it upwards until you hear it click into its closed position
How to use voice command in a Tesla
CAUTION: Make sure to keep your eyes on the road at all times when driving
Press the right-hand scroll on the steering wheel or microphone icon on the touchscreen to engage the voice command
Wait for the tone to indicate that the voice command is ready
You can now voice command practically any feature that can be managed via the touchscreen, other than driving-related commands (like switching gears), such as:

"Lock doors" or "unlock doors"
"Turn on windshield wipers" or "Increase windshield wiper speed"
"Fold wing mirrors" or "unfold wing mirrors"
"Make it warmer" or "Turn on air conditioning/dog mode/camp mode"
"Open music" or "Play [song]"
How to charge your smartphone in a Tesla
With a charging cable
Open the front compartment of the center console by gently pulling it forward
Locate the two USB ports shown in the image below
Insert your charging cable into the USB port to charge your smartphone
Wireless charging
Place your smartphone on the front of the center console
Your smartphone will only charge when the vehicle is powered on
Note that your smartphone might not charge if your phone case is made of metal. If wireless charging is not working, try removing your phone case
The smartphone must be in direct contact with the wireless charging pad. Ensure there is nothing obstructing it
What is Tesla's regenerative braking system?
Tesla uses regenerative (regen) braking to convert the vehicle's kinetic energy into chemical energy stored in the battery which can be used later to drive the vehicle.
This helps to increase the Tesla's battery life. It means that the car will promptly slow down as opposed to rolling to a stop. This might feel different to a first-time Tesla driver but you will get used to it after the first few miles.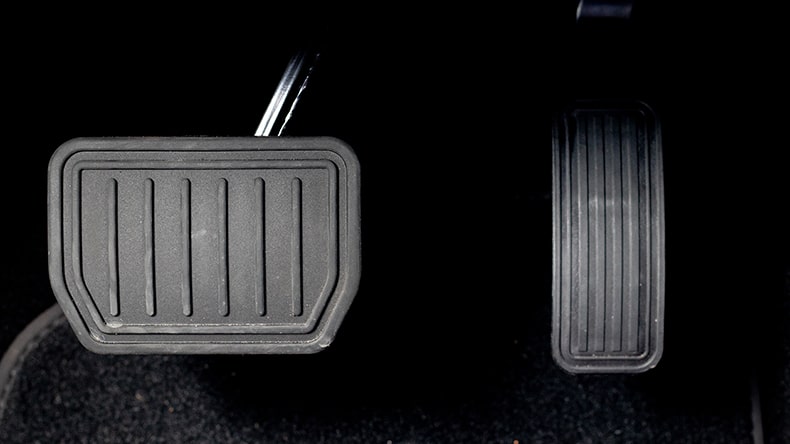 How to operate the Tesla autopilot (cruise control)
When in drive, push and hold the gear stalk all the way down until you reach the desired speed
Release the stalk
Adjust your speed via the touchscreen or right-hand scroll on the steering wheel
Push the stalk up once to cancel autopilot
Learn more about driving a Model Y/3 for the first time with these tutorials from Tesla
Planning a trip to Iceland? Rent our Tesla Model Y or Model 3 with us now for the ultimate driving experience.
Here at Lotus Car Rental, you can rent an electric car in Iceland without worrying about the cost of charging. That's right, we're offering our Tesla Model Y and Model 3 rental cars with free charging and GPS included!