Everything You Need to Travel Iceland's Golden Circle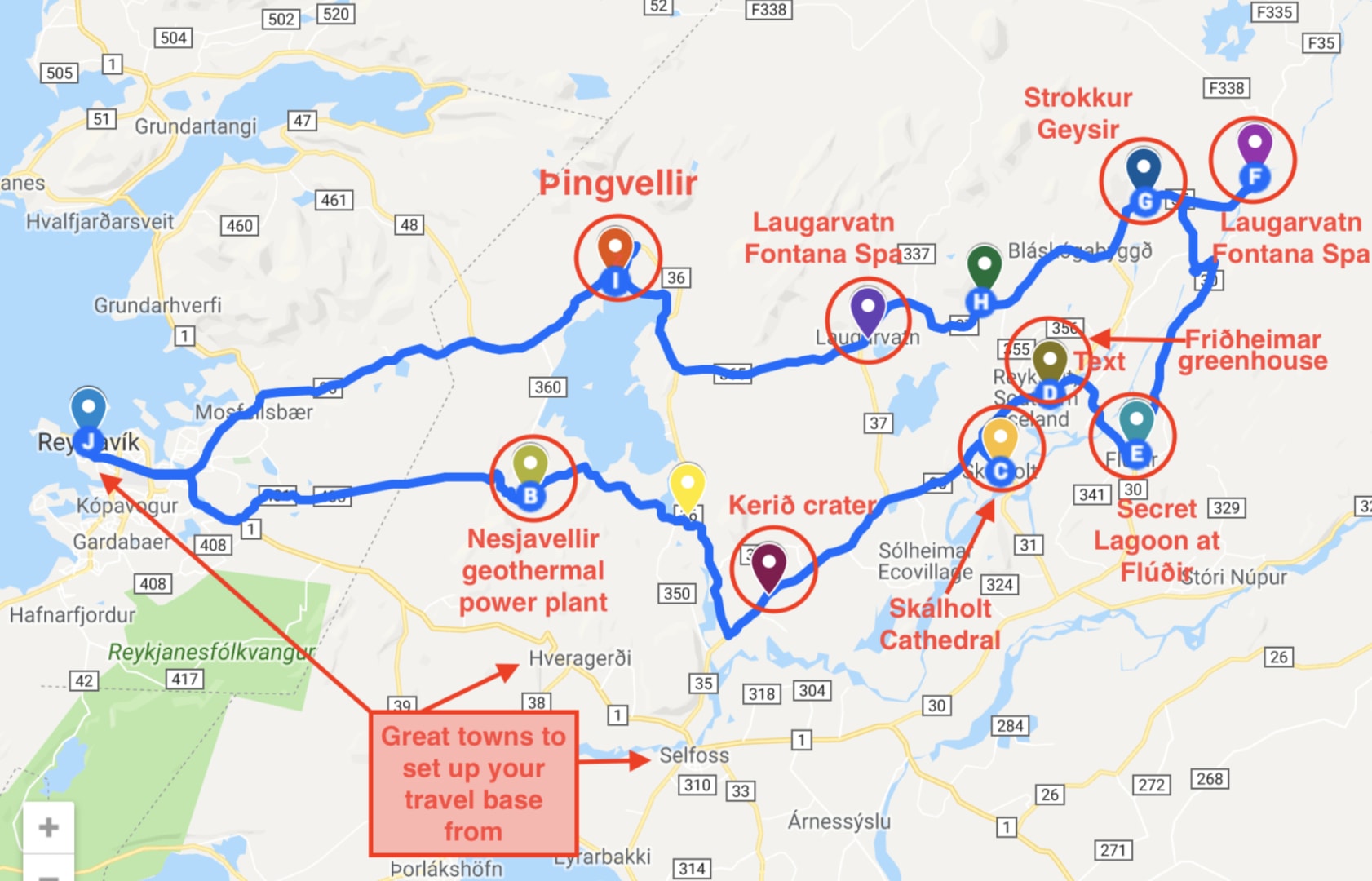 ---
When you commit to a trip around the Golden Circle, you're opening yourself up to so much more than just three major attractions. If you pack right and craft the perfect itinerary, this can be a trip within a trip, and a journey of a lifetime. Let us show you the ropes.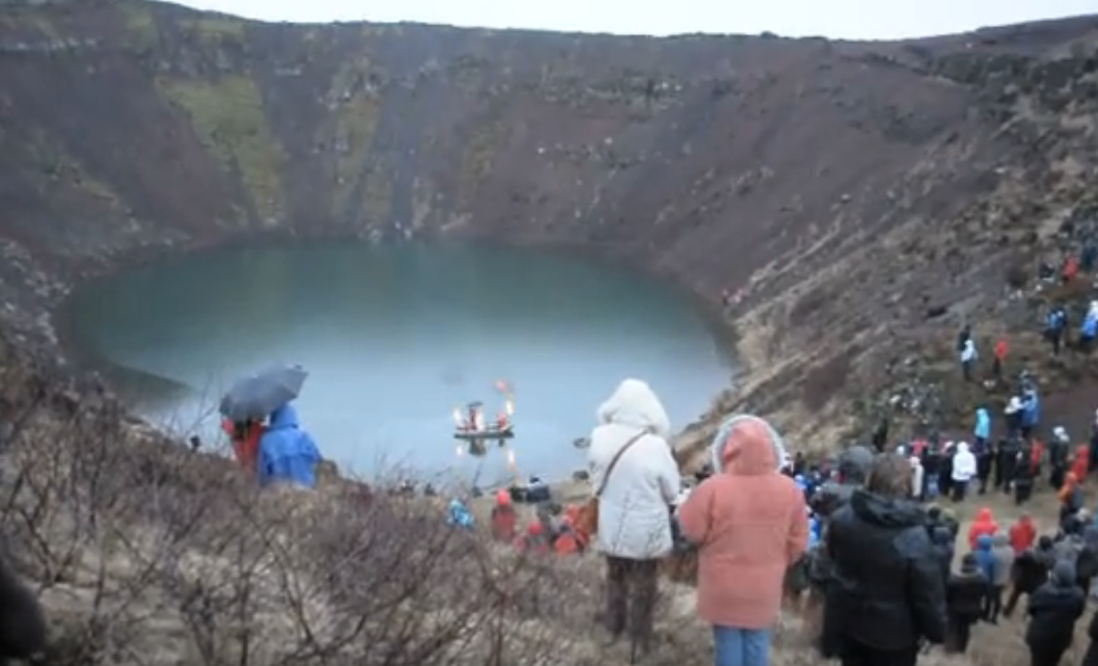 What Is the Golden Circle in Iceland?
The Golden Circle (also known as Gullni hringurinn) is a tourist route in southern Iceland. As  Iceland's "piece de resistance.", it packs all of the country's most popular, "must-see" spots into a seamless trip. Not counting the start off from Reykjavik, the crowning jewels include:
The Þingvellir National Park

The Strokkur Geysir geothermal area

Gullfoss waterfall 
The Golden Circle also includes other attractions that are lesser-known, including a "secret" lagoon, a beautiful geothermal spa, and an ancient crater, to name a few. The Golden Circle is part of the greater Ring Road — which, true to its name, runs in a "ring" around the perimeter of the country. And that makes sense since a large part of Iceland's middle is covered by permanent ice cap — the glacier Vatnajökull, which is a piece of ice the size of Puerto Rico.
Why is it called the Golden Circle?
It's a common myth that Iceland's Viking settlers chose the name to somehow discourage others from settling on the otherwise verdant isle. The truth is a little more complicated — Norse custom is to see a thing and name it. So even though Greenland really was more green than Iceland when settlers first encountered it, and an early settler Garðar Svavarosson encountered an Iceland with summers as green and lush as ever, when Flóki Vilgerðarson encountered the isle, he saw nothing but a fjord full of icebergs. And so it was named, and it stuck.
Here we are today, continuing to be surprised by the country's otherworldly terrain, hidden geological formations, and curious creatures — much as its first settlers were. Driving around Iceland, you'll find there's still much still to be surprised by in Iceland. Even the three most popular stops on its famed Golden Circle are just previews of more the country's myriad natural and man-made attractions. For instance, did you know there's a place where you can stand on two continents at once? Or a crater where the acoustics are so great, the Icelandic people host actual concerts in the lake-filled crater, standing in a boat?
HOW MANY MILES IS THE GOLDEN CIRCLE IN ICELAND?
The Golden Circle runs for a total of 140 miles or 230 kilometers.
HOW LONG DOES IT TAKE TO DRIVE THE GOLDEN CIRCLE?
That depends on the route you take. If you're only focusing on the country's three "crowning jewels," then you can drive the whole thing in about three hours. If you plan to stop while driving around Iceland, you might have to block out the whole day for your Golden Circle travels.
However, if you plan to take your sweet time to tour multiple other attractions and hidden spots on the Circle route, you could easily stretch this trip out to three days — possibly more. There are plenty of nearby towns that you can set up as your "base camp," or visit for the great eats or activities like horse-riding.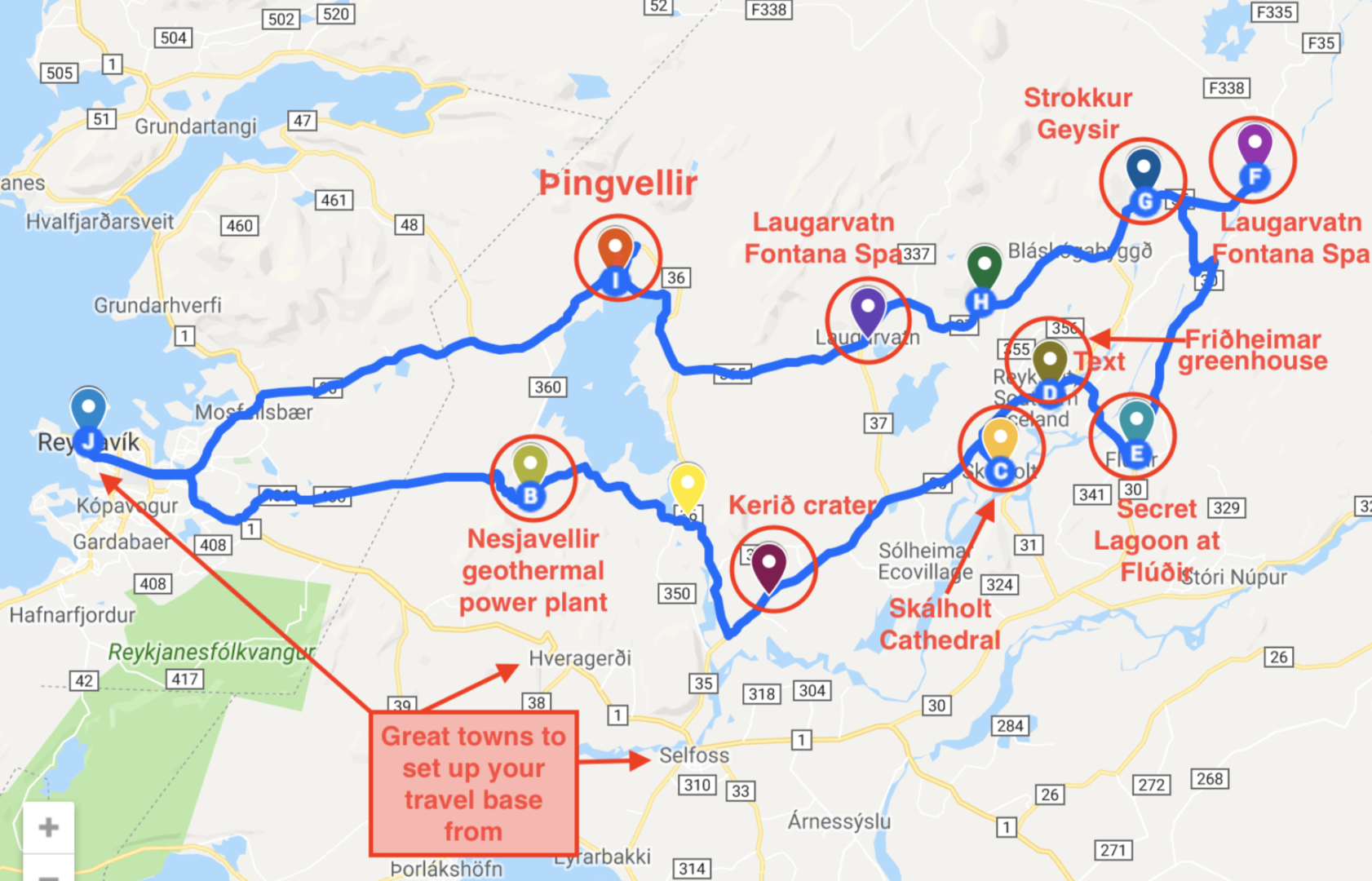 The Golden Circle Iceland Map
So not every route is created the same. You can drive the Circle based on what you want to see, which is why it's such a perfect route. But the best part of the Golden Circle route is that it runs along well-kept, well-maintained highways that form the Ring Road. Unless, of course, you need up crossing into the highland roads, cutting across the route, or taking a tangent.
Apps for Driving in Iceland
Even though the roads are extremely well-kept, the weather is always apt to change in Iceland. Whether you're summer or winter-driving, you'll want to have a safe way to check in on the weather, communicate with others in case there's a pending storm, or call for help.
Icelandic people are no strangers to these sudden turns in temperature and driving conditions. So you can take advantage of these homegrown apps to enhance the last-minute nature of your trip — not to mention, remain safe.
The 112 Iceland App 
This nifty app was created by Safetravel, a national Icelandic entity. Users can use the green button to "check-in" and store their last five locations. In case of an emergency, users can hit the red button and this feature works even in case of a remote location or a loss of service.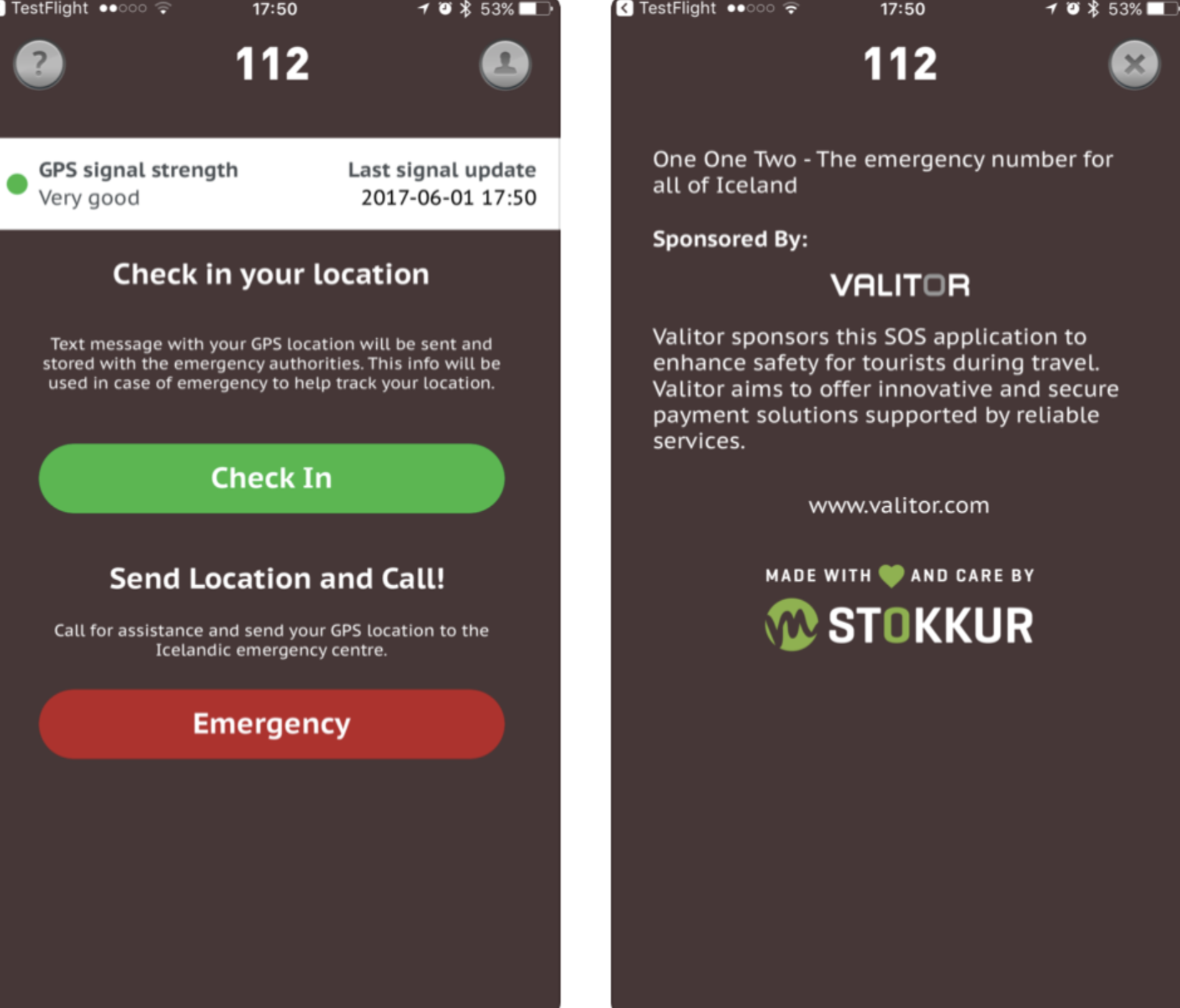 The Icelandic Weather App
Forget The Weather Network app — this is a weather app geared specifically to Iceland's own ever- and fast-changing conditions. Users can set up notifications, and the Met Office usually issues alerts of severe incoming weather using the app. Users can also check out the neat interactive map, which allows them to observe weather conditions from weather stations around the country, as they unfold.
Bonus Travel Tips
Plan ahead and avoid paying for an international roaming plan by downloading Google Maps of Iceland, the offline version. This will come in handy if you lose data service on your mobile device.
If you're planning to camp along the Golden Circle, you can check out Camping Info for details on various designated camping spots on your route to help you plan ahead.
What to Pack for Iceland
That really depends on whether it's summer or winter, so be sure to pack seasonally appropriate clothes and travel gear. The three major attractions itself sometimes call for a hike so make sure you have at least these pieces of gear on hand:
Thermals and fleece jumpers for layering

Waterproof gloves

Durable hiking boots

A warm, waterproof coat or parka — can't stress the "waterproof" bit enough because rain comes on pretty fast and stays through the day

Portable phone charger 
Where to stay on the Golden Circle? 
If you're planning to do more than just the three attractions, you'll want to choose nearby locations you can easily return to. When driving around Iceland, you can use Reykjavik as your base-camp. This will put you in close range of plenty of Airbnb and hotel options to choose from. Or you could settle at Selfoss or Hveragerði, which have their own little eats, guesthouses, and special activities. These options also put you close to the Skalholt church and the Secret Lagoon for even more unique Iceland opportunities.
Tips for Renting The Right Vehicle for the Golden Circle
Before you get started on your Golden Circle itinerary, make sure you rent out the right vehicle. The good news is that you don't need a 4x4 vehicle to traverse the Golden Circle. It's well-paved and has service vehicles in short reach. However, winter driving is always tricky and if you don't drive in icy or snowy conditions regularly. And if you want the flexibility to head off the beaten path, make sure to book ahead and get yourself a 4x4 SUV.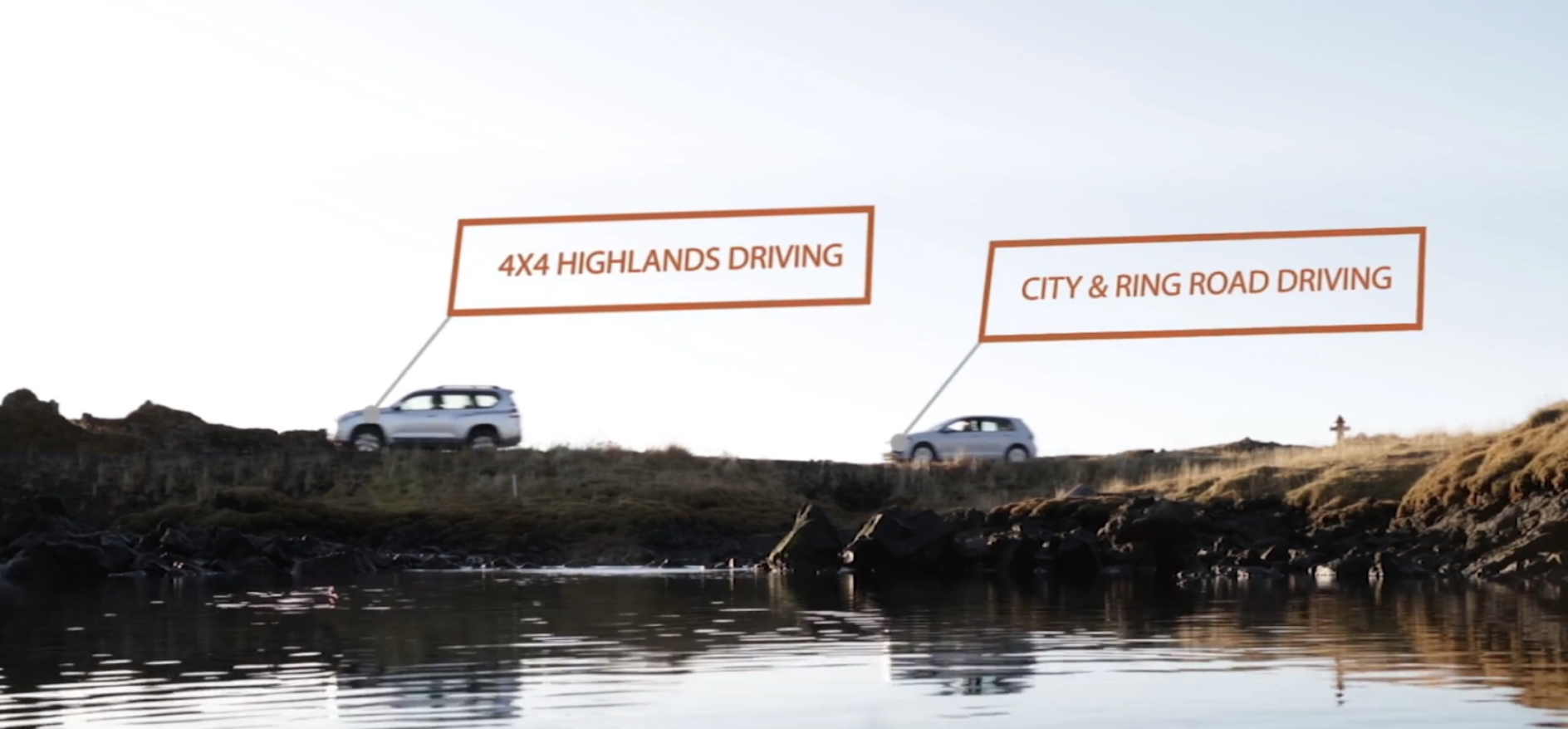 A useful thing to do, at first, is to divide your list of places into "must-see," "optional," and "off-the-beaten-path." Then, use this guide and the basic Golden Circle route to determine your exact route and decide if a 4WD is really called for.
What are the must-see stop on the Golden Circle?
Once you've got all your gear together and you've rented out your vehicle, it's time to get going on the road. You can also check changing road conditions in real-time using the website Vegagerdin.
Once you've got all your gear together and you've rented out your vehicle, it's time to get going on the road. You can also check changing road conditions in real-time using the website Vegagerdin.
ÞINGVELLIR (AND THE SILFRA FISSURE)
Owing to the popularity of the Silfra Fissure, and the fact that Thingvellir is home to unique and diverse flora and fauna native to Iceland, the national park is home to a number of campgrounds and incredible scenery. The Silfra fissure is cast from two tectonic plates splitting apart — the North American and Eurasian tectonic plates.
Most individuals end up hitting one section of the park: that closest to the visitor center. But the park is much larger — and you could easily spend a day hiking around it on foot. Smack dab in the middle of Thingvellir is Lake Thingvellir. So if you choose to, you can also take a leisurely two-hour drive around this picturesque and serene body of water.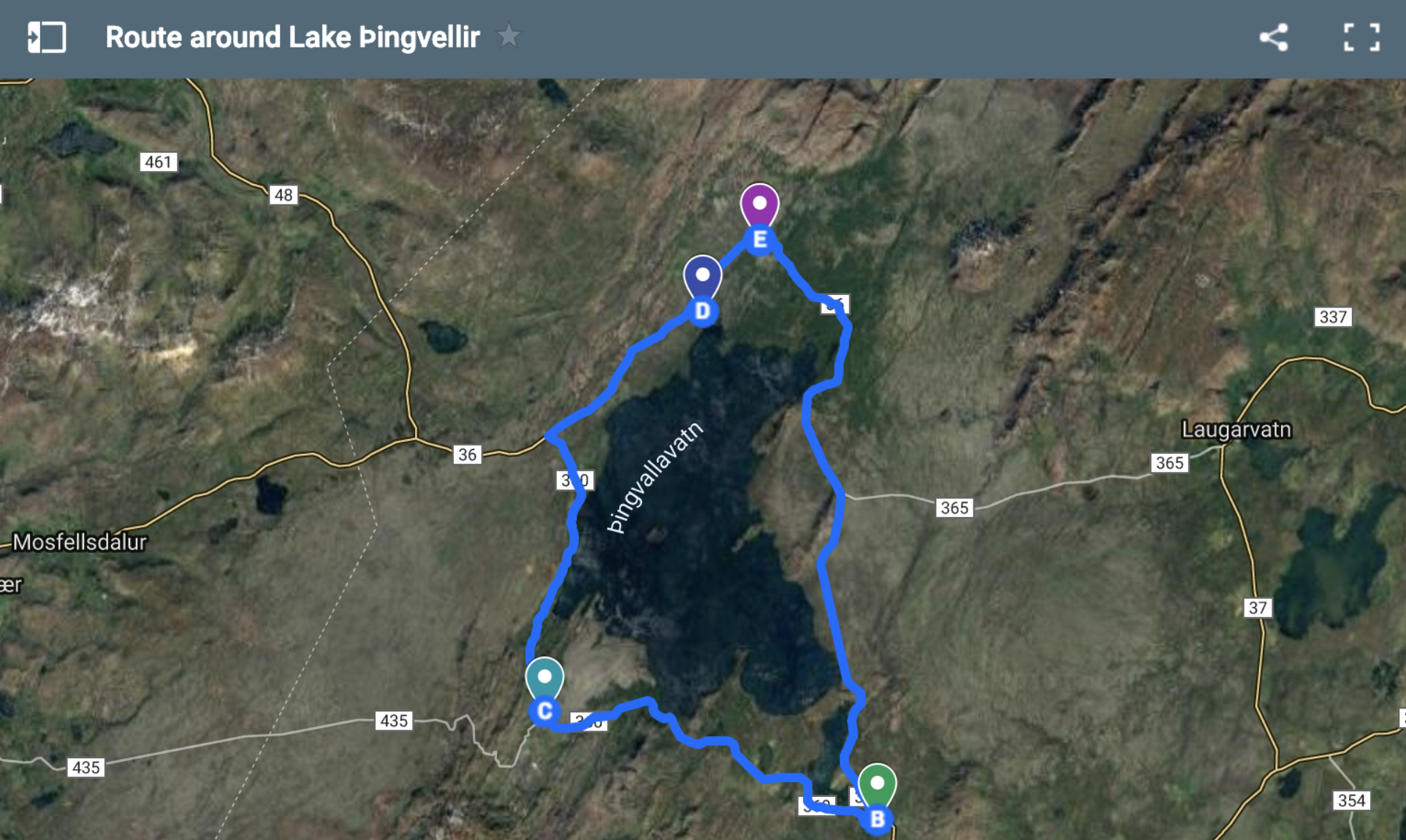 And once you've hiked the beautiful terrain, you can go snorkelling or scuba diving in the fissure, or go horseback riding on sweet but hardy Icelandic horses.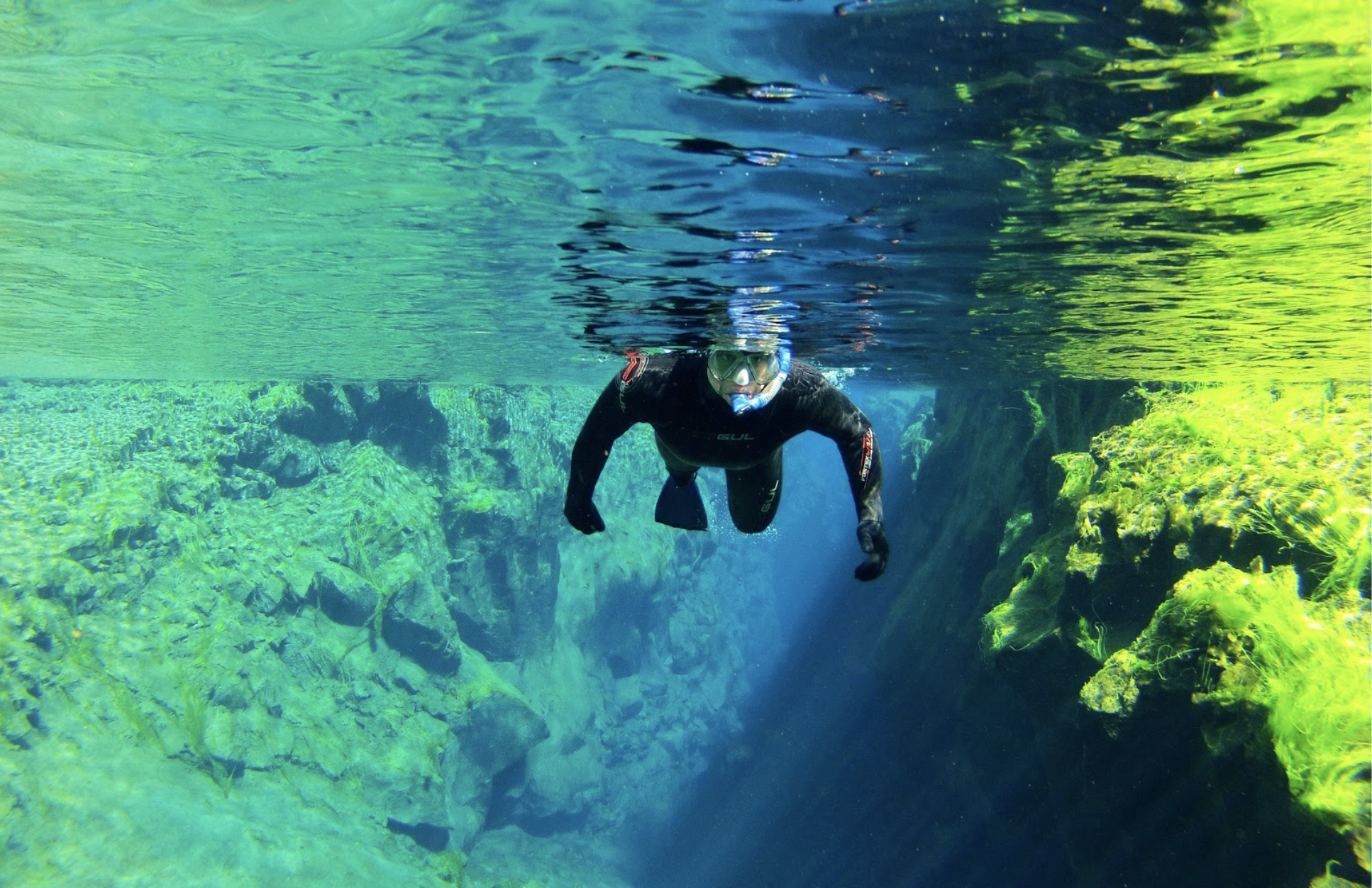 Whatever you choose to do in Thingvellir, you'll find beauty and wonder around every turn.
GULLFOSS WATERFALL
While Thingvellir definitely has its fair share of waterfalls, none compare to the size and ferocity of the Gullfoss waterfall. Falling in two stages, to a total height of 105 feet, Gullfoss is a sight to behold. The roaring water has, over the years, carved deep cracks and gorges. This makes the whole show quite spectacular as it tumbles into the deep valleys below.
To make it easy and safe to access, there are plenty of wooden walkways cut around the waterfall too. This can allow you to capture the falls from various vantage points and will leave you in awe of Iceland's Golden Circle.
STROKKUR GEYSIR
Strokkur Geysir is just a hop, skip, and a jump from the Gullfoss Waterfall — right in the geothermal pools of Haukadlur Valley.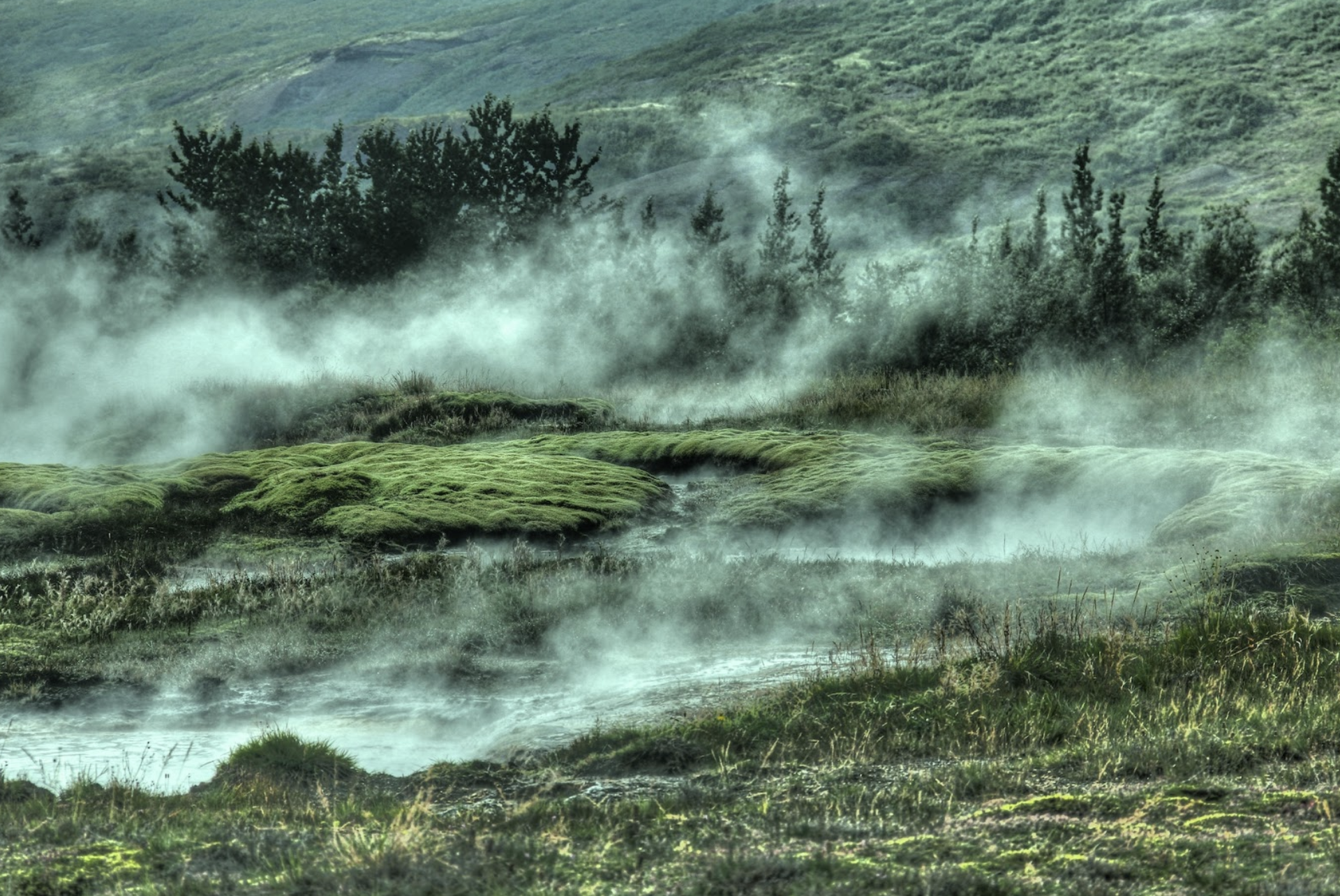 So if seeing a majestic geyser is on your to-do list, this is the place to stop. And don't worry about having to wait. Every 10 minutes or so, Strokkur erupts with its rush of boiling water, over 229 feet in the air. That's taller than the Gullfoss Waterfall. Excited yet?
So if seeing a majestic geyser is on your to-do list, this is the place to stop. And don't worry about having to wait. Every 10 minutes or so, Strokkur erupts with its rush of boiling water, over 229 feet in the air. That's taller than the Gullfoss Waterfall. Excited yet?
KERIO CRATER LAKE
Are you looking for a volcanic hike? The walks and views at Kerid Crater Lake should be on your list then. Despite being over 180 feet deep, the crater is quite accessible. There are stairs all the way down, but still, make sure to wear your hiking boots so you don't slip.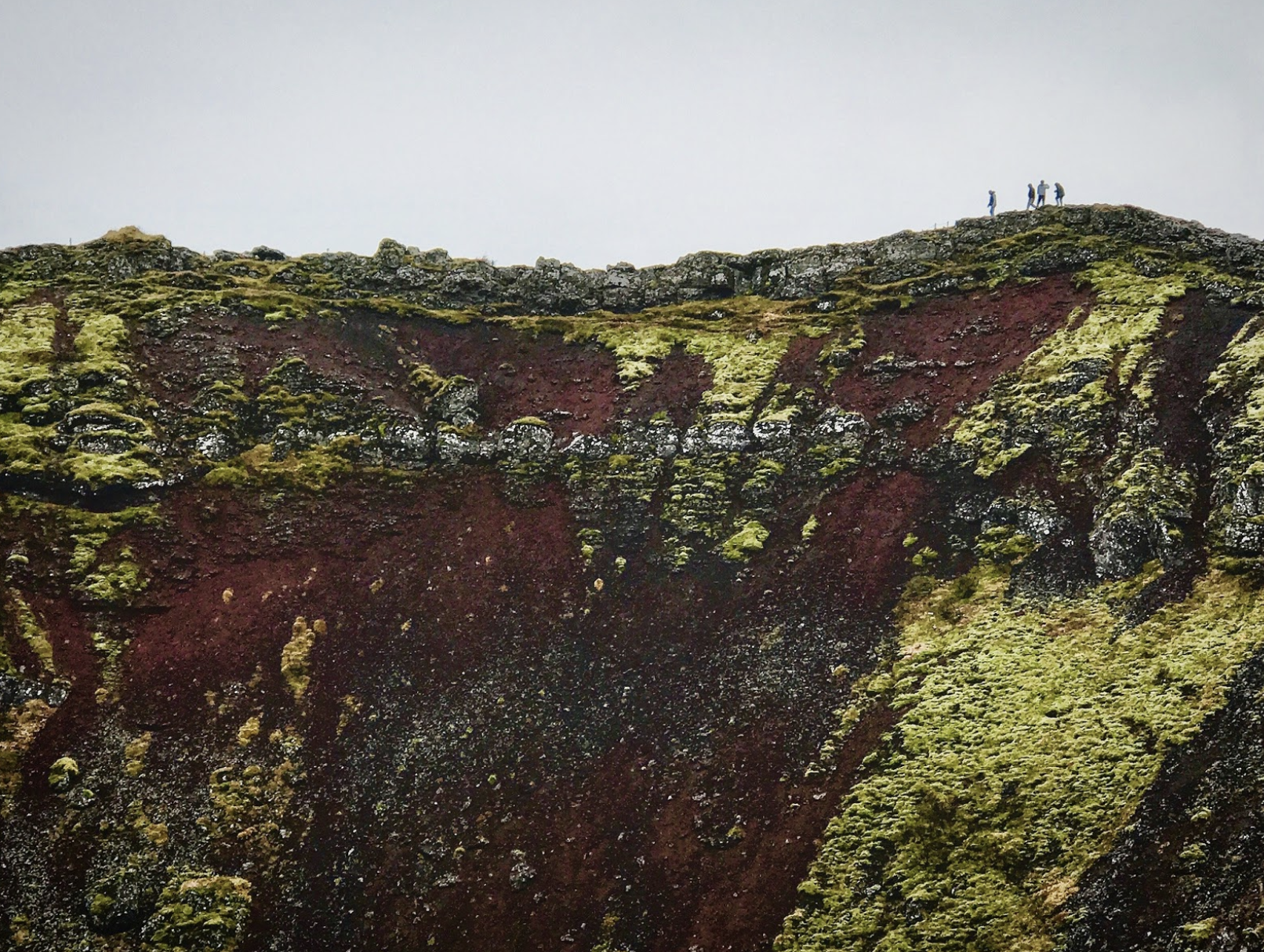 The crater itself is completely surrounded by red volcanic rock, giving you an incredible view of the shimmering blue lake that has filled up over the years. By the way, remember that crater lake with symphonic acoustics? That would be Kerid Crater Lake.
THE SECRET LAGOON
You know about the Blue Lagoon — but did you know there's a hidden spot that's equally as beautiful, possibly wilder, and definitely more secluded? It's the Secret Lagoon, located in the small village of Fludir. It's purposely cultivated with mossy boulders, expansive views, and naturally sloping crags and rocks.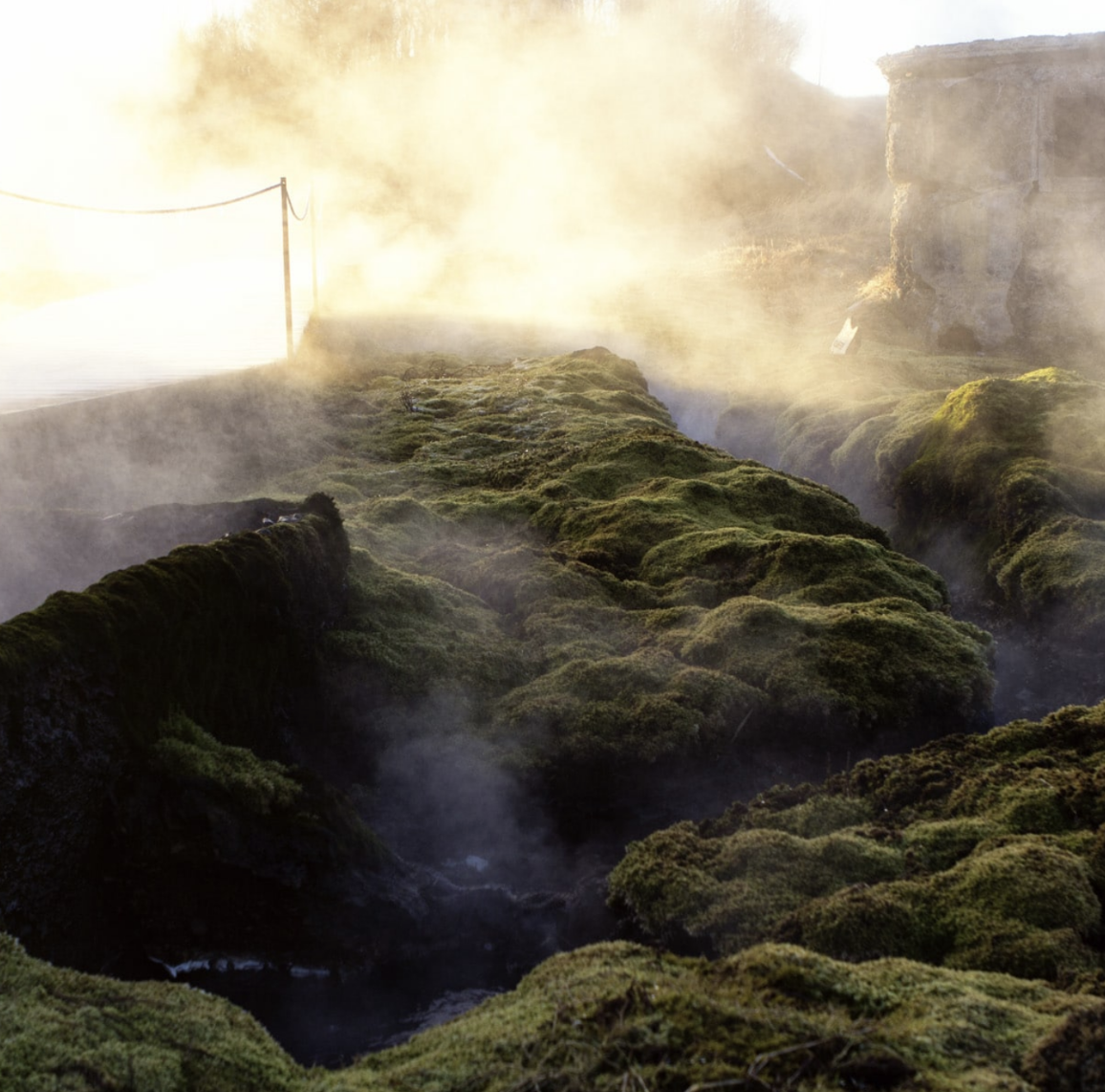 Besides soaking in this steamy, natural heaven, you can also use the walking paths to better examine the spouting hot springs. And if you're coming in winter, be prepared for an added treat: You'll probably be witness to the natural light show of the Northern Lights.
FRIÐHEIMAR'S GREENHOUSES
At some point, you're bound to get hungry — so why not check out the Friðheimar greenhouses? Located just outside of Reykholt, Friðheimar boasts a beautiful set of idyllic greenhouses and a farm where the main product is tomatoes. The farms at Friðheimar take great pains to use green energy and organic pesticides. Once you're done with the tour, you'll be treated to a delicious lunch, served anytime between 12 pm and 6 pm.
KERLINGARFJOLL MOUNTAINS
Though it's not strictly on the Golden Circle, the Kerlingarfjoll mountains are an almost desolate and alien landscape. Here, you'll be walking along the very ridges and edges of mountains and rock formations. The only catch is, of course, that this quiet spot is located outside of the "typical" Golden Circle route and, to reach it, you'll have to venture onto Iceland's famed F-roads. Many of these roads require 4WD vehicles and you can't legally access these hidden gems without it.
When you book with Lotus Car Rentals, it's smart to make sure that you know your itinerary and route beforehand. Our fleet of rugged SUVs are built for these rough jeep trails. Since they're only open in the summer, and this is the high season, it's best to book in advance as 4WD go fast.
Check out our wide range of car rentals in Iceland which will be perfect for your excursion around the Golden Circle. Whether you're looking for a small, medium or large car, we have something for you. We have budget-friendly and luxury options available, in both automatic and manual.