Driving in Iceland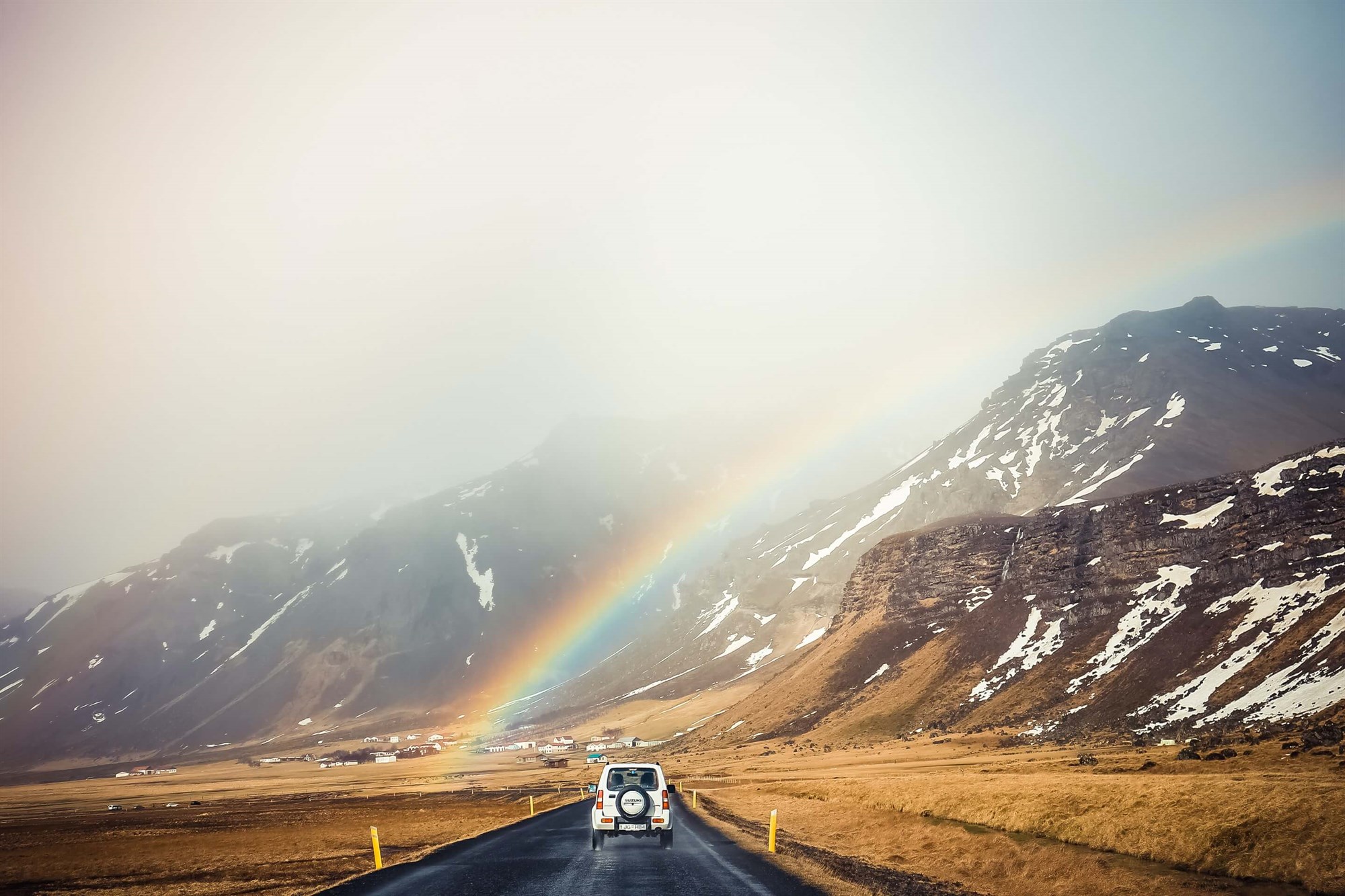 Driving in Iceland is a pretty magical experience, with vistas and sights you won't find anywhere else in the world. Realistically, if you're planning a holiday trip across the nordic expanse, this will likely be your first time driving in this country, so it's important to consider the differences from your home.
We've pulled together our advice on how to drive in Iceland safely and legally, whilst getting the most out of your time here. 
Want to skip to a specific section in this article? Use the jump links below:
What side of the road do they drive on in Iceland?
Headlights
Seatbelts
Off-road driving
Speed limits
Drink driving laws
Stopping on the road
Tires
Right of way
Mobile phone use

Legal documents
Checking the weather and road conditions
Accidents
Roundabouts
Tunnels
Single-lane bridges
Sheep and livestock
Driving Rules In Iceland
Knowing and understanding the driving rules in Iceland will have the double benefit of keeping you and your fellow passengers safe, as well as helping you avoid expensive fines. You won't need to re-learn how to drive, there are important rules that all drivers in Iceland must obey that you should be aware of. 
What side of the road do they drive on in Iceland? 
In Iceland, you drive on the right-hand side of the road. If you're a driver in the USA or many parts of Europe, this should be exactly the same as you are used to, although drivers from the UK should keep this in mind. The steering wheel of an Icelandic vehicle will also be on the left-hand side, another thing for UK drivers to watch out for!
Fortunately, as roads in Iceland tend to be relatively straight, long and low in traffic, you shouldn't find it difficult getting comfortable with driving in Iceland if you are used to left-hand side driving.
Headlights
Drivers in Iceland must have their headlights on at all times of the day when operating a vehicle. 
Due to the unpredictable nature of weather in Iceland, even during the summer and spring seasons, it's much more effective to ensure all drivers keep their headlamps on, helping other drivers to spot you in adverse conditions. This removes the necessity for a driver to assess when they should be on. 
Seatbelts
Icelandic driving laws require all passengers and drivers to wear seat belts at all times. Younger children and infants must be seated in car-safety seats. This is pretty standard practice for many countries, as it's a proven way to improve everyone's safety and as a result save lives.
Off-road driving in Iceland
It's illegal to drive off-road in Iceland under any circumstances. There are large fines associated with this crime, so it absolutely isn't worth taking the risk. Furthermore, the damage that could be caused to the natural habitat should not be dismissed. If you absolutely need to get somewhere, either find an alternative route or park your car in a safe location and get your hiking boots on! 
Note that f-roads, while often more difficult to traverse than most roads, to the point where they might seem off-road, are still legal roads should your car be up to the task. We have written a guide to f-roads in Iceland for your assistance.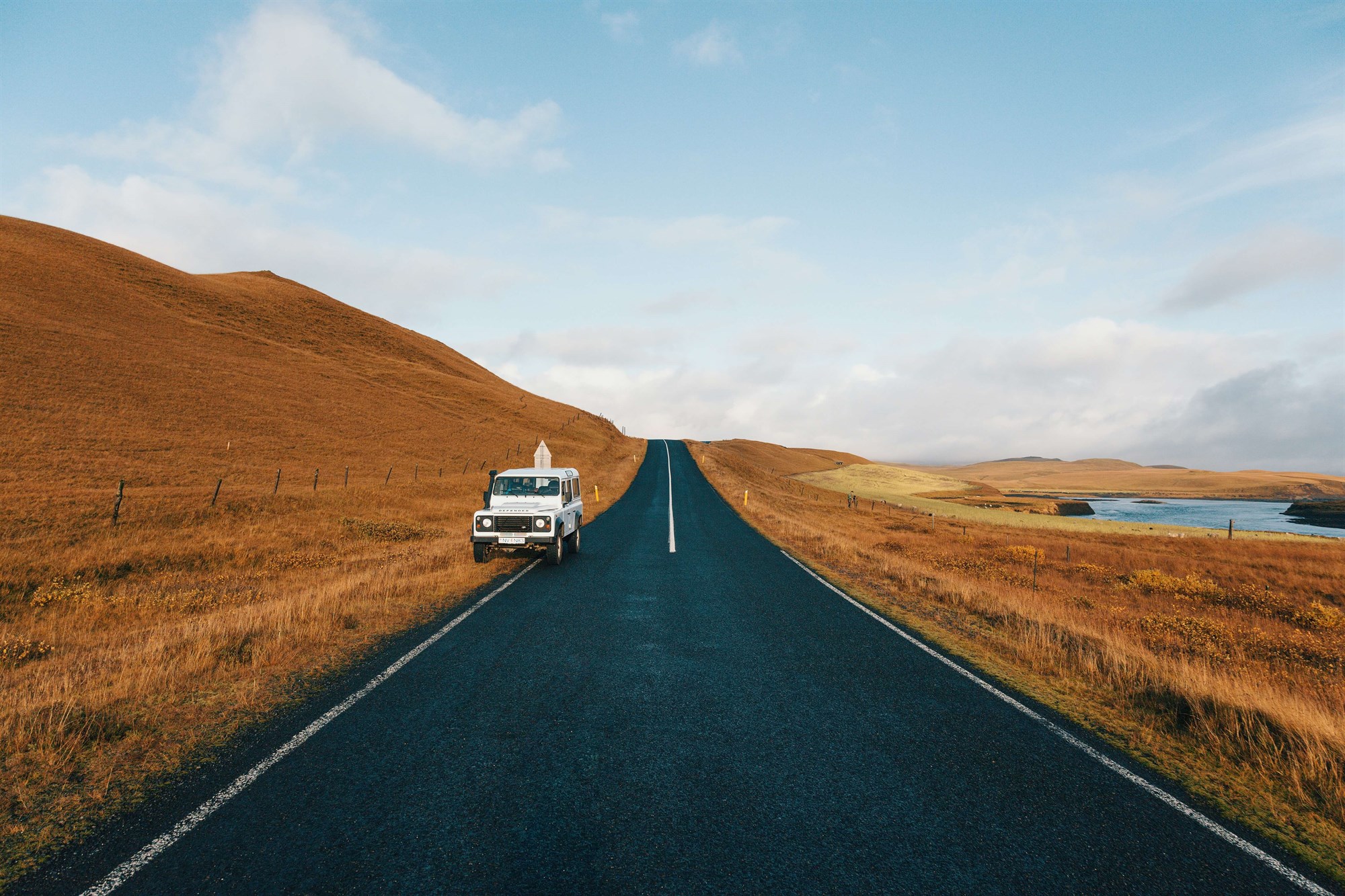 Speed limits in Iceland
Sticking to the speed limit in Iceland is important to keep you safe and give you time to spot and react to sudden dangers that can occur on our roads. Speed cameras are present all around the country and fines for drivers caught speeding range from ISK 5,000 (US$45) to ISK 70,000 (US$575). Please remember that the speed limit in Iceland is not a target, and is an indicator of the maximum speed you should travel, so if road conditions are less than optimal or change rapidly, you should adjust your speed to a safe level accordingly. 
Speed limits in Iceland vary based on the road location and propensity for traffic build-up. The general speed limits across the country are: 
30 km/h (18 mph) in urban areas
50 km/h (31mph) in cities and towns
80 km/h (50mph) across gravel or dirt roads
90 km/h (55 mph) across paved country roads
The above are only general speed limits in Iceland, and some areas may have different conditions and therefore unique speed limits so be sure to check what the signs tell you.
Important - Special speed limits in Iceland apply to vehicles towing a trailer:
Vehicles towing a trailer (e.g. caravan) are not permitted to drive faster than 80 km/h (50mph)
Vehicles towing a trailer that weighs over 750kg (1,650 lb) and without brakes are not permitted to drive faster than 60km/h (37 mph).
Additional guidance can be found from the official Icelandic Road and Coastal Administration (IRCA) on driving safely in Iceland.
Drink driving laws in Iceland
When it comes to drink driving laws in Iceland, the rules are very clear - you should not drive under the influence of alcohol or drugs. In 2018, Iceland tightened its already strict drink driving laws, reducing the legally permitted limit of blood alcohol level when driving from 0.05% to 0.02%. That means that even half a pint of beer or a small glass of wine will make you above the limit so the best policy is not to drink and drive at all. If you are caught drunk driving in Iceland, you can expect to face fines up to ISK 100,000, although penalties can even include time in prison.
Stopping on the road
We know first-hand just how beautiful the Icelandic landscape can be, but you must ensure you are safely and legally parked if you choose to stop and admire it. Stopping on a highway or other high-speed roads in Iceland is not only extremely dangerous, but is also illegal. If you need to stop, find a designated parking or pull-out road which will often be marked with a blue sign and white "M". 
If you are driving around the capital, check out our handy guide to parking in Reykjavik for the latest information.
Tires for driving in Iceland
Given the weather conditions in Iceland and the change between seasons, Iceland has some specific rules regarding tires.
Between November 1st and April 14th, the minimum tread depth of tires is 3mm. The use of studded tires during this period is allowed, but not compulsory.
Between April 15th and October 31st, the minimum tread depth of tires is 1.6mm. Studded tires are not allowed during this period.
If you rent a car in Iceland with Lotus Car Rental, you don't need to worry about making sure your tires are legal - we have that covered for you. What's more, we fit all of our rental cars with studded tires as standard in the winter months, giving you safety and peace of mind when driving in tricky winter conditions. Check out our great range of affordable rental cars and start planning your Icelandic road trip!
Right of way
In Iceland, traffic coming from the right always has the right of way, unless signs, a traffic warden, or lights state otherwise. 
Traffic that has the right of way will typically see a yellow sign in the shape of a diamond. You should also always give way to indicating buses leaving a bus stop. 
If you are driving inside a one-way tunnel system, you will need to pull over to the dedicated parking zones on your right whenever you see traffic coming from the other side. Essentially, when encountering another car coming from the other direction, the car that has the parking space on its right will need to use it and give way to the oncoming vehicle.
As in almost every other country, emergency service vehicles with flashing lights always have right of way. If an emergency vehicle is approaching from behind, indicate and pull over if possible to allow them past.
Pedestrians at zebra crossings where there are no traffic lights always have the right of way.
Mobile phones
The use of a mobile phone whilst driving is prohibited and is extremely dangerous. If you need to use your phone while driving in Iceland, pull over at the next available opportunity where it is safe and legal to do so.
Driving around Iceland
The best way to see Iceland is by driving around the country. This allows you to go at your own pace and really take in all the sights. The scenery is incredible, and there are so many things to see and do. Driving around Iceland is an adventure in itself - an unforgettable, once-in-a-lifetime experience. 
Most visitors who rent a car in Iceland choose to drive along the ring road (route 1) that runs along the stunning coastline and connects all sorts of attractions and natural wonders. The road completes a full loop of the island, totaling 1,339 kilometers (832 miles). While it is mostly paved, there are some sections in the eastern part of the island that are unpaved, gravel paths.
In order to reach some of the more remote locations, you may be required to drive on the highland roads known as F roads. There are special rules determining which vehicles are allowed on these roads and at what time of the year. Always inform your rental company if you intend to drive on these roads to ensure you have an appropriate vehicle and a sufficient level of damage cover. For more information on highland road driving, browse our dedicated F-roads guide and for more information on choosing the right level of damage cover, we have a comprehensive guide to rental car insurance in Iceland. 
How long does it take to drive around Iceland?
If you stay on the ring road and face no obstructions or delays it should take you approximately 17 hours to drive around Iceland. This is if weather conditions are optimal, however, although it's possible we wouldn't recommend this if you want to maximize the enjoyment of your time in Iceland.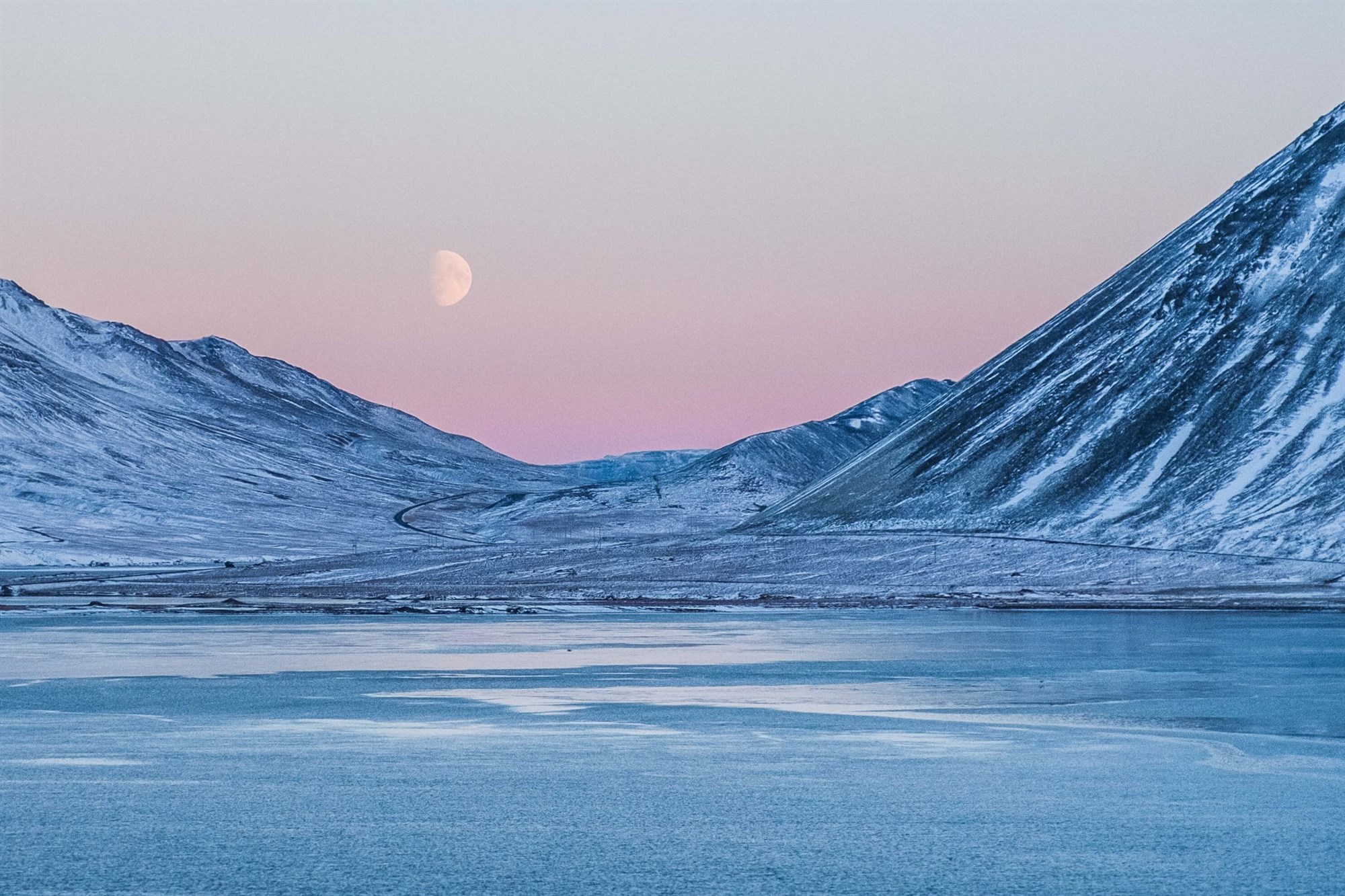 Important Safety Tips And Advice For Driving In Iceland
Driving around Iceland can be one of the most rewarding and memorable experiences, but only if it is done safely and correctly. Below are the most important tips and pieces of advice you should study and put into practice when renting a car in the land of fire and ice.
Ensure you have legal identification when operating a vehicle
We recommend you ensure you have the right identification at all times, but it's doubly important when driving around. Fortunately, this is much simpler than it sounds, and you won't need to go out of your way to obtain a special permit for your holiday. 
As long as you bring your normal legal driver's license, Icelandic authorities will recognize that as a legal admittance to operate a vehicle. Driving licenses issued from the US, Canada and the European Economic Area are all accepted in Iceland. If you have a license from another area it needs to meet two provisions, a license number and the license holder's photograph.
Of course, we also recommend keeping your relevant rental and insurance documents with you at all times, just to cover any potential disputes that may crop up in unlikely situations. 
Always check the weather forecast and road conditions before setting off
To ensure your trip is as safe and enjoyable as possible, we recommend you always check the weather and conditions of the road around the areas you plan to visit. Due to the rapidly changing weather and climate in Iceland, roads that are perfectly safe to travel one day could be particularly hazardous the next, which affects the type of car and tires you would want to consider for that journey. 
You can keep up-to-date with road information from the Icelandic Road and Coastal Administration (IRCA).
In the event of an accident
Regardless of whether you are directly involved or not, every person (including tourists) is obliged by law to help and assist at the site of an accident.
If you are in an accident or on-site of an accident where there are people or animals injured, call the emergency service by dialing 112 as soon as possible.
In an accident where there aren't any injuries, you should not call the emergency services. Any drivers involved should share any contact and insurance information required. 
Below are a few of the important numbers you should have saved during your trip:
Emergency services (police, fire, and ambulance) Tel: 112
Police Station Tel: 444-1000
E.R Emergency Room Landspítali Hospital Tel:543-2000
Dental assistance Tel: 575-0505
Sjálfsbjörg (self-help) association for people with disabilities Tel:550-0300
Search and Rescue Tel: 570-5900
Driving on roundabouts in Iceland
Many tourists driving in Iceland for the first time find themselves confused by roundabouts. While roundabouts aren't very frequent, you are more likely to come across them when entering Reykjavik or other large towns like Akureyri. 
To navigate them correctly and safely, you should know which exit you intend to take as you approach the roundabout. The rule is to only indicate when you are leaving the roundabout and not as you enter.
The outside lane should only be used if you are exiting the roundabout at the first exit only. For all other exits, use the inside lane. 
If you mistakenly enter the roundabout on the outside lane, but are not taking the first exit, use your indicator to signal towards the inside lane but do not move over. Follow the roundabout in the outside lane whilst still indicating towards the inside lane until you've reached your exit, at which point indicate and turn off towards your exit.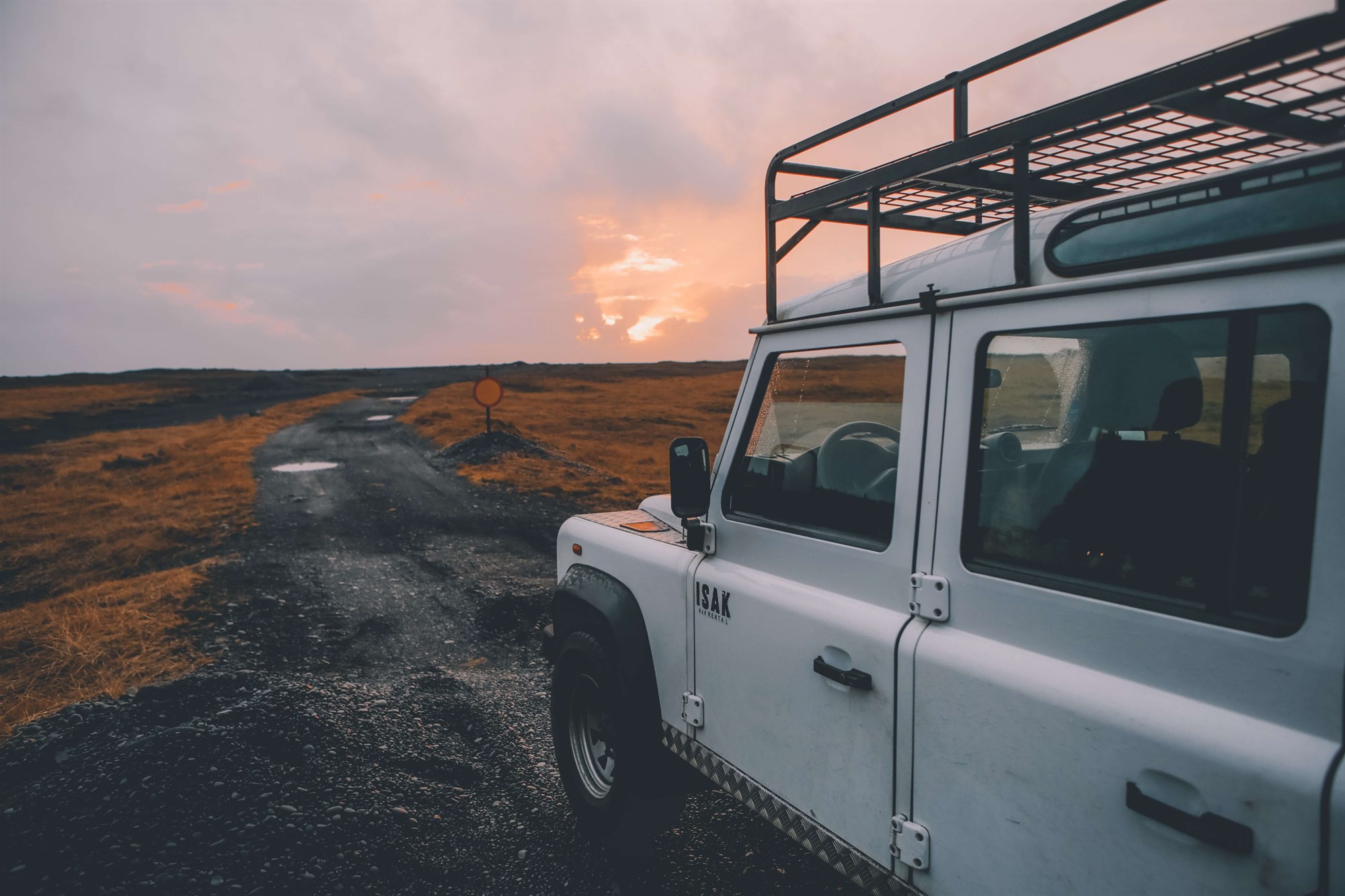 Tunnels in Iceland
When driving around Iceland, you may come across a few large tunnels. The longest tunnel is over 9 kilometers long, although they tend to be around 4 kilometers on average. Iceland's road tunnels have an excellent safety record and some even have reduced speed limits in place. The main issue that drivers face is adapting to the sudden change in darkness when entering and brightness when leaving. To help avoid this, remove sunglasses before entering any tunnels. 
Some tunnels in Iceland charge a toll fee to drive through. Since 2019, the Vaðlaheiðargöng tunnel in North Iceland charges drivers between ISK 700 to 6,000 depending on the vehicle. The standard charge for normal passenger vehicles is ISK 1,500, (approx. USD 12.30).
Single-lane bridges
When driving out in the Icelandic countryside, you will find many single-lane bridges where only one vehicle will fit at a time. Priority is given to whichever car arrives at the bridge first. Any subsequent cars should cross the bridge in a similar order as they arrived. You can spot when you are approaching a single-lane bridge as they are indicated with a bright orange sign with the image of a car driving across a narrow bridge.
Beware of sheep!
When driving around Iceland in the countryside, you should be cautious of the 800,000 or so wandering sheep. They can be found all along the ring road and are known to carelessly wander onto the road in front of oncoming traffic. 
Be careful at all times, especially at night when all the sheep have to see you coming is a wandering flicker of light in the distance. Damage to a rental car is not often covered by your rental car insurance so it is imperative to be careful not only for the sheep but also for your wallet. With Lotus Car Rental's unmatched platinum rental car insurance cover, we offer protection even for damages caused by collisions with animals such as sheep and horses. 
Ready to take a drive around Iceland?
We hope this guide has been helpful in educating and preparing you for driving across Iceland to experience this wonderful country your way! If you love the thought of escaping the crowds and heading out on your own self-drive adventure, check out our guide to Iceland's hidden gems and book your car rental today.