The Ultimate Guide To Renting A Car In Iceland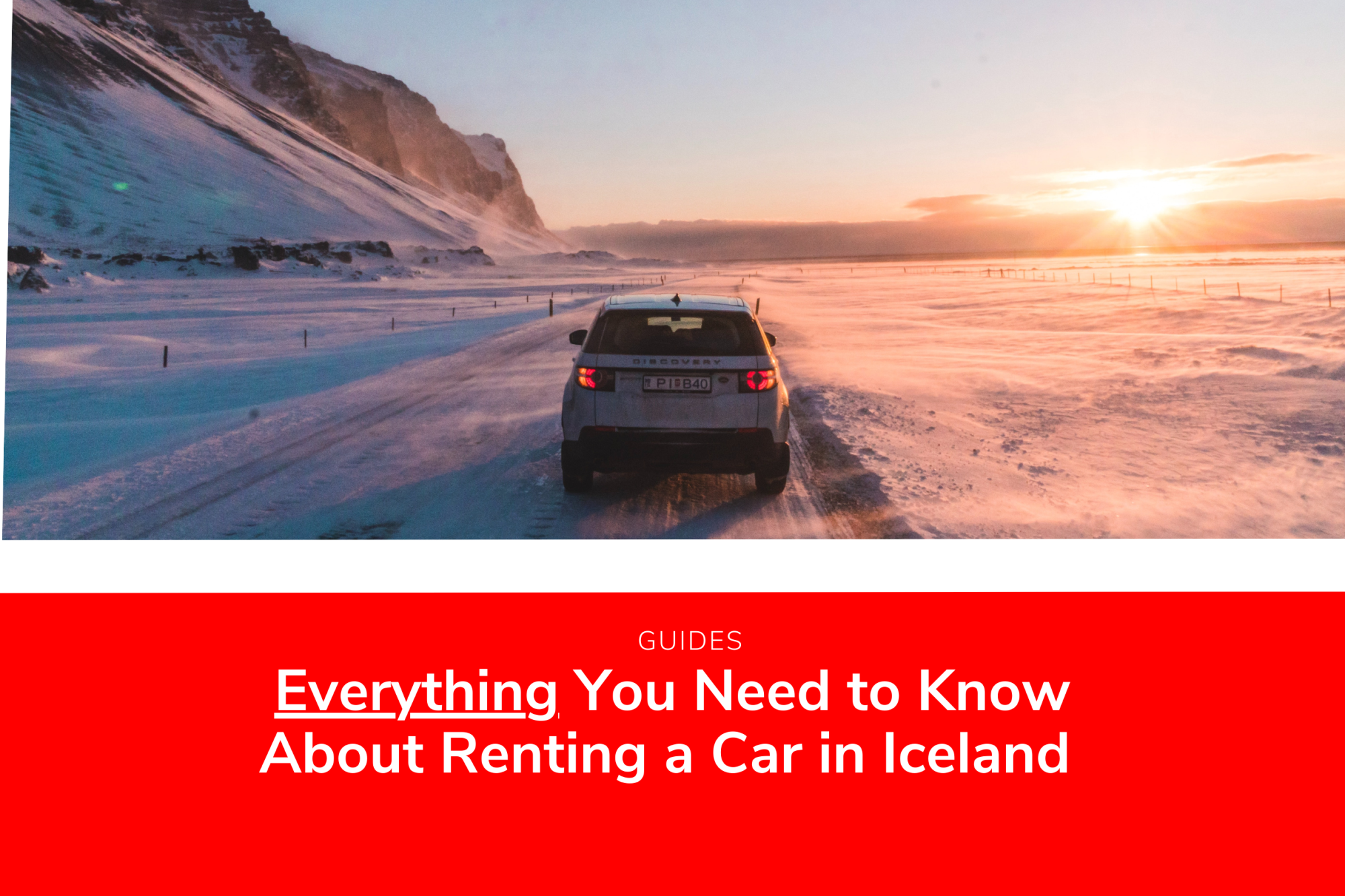 So you've decided to visit Iceland. After booking your flights and creating a list of the amazing things you want to see and experience in the land of fire and ice, the next thing on your list is probably to decide whether you hire a car or not.
We understand; when renting a car in Iceland there are one or two things that you might need to consider that you normally wouldn't elsewhere; what car do you need for the time of year you are visiting, what insurance package should you choose, where to pick up your rental car or, bizarrely, how to fill it up with fuel!
Thankfully, we've made it simple for you with our ultimate guide to renting a car in Iceland providing you with all the information you need to know before taking to the Icelandic roads and starting your adventure.
Table of contents
Should I rent a car in Iceland?
Renting a car in Iceland opens up a whole host of opportunities for exploration, and gives you the flexibility to work your own schedule. With many of the most beautiful places in Iceland being far away from any town, it is not surprising that many people choose to rent a car for their trip.
However, erratic weather, icy roads, and vast uninhabited areas, are all things to bear in mind, especially if you are visiting in the winter time. Locals in Iceland will tell you, "if you don't like the weather, give it five minutes", so anyone hiring a car in Iceland should be prepared to adapt their driving for sunshine one minute, and snow or hail the next!
Driving in Iceland is not without its challenges, so if you are not a confident driver, there are plenty of excellent guided tours which are great alternatives to hiring your own car!
Before renting a car in Iceland, you should first consider the time of year you'll be visiting and which roads you intend on using, as these will dictate the type of vehicle which is best for you.
Renting a car in winter
The weather in Iceland is much more unpredictable in the winter months, and can change at a moment's notice, making driving conditions a lot more challenging. Icelanders have sets of "summer" and "winter" tyres for their vehicles, which emphasises just how much the season affects driving conditions.
Whilst by no means necessary, a large 4WD vehicle with larger tyres will be easier to drive and provide more comfort and luggage space in the winter months. But if you are a confident winter driver and are not planning on venturing outside the towns or away from main roads, a small 2WD car will also be suitable. All of our rental cars here at Lotus are fitted with studded tyres as standard during the winter, meaning you can explore Iceland safely and confidently, whatever the weather!
In the summer months (from March/April to August/September) the type of vehicle you need will be most dependant on where you want to go in Iceland, and the number of people you're travelling with.
Road surfaces in Iceland
There are three distinct types of road to be aware of in Iceland: asphalt, gravel, and F-roads (also known as highland roads).
The main roads in Iceland are mostly well-maintained asphalt or gravel surfaces which, in the summer months, are suitable for any car, including small two-wheel drive hatchbacks.
Many of the country routes branching off of the main roads are more challenging gravel roads that go over steep mountain passes and are subject to more extreme weather conditions. If you are planning on exploring these routes, we'd recommend you choose a slightly larger SUV vehicle and preferably something with four-wheel drive. In these more challenging driving conditions, a vehicle with large tyres and more space is going to provide you with a greater level of comfort and safety, and this even more important if visiting in the winter months.
The most important type of road to keep in mind when renting a car in Iceland are the F-roads. These are challenging, rough gravel roads that often include river crossings, and are only open between July and September. It is illegal and dangerous to drive on the highland roads without a well equipped 4WD vehicle. You should not attempt to drive on an F-road unless your rental company is happy for you to do so, and we recommend that you take out F-road specific insurance cover for any damage which may occur in these challenging conditions.
Group size
Another factor to not overlook is just how many of you there will be in the car. Having enough seats is one thing, but then having to drive around with luggage on your laps will be less than relaxing!
People visiting Iceland in the colder seasons tend to have a lot more luggage filled with warm winter clothing, so you'll want to ensure you have enough room for this in the boot to guarantee a comfortable and safe trip for everyone.
Comfort
Looking to add a dash of luxury to your trip? Consider any additional features you may want your car to include such as heated seats, GPS, or Bluetooth connectivity for your "on the road" playlist.
What car should I rent for my time in Iceland?
The type of rental car we would recommend getting in Iceland will mainly depend on what activities you intend on doing. Everyone's itineraries will vary slightly, but below are 4 examples of journeys in Iceland and the type of car which is most suitable for each to give you a good idea of the right rental car for your trip.
A quick trip just around Reykjavik
If you aren't planning on staying in and around the capital, or not wandering further than the Golden Circle, then even the smallest and cheapest 2WD rental cars will provide you with everything you'll need. A Toyota Aygo is a great option for couples or small groups, but larger groups or people who want more luggage room may opt for a Kia Rio, or even a Suzuki Jimny for 4WD stability in the winter!
A trip along Iceland's Ring Road
A drive along the classic Ring Road just outside of Reykjavik, with occasional detours along gravel roads to Fjords and waterfalls can be comfortably done in a small or medium 2WD vehicle such as a Toyota Yaris or Kia Ceed Wagon. However, if you're planning on visiting during the winter, a medium car with 4WD such as a Kia Sportage or Subaru Forester will allow you to tackle snowy and icy roads with more confidence.
Venturing into the heart of the Icelandic countryside
If you're planning on being adventurous and exploring Iceland's landscape, then you'll most likely need a large 4x4 to tackle the challenging loose roads and mountainous terrain. This is especially true if you are planning on using one of the F-roads which are only open to all-wheel drive vehicles. In this case, a Nissan X-trail or Toyota Land Cruiser are the most suitable type of car for your needs. These are also great options if you need 7 seats, or are visiting in the colder months and need the extra space for luggage and warm clothing.
Going camping
If you want to travel around Iceland without worrying about the cost of accommodation or just simply don't want to tie yourself down to any particular location, then a camper may be just what you're looking for! A 4WD camper like a Dacia Duster or Subaru Forester will allow you to tackle challenging mountain roads, as well as provide you with robust protection against wind and rain with a roof-mounted tent that can be unfolded in a matter of seconds - perfect for an Icelandic camping adventure!
What insurance do I need for Iceland?
With potentially extreme weather conditions and plenty of unpaved roads, having the right rental car insurance in Iceland is crucial for peace of mind and avoiding big unexpected repair bills. You may choose to purchase insurance directly from the rental company, or from a third-party, but be aware that credit cards and insurance companies may not cover all the types of damage that can occur, so it's important to check beforehand.
When hiring a car in Iceland, the number of different insurance options may feel overwhelming, so we break down what it all means:
Third-Party Liability & Collision Damage Waiver (TPL and CDW)
At the very least, any rental car in Iceland should be covered by Third Party Liability (TPL) and a Collision Damage Waiver (CDW). Third-Party Liability is a legal requirement, and car rental companies should provide this at no extra cost to you. At Lotus Car Rental, not only do all of our rental cars come with TPL, we also include Super Collision Damage Waiver and Theft Protection as standard with our Silver insurance package, significantly reducing your liability in the event of a collision.
Whilst the Silver Package of protection we offer would be sufficient cover in nearly any other country, Iceland's unique landscape and climate poses a fair few risks to your vehicle, and ensuring you are covered for any eventuality will allow for a more relaxing trip. Our Gold insurance package includes protection against damage caused by sand, ash, or gravel.
Sand & ash protection
Iceland is full of many vast sand fields and leftover volcanic ash which can be swept up by the wind and bombard your rental car causing damage to windows, paintwork, wheels, and lights. Between February and April is the period when you're most likely to encounter wind carrying sand and ash on Iceland's roads, but this can happen year-round, and is especially common on the South Coast. As protection against damage caused by sand and ash is not covered under the CDW, we highly recommend getting this cover if you intend on taking your rental car outside of towns and into the countryside.
Gravel protection (GP)
Less than half of Iceland's 8,000 miles of road are paved, and damage to your rental car's windscreen and paintwork can occur on gravel roads from loose stones shooting up from a car in front or going in the opposite direction and striking your vehicle. Gravel protection is probably not necessary if you are staying within Reykjavik, but if you are planning on driving the south coast or to the Golden Circle it would be wise to ensure you are covered. We would strongly recommend having gravel protection if you intend on driving the Ring road or any F-road as it is possible to incur some serious damage, regardless of how carefully you drive.
F-road (highland road) insurance
Damage that may occur to your car on F-roads requires separate cover. You should not attempt to drive on an F-road unless you have informed the rental company who will provide you with a suitable 4x4 vehicle. It is important to note that the majority of car rental companies do not include protection against water damage, and with most F-roads having at least one river crossing, there is a risk of being charged a large fee for water damage.
Here at Lotus Car Rental, we want you to explore Iceland's stunning scenery worry-free, which is why we are one of the only rental companies to offer River Crossing Protection as part of our Platinum insurance package. Other cover included in the Platinum package includes: protection against damage caused by animals, towing costs, and free car wifi to keep you connected when out enjoying the wilderness!
What is self-risk?
Self-risk is the same as 'deductible' or 'excess'. It is the maximum amount you are liable to pay for damages that the insurance policy covers. More expensive policies tend to have a lower self-risk amount, however, this may not cover certain damages such as water or undercarriage damage, so it is important to check the terms or ask the provider before setting off to make sure there aren't any nasty surprises.
Picking up your rental car
The majority of people renting a car in Iceland pick it up directly upon arrival at Keflavik Airport, where rental companies will provide you with one of the pick up procedures listed below. Before you arrive, it is worth making sure you are familiar with which procedure your chosen company uses so you can pick up your car as quickly and easily as possible.
Meet and greet
Many rental companies will have someone with a sign displaying the brand name and logo waiting to meet you in the arrivals hall. They will then drive you a short distance to the rental office close by to pick up your car, or slightly further if they have come from Reykjavik City.
Car rental desks in the terminal
If you have booked with Avis, Budget, Payless (Budget & Avis Sub-Brand), Europcar, Rás (Europcar Sub-Brand), or Hertz, you will take a left turn in the arrival hall after passing through customs, and follow the signs to the car rental desks inside the main terminal.
The Car Rental Zone
The Car Rental Zone is a 5-minute walk from Keflavik Airport terminal and is where you'll find the offices for several large local and national brands, including our lovely Lotus Car Rental office. If you have booked with a company based here, you can either walk over, or take one of the regular free shuttles from the arrival terminal.
At Lotus Car Rental, we are also able to drop your car off at any location in Reykjavik and Keflavik for a small fee. Contact us today to find out how we can jump-start your trip here in Iceland with an affordable and quality rental car.

Gas stations in Iceland
You may be wondering what could possibly be different about gas stations in Iceland to warrant a whole section in this guide. However, if you've never driven in Iceland before, you may be surprised to learn that there are some unique features of gas stations which are important to know before you attempt to refuel.
How do gas stations work in Iceland?
The first thing to note is that gas stations in Iceland are almost always self-serve, which may or may not be what you're used to. If you are unfamiliar with how to fill up your car, do not panic, it's very straightforward.
Before you begin filling, you will need to pay with a card with a pin number. The best way to make sure you are always able to pay for fuel is by bringing a debit or bank card which already comes with a pin. As many credit cards come without a pin number, you may find yourself getting declined. If the convenience store or kiosk is open, an employee can use your card to ring you up at the cash register, but if it is closed, you will be unable to fill up. Once you have paid, simply tell the machine which pump is yours, open the fuel filler cap, and you're ready to refuel.
Diesel pumps have a black handle and regular gas pumps have a green handle. Gas stations are generally open 24 hours a day, but the building itself will close around 8pm, although some can stay open as late as 10 or 11. Even if the building is closed, you can still fill up using the self-service machine, provided you have a card with a pin number.
Cost of fuel in Iceland
You may have already heard the rumours that gas prices in Iceland are very high. Due to the strength of the Icelandic currency (kroner) and Iceland's geographical location, filling up your car in Iceland won't come cheap. The best thing to do is to be mentally prepared beforehand so you are not in for a shock when it comes to filling up, and make sure you have left plenty of room in your budget for fuel costs.
Top tips for filling up in Iceland
If you see a gas station and you're on half a tank, fill up anyway! You never know how long it will be before you see another person again, let alone a gas station, so it's better to be safe than sorry.
Iceland's gas stations sell some of the best fast food - perfect for warming you up and fueling your adventures! Many have sit down restaurant areas and offer delicious Icelandic soup, burgers, hot dogs, as well as coffee and pastries.
As well as food, gas stations also sell supplies like toilet roll and various hardware which may come in handy when exploring.
Many gas stations offer free self-service car wash stations. If you're driving in Iceland, the chances are your car will get filthy very quickly, impairing visibility, so it is useful to stop and clean your vehicle for free when you have the opportunity.
Parking in Iceland
Parking is something you won't have to worry about too much when visiting Iceland, as most parking spaces are free. The exceptions are in central Reykjavik, central Akureyri, and the Seljalandsfoss waterfall. As most visitors spend at least a few days in the capital, we have you covered with our dedicated parking in Reykjavik guide.
Remember that parking or stopping on the side of the road in the countryside is highly dangerous and should be avoided, especially in icy or foggy conditions. With so many beautiful landscapes in Iceland there is a very real temptation to pull over and take pictures, but you should only do so where there is a designated parking area or lay-by to stop safely.
Know the laws
Whilst driving in Iceland, you'll want to make sure you're being safe and legal. The driving laws are very straightforward, so there is no need to worry, but there are some subtle differences to other countries which are worth learning about before hitting the Icelandic roads. We'll cover the basics in this section, but have a comprehensive driving in Iceland guide which outlines the laws and rules in more detail.
The main rules of the road in Iceland
Drivers must keep their headlights on at all times, whatever the time of day or weather
Seatbelts are required for all occupants of a vehicle
Icelanders drive on the right sight of the road
Driving off-road is illegal
Speed limits vary depending on the road surface and location of the road so always look out for signs - speed cameras are in force and fines are issued to offenders
What licence do I need to rent a car in Iceland?
In most cases, your normal driver's license will suffice for renting and driving a car in Iceland. The exception is if you are from a country where your license is not in Roman script (e.g. Russia or Japan. In this instance, you should obtain an international drivers licence to act as a translation.
Rules for single-lane bridges
There are many instances where the road you are driving on in Iceland narrows down to a single lane bridge, especially on highway 1. If you encounter a car going in the opposite direction at one of these bridges, the general rule is that the car closest to the bridge has the right of way while the other car waits for them to cross. Even if you think you have the right of way, it's a good idea to slow down in case the other driver isn't as observant or considerate.
Top tips for driving in Iceland
We've gathered together our top tips for driving in Iceland to make sure you feel confident to set off and explore this beautiful country in the comfort of your own vehicle!
Monitor the weather
As we have mentioned already in this guide, no weather in Iceland can ever be predicted. You may wake up to sunshine in the morning, be blasted by gale force winds during the day, and have snow showers by the evening. To make sure you are prepared as possible, we recommend you regularly check www.road.is for the latest information on weather, driving conditions, and road closures.
Keep an eye on your speed
This is important for two reasons: ensuring road safety and avoiding hefty fines.
The speed limits in Iceland may seem relatively slow compared to what you're used to, but they are there primarily to keep you and other road users safe. They are not a target however, and in challenging weather conditions you should not hesitate to drive at a slower speed where you feel completely in control. If a car behind you is wanting to overtake, it is customary to signal with your right indicator when the road ahead of you is safe and clear for them to do so.
Watch out for livestock
Most livestock in the Icelandic countryside roam free so the best thing to be when driving is observant. Make sure you are watching the road at all times, especially when driving through an area you can see livestock roaming.
Driving on gravel
A commonplace for accidents to occur in Iceland is when cars cross from paved roads onto a gravel surface and skid out of control on the loose stones. To avoid this, make sure you reduce your speed before reaching the point in the road where the surface changes.
Other things to remember when driving on gravel roads is to keep a good distance from the car in front to prevent damage to your car from loose stones shooting up, and be aware of oncoming traffic as these roads can be slightly narrower and do not have a central road marking.
Winter driving
If you are renting a car in Iceland during the winter we would recommend ensuring your vehicle has studded tyres. Remember that daylight is very limited so make the most of driving during the hours with light. You should also carry a stash of snacks, water, and warm clothing or blankets, in the unlikely event you get stuck and have to wait a while for someone to reach you. Some companies offer a 'winter supplies kit' consisting of winter gear to keep you safe and warm in the event of an accident.
Iceland car rental FAQs
Is renting a car in Iceland a good idea?
Renting a car in Iceland is a great idea! With many of Iceland's most scenic spots far away from any town, your own mode of transportation will give you the freedom to create your ideal itinerary and explore at your own pace.
How much does it cost to rent a car in Iceland?
The cost of renting a car in Iceland will depend on the season and the type of vehicle you choose. Peak season in Iceland is between July and August, and with increased demand comes higher prices. Generally, the larger the vehicle, the higher the rental cost. Automatic transmission vehicles tend to cost around 10% more to rent than manual transmission vehicles. Booking in advance will usually result in a decent saving.
Do I need to rent a 4x4 in Iceland?
For trips around Reykjavik or on the Ring Road, a 4x4 vehicle is not necessary and small/medium cars will be just as suitable. For driving to places in the northern regions or West Fjords a 4x4 is recommended, especially in winter. If you plan on using the backcountry F-roads then a four-wheel drive vehicle is essential.
Can foreigners drive in Iceland?
Foreigners can drive in Iceland with any valid national or international drivers license.
What is the Iceland car rental age?
You must be at least 20 years old to rent a car in Iceland.
Do I need to book a car in advance?
Booking in advance is always recommended to make sure you get the vehicle you want. You can also save up to 20% by booking in advance with Lotus Car Rental!
Is it safe to rent a car during covid-19?
Here at Lotus Car Rental, your safety is our top priority. We have adopted extensive COVID-19 safety measures to ensure your safety and security when hiring a car through us during the coronavirus pandemic.