Fagradalsfjall Volcano Eruption 2022 - Visitors Guide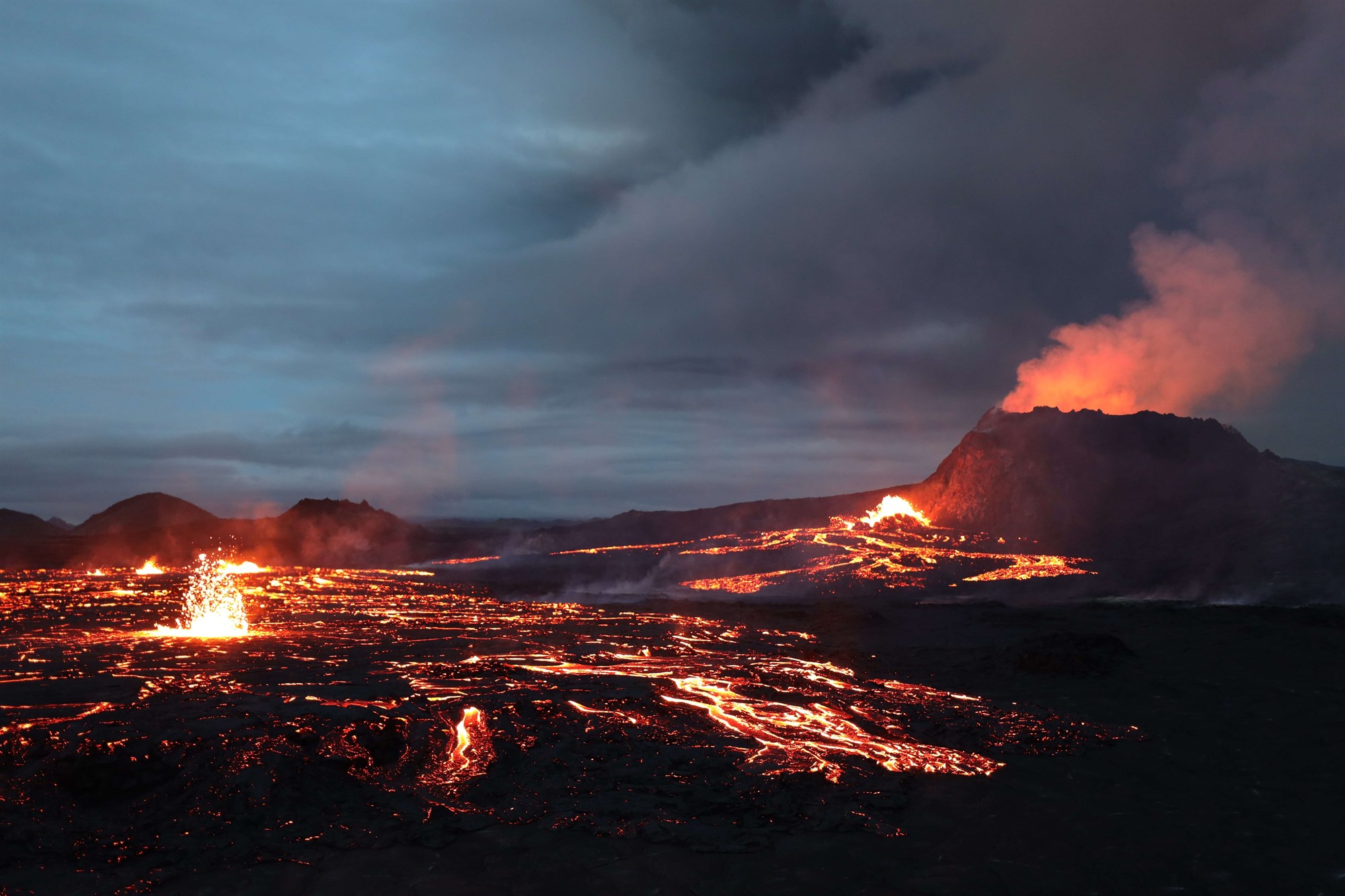 The land of fire and ice has yet again lived up to its nickname, with yet another impressive volcanic eruption in Iceland, this time at Fagradalsfjall. Fear not, despite the ominous images appearing online and in the news, this is a relatively small eruption and is thankfully not considered threatening. In fact, it has even sparked an increase in what's known as volcano tourism in Iceland, with visitors wanting to get an in-person view of this natural phenomenon.
Interested in learning more about this latest volcanic eruption in Iceland or thinking of visiting Fagradalsfjall yourself? Discover everything you need to know about Fagradalsfjall volcano and the 2022 eruption in this comprehensive guide.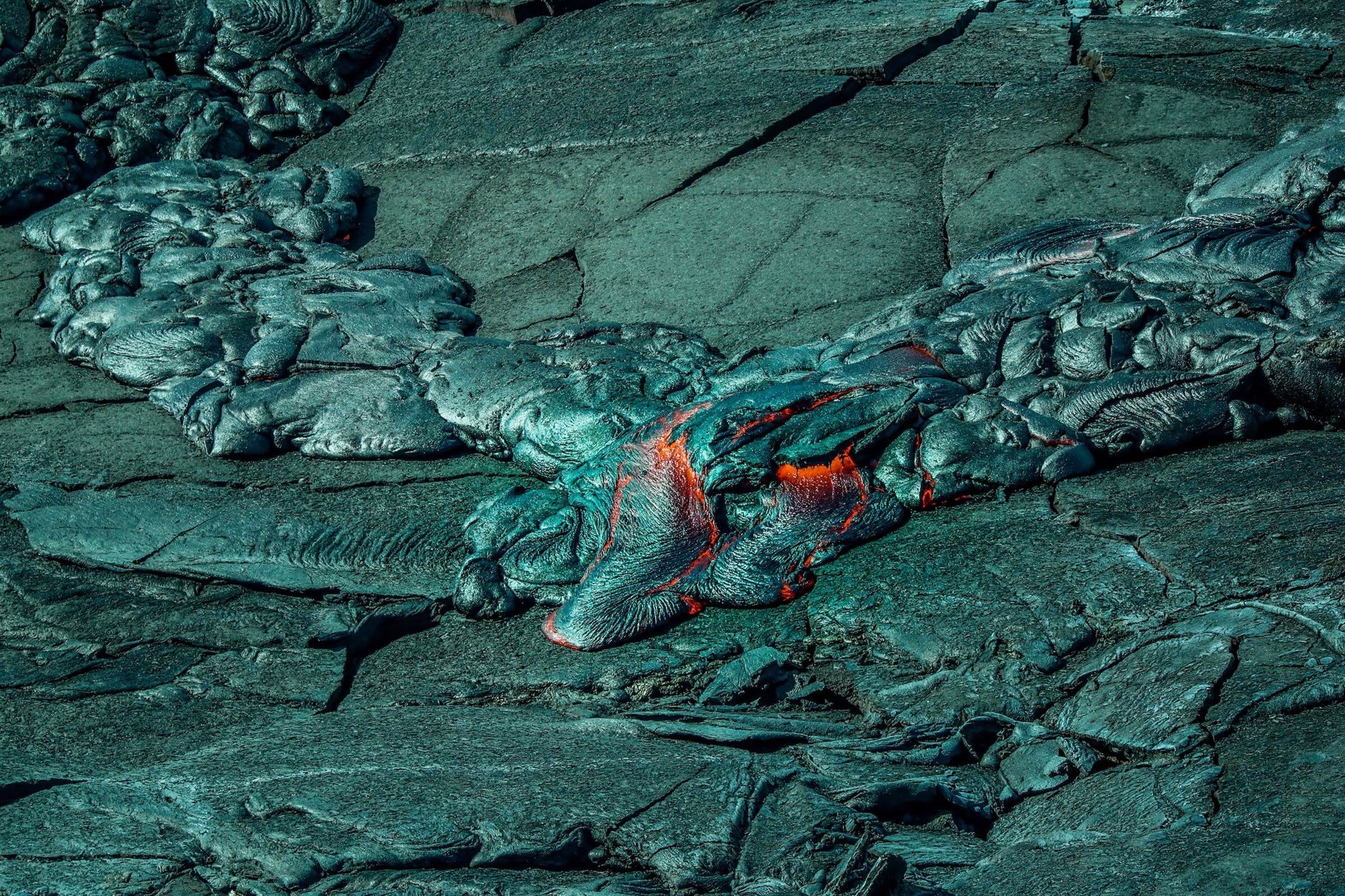 About The Recent Volcano Eruption At Fagradalsfjall
Following days of strong seismic activity in the area, felt even in Reykjavík, relatively small fissures opened up in the earth, revealing bubbling hot magma on the surface at Fagradalsfjall. This is near the site of the last volcanic eruption in Iceland which happened between 19th March 2021 to 16th December 2021. 
The eruption is located in the Meradalir valley, an uninhabited area in the Reykjanes peninsula, southwest Iceland. 
The Icelandic authorities have stated that the volcano is not considered a threat, and many people are taking the opportunity to visit Fagradalsfjall and get a glimpse of the activity. Visitors have been warned that they should only visit if weather conditions are safe on the day.
Where is the Fagradalsfjall volcano?
Fagradalsfjall is situated within the Reykjanes Peninsula it is a tuya volcano that was formed in the Last Glacial period, it is approximately 25 miles from Reykjavik. It is also relatively near the coast. Due to its raised elevation, you may be able to see the landscape around the volcano unless there is fog.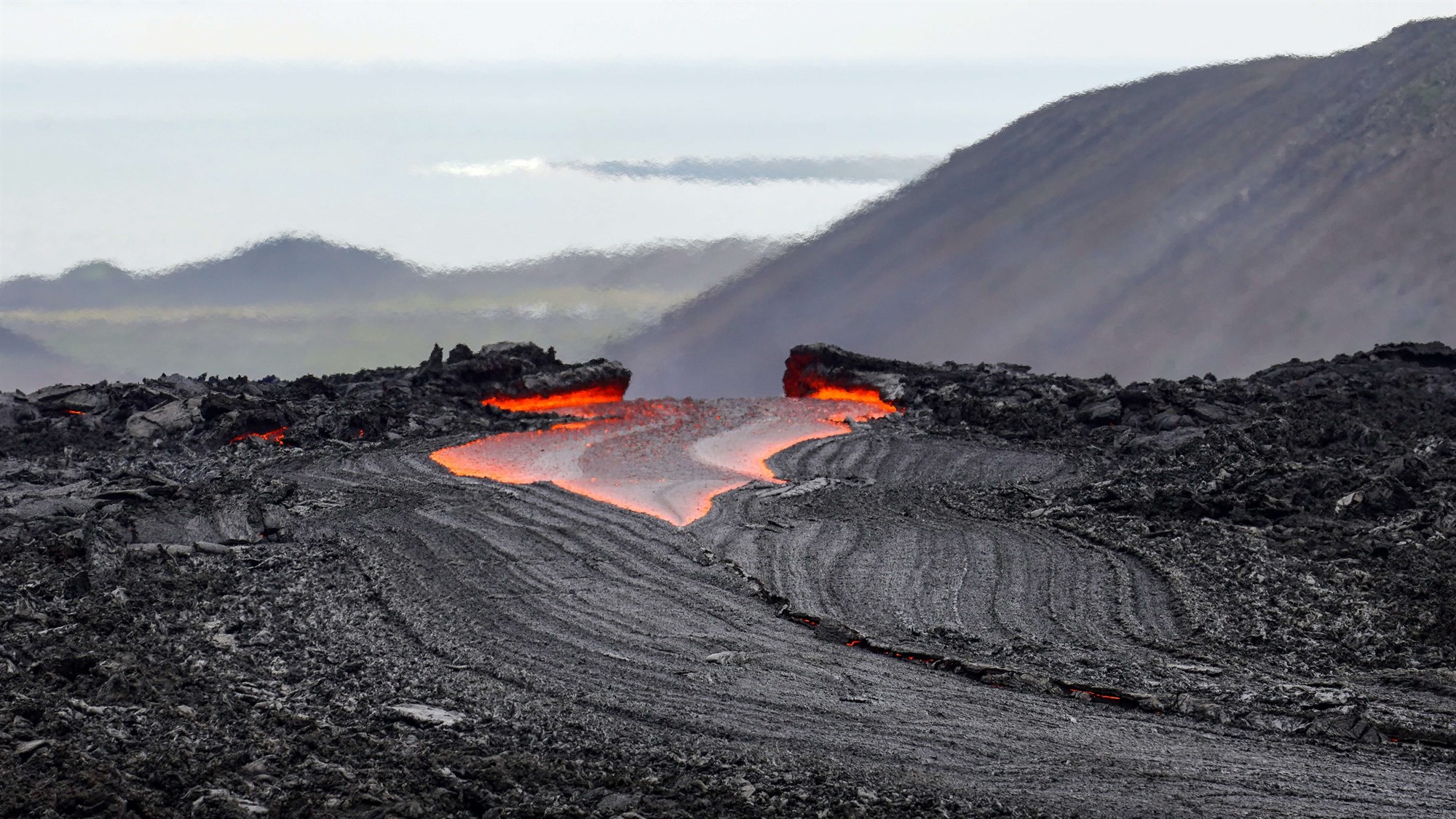 How Frequently Does Fagradalsfjall Erupt?
In geological terms, this volcano erupts regularly, but before 2021, the last eruption was over 800 years prior, so seeing this volcano while it is erupting is a truly once-in-a-lifetime experience. This is why we recommend making haste to witness it!
Will the eruption at Fagradalsfjall affect flights to Iceland?
As Fagradalsfjall is a fissure eruption, there are no ash clouds and flights to and from Iceland have not been disrupted, so if you are due to fly in the coming weeks, or want to book a last-minute flight to visit the eruption site, you don't need to worry about your flight being cancelled. 
Keep an eye on the Keflavík Airport website for any flight-related updates.
How To Get To Fagradalsfjall Volcano
Fagradalsfjall is located approximately a one-hour drive from Reykjavik and around 45 minutes from Keflavik International Airport. Given its remote location, the best way to get to Fagradalsfjall is by car. If you are looking to rent a car in Iceland to visit Fagradalsfjall volcano and explore the rest of what this unique country has to offer, check out our range of excellent and affordable rental cars, all available with an unmatched level of insurance cover.
How to get to Fagradalsfjall from Reykjavik:
Fortunately, getting to the volcano route-wise is relatively simple, take route 41 southwest towards Keflavik, then turn to route 43 towards Grindavik, and finally follow route 427 until you see the marked parking area and your volcanic expedition can begin!
How to get to Fagradalsfjall from Keflavik:
You can take a similar route through Grindavik to get to Fagradalsfjall volcano, first, take route 41 East towards Rekjavik, then turn right on route 43 towards Grindavik and once again follow route 427 until you reach the signs indicating parking.
Please note that it is illegal to park on route 427 due to it being private land. There is plenty of parking in the designated parking lot for only 1000 ISK (around $8). The fee can be paid via the website parka.is or by scanning the QR code upon arrival.
How to hike to Fagradalsfjall volcano
From the parking area, the hike is approximately 4.4 miles each way, during this journey you will ascend 990 feet as you traverse the route. There are 3 established routes that are accessible depending on the weather conditions but it is most likely route A will be the one you take as this is the most used. It features a well-marked path with little development, rocky sections and a spongy mossy area. When you reach the eruption site, there are steep cling areas. It is also important to be aware of the gasses in these sections. An average hiker will likely need 4-5 hours to tackle this hike and then whatever time you'll want to spend taking in this breathtaking Icelandic volcano. For everything you need to know about hiking in Iceland, check out our dedicated guide!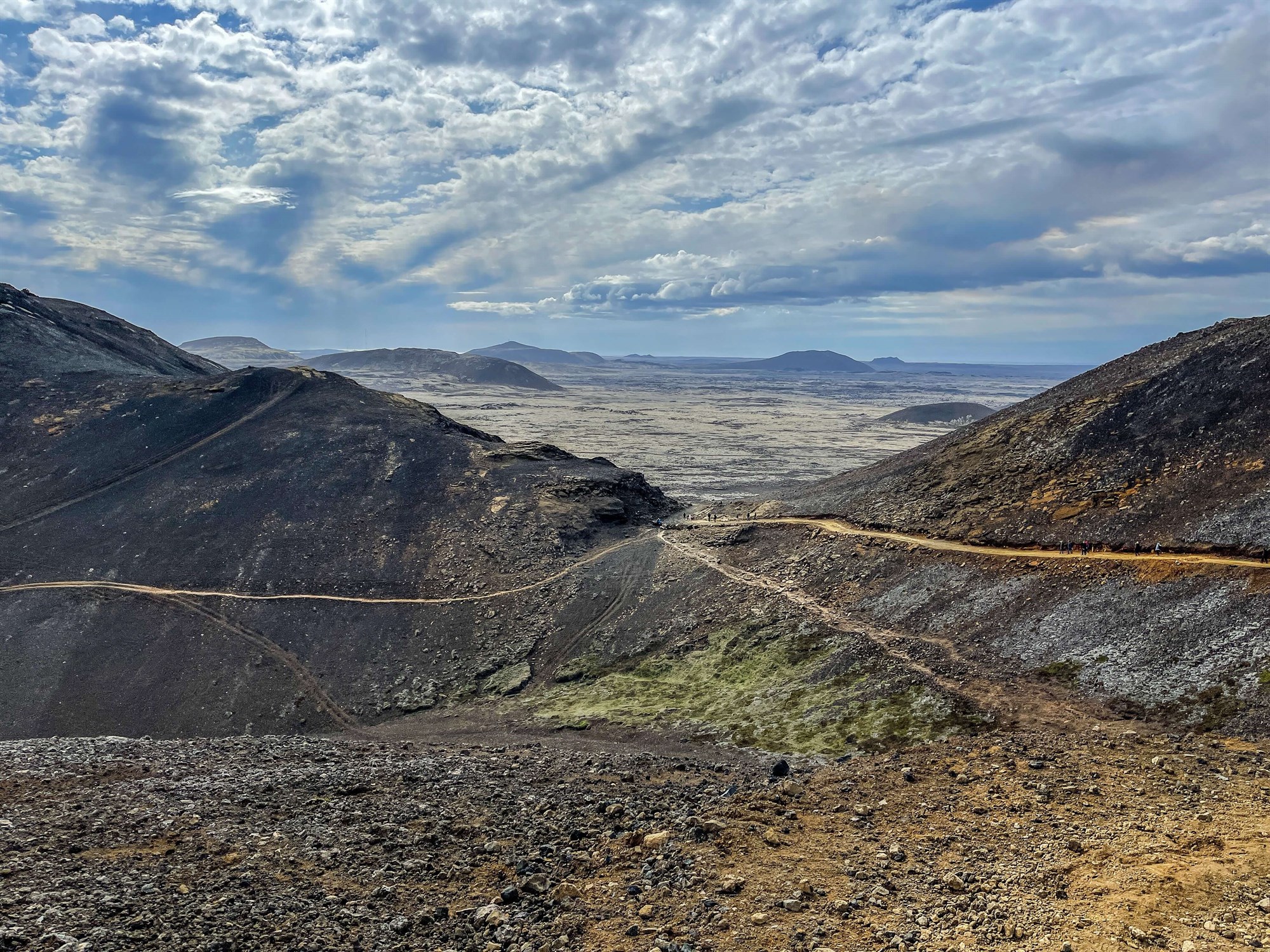 Staying safe when visiting Fagradalsfjall
As you may know, the weather in Iceland is likely the primary safety concern. Fagradalsfjall is located on a mountain near the coast this is an area where hazards like strong rain, thick fog and harsh cold are all commonplace. On top of that, these conditions can descend upon you rapidly so here are some tips to help you stay prepared.
Bring the right vehicle
Ensuring you hire a car in Iceland that is rugged and has the traction necessary for these conditions is of paramount importance, we recommend a 4x4 rental as these vehicles have better grip with much higher traction for when conditions are tough. Also, their increased weight helps you to stay secure on the road even when winds are high.
Check safety updates
Utilising safety resources is key for your travel as they will give you vital updates for your journeys within Iceland and when near the Fagradalsfjall volcano a site like safetravel.is give online updates and relevant information and can even be downloaded as an app. Other resources such as Google or the local news stations can also be helpful.
Avoid the lava both old and new
We understand the temptation to walk or in close proximity to the lava, but even "old" lava although it may seem hardened and even seem cool it can remain extremely hot for many months after an eruption so it is best to avoid as lava crumbling under your foot and exposing its scolding surface is likely not something you want to experience on your travels.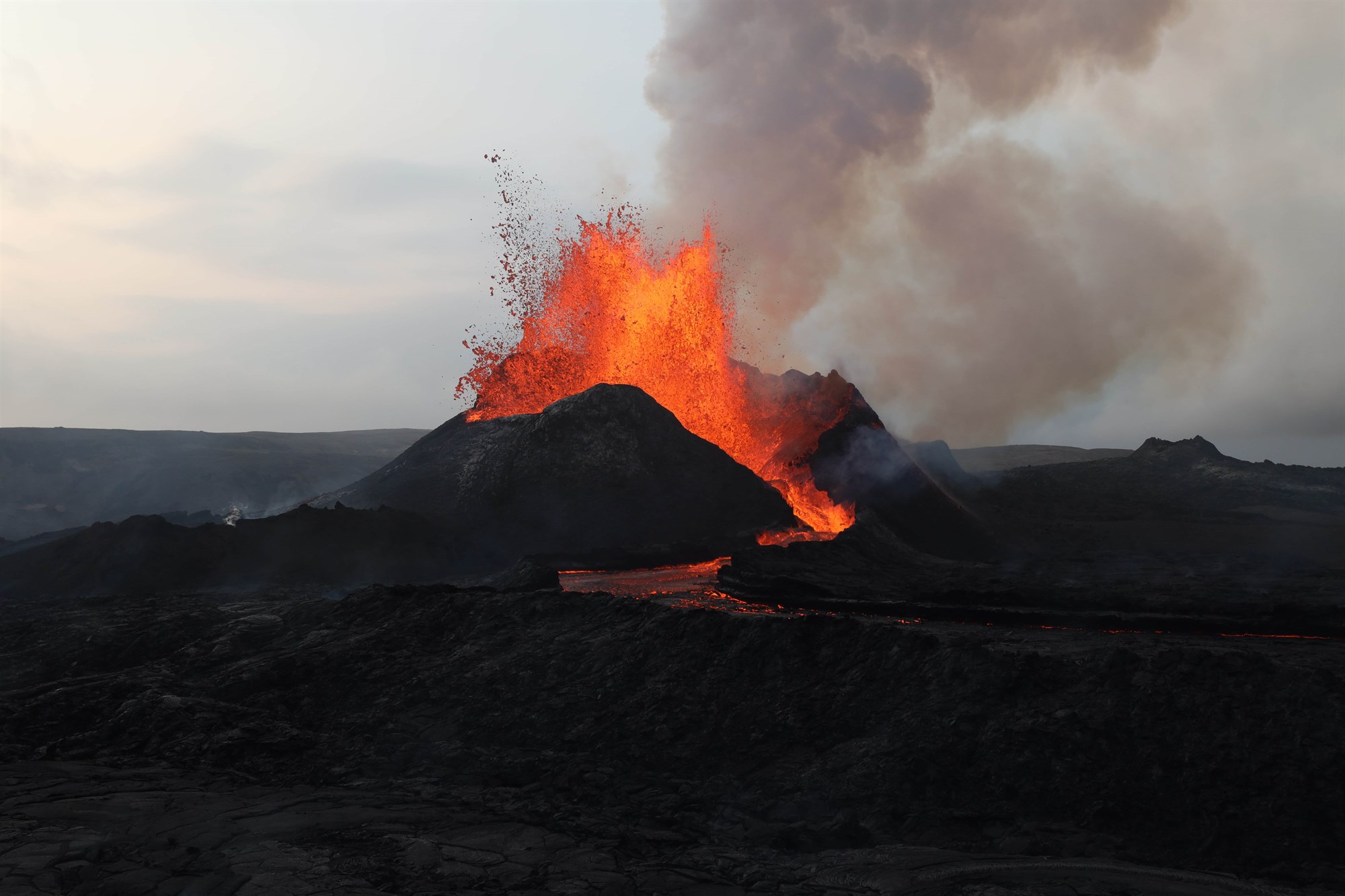 Listen to the local Authorities and the ICE-SAR members
The information these bodies give is essential and can even lead to the area being closed on short notice so stay safe and listen to the experts.
Unpredictable weather
As previously mentioned the unpredictable nature of Iceland's weather is a key risk factor when travelling, so prepared for extreme weather and cold and make sure you have appropriate footwear e.g. some reliable hiking boots and thick socks.
Ready to visit Fagradalsfjall volcano?
Now you've read this guide, we're sure you're eager to visit the Fagradalsfjall site and experience this immense geological phenomenon in person! Planning on capturing the experience from a spectacular bird's-eye perspective with a drone? Ensure you are familiar with all the drone laws and etiquette in Iceland before taking off.
For more information on visiting volcanoes in Iceland, check out our guide or if you want to explore other forms of sustainable activities, browse our article on ecotourism in Iceland.