On Ghostly Paths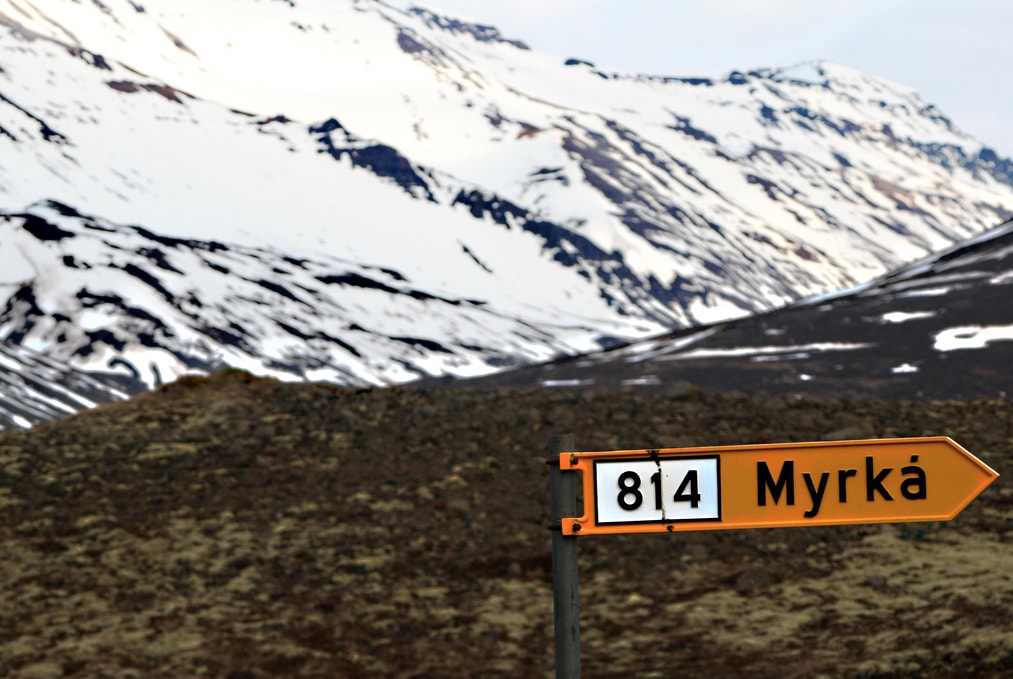 Iceland is a country with a deep-rooted tradition for stories of the paranormal, as the widespread belief in the existence of hidden people (i. huldufólk) attests.
Iceland is a country with a deep-rooted tradition for stories of the paranormal, as the widespread belief in the existence of hidden people (i. huldufólk) attests. As a consequence, it is hardly surprising that the number of Icelandic ghost stories is exorbitant. In accordance with the harsh landscape and merciless weather conditions the stories, by and large, are bleak and cruel. The ghosts are hateful and relentless, and stories are harrowing. If ghost stories float your boat, you might want to visit the sites of these events from centuries past. But keep the light on - these stories are true, of course. All of them. 
The Deacon of Dark River (Djákninn á Myrká) takes place in Hörgárdalur, North Iceland, and is arguably the most famous Icelandic ghost story. It tells of a deacon who lived on a farm called Myrká (Dark River) had a girlfriend named Guðrún. She lived on farm called Bægisá located on the other side of a big river called Hörgá. On a dark December day the deacon rode to meet his girlfriend but fell into the Hörgá river and drowned, but paid a visit soon afterwards nonetheless. Guðrún had no idea her boyfriend had died but soon senses that all is not well. The deacon intends to take Guðrún with him into the afterlife, whether she likes it or not.  
Solveig of Miklabær (Miklabæjar-Solveig) tells of a young woman, Solveig, who was in love with the reverend Oddur who lived at Miklabær farm, also in North Iceland, in the late 18th century. When the priest married another woman, Solveig subsequently lost her mind and slit her own throat after several attempts to commit suicide. She found no more piece in death than she did in life and haunted the Miklabær farm following her demise. Eight years later, reverend Oddur went to conduct mass at Silfrastaðir, only a mile from his own home. Legend has it Solveig finally got her hands on her loved one and dragged him into his grave. 
Few things frighten Icelanders as stories of child specters, usually phantoms of children left outside in the cold to die of exposure. Somehow the idea of a vengeful child ghost is immensely unsettling. A famous ghost story, My Mother in the fold, fold, revolves around a young woman who lived on a farm and became pregnant. After giving birth to the child she set it out in the snow to die of exposure, not an uncommon act in this country in earlier centuries before it became punishable by severe penalties. One day the young woman was invited to a dancing party. However, she felt she had no good clothes and thus stayed at home in a foul mood. That evening, while milking the ewes in the fold, she complained aloud to herself that for the want of a proper dress she could not go to the vikivaki dance party. She had scarcely spoken when she heard the following song, sung by an eerie little voice:
My mother in the fold, fold
You need not be so sad, sad.
You can wear my castoff rags,
So you can dance,  dance.
The young woman who had let her child die in the cold recognized the voice of her child. She immediately became so frightened that she lost her mind and remained insane for the rest of her life. The location of this story is unknown but in Iceland you can hardly throw a rock without striking a site of some sinister happenings in centuries past, complete with hauntings and hair-raising stories. On second thought, don't throw a rock; you just might hit someone you can't see. And that would surely spell trouble you don't need!
For further readings on all things haunted in Iceland, consult the Internet. It's all there.
Safe travels and enjoy the ride : )