How to Eat Vegan in Iceland: The Best Vegan Restaurants in Reykjavík and More!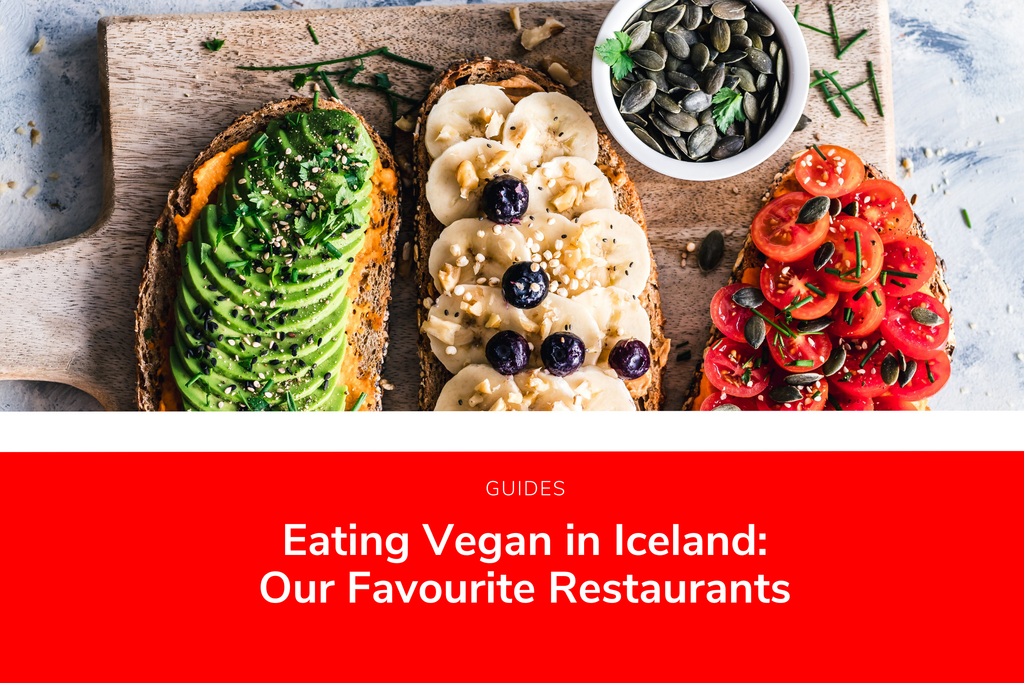 Looking for vegan food in Iceland? We have you covered. Eating vegan in Iceland couldn't be easier with the sheer number of restaurants and cafes that serve a solely plant-based menu or delicious vegan options to cater to everyone.
Our vegan in Iceland travel guide covers the best vegan restaurants in Reykjavík, Vík and Hveragerði. Our recommendations cover everything from desserts, sushi, pizza, ramen, Indian food and more! We have tried to accommodate all budgets in the guide, but prepare yourself for how expensive food might be in comparison to your home country.
If you are looking to keep to a budget when eating vegan in Iceland, check out our tips on vegan food in supermarkets at the end of this guide.
Want to jump to a particular section? Use the links below to take you there! 
Is Iceland vegan-friendly?
It might come as a shock that Iceland is one of the most vegan-friendly destinations in the world. For a country renowned for puffin and shark meat, Iceland has a long list of vegan-friendly restaurants and plenty of vegan food in supermarkets such as Bonus.
Veganism is so popular in the country that Iceland even has its own Vegan Guide to Iceland app. Simply download the app onto your smartphone (link for Android and iPhone here) for a directory of all vegan and vegetarian restaurants in the country! The creator of the app, Ragnar Freyr, said that "there's almost no restaurant in Iceland that doesn't offer a vegan option." 
Outside of the solely vegan and vegetarian restaurant in Iceland, it is clear that eateries that offer plant-based and meat-free options put a lot of care into their dishes and that it is not just an afterthought!
Are you excited? Let's dive into the best vegan restaurants and cafes in Reykjavík, Vík & Hveragerð.
Our favourite vegan restaurants in Reykjavik
Glo
Price: £-££

Exclusively vegan: No

Children friendly: Yes
View this post on Instagram
Gló is an award-winning restaurant in the heart of Reykjavik, serving fresh and healthy vegan options in a relaxed atmosphere. The clean and open-spaced area has an upscale cafeteria vibe to it and is the best choice for an affordable, savoury meal.
Keep in mind that Gló does serve some dishes which include meat. However, at least 50% of their menu is organic and they have a wide variety of vegan and gluten-free options to choose from (including desserts!).
Gló is best known for its traditional bowls, including a salad mix, wholewheat pasta or a grain, meat substitute or protein with plenty of salad and fruit! Other vegan options include a wide range of wraps, burgers, soups and lasagne. They even have a vegan children's menu, making it family-friendly.
Gardurinn (Ecstacy's Heart Garden)
Gardurinn (also known as Ecstasy's Heart Garden) is renowned for its authentic and cosy atmosphere. Expect a vegan/vegetarian menu of home-cooked meals with a rotating carte du jour of specialties based on what fresh produce is in season! 
Affordable, no airs or graces, just wholesome plant-based dishes served by friendly locals.
The CooCoo's Nest
The Coocoo's Nest is a small, family-run restaurant that serves vegetarian and vegan dishes. It has quickly become one of the most popular restaurants in Reykjavík, known for its Taco Tuesday, sourdough pizzas and weekend brunches.
Even meat-eaters will enjoy their vegetarian options! Expect delicious sandwiches and out-of-the-ordinary salads at lunchtime. You can even order a large soup and bread for 2 people to go if you don't want to waste any precious time to explore Reykjavík.
Hraðlestin
View this post on Instagram
When you're tired of vegan salads, sandwiches and pizzas, give Hraðlestin a try. With three locations in Reykjavík and one in Kópavogi, their Indian-vegetarian cuisine is lovingly cooked by professional chefs using fresh, preservative-free ingredients. 
If you're looking for an exclusively vegan meal, go on Vegan Wednesdays where you can get their special vegan thali at a discounted price. It's a platter of delicious vegan curries, rice, bread and chutneys (in the image above). Trust us, you won't regret it. 
Mat Bar
View this post on Instagram
In hip downtown Reykjavík, you'll find an equally hip Mat Bar. Offering a small seasonal menu, crafted from locally sourced ingredients, you can expect great vegan and vegetarian options such as tagliatelle, cannolis and gnocchi. If you have room for dessert, we'd recommend the lemon cake for a delicious vegan option.
Mat Bar is perfect for a fancy cocktail on your trip too. With happy hour from 12 pm-6 pm, why not? 
Café Babalu
Price: ££-£££

Exclusively vegan: No 

Children friendly: Yes
For a quirky lunch stop, look no further than Café Babalu. This colourful coffee house is full to the brim with eclectic decor and is the best place to people-watch and absorb the uniqueness of Reykjavík.
We'd recommend the vegan chilli if you're stopping for lunch. For a quick (or long) coffee break, definitely try the vegan carrot cake.
Pylsa/Pulsa Bistro
Price: ££-££

Exclusively vegan: No 

Children friendly: No
A bistro with a clean, sophisticated vibe. As a sausage house, vegans should note that their selection will be limited. That being said, their vegan sausage and Bulsur hot dog is out of this world, served with maple syrup and sweet potato mash or chips, fresh salad and coconut-creamed kale.
When looking for Pylsa/Pulsa Bistro, keep in mind that it is a bistro located behind the bar of the Hlemmur Square restaurant. The bar's happy hour is 4 pm-8 pm. Inside the venue, expect an art gallery that also hosts live music from time to time.
With the Icelandic Phallological Museum across the street, this is not the best vegan restaurant in Reykjavík to bring children. 

Reykjavik Chips
Price: £-££

Exclusively vegan: No 

Children friendly: Yes
Reykjavik Chips is an open-front restaurant that solely serves fries, the ideal place for a light midday meal. We'd recommend the vegan mayo, a highlight for vegans in the area. 
This casual, trendy eatery is one of the few affordable "vegan" places in Reykjavik (because it only serves chips). But it's a great choice if you just want something quick on your adventures.
Ramen Momo
View this post on Instagram
Ramen Mono is another great ramen restaurant based in Reykjavík with an extensive menu of tasty vegan options. Quaint and charming, we've always found Ramen Mono's friendly staff to be more than happy to accommodate their vegan customers.
You have to have vegan gyozas for starters. For your main course, you can either choose the sesame or miso vegan ramen. Both as equally delicious and comforting as the other.
Jomm
Price: £-££

Exclusively vegan: Yes

Children friendly: Yes
View this post on Instagram
Legendary for serving the best vegan burgers in Iceland, the plant-based fast food joint Jomm is based in the food court of Kringlan Shopping Mall in Reykjavík. If you're craving vegan fast food, this should be your go-to option.
The wide range of vegan burgers includes regular plant-based patties, kebabs and "pulled" burgers (the vegan alternative to pulled pork). If you want to skip on the bread, you can opt for a Jomm Box which is served with all the aforementioned vegan proteins, their infamous buffalo potatoes and a variety of sauces and toppings. 
Kattakaffihúsid
View this post on Instagram
Kattakaffihúsid is Iceland's infamous cat cafe. All cats are up for adoption and the cafe acts as a shelter for them until they find their forever home. Because it's a cafe, the menu is small. However, there are plenty of vegan options such as the grilled avocado or pesto sandwich, sourdough toast with a choice of vegan toppings and waffles with vegan whipped cream.
So yes, you might not come here as the first choice for food. But the experience of meeting Iceland's friendly shelter cats will be one you'll never forget.
Bánh Mí
The infamous Vietnamese street food restaurant, Bánh Mí, is located in Reykjavík's popular Hlemmur Mathöll food court. Because this vegan-friendly restaurant is based in a food court, it's the ideal option for groups that might want something different to eat! 
Expect casual and informal settings with fresh, delicious food. Bánh Mí is iconic for it's eponymously named Vietnamese sandwiches but also renowned for its plentiful vegan options. We recommend ordering vegetarian spring rolls, which are vegan-friendly. 
The Best Vegan Desserts in Reykjavik
Saved room for dessert? If you're the type of vegan who finishes every meal thinking "and now I need something sweet…", then check out our top two favourite vegan dessert places in Reykjavík.
17 Sortir
Price: £-££

Exclusively vegan: Yes

Children friendly: Yes
View this post on Instagram
17 Sortir is a retro bakery based in downtown Reykjavík with an enticing assortment of vegan cakes, cupcakes and mini cupcakes for kids. The name comes from the famous book written by Iceland's one and only winner of the Nobel Peace Prize in Literature, Halldór Laxness. 
Their menu of vegan treats is so extensive that we couldn't possibly name them all. Standout cupcake flavours include Oreo, salted caramel, chocolate and raspberry, or mocha. Spoilt for choice? Opt for their vegan tasting box of three cupcakes of your choice.
If you're looking for a vegan birthday or celebration cake, our favourite flavours include vegan chocolate with popcorn buttercream and vegan chocolate jam with witch hazel (their most popular flavour). 
Valdís
Price: £-££

Exclusively vegan: Yes

Children friendly: Yes
Valdís, the renowned ice cream parlour in Iceland, rotates two to four vegan options at a time in their menu. You can expect delicious vegan cones, sorbets and dairy-free options when you step in here for a sweet treat.
Word of warning, prepare to wait outside in a line. There's always a queue outside Valdís, but it's worth the wait.
Our favourite vegan restaurants in Vík and Hveragerði
Don't be fooled into thinking you will only find vegan restaurants in Reykjavík. Here are our favourite vegan restaurants in Vík and Hveragerði. 
Soup Company, Vik
Price: £-££

Exclusively vegan: No

Children friendly: Yes
View this post on Instagram
Based in the same location as the Icelandic Lava Show, The Soup Company is the ideal vegan-friendly option for a warming, comforting lunch. The small family-owned restaurant is a casual setting and serves a range of soups (shock), paninis, freshly baked bread and desserts. 
Due to only using the freshest produce, the menu can change frequently. But rest assured that they will always have a vegetarian or vegan option. If they have it when you go, our favourite vegetarian soup was the Creamy Mushroom Soup and the Indian Vegan Soup. They even offer a second serving on all soups and as much bread as you would like! 
Smiðjan Brugghús, Vík
Price: ££-£££

Exclusively vegan: No

Children friendly: Yes
Smiðjan Bbrugghús is a brewpub located in the centre of Vík. Though not entirely vegan, this pub offers one of the best vegan burgers available in Iceland alongside their meat-eater options.
The vegan burger includes a kale and quinoa patty, topped with garlic aioli, vegan cheddar, onion rings, pickles and tomatoes. Even the bun is delicious. The vegan burger comes with a side of equally delicious fries.
For drinks, you can also get a flight of four beers to sample what Smiðjan Bbrugghús has on offer. Standouts include the super sour Gurken beer and festively-spiced Christmas beer. If you have room for dessert, we'd seriously recommend the peanut butter and porter chocolate mousse. 
Ölverk Pizza & Brewery, Hveragerði
Price: ££-£££

Exclusively vegan: No

Children friendly: Yes
Ölverk Pizza & Brewery is a 30-minute drive from Reykjavík and an excellent pit-stop on your trip to the Golden Circle, as it's en route. They specialise in wood-fired pizzas with around five or more vegetarian options and two permanent vegan pizzas on the menu.
Though subject to change, the Vegan Nacho Pizza is simply a must-have. Expect spiced vegan mince, nacho chips, vegan cheese vegan chilli mayo with other perfectly paired toppings. They also serve a Vegan Pesto Pizza, topped with Ölverk pesto, mushrooms, spring onions, coconut flakes, chillies and Icelandic dulse. You should also be prepared to order the best sweet potato waffle fries to accompany your pizza (you won't regret it).
Because it's so popular, expect to wait a couple of minutes for your table. Because Ölverk is also a brewery, you can order flights of beer to sample what is currently available or even book a tour of the entire brewery. 
Vegan food in supermarkets in Iceland
There's no denying how expensive it can be to eat out every day in Iceland. To help keep your next trip to Iceland budget-friendly whilst also accommodating your vegan diet, rest assured that Icelandic supermarkets have plenty of vegan and vegetarian options. 
Before heading out on a tour or day trip, we recommend going to a supermarket such as Bonus and grabbing a few bread rolls, vegan meats and cheeses to make some sandwiches to travel with. Tofurky is widely available in most Bonus stores.
Most supermarkets will also sell a variety of vegan sandwiches or wraps to help keep the cost of lunch low. If you want to keep your trip affordable, we'd recommend sorting your own vegan lunch out with groceries and having one dinner out. You could also try to ensure your accommodation has a kitchen, so you can buy groceries to make your own dinner (if you wish!).
Vegan búðin (The Vegan Store)
Price: £-££

Exclusively vegan: Yes

Children friendly: Yes
Did you know that Jomm also owned a fully vegan supermarket in Iceland? Located on Faxafen 14, Vegan búðin stocks all the essentials you might need when living in or visiting Iceland. 
Also known as The Vegan Store, this supermarket stocks:
Raw basic materials such as pulses, grains & cereals

Dairy and meat substitutes

Tofu and tempeh

Baby food

Supplements

Dairy-free chocolate and sweets

Beverages, even smoothies!
This guide to vegan food in Iceland covers our favourite vegan restaurants Reykjavík, Vík and Hveragerði, demonstrating the wide range of plant-based cuisine that is available in Iceland. 
Whether you're looking for sushi, pizza, ramen or traditional Icelandic cuisine, you can rest assured that eating vegan in Iceland will not be a struggle.
Before you embark on your trip, just make sure to download the Vegan Guide to Iceland app to make planning your meals easy as pie! We have also included a customised map of all our favourite vegan restaurants mentioned in our guide below - save this now and thank us, and your full bellies, later!
Our Vegan Iceland Google Map
Pin This Article for Later