The Best Places For Whale Watching In Iceland And When To Go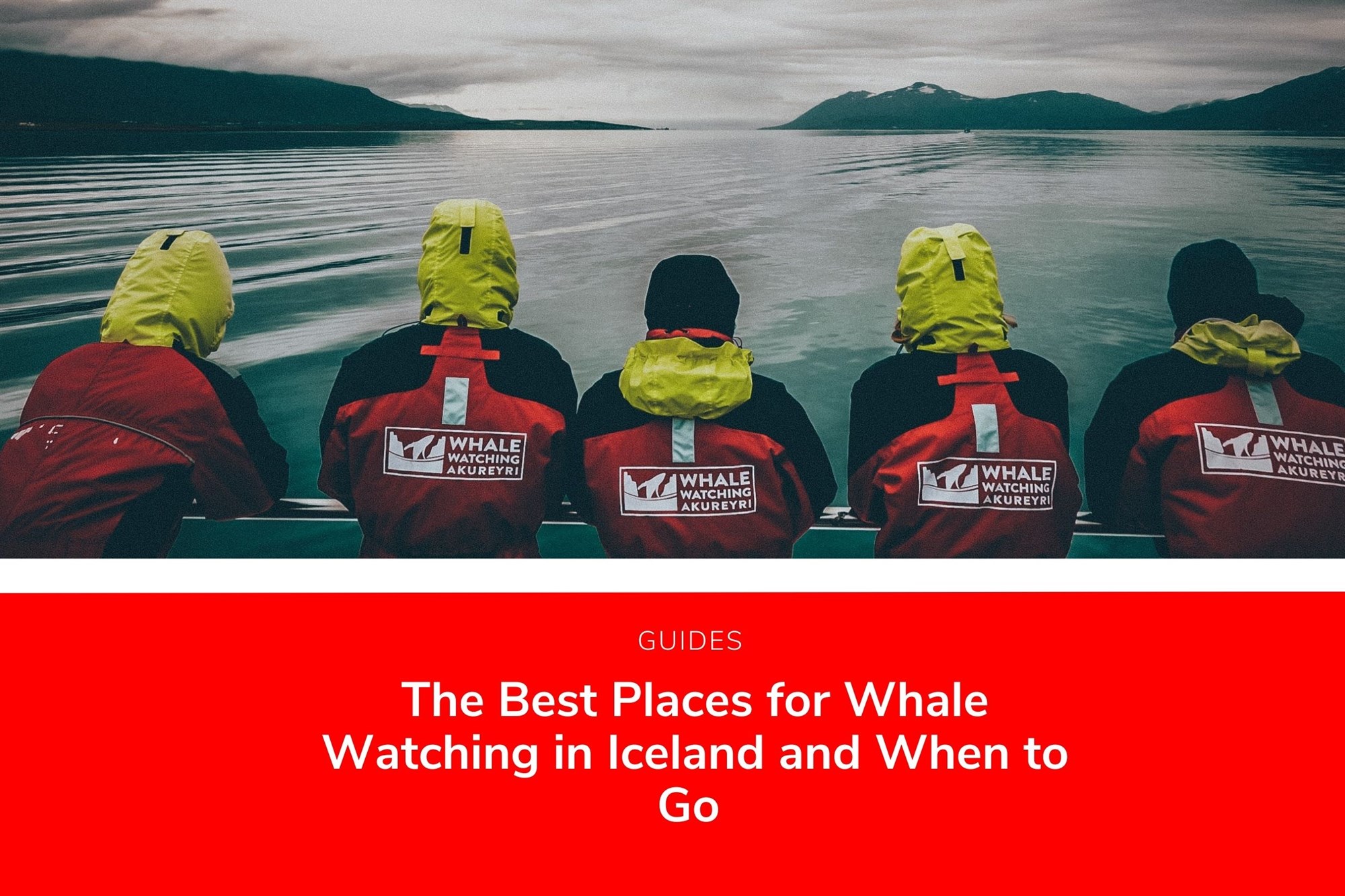 Iceland is now widely regarded as one of Europe's top whale-watching destinations, with an ever-growing number of visitors hoping to catch a glimpse of these majestic creatures in their natural habitat. While the waters around Iceland have seen centuries of intense whaling (the practice of hunting whales), that industry has now, thankfully, almost completely given way to tourism and admiring these gentle giants splashing around under the Northern Lights, or illuminated by the midnight sun.
In the article, we cover everything from the best places for whale watching in Iceland, to the best time to visit to see these breathtaking mammals. We also touch upon the impact the COVID-19 pandemic will have on those looking to plan a whale-watching trip in the land of fire and ice in the near future.
Where is the best place for whale watching in Iceland?
The top whale watching places in Iceland are Husavik, Akureyri, Reykjavik, Snaefellsnes Peninsula and the Westfjords. These are the spots in Iceland where you are most likely to see different species of whale and orcas, with the time of year dictating which location is best at the time of your visit.
What species of whale can I see in Iceland?
Due to Iceland's unique climate and its mixture of warm and cold sea currents, the waters surrounding the country host a wide variety of krill and fish. As a result, Iceland is a rich feeding ground for a whopping 23 species of whale, ranging from the gargantuan sperm whale to the much smaller harbor porpoise. The species of whale you are likely to see in Iceland will vary depending on the port you depart from. However, the most commonly spotted whale in Iceland is the minke, which can be seen in the majority of waters around the country all throughout the year.
The most common species of whale spotted around Iceland include:
Minke
Humpback
Harbor porpoises
Orcas
In addition to the common species listed above, those embarking on a whale watching tour in Iceland also have the opportunity to spot white-beaked dolphins, blue and fin whales, as well as some of the less-commonly spotted species, including toothed whales, pilot whales, and beaked whales.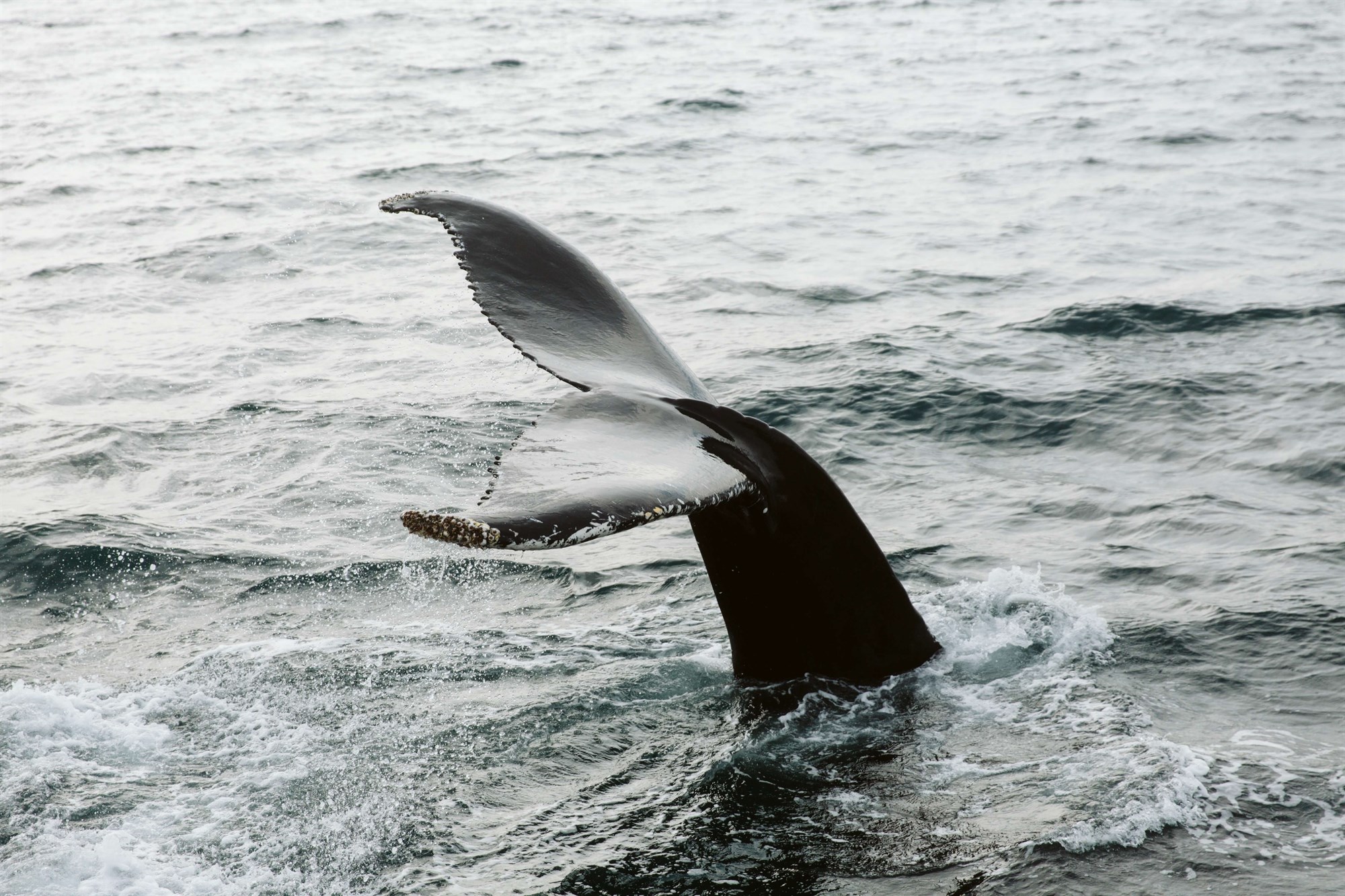 Whale watching in Reykjavík
Reykjavík is one of the best places in Iceland for whale watching. It's easy to assume that its popularity amongst tourists as a location for spotting cetaceans is mostly down to its location and convenience for people staying in the capital, but the shallow and nutrient-rich waters of the neighbouring Faxaflói bay actually make Reykjavík one of the most common places to spot minke whales, white-beaked dolphins and harbor porpoises.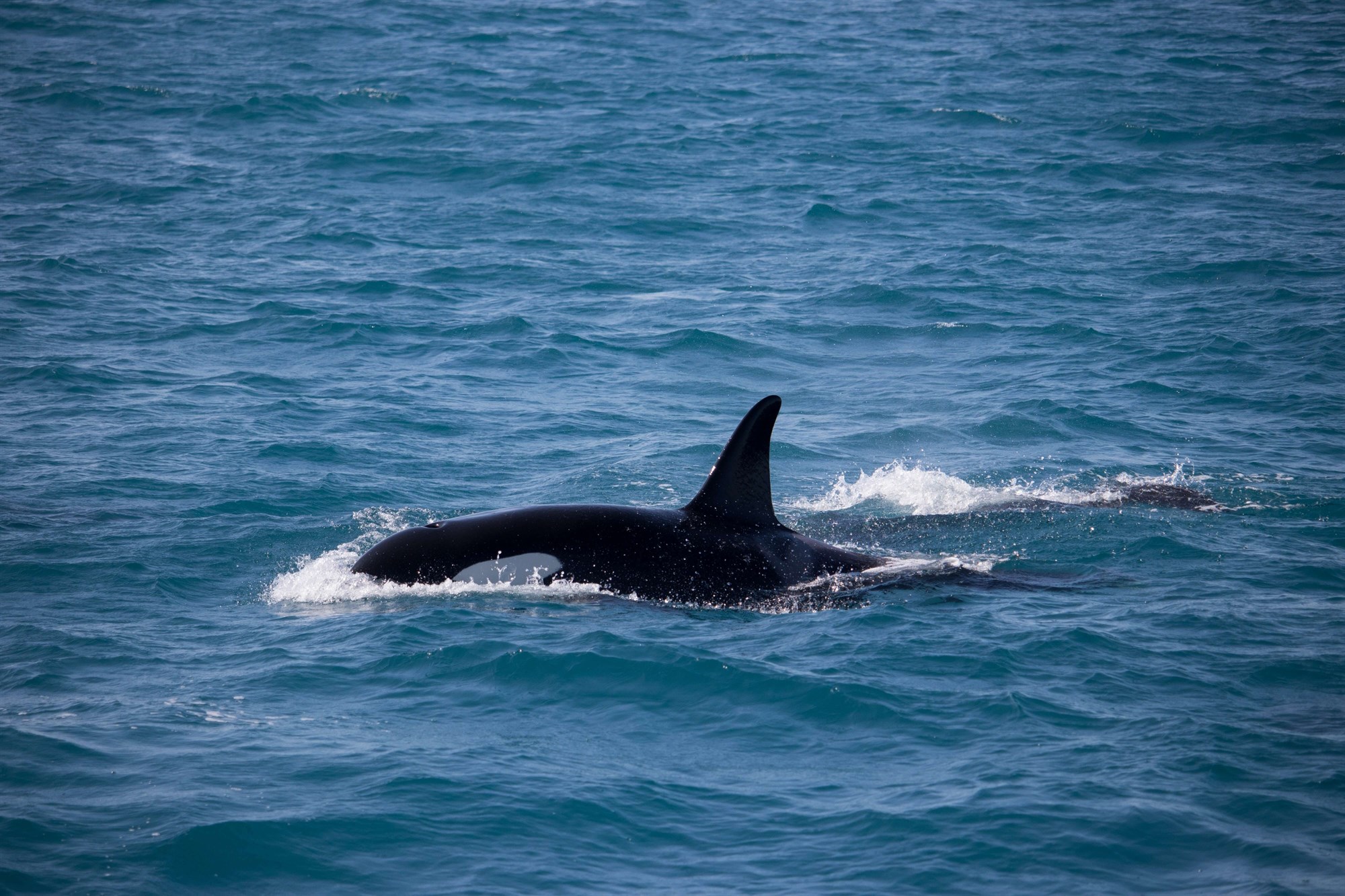 Whale watching in Húsavík
Touted as 'the whale watching capital of Europe', the north-eastern fishing town of Húsavík is regarded as one of the best whale-watching spots in the world due to the regularity of whale sightings in the area. The most common species of whale seen in the waters around Húsavík is the humpback, but there are plenty of others to be spotted too. Húsavík is a popular location amongst whales due to melting snow and nutrient-rich rivers, along with long-lasting summers leading to large amounts of plankton, which is the main food source for cetaceans. In addition to regular sightings, Húsavík is home to the Whale Museum - an impressive collection of whale exhibitions, including 11 whale skeletons, with one a staggering 25 metres in length.
Whale watching in Akureyri
The largest town outside of the capital, Akureyri is another popular whale-watching destination in Iceland. Located close to Húsavík in the north, Akureyri boasts a greater choice of tours with more family-friendly options, with many tours operating in Eyjafjörður where the chances of spotting whales are high. An added benefit of whale watching tours in Akureyri is that the surrounding mountains act as a shelter, meaning that there are typically lower winds and calmer waters - an important factor if you suffer from motion or seasickness. In addition to whales, the calm waters around Akureyri are also a great location for spotting dolphins, and there is plenty to see and do in the town itself once you have finished the tour.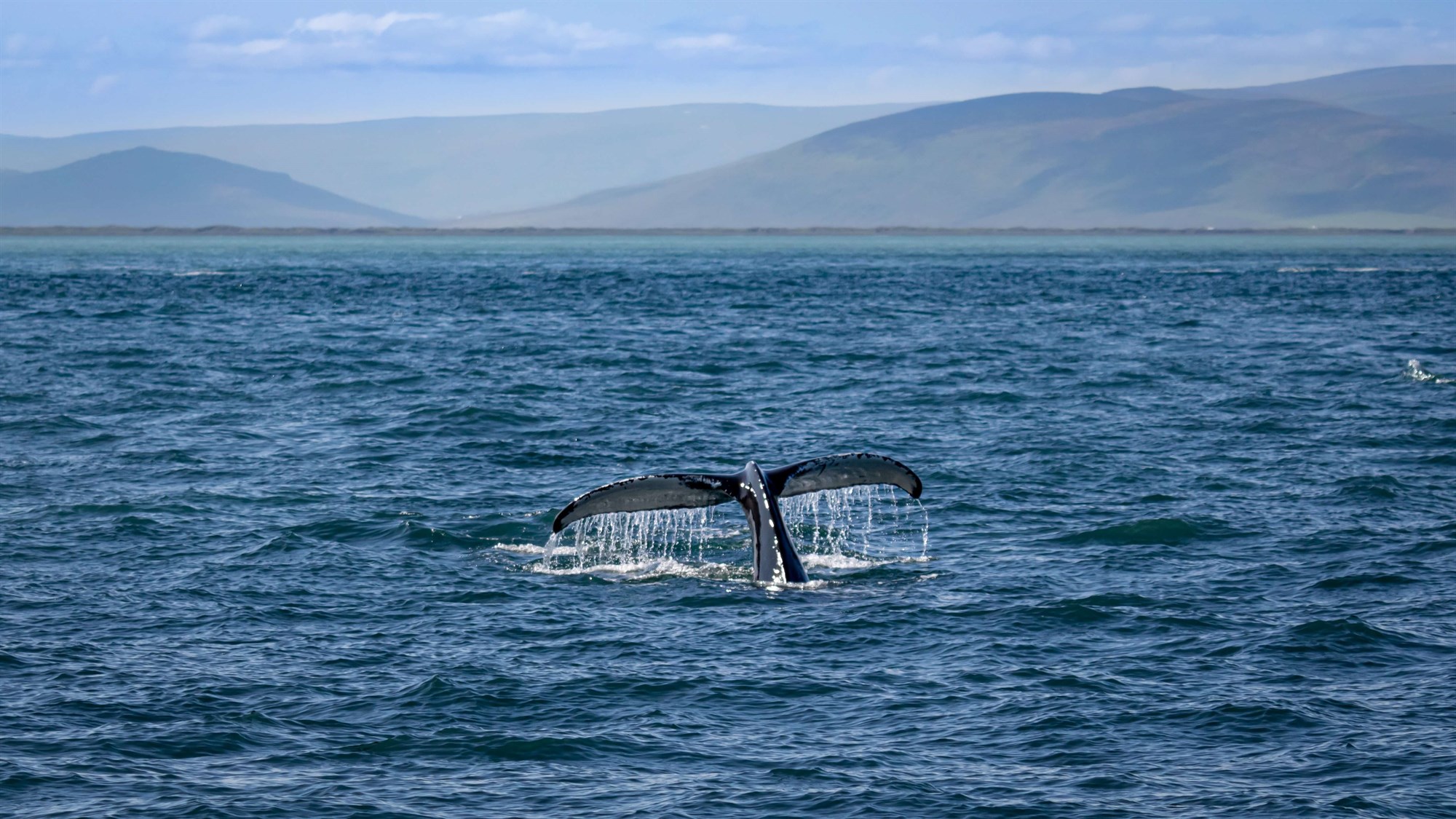 Other places to go whale watching in Iceland
Snaefellsnes Peninsula
As well as being one of Iceland's most treasured beauty spots, the Snaefellsnes Peninsula is also the best place to go to catch a glimpse of orcas and killer whales due to the much larger population of these species in the area. Visitors can spot these magnificent sea creatures all year round, however, winter and spring are generally the periods when orca sightings are most frequent. In the summer, there are even more species to look out for, including the enormous sperm whale. Tours take place from the local town of Grundarfjörður and smaller tours in the winter are done in traditional oak boats.
Westfjords
Looking to get off the beaten track and avoid tourist hotspots? The Westfjords are one of Iceland's best-kept secrets, and due to their remote location, see very few tourists when compared to the other locations in this article. Not only are the Westfjords prime whale-watching territory, but visitors can also spot colourful arctic puffins, experience the natural geothermal pools, and bask in the natural beauty the region has to offer. Whale watching tours run from the village of Hólmavík and the waters around this area are some of the calmest in the country.
The Westfjords are the pinnacle of unspoilt natural beauty in Iceland, but are tricky to get to without your own form of transport. If you are looking for a rental car to take you to the Westfjords or indeed any of the other stunning locations in the land of fire and ice, take a look at our wide range of reliable and affordable rental cars.
The best time for whale watching in Iceland
From infinite daylight in the summer to spontaneous snow showers in the winter, you'll struggle to find a country where the climate is so drastically different between seasons as it is in Iceland. The good news for those hoping to get a sight of enormous sea creatures is that you can enjoy whale watching tours in Iceland throughout the year. Read more about the climates and seasons of Iceland.
It's impossible to say which is the best time for whale watching in Iceland as there are pros and cons to embarking on a tour during both summer and winter. There are a few factors you should consider before booking which we shall explore in the sections below.
Whale watching in summer in Iceland
The main benefit of going whale watching in summer rather than in winter is, quite simply, the weather. Summer in Iceland sees much calmer winds, clearer skies, and fewer storms which means that tours are less likely to be cancelled, as well as much higher chances of seeing whales break the flat surface of the water. Another benefit of the milder weather is that you can usually stand on the deck for the entirety of the tour. You will most likely still need the protective overalls that most tour companies provide, but you won't find yourself having to keep on dashing indoors to warm up. Because the seas tend to be calmer, smaller tours on vessels like a RIB allow for a closer and more personal encounter with these mysterious sea creatures.
Better weather is not the only benefit of whale watching in summer. Whales' migratory behaviour means that many species tend to spend the winter closer to the equator breeding, returning closer to the poles in the summer for feeding, meaning that you are more likely to see a greater diversity of wildlife on tours during the summer months.
In addition to whales, other spectacular wildlife roams Iceland's waters in summer including the enormous prehistoric basking sharks as well as migratory seabirds such as arctic terns, great skua, and of course, puffins.
Whale watching in winter in Iceland
Although there are many advantages to whale watching in Iceland during summer, you shouldn't discount going in the winter months as well!
The first major benefit of going whale watching in winter is that tours are much less busy due to the choppy seas being an obstacle for those who fear seasickness, as well as the chilly winds that strike the viewing area. If you are comfortable with bracing these conditions, you will be rewarded with much more space to search for whales, as well as being less likely to have to crane over others for a decent view when sightings do occur.
Whilst you are more likely to see white-beaked dolphins and harbor porpoises during the winter months, it is not uncommon for great whales to remain in the waters even during the colder months, meaning that you also have the opportunity to see minke whales and even humpbacks on rare occasions.
Another advantage of whale watching in winter applies specifically to the Breiðafjörður Fjord area which divides the Westfjords and Snæfellsnes Peninsula. This herring wintering ground provides an abundance of food for predators during the colder months, meaning that orcas and humpbacks are much more likely to be sighted here in the winter than in summer.
Whilst not native to Iceland, belugas tend to migrate from the Arctic into less icy waters around Iceland's northern coast during the winter, meaning that visitors also have a chance of seeing these gregarious creatures.
Finally, aside from the wildlife on offer, whale watching in Iceland in winter allows you to experience some incredible nature. Lucky visitors may be able to spot the Northern Lights whilst on a whale watching tour, whereas those on a tour around Eyjafjorður can enjoy the spectacular surroundings of snow-covered mountains whilst looking out for cetaceans.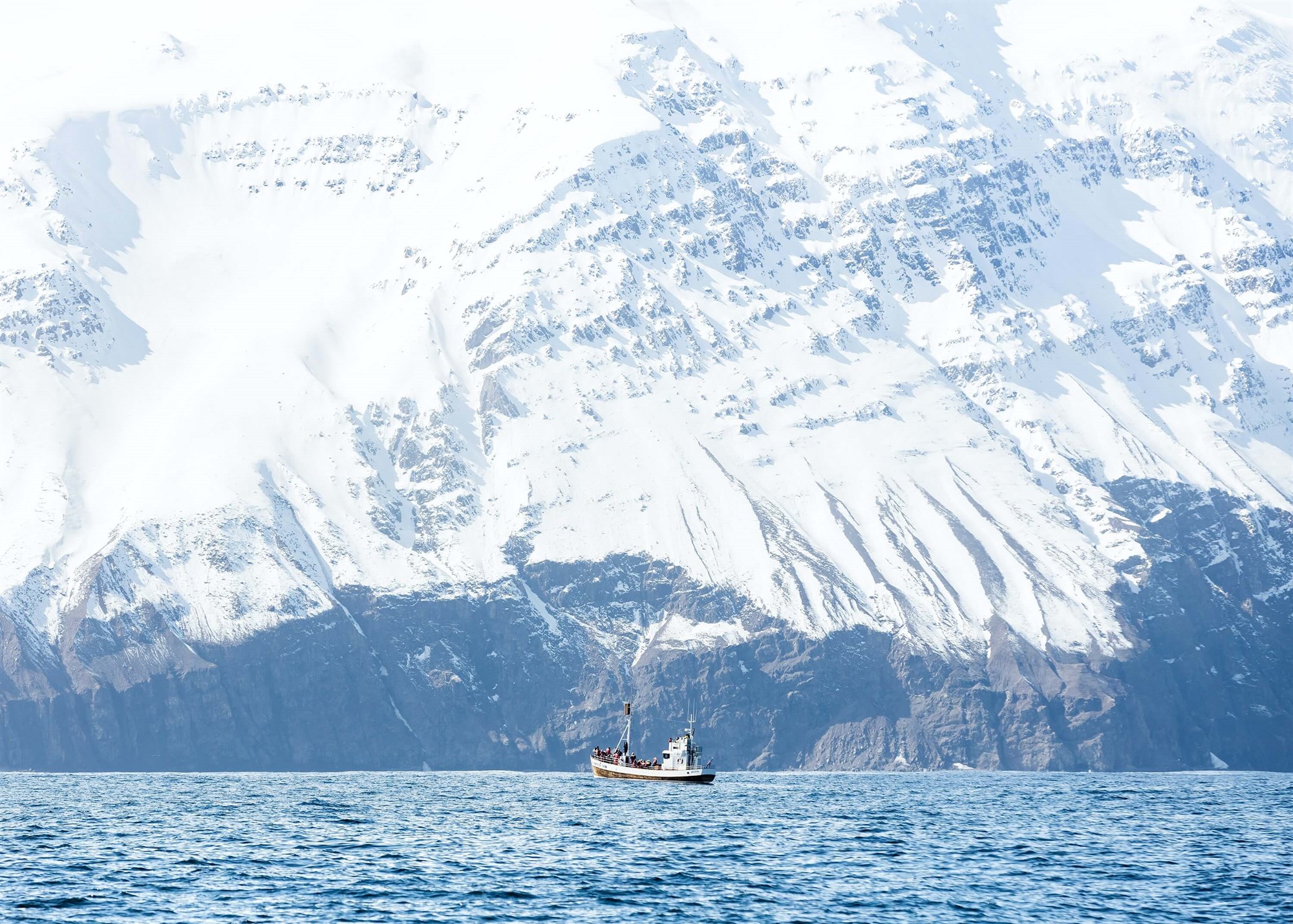 Whale watching in Iceland during COVID-19
At the time of writing, Iceland is open to visitors from a whole host of countries looking to catch a glimpse of some of the largest animals on the planet. Iceland has worked hard to ensure travel into the country throughout the COVID-19 pandemic is as safe and hassle-free as possible. We recommend regularly checking the latest travel advice for the country you are planning on visiting, right up until your arrival. For more information, read our article on how Iceland is welcoming visitors safely during COVID.
Are whale watching tours in Iceland still operating during COVID-19?
Whale watching tours have largely managed to stay in operation during the pandemic. With many other European countries managing to keep tours and similar events open with testing, contact tracing, and vaccines, whale watching tours look set to continue as normal. It is always advisable to book any tour in advance to ensure there is availability on the prospective days to avoid disappointment.
Are Iceland's whale watching tours COVID safe?
Yes. Whale watching tours in Iceland are required to abide by the Ministry of Health's latest safety guidelines to ensure the safety of all passengers and crew. Tours will thoroughly disinfect all surfaces on the boat including any equipment given to passengers, such as life jackets. Social distancing rules are in place where possible; on larger tours, ships will be large enough for passengers to keep a distance, whereas smaller tours may require mask-wearing if social distancing is not possible.