9 Essential Iceland Car Rental Tips You Need to Know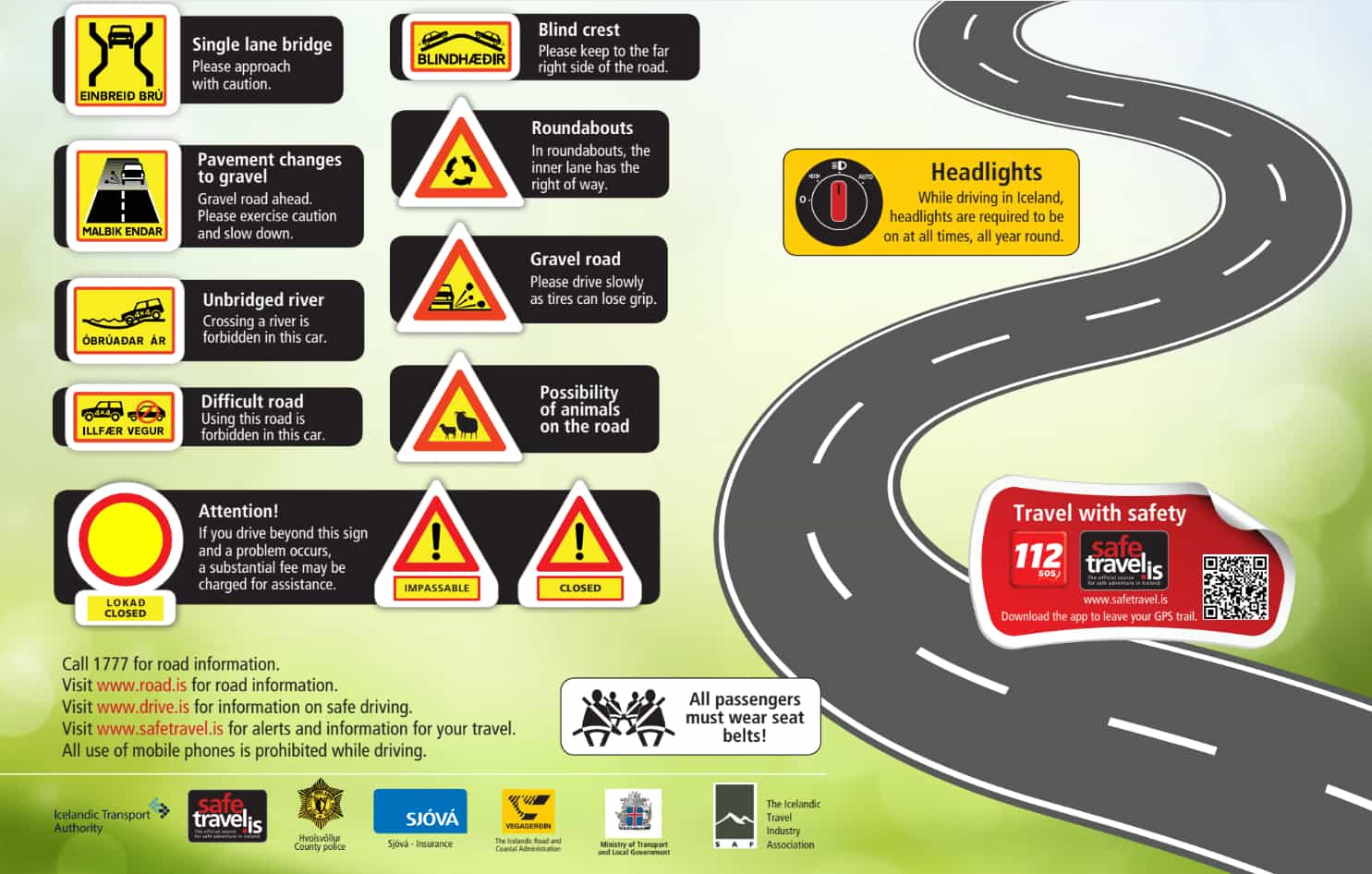 If you're planning to travel in Iceland like a pro, the best way is by renting a car and driving yourself. It's not just about how much of the terrain you capture. There's something wild and free about Iceland - an indomitable spirit about Iceland that probably dates back to its Viking roots. And nothing quite translates that sense of freedom like being in the driver's seat yourself. That said, along with your camping and hiking gear, be sure to pack along these nine Iceland car rental tips:
Tip #1: It's Totally Safe to Drive Around Iceland
Because Iceland's geography is full of geological wonder, it's cultivated a bit of a reputation for being wild. But despite that reputation, Iceland is perfectly well-cultivated. And that's the beauty of it: thriving, urban spaces and city centers open up into vast tracts of land, ancient volcanoes, glaciers, and quiet roads. So, yes, it's very safe to drive in Iceland. The roads are accessible and the stops incredibly picturesque, but your car rental in Iceland will need specific types of protection - and it pays to be familiar with the local driving customs. For one thing, you should also know that damage to your car can happen quickly on the often unpredictable terrain here.
So your safety on Iceland's roads will depend on how well you know and can adapt to the country's signage (see below) and terrain. There are very specific signs created for Iceland's special terrain and geographical context.
You can check them out here: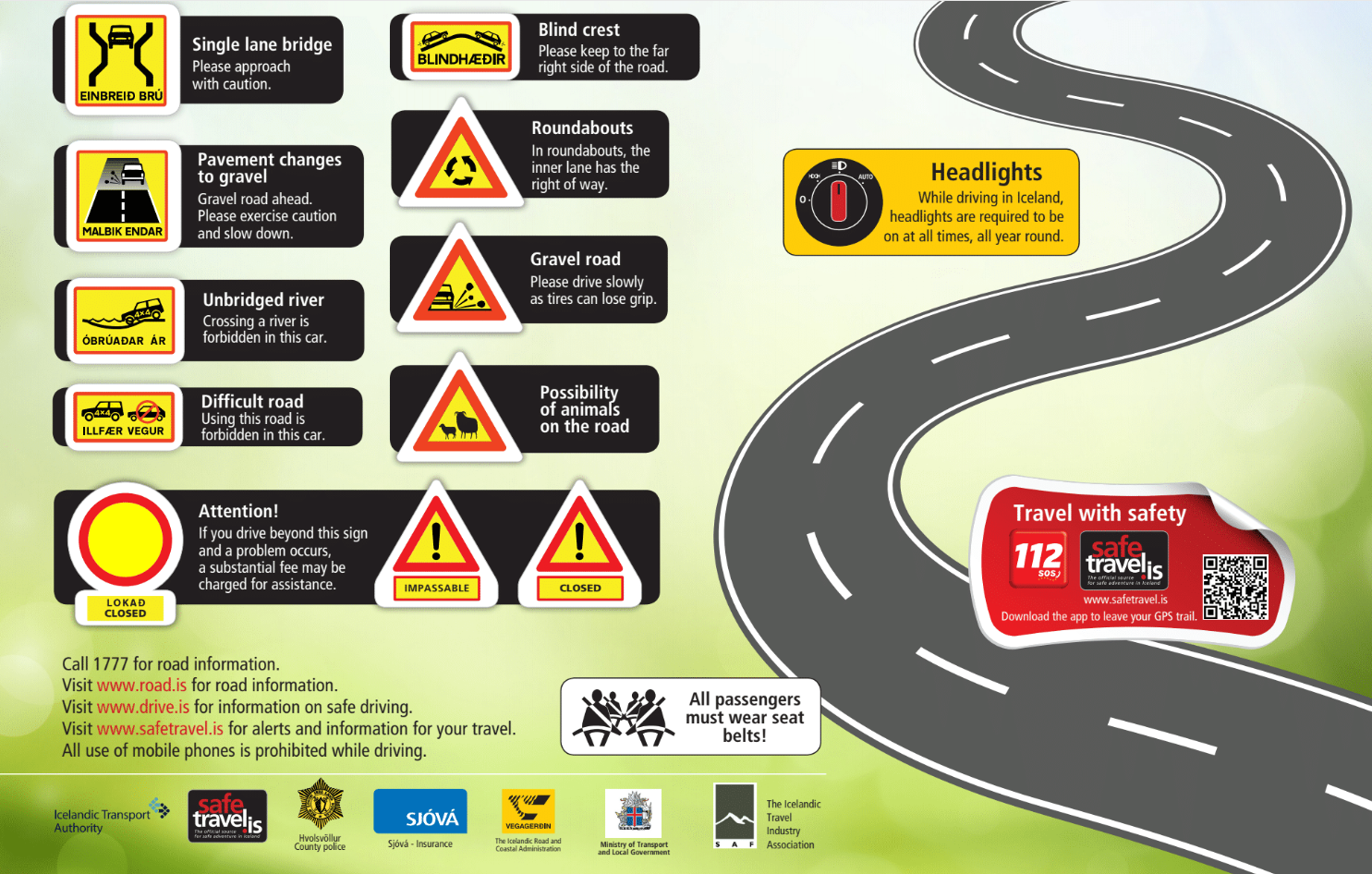 Image Source
Getting a handle on these signs — such as alerts for a "blind crest" or an unbridged river — can help you keep your journey through Iceland perfectly safe. But just in case you do run into an issue, Iceland has developed some interesting car rental protections. These protections cover possible damage that you might not consider in your home country. Here's what you need to know:
Tip #2: Get the Collision Damage Waiver
Car rental companies in Iceland offer coverage based on something known as a Collision Damage Waiver or "CDW." It's not quite "insurance" in the typical sense, but it does cover you. If you accumulate a certain kind of damage during your travels, the Iceland car rental company won't charge you -- as long as it's within a preset amount. To make it easier for travelers to grab the right package, car rental companies in Iceland will often group their most common coverage items together, along with a price point to match. For example, the basic level of CDW may include:
Coverage for the body of the car

All collision damages

Covers driver and passengers for any injuries, including

emergency treatment, hospital stays, medical exams, and any other expenses
When you're driving through Iceland, this collision damage waiver goes one step further to cover things like grave protection, sandstorm or ash damage, and even protection from icy conditions. It's also a good idea to double-check which parts of your car your CDW protects - just in case. For example, some coverage will specify only superficial damages like damage to paint and glass, while other parts like a radiator or engine don't have coverage. Don't get caught unaware or unprepared, and stave off out-of-pocket expenses to ensure you get the most out of your visit!
Tip #3: Skip the International Driver's License
If all this information has got you itching to book a car and plan your itinerary out, you'll be happy to learn that Iceland accepts all national licenses so long as they're valid. As you would in your home country, plan to keep your license up-front, along with proof of insurance, and, in this case, your passport. That's all you need to hit the road in Iceland.
Pro-tip: You may not need an international driver's license, but it's best to have some experience driving a manual or standard transmission car. Very few car rental companies in Iceland have automatic cars. These usually need advance booking and cost a little extra.
Tip #4: Strongly Consider a 4WD Vehicle
As mentioned earlier, Iceland's weather can be a bit rugged. So with that in mind, what you drive in Iceland all depends on two factors:
The weather conditions

Where you drive
Let's talk weather first. Iceland's weather can turn on a dime. And when it does, it can lead to perplexing conditions that you would think can't possibly bookend each other. But they do. It's not uncommon, for example, to experience a downpour, thick fog, blinding blizzards, and extreme sun - all within a day. If there's even a remote chance for snow and ice, four-wheel drive is the safest option. And then there's the "where." This is the bigger consideration.
Many Icelandic car rental companies will place a little warning card on the dash of a car not intended for the rough, rugged "F-roads." These are the interior roads of the Highlands that are often full of gravel, potholes, and unbridged rivers - which means 4WD is always necessary. So while two-wheel drive vehicles are the cheaper option, 4WDs can help boost your confidence and make you feel safer no matter what season you visit in.
Tip #5: Always Go For Unlimited Mileage!
Iceland is just way too beautiful to be confined by mileage counts. If you can, always opt for a car rental in Iceland that will allow you unlimited mileage. Especially if you're freedom camping or doing a self-driving tour, you'll be glad for the ability to double back and not worry about paying more for the extra miles!
Tip #6: Keep an Eye Out for Animals
It's easy to imagine that not much wildlife or livestock could live in a wild landscape like Iceland, so it may surprise you to learn that there are plenty of both. And in Iceland, there are some pretty strict laws that govern how you as a driver are supposed to react when you're approaching animals on the road or in the wild. For instance, if you're ever coming up on a herd of sheep, you're required to slow down - and possibly even come to a complete stop. It may seem silly at first, but blowing by (or hitting an animal) can carry some steep fines if you get caught. Stay on the safe side and respect your surroundings!
Tip #7: Watch For Speed Cameras
Iceland's policy on speeding is clear: Don't do it. Their outlook on policing speeding is just as clear: Why bother wasting law enforcement resources on capturing speedsters? Instead, the country employs handy cameras that quietly sit at the side of the road, completely innocent and nondescript. In reality, they're triggered to capture cars that approach at speeds that break the limit. Which, by the way, is exactly the upper limit. It's not a suggestion; it's mandatory. And once they've taken a photo, they'll automatically fine you. That's not something you want to consider in your vacation budget!
Tip #8: Watch Your Fuel Tank When Going Remote
A huge part of self-driving Iceland is expertly timing your fuel stops. In and around southern Iceland this isn't as much of an issue. But head north or to more remote parts, like the Westfjords, and stations will thin out. That can be dangerous if you don't plan ahead. And when you're renting, remember that some cars run on petrol and others on diesel. At refuel stations, the latter usually has a nozzle marked black. This can easily trip up tourists from countries where the traditional color for diesel is green. Don't get confused at the pump!
Pro-tip: When filling up, you should know that selecting the "Fill Tank" will debit you the entire amount it takes to fill a tank (rather than selecting a certain pre-fill amount). If this is the case, don't panic — the difference will clear after about a week or so.
Tip #9: Know Your Roads
As mentioned earlier, not all roads in Iceland are paved. The notorious "F-roads" are known to cause breakdowns to unwary travelers, so it helps to plan ahead. This map by the Icelandic Road Association marks out paved versus gravel roads, and can help you chart out your travel if you want to avoid the harder-to-reach areas: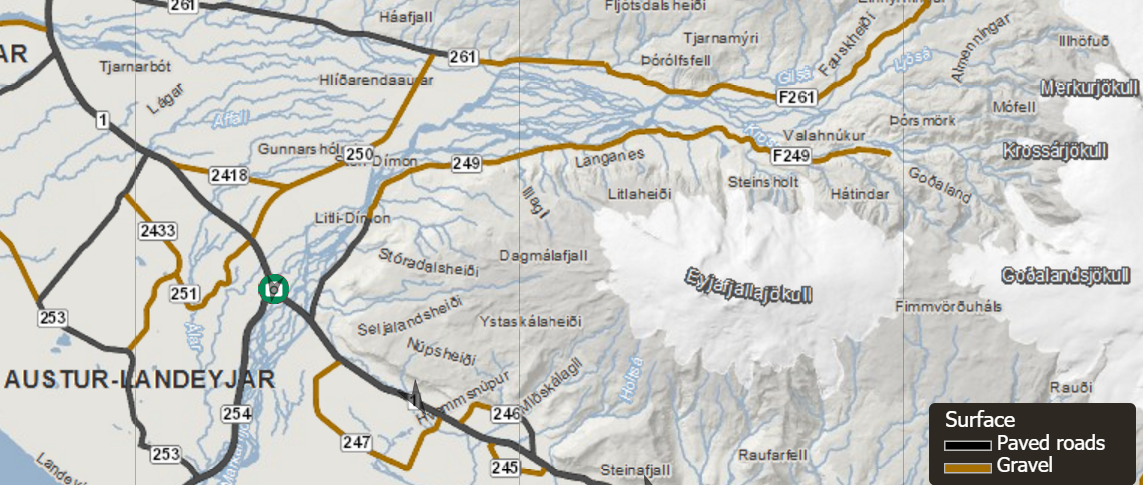 This is especially important if you opt for the two-wheel drive vehicle, as a gravel road can leave you stranded. Think ahead and stay safe!
Conclusion
Renting a car in Iceland with Lotus Rentals is not just convenient, it's one of the most satisfying ways to truly experience what this strange and diverse landscape has to offer. But conditions can get tricky when driving in this beautiful country, so it pays to come prepared. Immersing yourself into the sheer rugged beauty of Iceland is not without its tradeoffs — namely, road conditions, the chance of sudden, extreme weather, and random animals blocking your path. That's why you need to heed the advice we've given you here. Make the most of your visit to Iceland, and come back again and again!