The Top 7 Rental Cars Made For Iceland Roads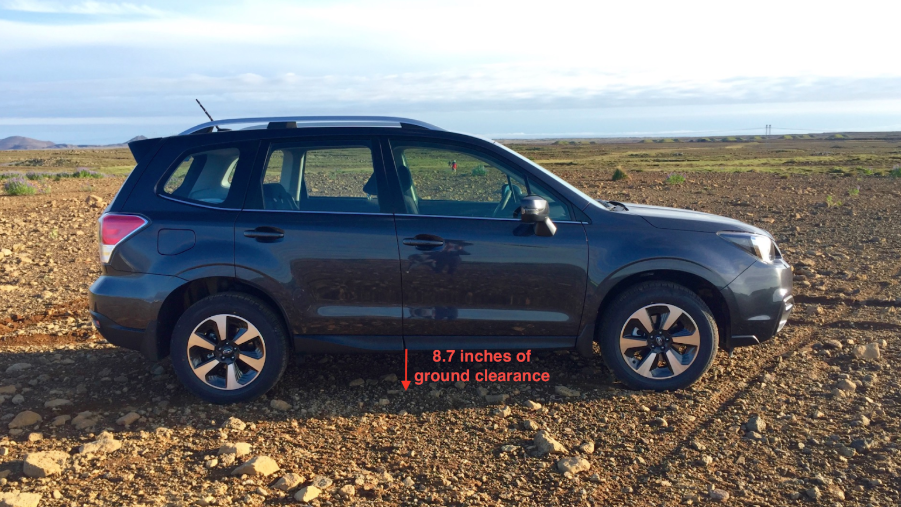 Iceland's roads weave through the picturesque country, taking travelers on a road-trip they'll never forget. Vast volcanoes masquerading as mountains and steamy hot springs with mist that rises from the ground dot the country — the portions not covered by ancient glaciers, that is. While you could book tours and take day trips with buses, one of the best ways to truly explore and experience the country is to rent a vehicle of your own. If you've done any research into traveling in Iceland, you're probably left wondering: Which cars are genuinely built to withstand Iceland roads? Any standard vehicle can perform brilliantly on Iceland's roads, but it matters where you're going. When you get off the paved road and onto gravel or rough, interior, highland roads, you need a terrain-friendly set of wheels. The demands of the roads and the weather conditions are prone to changing quickly in Iceland. Use this comprehensive list of the top seven rental cars to choose the right one for your trip's destination and routes.  
If you're looking for sporty power and handling in your drive while you make your way along mountainous roads, the Subaru Forester will do you one better: It's luxurious and spacious as well. You can easily go for days on your packing supplies and rations as the trunk space offers 35.4 cubic feet of space with the seats up and 76.1 cubic feet when the seats are folded down.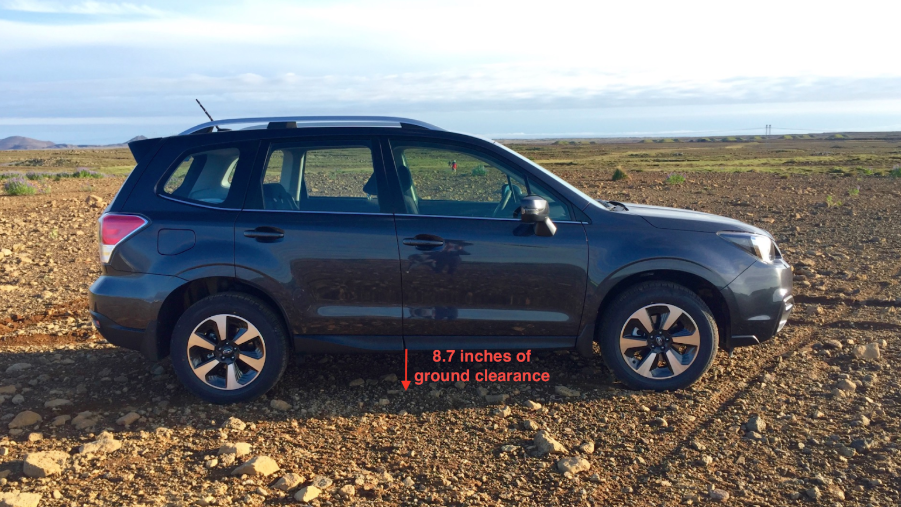 The Forester is routinely the most popular option for drivers looking to stay safe while navigating Iceland's mountain roads. With a few thoughtful, key features, the Forester outworks almost all other comparables in its space: 
Spacious 5-door design 

Sturdy, durable 4WD

Fuel range of 434 miles, getting in 30 MPG

High clearance for a medium-sized car, perfect for roads like F26/F208
The Forester is rugged and reliable but minds those river crossings. Wherever possible, try and avoid these if you're driving the Foresters. While the rivers aren't too deep, your rental may get stuck on the river banks. 
The Kia Ceed straddles a balance between a compact car that's fuel-efficient while providing plenty of legroom and enough space for up to five passengers. Unlike the Toyota Aygo or Yaris, the Kia Ceed has a bit more heft on the road, and it's the perfect car for small groups. Driving with your partner or road-tripping with your best friend is a breeze in the Kia Ceed. Designed to be a sports wagon, the Kia Ceed has a very sporty feel and precise handling that accompanies its sleek design. It provides a smooth, quiet drive on asphalt paved roads, while easily maintaining its grip on gravel roads.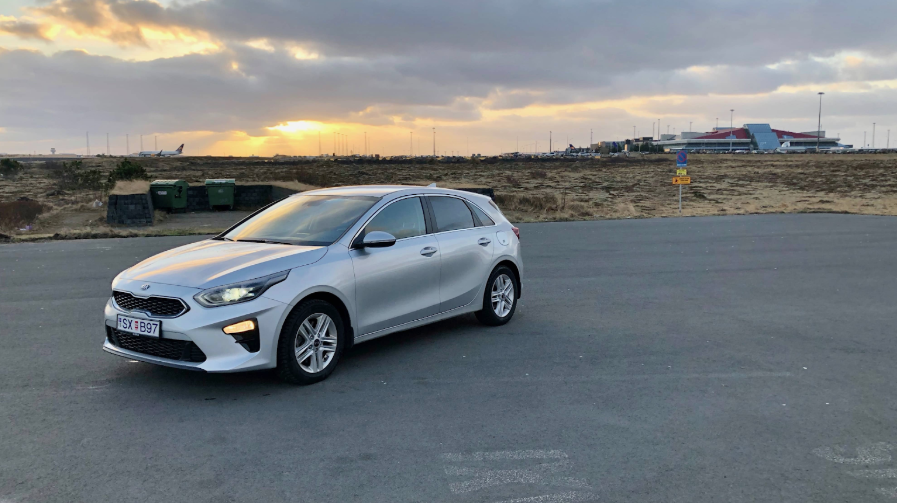 You'll find it to be a highly reliable and spacious car when traveling long distances. You have the flexibility of doing major stops on The Golden Circle, for example, but then can also comfortably spend more than four to five hours driving back to Reykjavik without stopping. 
Nissan's X-Trail fans chose this 7-seater SUV because it manages to bring heft and durability to the road without sacrificing fuel efficiency. In Iceland, this can be a huge advantage — not because of the expense but because of the distance between stations.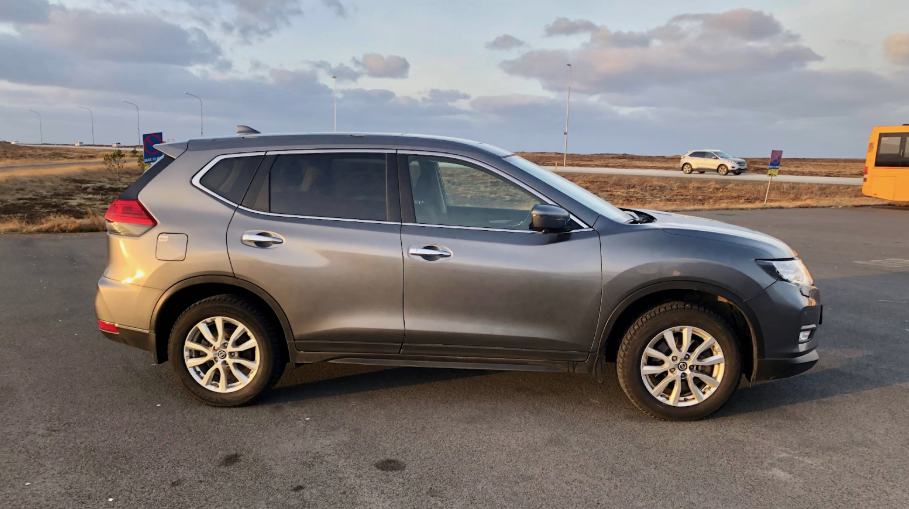 Since the X-Trail is an F-roads-approved 4WD, you're no doubt going to want to take it out on those rugged, rocky roads. However, you'll need to plan your fuel stops along the route because it could be a while before you see one again. The Nissan X-Trail gives drivers the peace of mind they need when venturing off the beaten path and into the country's interior. It comes with 360° camera-assisted parking so you can get yourself out of a tricky spot safely. At 28 MPG, the efficiency of the X-Trail is comparable to the Forester — with the added benefit that you can easily fit a family of five to six, plus luggage, given the spacious interiors and ample legroom. 
You love the reliability, handling, and creature comforts of a Kia but you'd like to have the option of driving on F-roads. The Kia Sportage 4x4 is for you. Built as an intermediate-sized crossover SUV, the Sportage features 4x4 power and built-in GPS. You don't need to rely on getting a network signal while exploring more uncharted territory. Kia really does love to give drivers flexibility, so here is yet another model with the power and torque of a 7-seater 4WD in a more compact, crossover format. The spacious cabin reduces driver exhaustion while the back seats are roomy enough to fall asleep in — and stay asleep.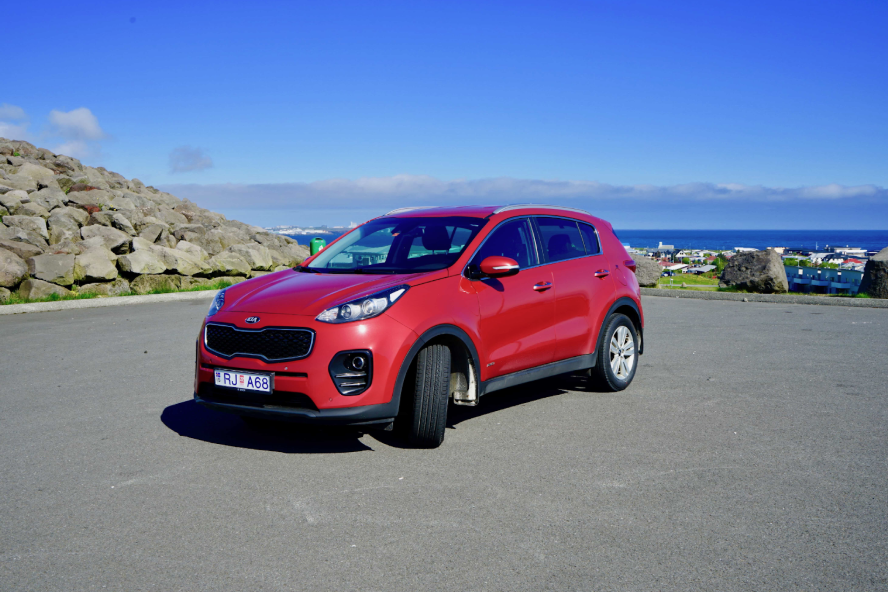 This makes it the perfect highland-road companion. It has a durable suspension and a higher clearance, backed with reliable construction. It's easily able to take on the rocky terrain of mountain roads.
The Mitsubishi Outlander is quite a flexible model of car to take on Iceland's F-roads. It's a mid-sized SUV that fits up to five passengers but offers incredible fuel efficiency with the reliability of 4WD. 
It gets 24 MPG city-driving and 30 MPG highway driving, making it a flexible option if you're going to drive a route with multiple types of roads. You may find that you're able to go the entire Golden Circle with multiple stops on just one full tank. The only downside is that this isn't an SUV intended for tons of storage, so you'll need to juggle seating with luggage. The Outlander's auto high-beams make it a reliable and safe option in changing weather conditions. A family of three could take this car out during wintry conditions. 
The Kia Soul is well-equipped for Iceland's roads during the summer and winter. For a compact-sized car, the Kia Soul is a real workhorse, providing the space and durability to take on random changes in road and weather conditions. Its 5-door design makes it feel more like a traditional, family-sized hatchback — and it has the trunk space to prove it. If you're driving in the winter, you can store all your emergency travel essentials with ease.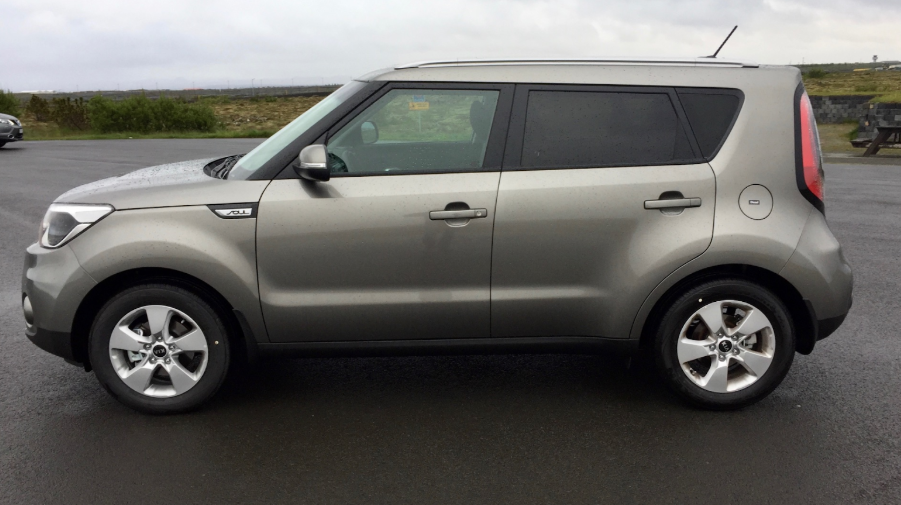 While you can't take this compact but powerful 2WD on F-roads, you can get much use on the highway. The big surprise with the Kia Soul is its seamless transition to gravel roads, which it's able to tackle with no problem. Many parts of the Ring Road momentarily become gravel. While 95% of the "official" highways in Iceland are paved, there are parts where you'll need to navigate the lack of pavement — and that's where the Kia Soul shines. It has a much higher clearance than other compact sedans as well, which makes the Soul an asset during winter driving. It also has a GPS built-in so you'll never be left driving without a path forward.
A fun and functional drive, the Dacia Duster is a hidden gem. As a 4x4, it gives you all the reliability, safety, and durability you need to drive on F-roads through the summer months in Iceland legally. The Duster is also flexible enough to hold a Columbus rooftop tent that comfortably sleeps two. If you're planning on heading into the interiors for extended periods, there's nothing better than transforming your Duster into a camper.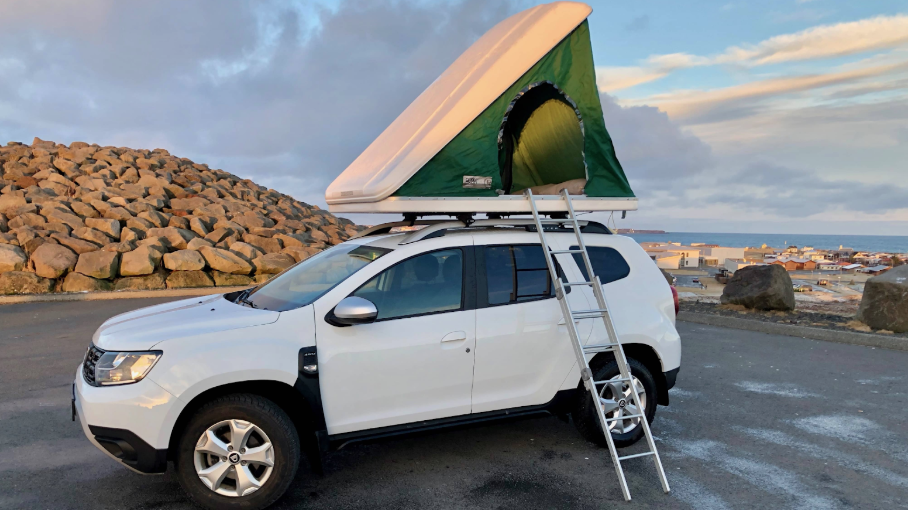 Along with this extensibility, the Duster is one of the most fuel-efficient 4x4s in the world. It seats five people, with ample luggage room in the back. This mid-sized SUV also comes with a range of creature comfort that even budget travelers will delight in: think AUX, USBs, Bluetooth capability, power steering, heated seats, and cruise control, so you can set it and forget it.
Drive Like A Native, Rent Like A Pro: Top 10 Tips For Iceland Car Rentals
Iceland's roads are all about variability. You've got to be prepared for sudden changes in road conditions and weather forecasts — even in the summer months. When you do your research, make sure to incorporate these top 10 tips into your travel plans. Your vehicle choice should reflect your chosen routes and activities, but these 10 tips from Iceland travel pros are essentials no matter which vehicle you book. 
Book Your Iceland Rental Online

Opt For A Pick-Up At KEF Airport

Plan Your Fuel Trips (and Prices)

Understand Period Pricing

Always Travel With A Spare 

Park Against The Wind

Follow The Strict Speed Limits

Roads Randomly Close

A 4x4 Does Not Mean Highland Driving-Approved

Even The Ring Road Eventually Turns To Gravel
Conclusion
Traveling around Iceland is quite easily done in any of these top seven models of vehicles. Some are 2WD but feature higher clearances and steadier handling required for gravel roads. Others are 4WD that can transform into a campervan upon request. However, you want to make sure that, along with the right vehicle, you're picking the proper insurance to match your trip's routes. No matter what your needs, contact our team at Lotus Car Rentals today. When you book a car rental in Iceland, our detail-oriented team makes sure you have all the amenities and creature comforts you'll need for your trip.