How Iceland is Welcoming Travellers Safely During COVID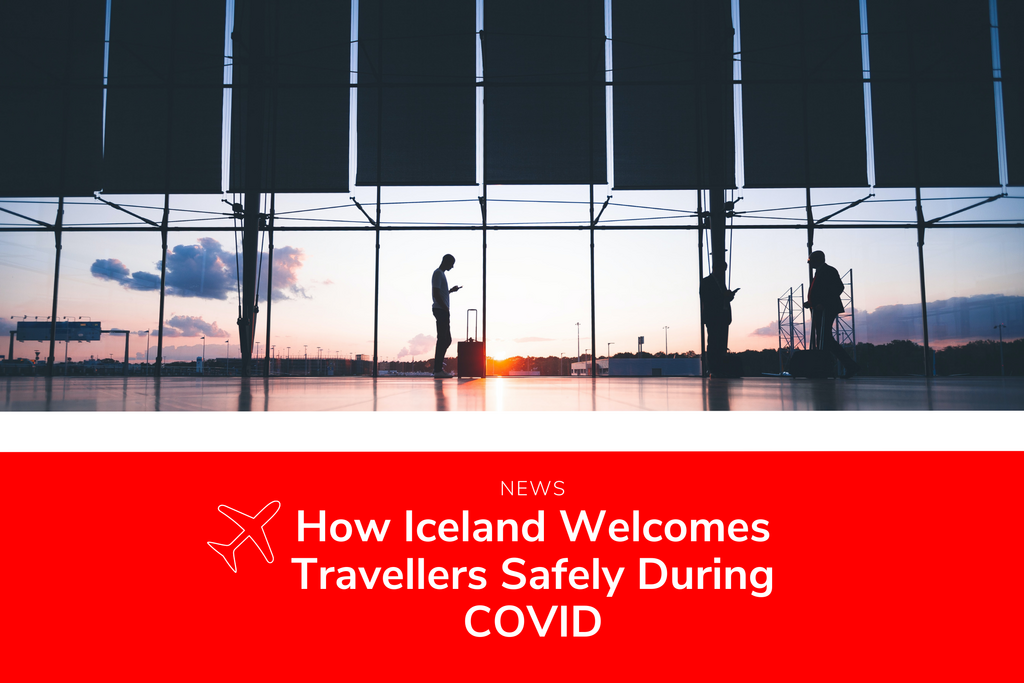 2020 was the year many of us were given no choice but to cancel or postpone our travel plans whilst the world attempted to stop the spread of COVID-19. This disappointment was somewhat mitigated by the belief that 2021 would see a swift return to normality.
Unfortunately, the relaxing of restrictions in many hard-hit countries towards the end of last year was met with a resurgence in the number of positive COVID cases. This means that, yet again, travellers are having to take into account the possibility of sudden new restrictions and quarantines affecting their plans. Iceland has worked hard to reduce that risk, continuing to welcome travellers with an extensive track and trace system, safely allowing those who test negative to quarantine for just 6 days after arrival.
With the vaccination programmes being rolled out worldwide still very much in their infancy, we are unfortunately still a while away from saying goodbye to testing, masks, and social distancing. The good news for travellers is that Iceland has recently revised its coronavirus restrictions, allowing anyone who has already received the vaccine or has previously recovered from COVID-19 to enter the country without having to take a test or quarantine.
Can I travel to Iceland now? 
You can now travel to Iceland for any purpose, not just essential travel, if you are a resident and citizen of the EEA, Switzerland, or the United Kingdom. If you travel to Iceland from another country which is not exempt from restrictions, you must be able to provide proof that your trip was essential. Failure to do so may result in being denied entry upon arrival. 
As of March 2021, Iceland is also accepting non-essential arrivals from non-EU countries in possession of vaccination certificates with vaccines already approved by the European Medicines Agency. This means that travellers from the United States and other non-EU countries that have received one of the approved EU vaccines, currently: BioNTech & Pfizer, Moderna, AstraZeneca, and Johnson & Johnson/Janssen, can visit Iceland without having to undergo a double screening and quarantine period.
A comprehensive list of all exemptions to the latest travel restrictions in Iceland, along with the necessary documentation can be found on the lögreglan website.
What do I need to do before travelling to Iceland? 
In addition to the double screening upon arrival in Iceland, travellers must provide a certificate of a negative COVID-19 PCR test taken within 72 hours of departure. The certificate must be in either Icelandic, Norwegian, Swedish, Danish or English. Rapid antigen tests are not valid.
Anyone travelling to Iceland is required to complete the pre-registration form before arrival, and you are encouraged to download and use the Rakning C-19 app to assist with the test and trace system. As restrictions are always subject to change, ensure you check the latest updates before you travel.
COVID testing in Iceland
As of March 29th, anyone arriving in Iceland must provide a negative PCR test taken within 72 hours of departure as well as undergo a double PCR screening, with an initial test immediately upon arrival, followed by a 5-6 day quarantine period and a second test at the end of the quarantine period. Arrivals will no longer be given the choice between the screening or a 14-day quarantine as per before, and will instead be required to to take the test unless they possess either a certificate of vaccination, proof of previous infection/presence of COVID-19 antibodies, or have a valid medical reason for not being tested.
Do I have to pay for a test? 
Arrivals in Iceland do not need to worry about paying for a COVID test, as currently both border screenings tests are free of charge.
What can I do during the quarantine period?
From the moment you arrive in Iceland, you enter your quarantine period which is in force until you receive your second negative test. This means that you must not use public transport to reach your accommodation. You must use either a taxi, rental car, or private vehicle dropped off at the airport in order to reach your final quarantine destination. A list of accommodation accepting quarantined guests is available on the Icelandic Tourist Board website.
Once you have arrived at your quarantine destination, you must not make further journeys until you have provided a second negative test. You may go outside for a walk in quiet areas and maintain a distance of at least 2 metres from others. You are not allowed to visit supermarkets or any other shops during the quarantine period, and you should order food deliveries online if required. Full details on Iceland's quarantine rules can be found at www.covid.is.
Upon confirmation of your second negative test, which you will take at one of Iceland's many dedicated health centres, you are free to go out and explore! Why not choose from an excellent range of affordable rental cars available for pick up at Keflavik International Airport, and take a self-drive trip around Iceland's stunning Golden Circle?
Is it safe to travel to Iceland now?
Iceland has historically been a very safe place to visit, and with relatively few cases of coronavirus, that trend continues. With the lowest population density in Europe, and now fewer tourists than ever, ensuring you maintain a safe distance from others is easy.
The COVID risk in Iceland has now dropped significantly enough that restrictions on gatherings were recently relaxed, with most indoor facilities such as restaurants and spas able to operate at reduced hours and capacity. Rules regarding social distancing and the use of face coverings in public are still in force and should be respected. 
What does the future hold? 
Iceland is set to keep its current coronavirus testing and travel restrictions until May 1st 2021, after which, it plans to open up the borders to arrivals from more countries. Any new arrivals will be classified depending on the risk category of their country of origin. Green and orange risk categories observe the same double screening and exemption rules that are currently in place. Passengers from countries in the red or grey risk category will not be exempt from double screening and the minimum 5 day quarantine period, even if they possess a proof of past COVID infection and antibodies.