The Ultimate Global Road Trip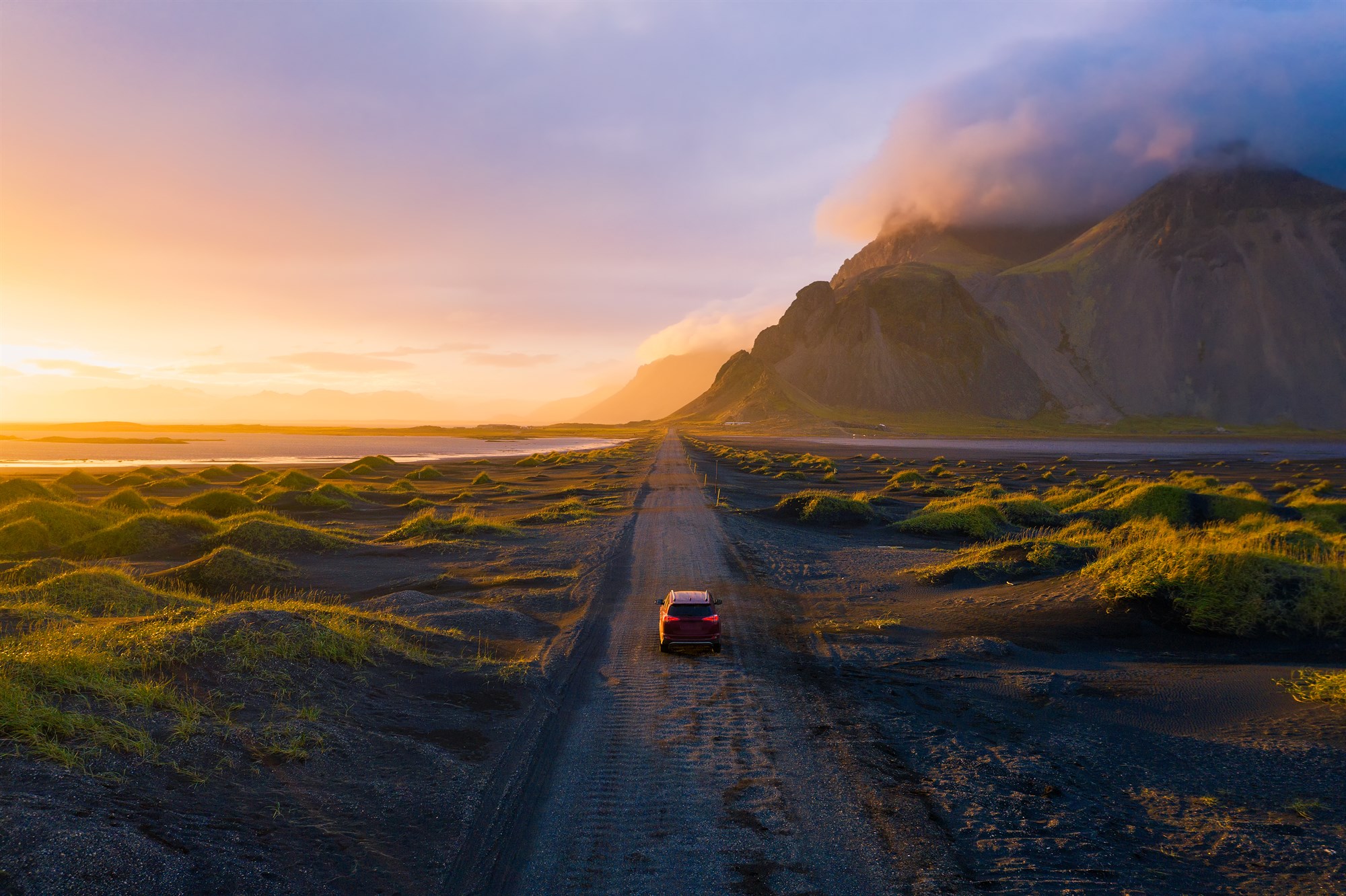 We appreciate that 2020 hasn't been the best year for travel. With the pandemic closing borders around the world, many holiday plans have been laid to waste. However, with 2021 on the horizon, we can start to dream of getting back out on the open road again. With many people already starting to plan their trips away, we thought we would explore the idea of an ultimate global road trip. 
The question is simple. How many countries can you visit in one trip? We decided the best place to start this journey in our home city - Reykjavik. This is because, in road trip terms, it's a bit of a dead-end. You can't head west but thanks to a connecting ferry with Denmark, you can head east into Scandinavia. From there, you can drive into Europe, Africa and Asia. We found that it is possible to drive from Iceland to Brunei via those continents - an 85,000km trip spanning 140 countries.
We used Google Maps to plan all of the routes, and manual research to verify the accessibility of ferry journeys and international border crossings. Given many borders are currently closed due to COVID restrictions, we disregarded border restrictions. This is not an issue in Europe thanks to the Schengen zone but would require unique visas and strict adherence to entry rules in other countries. Where possible, longer ferry routes were chosen to save on driving mileage. It might take longer, but it would definitely be more comfortable!
With that mind, let's see just how far this journey can take us!
Europe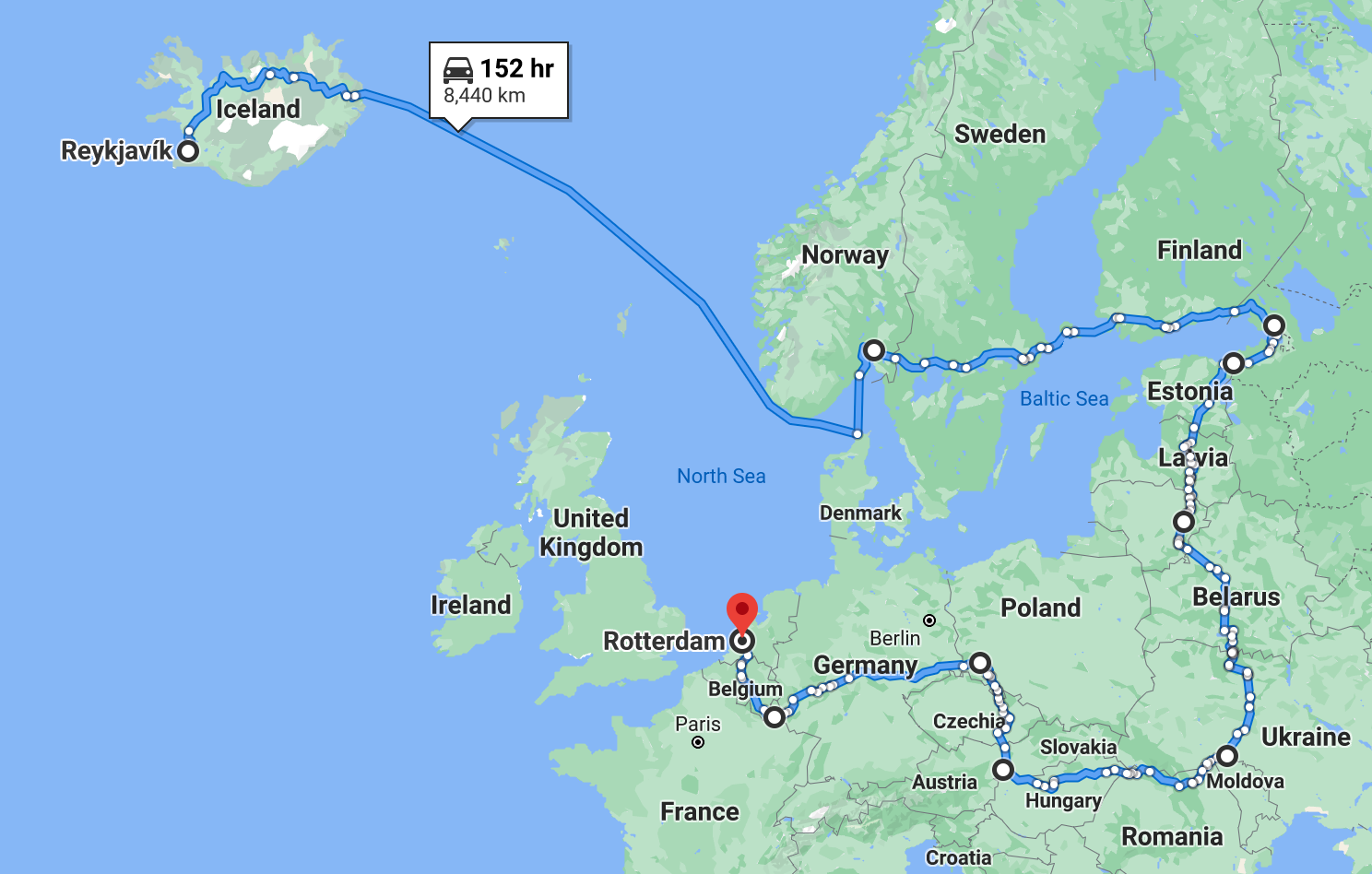 We start our journey in our home city of Reykjavik, and the first leg of our epic journey starts with a 660km drive across Iceland to the port town of Seyðisfjørður, where we pick up the ferry from Iceland to Denmark to the port of Hirtshals. It is the only ferry from Iceland to continental Europe and takes almost three days, but is an essential part of this trip. After a stopover in Hirtshals, we take the much shorter three hour ferry from Denmark to Norway. This is followed by a 710km drive across Norway and Sweden - passing Oslo and Stockholm to Kapellskär to pick up another ferry into Finland. This is a popular route for Swedes and Finns who freely travel from one country to the other. The ferry takes us to the Finnish town of Turku, and this will be the last ferry we see for a while, as a 5000km drive across continental Europe awaits.
Moving through Finland, we pass Helsinki on our way to the Russian border, after which we visit the historic city of St Petersburg. Once we leave Russia, it is a lonely drive through rural areas of Estonia, Latvia, Lithuania, Belarus, Ukraine, Moldova and Romania. The next major capital we encounter is in Hungary - some 2500km later. After crossing the Danube river, we briefly pass through Austria before crossing the Danube once again at Bratislava in Slovakia. Czechia and Poland follow next until we pick up Autobahn 4 in Germany. From here, our road trip can pick up the pace with no speed limit until crossing into Luxembourg. Avoiding France for now, the last leg of this section takes us through Belgium towards Rotterdam, where we head for England.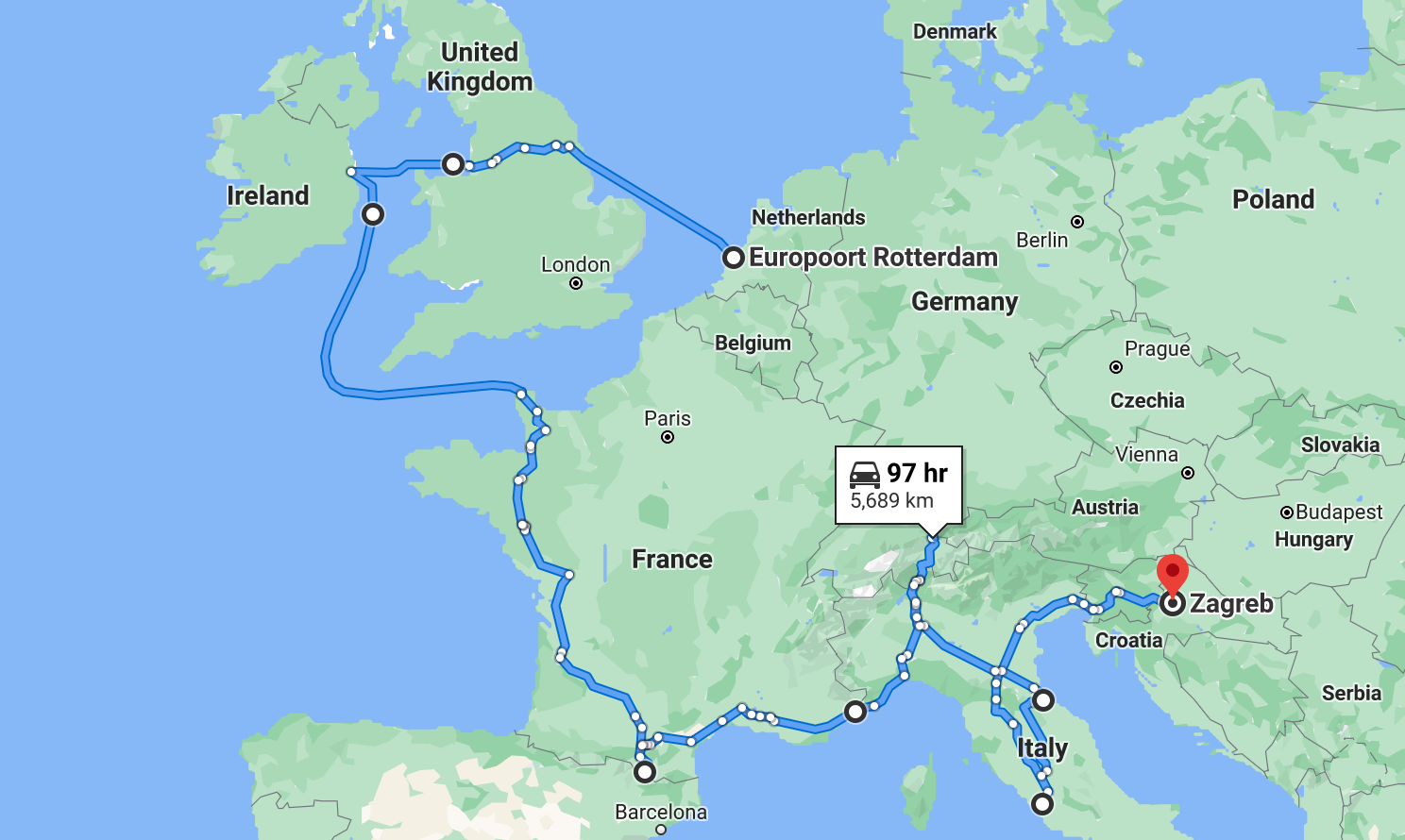 An overnight ferry takes us to Hull, and from here it is a scenic drive across Yorkshire and the Pennine hills towards Liverpool, where there's just enough time for a rendition of 'Hey Jude' at the Cavern Club before a second ferry takes us to Dublin. No Guinness for us though sadly, we're driving! In Dublin, we pick up another boat across the Irish Sea to Cherbourg in France. 
Once arriving in Normandy, we start another huge drive across southern and Eastern Europe towards Turkey. First up is a drive across France into Andorra, the first of five microstates on this leg. We'll be returning to Spain and Portugal later, as it's quicker to access them from the other side of the Medeterannian. From here, a trip across the Cote d'Azur awaits before arriving in glamorous Monaco. This part of the world is especially beautiful, as we leave the French and Italian riviera for Milan and the Swiss Alps, where we briefly visit Liechtenstein. After that, it's back down the Alps and across Italy towards Rome where we must visit the Vatican City. Our final microstate of this leg is San Marino, and after passing through the eastern city of Trieste, that's the last we'll see of Italy for a while.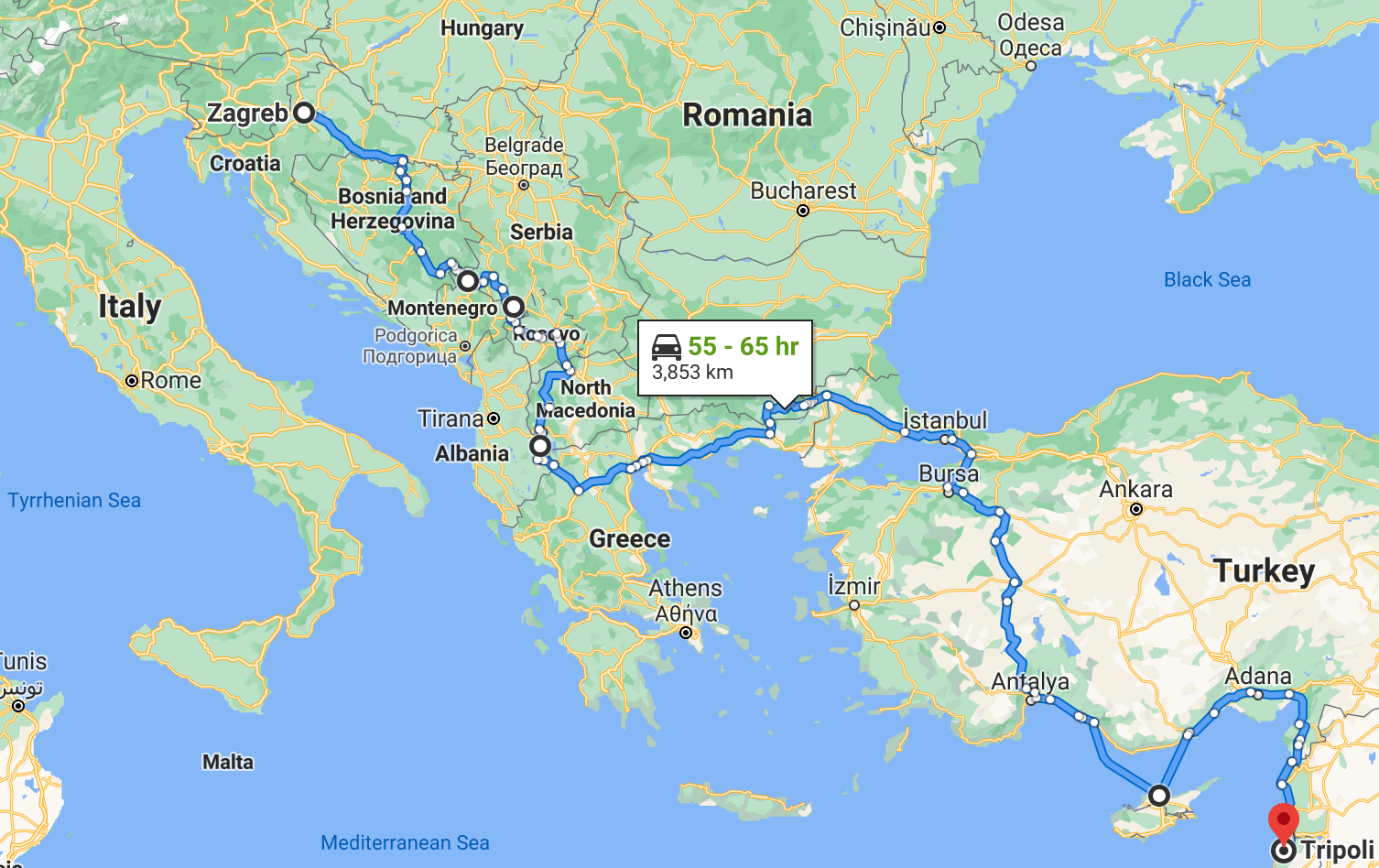 Next up is Southeast Europe, where we pass through Slovenia towards Zagreb in Croatia and Sarajevo in Bosnia. From here, the drive is remote through Serbia, Montenegro, Kosovo, Albania, North Macedonia and Greece. After visiting Thessaloniki, we drive alongside the Mediterranean once again before cutting across southern Bulgaria into Turkey. Here we cross from Europe into Asia, but we still have a few more European countries to visit first. Next up is some ferry hopping from Alanya in Turkey to Girne in northern Cyprus, then back to Turkey in the port of Taşucu, where our third boat takes us across the Med to Tripoli in Lebanon. 
Middle East and North Africa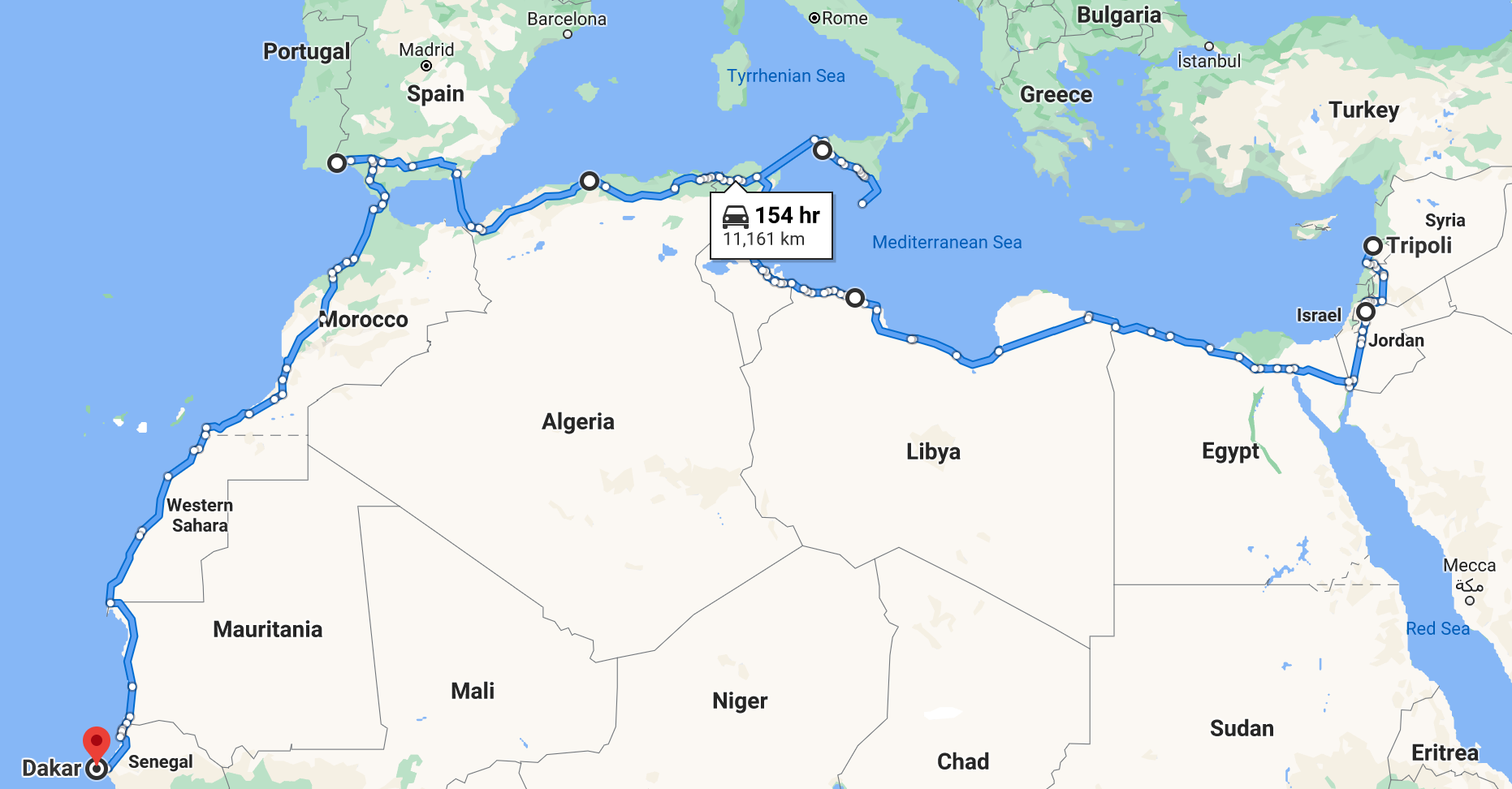 Navigating the borders of Lebanon, Syria, Jordan and Israel would be challenging, but could be driven in one day. The route would take you through the cities of Tripoli, Beirut, Damascus and Jerusalem , and along the shores of the Dead Sea. At the southern tip of Israel, we cross its only checkpointed border with Egypt at Taba. From there, it is around 300km to cross the Suez canal, and then a lonely drive across the Egyptian and Libyan deserts to Tunisia's capital Tunis, where we make our first of two journeys back across into Europe.
The first is for a ferry from Tunis to the port of Trapani in Sicily, which we need to cross twice on a return trip to Valletta in Malta. On returning to Tunisia, another long drive across Algeria awaits to Ghazaouet for a cross-Med ferry to Almeria in Spain. We cross Andalusia to briefly visit Portugal, before returning back to Africa at Tangier in Morocco. With every country in Europe now visited, we head across the Western Sarah towards Dakar in Senegal, passing through Mauritania along the way.
Central & Southern Africa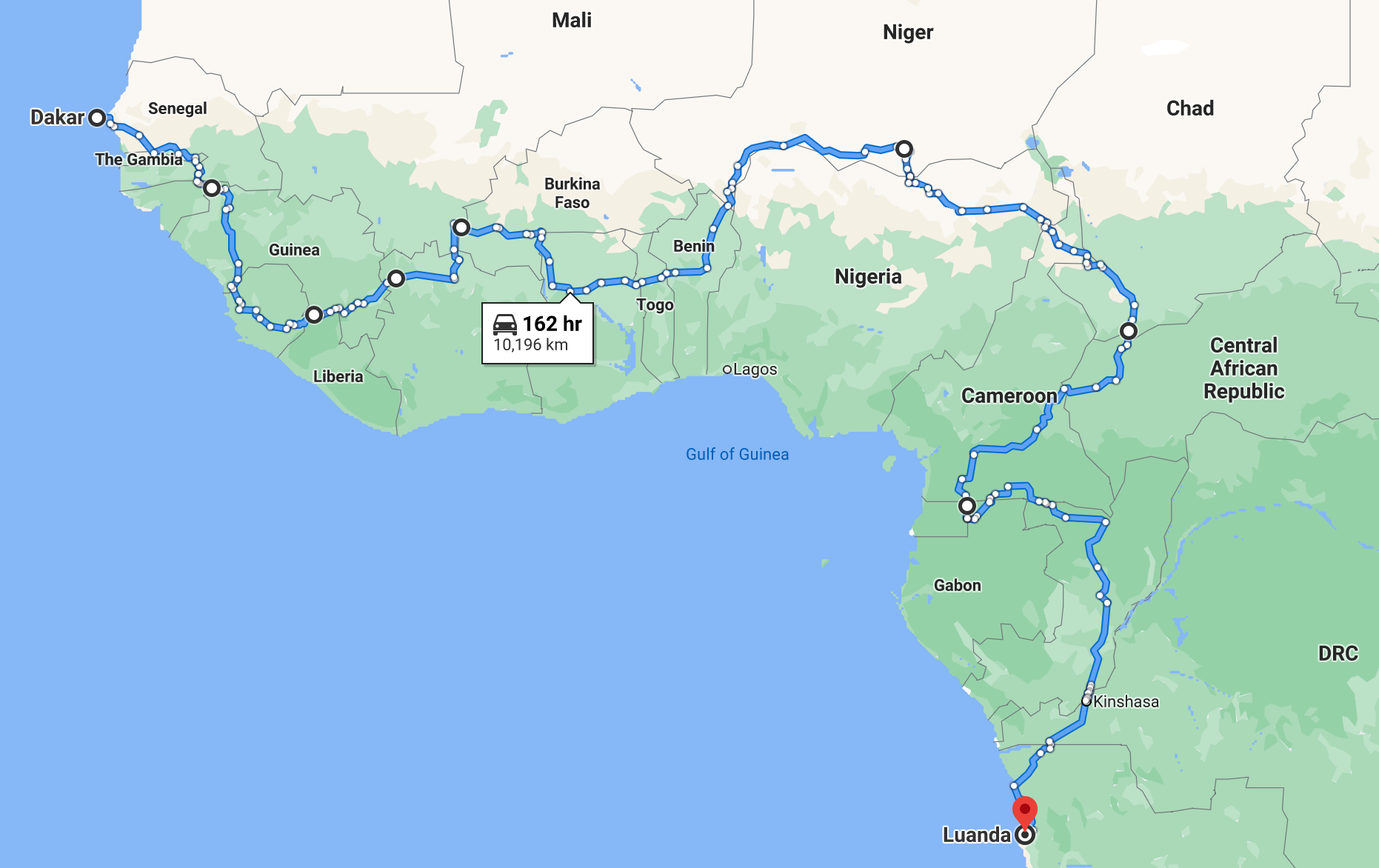 Central Africa has many large and sparsely populated countries, but at least we're out of the desert for now. It would take several days to visit all of all of West Africa's countries before heading back towards the Sahara in southern Niger. The bulk of this 10,000km leg is remote, single-track roads and only takes us through three capital cities - Yaounde in Cameroon, Brazzaville in Congo and Kinshasa in the Democratic Republic of Congo. Crossing the Congo river, our route takes us southwest across Angola towards Luanda and the Atlantic Ocean.
However, we're far from done with Africa. From Luanda, it's around 1300km to the border with Namibia. From there, we pass through Etosha National Park - one of Africa's most popular wildlife reserves towards Windhoek, then east into Botswana through the heart of the Kalahari desert. Crossing through Botswana, we finally reach South Africa and its landlocked enclave state of Lesotho.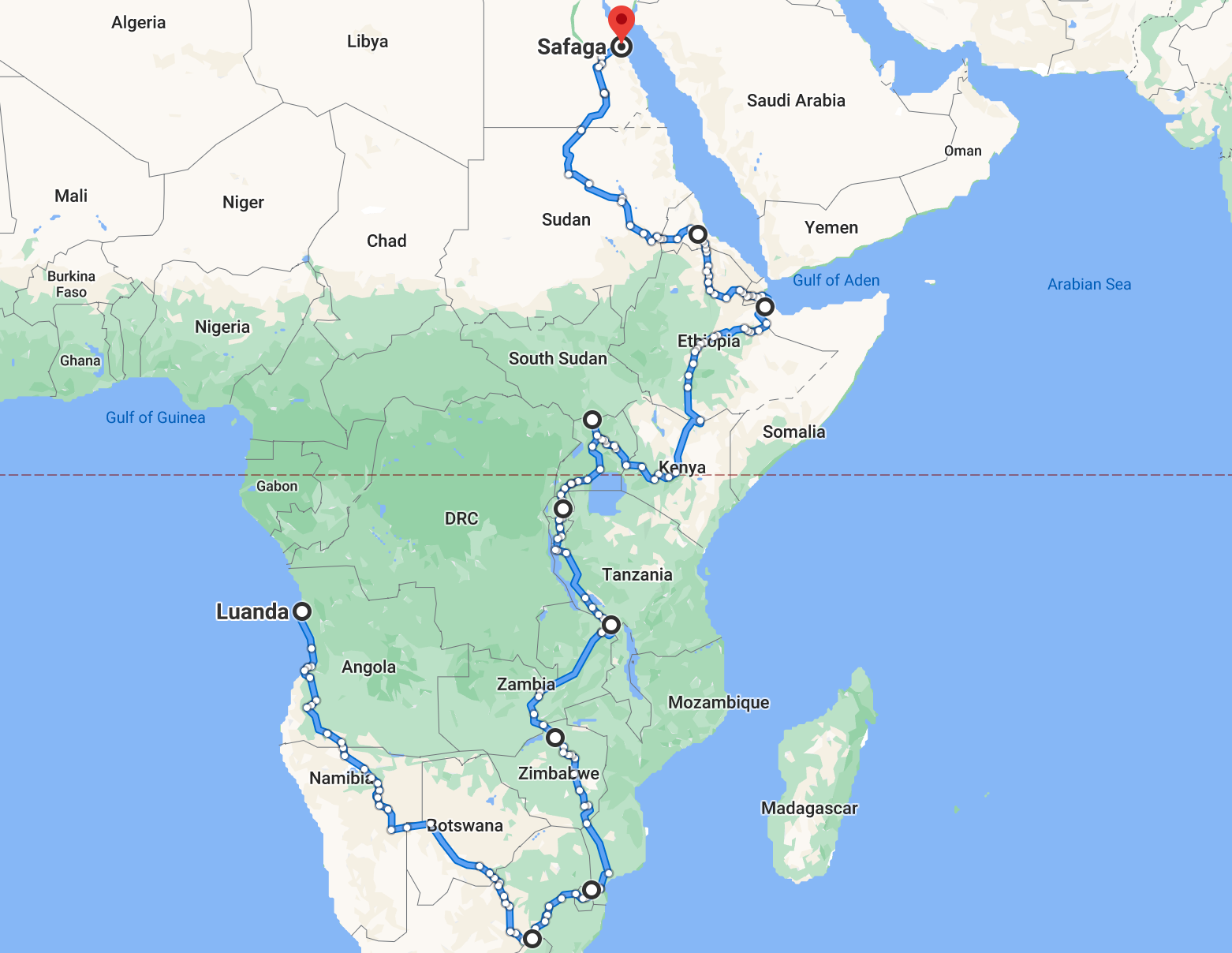 Here, we finally turn back heading northwards to Eswatini (formerly Swaziland) and Mozambique, stopping in its coastal capital Maputo. Unfortunately, there are no regular ferries to Madagascar, so it is excluded from our road-trip. So we head back in-land through Zimbabwe and across the Zambezi river into Zambia. We briefly cut through Malawi before heading into Tanzania and meeting up with Lake Tanganyika - the world's second-largest freshwater lake. After crossing Tanzania, we pass through Burundi and Rwanda, and into Uganda alongside Lake Victoria. 
Our route here is lengthened by a visit to South Sudan, but we continue heading northeast into Kenya. This part of the route is very remote, only passing through a handful of small villages in Kenya, Ethiopia and northern Somalia. However, after crossing from Somalia into Djibouti, we finally encounter ocean after 8,000km of continental Africa from Mozambique. The route continues northwards through Eritrea and back into Ethiopia, before crossing the eastern part of the Sahara through Sudan to the small city of Wadi Haifa. 
From here, we pick up a ferry across Lake Nasser - one of the world's largest man-made lakes to the southern Egyptian city of Aswan. We then follow the banks of the Nile and pass through the historic city of Luxor, before heading to the port town of Safaga on the Red Sea. This concludes the mammoth trip around Africa. 
Arabian Peninsula & Western Asia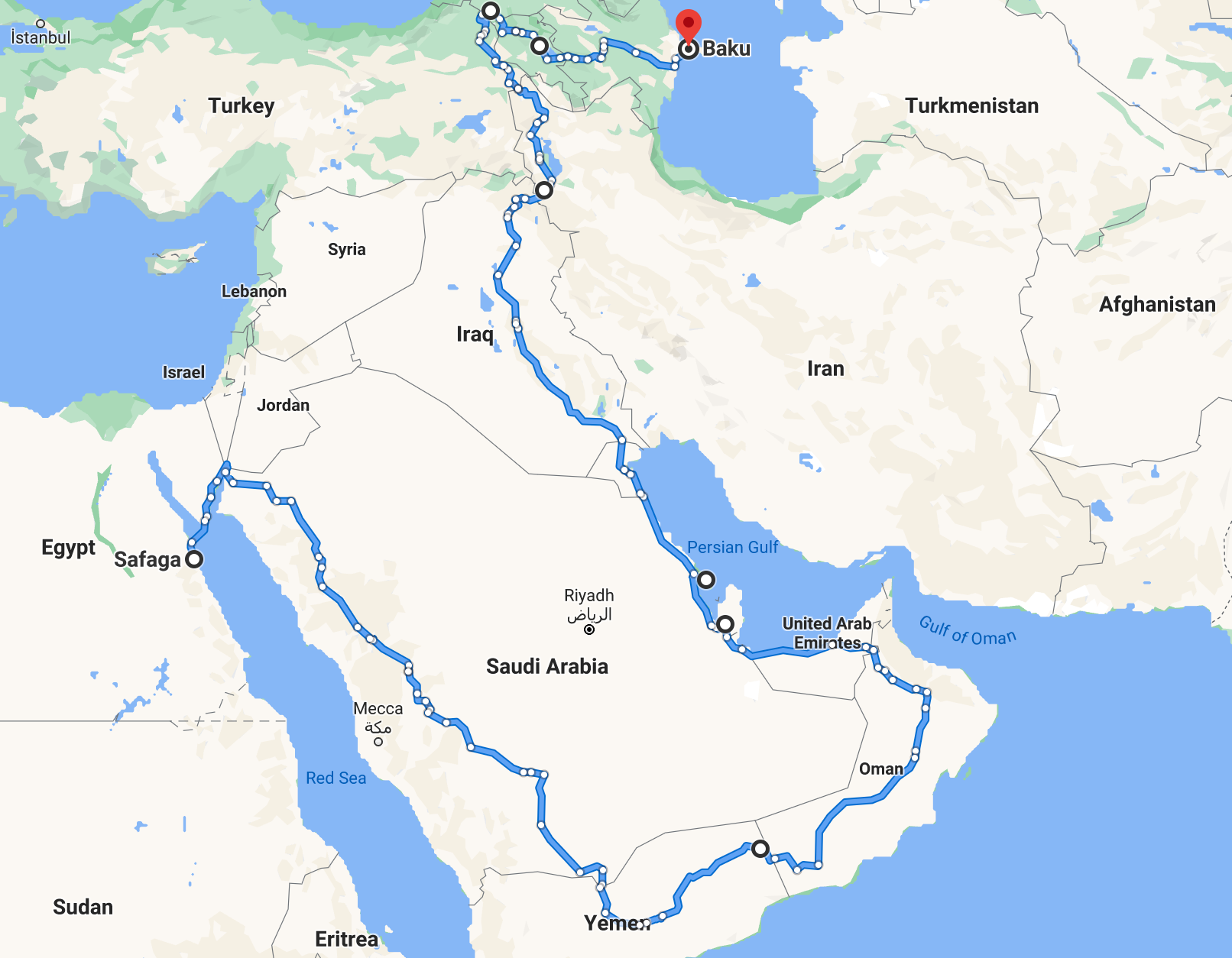 This section of the journey takes us across the Red Sea into Saudi Arabia, through the states of the Arabian peninsula, across Iraq, Iran and back onto the continent of Europe through eastern Turkey and the post-Soviet states of Georgia, Armenia and Azerbaijan. Apart from the oil-rich states on the Persian gulf, the route is again very remote and you would certainly need good air conditioning. We can save ourselves some mileage by crossing the Caspian Sea from the port of Baku in Azerbaijan to Turkembashi in Turkmenistan.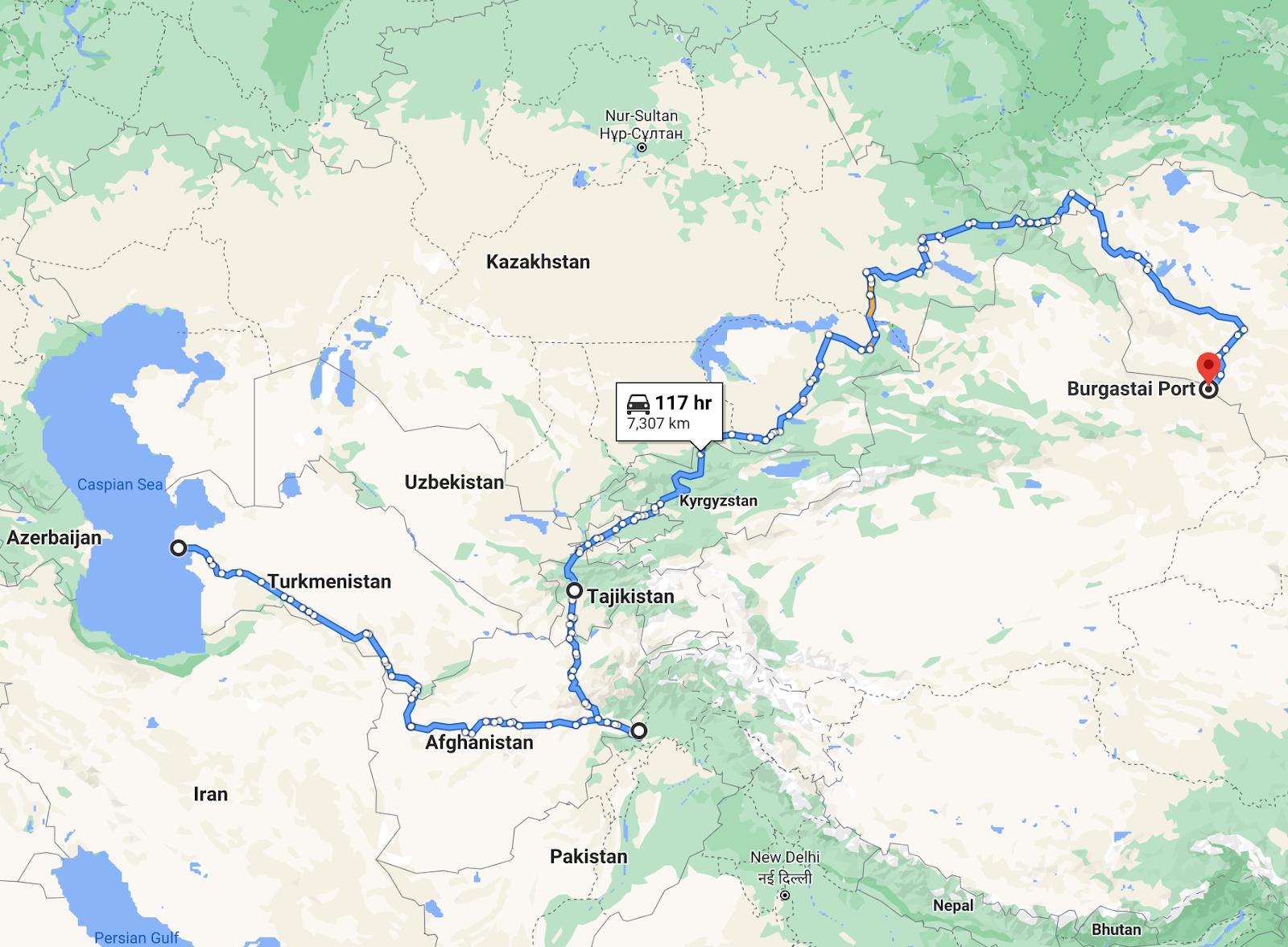 From here, we must cross Turkmenistan and Afghanistan into Pakistan. However, we cannot travel further east into India due to the ongoing border conflict. So we will head further north to visit Tajikistan, Uzbekistan, Kyrgyzstan and Kazakhstan. Our journey briefly takes us back into Russia after driving through its western borders much earlier in the trip, but only for a short drive into Mongolia. From here, we cross southern Mongolia to find one of its few borders with northern China. 7,300km seems quite short compared to the massive distances across Africa, but we still have a long way to go.
Unfortunately, Google Maps does not cover China. However, this is another very lonely part of the journey through the remote provinces of Xinjiang, Qinghai and Tibet, passing through a gap in the Himalayas into Nepal. From here, the route is made considerably longer by a return trip along India's east coast to catch a ferry to Colombo in Sri Lanka. 
South & East Asia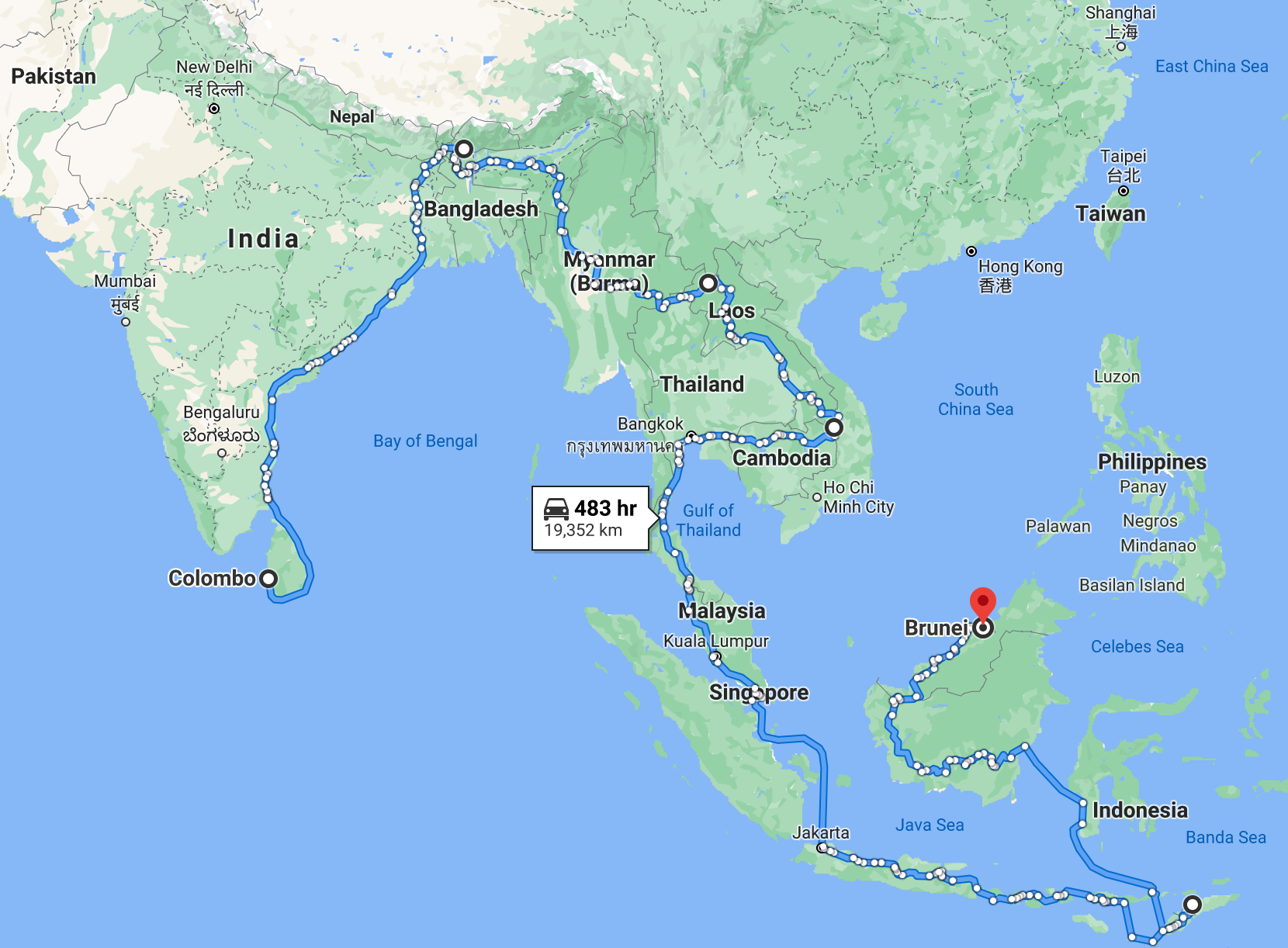 This portion of the journey is almost 20,000km, though some of this is taken up by ferries in Indonesia. From Colombo, we drive back up India's east coast, turning east into Bhutan and Bangladesh - though only for brief visits as we continue through eastern India into Myanmar. Here we cross the Ganges and Brahmaputra rivers. Into Myanmar, we pass through the city of Mandalay towards Laos. Crossing over the Mekong river, we follow it for most of the way through Laos into Vietnam. We then cross through Cambodia towards Thailand and its capital Bangkok - the most populated city we've seen since Colombo. 
From here, we follow the gulf of Thailand past some of its beautiful sandy beaches and rugged coastline. The scenery continues as we pass through northern Malaysia towards Kuala Lumpur. Our final few miles on the continent take us from there to Singapore. Only Indonesia, Timor-Leste and Brunei are accessible by ferry from here, so it is not possible to visit the continent of Australia or the Philippines.
From Singapore we can take a ferry to the Indonesian capital of Jakarta, and it will take us three days and five ferries across Indonesia's islands to Timor Leste. After briefly visiting one of the world's newest sovereign states, we return back into Indonesia for more island hopping back into Malaysia on the island of Borneo. Our journey across south-east Asia concludes in the wealthy state of Brunei. 
This is as far as we can possibly drive from our starting point of Reykjavik. We have covered almost 88,000km and visited 137, but we have crossed as much of the planet as we can without relying on air travel. Time-wise, it is around 1,700 hours or 70 days - though realistically, this is around 6 months worth of driving if you averaged 8 or 9 hours a day.
Korea and Japan
However with three flights, we can visit 25 more countries. Our first is a five hour flight from Brunei to Seoul in South Korea. This would otherwise have been driveable were it not for the permanently closed border in North Korea. Rather than drive, the public transport in both of these countries makes high-speed rail quicker and more accessible. From Seoul's Incheon Airport, we can take two trains - one from the airport to Seoul's central station, then another from Seoul to Busan - taking around four and a half hours in total. 
On arriving in Busan, the station is a short walk from Busan's ferry terminal, where we will cross the Korea Strait and arrive in Fukuoka in Japan. Upon arrival, we will take a five hour train journey on one of Japan's iconic Shinkansen bullet trains to the outskirts of Tokyo, where we can transfer to the city's Haneda airport. 
From here, it is a nine hour trans-Pacific flight to Vancouver in Canada, where our great road trip continues.
North and Central America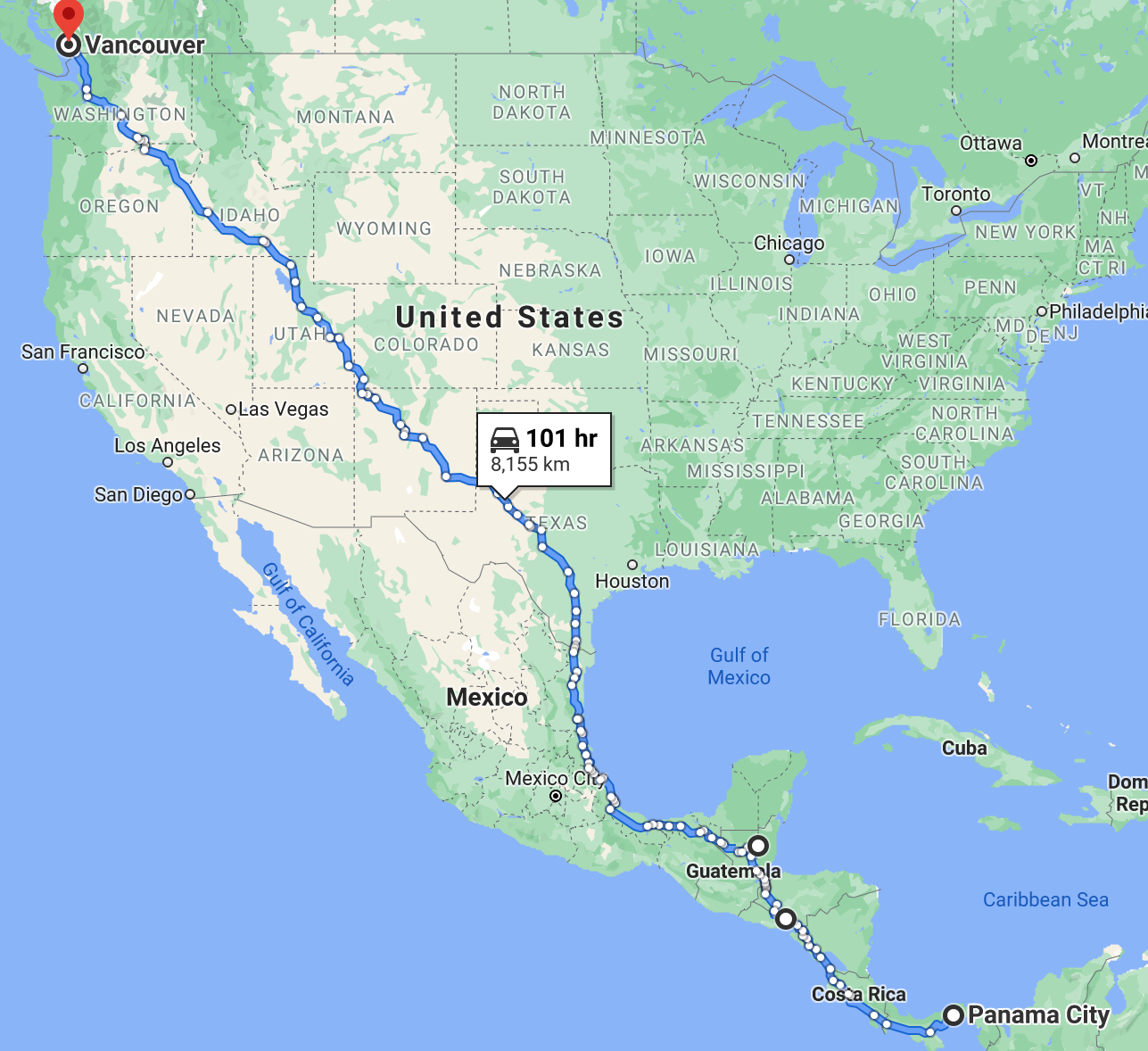 Our North and Central American leg is 8,155km from Vancouver to Panama City. We only spend a short time in Canada before crossing the border into the US state of Washington. From Seattle, we head south through Oregon, Idaho, Utah, Colorado, New Mexico and Texas, before crossing the Rio Grande river into Mexico. Our route takes us around the Gulf of Mexico into Guatemala and Belize. Heading further south, we pass through Honduras, El Salvador, Nicaragua and Costa Rica before heading into Panama. However, the road runs out just before Panama's southern border with Colombia, so we will need to take a short flight from Panama City to Caracas in Venezuela, and continue south from there.
South America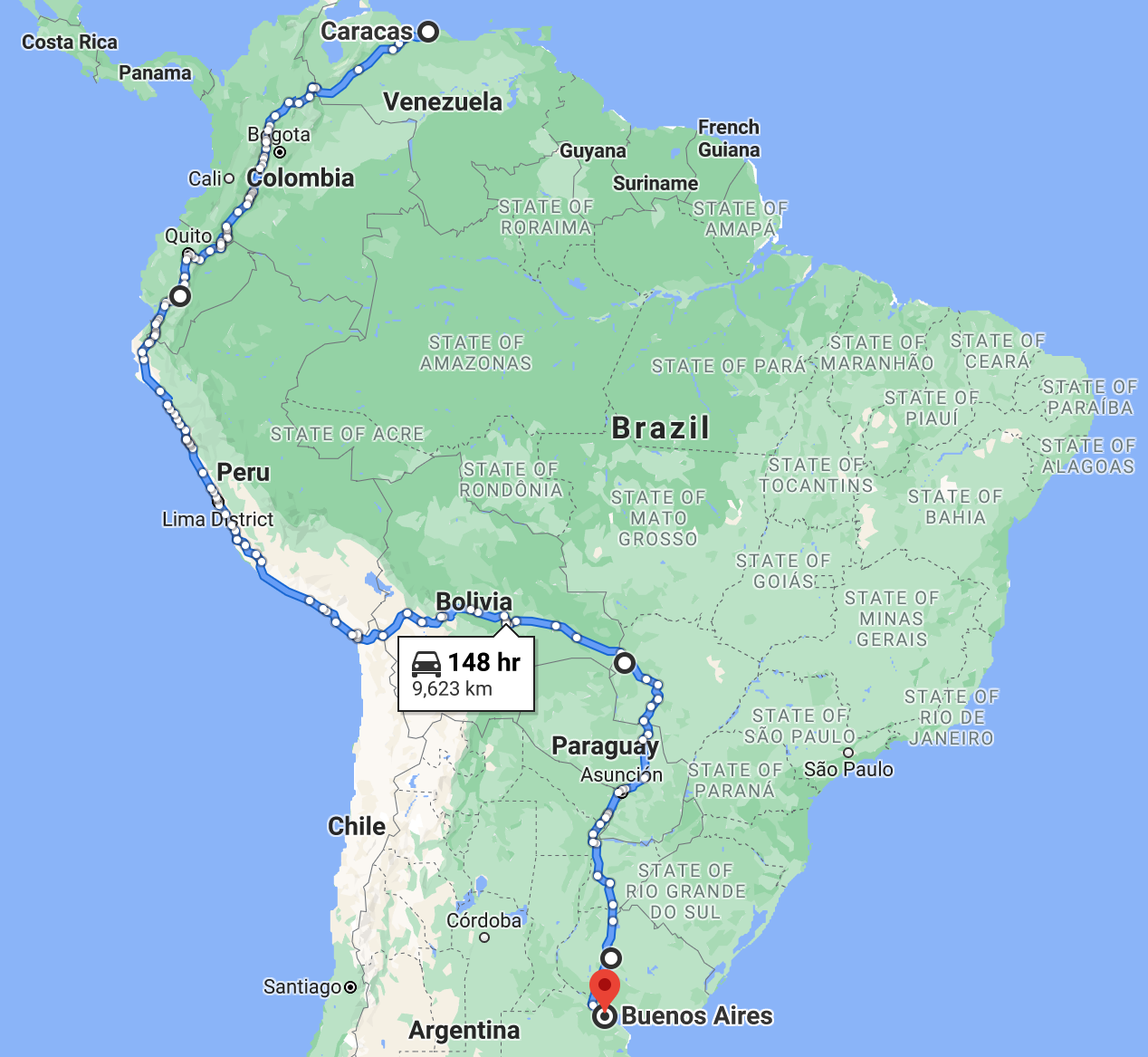 The great continent of South America. Our final continent to conquer. Our drive here takes us from Venezuela's capital Caracas to Argentina's capital Buenos Aires. We start by heading southwest out of Venezuela into Colombia, bypassing Bogota. From Colombia, we head towards Ecuador and the world's second-highest capital city, Quito. Our route passes back into the Southern Hemisphere as we find the Pacfic coast just after crossing the border with Peru. 
Our drive across Peru is exclusively along the coast, including a visit to its capital Lima. We briefly pass into Chile before heading in land through Bolivia. Healing into Brazil, we pass through the southern portion of the Amazon rainforest. Here we turn south once more into Paraguay, before crossing the Paraguay river into Argentina. Our final run south takes a quick detour into Uruguay, but ends in the bustling centre of Buenos Aires. 
Our journey is complete! We have visited five of the seven continents, 159 countries and covered over 105,000km. Of course, it is not possible to visit every country in the world on a road trip without accessible car ferries. Even so, everything covered in this trip would take over 2100 hours - 87 and a half days non-stop. The full trip would probably take around 8 months if you were driving for 8-9 hours per day.