The Best Places to Hike in Iceland in the Summer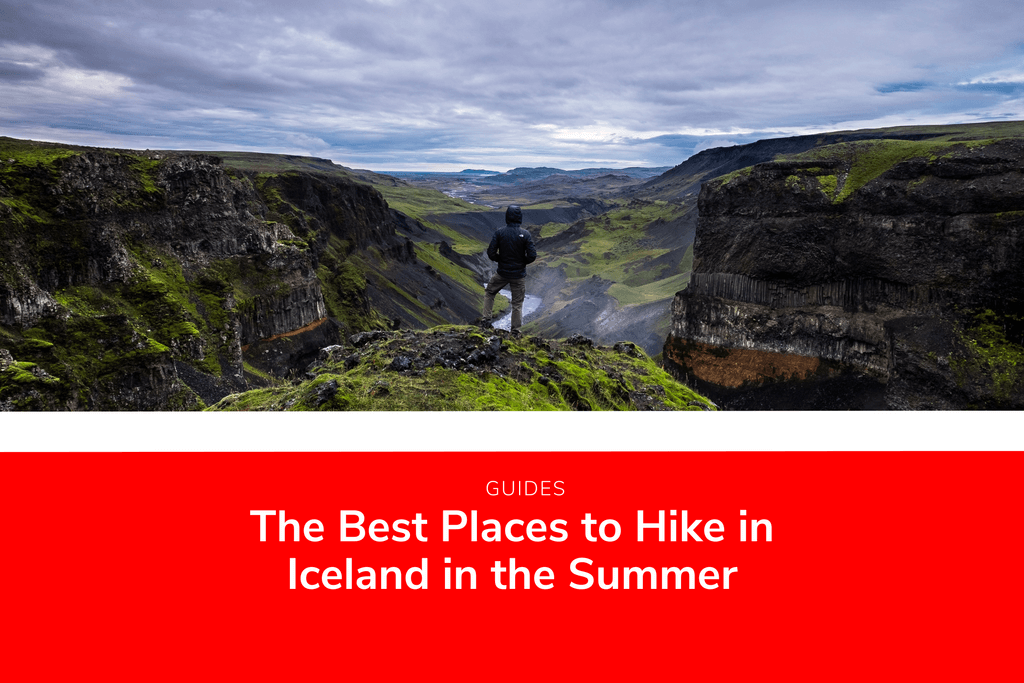 Iceland is, simply put, an explorer's paradise! No other place on earth hosts such a diverse range of stunning landscapes and natural wonders which, despite a large number of visitors each year, continues to exude peace and natural serenity.
Whilst many of Iceland's most popular spots for visitors are easily accessible by road, there are endless hidden treasures that can only be discovered by getting your hiking boots on and breaking a sweat, for which we promise you'll be richly rewarded.
By hiking in Iceland, you'll experience natural beauty as you've never experienced it before, stumbling across jaw-dropping canyons, eerie black beaches, and mystical valleys seemingly everywhere you go.
Iceland is not known for good weather, which is why the most popular months for hiking coincide with the Icelandic summer months of June through to August when the weather is much less extreme and better for outdoor exploration. Another great reason to go trekking in Iceland during the summer is that there is sunlight 24 hours a day, so you don't need to worry about reaching your destination before it gets dark!
For this guide, we've put together the best day-hikes and longer multi-day hikes you can do in Iceland, detailing useful information about each trail, as well as an insight into what you can expect to see. In addition to the best routes you can explore, we've included information on what to pack and how to stay safe when tackling Iceland's hiking trails.
As you'll expect, the starting points for the majority of hikes in Iceland can be very isolated and hard to reach without your own form of transport. Don't let that stop you from exploring our beautiful country in all its glory. Here at Lotus Car Rental, we offer a huge range of affordable rental car options to suit all budgets and needs. Book the perfect car to take you on an unforgettable adventure of a lifetime!
Need a lift? Jump straight to the section you're most interested in by clicking on the links below: 

1. The best day hikes in Iceland
- The Glymur Waterfall Hike
- The Brennisteinsalda-Bláhnúkur Loop - Landmannalaugar
- Hvannadalshnúkur Summit Hike
- The Fimmvörduháls Volcano Hike - Thórsmörk
2. The best multi-day hikes in Iceland
- The Laugavegur Trail
- The Fimmvörduháls Trek
- The Hornstrandir Trek
- The Kjölur Route
3. Things to consider before hiking in Iceland
4. What to pack for hiking in Iceland
5. Staying safe on Iceland's hiking trails 


The best day hikes in Iceland
You don't need to spend days or weeks out hiking in Iceland to feel like you've ventured into the wild and experienced a diverse range of landscapes. A day hike doesn't always mean an 'easy' hike; the routes we've listed here still require at least a good level of physical fitness, but all are easily accessible and can be completed within just a day. Our selection of the best day hikes in Iceland is perfect if your time is limited.
The Glymur Waterfall Hike
6km | 4-6 hours | Some steep climbs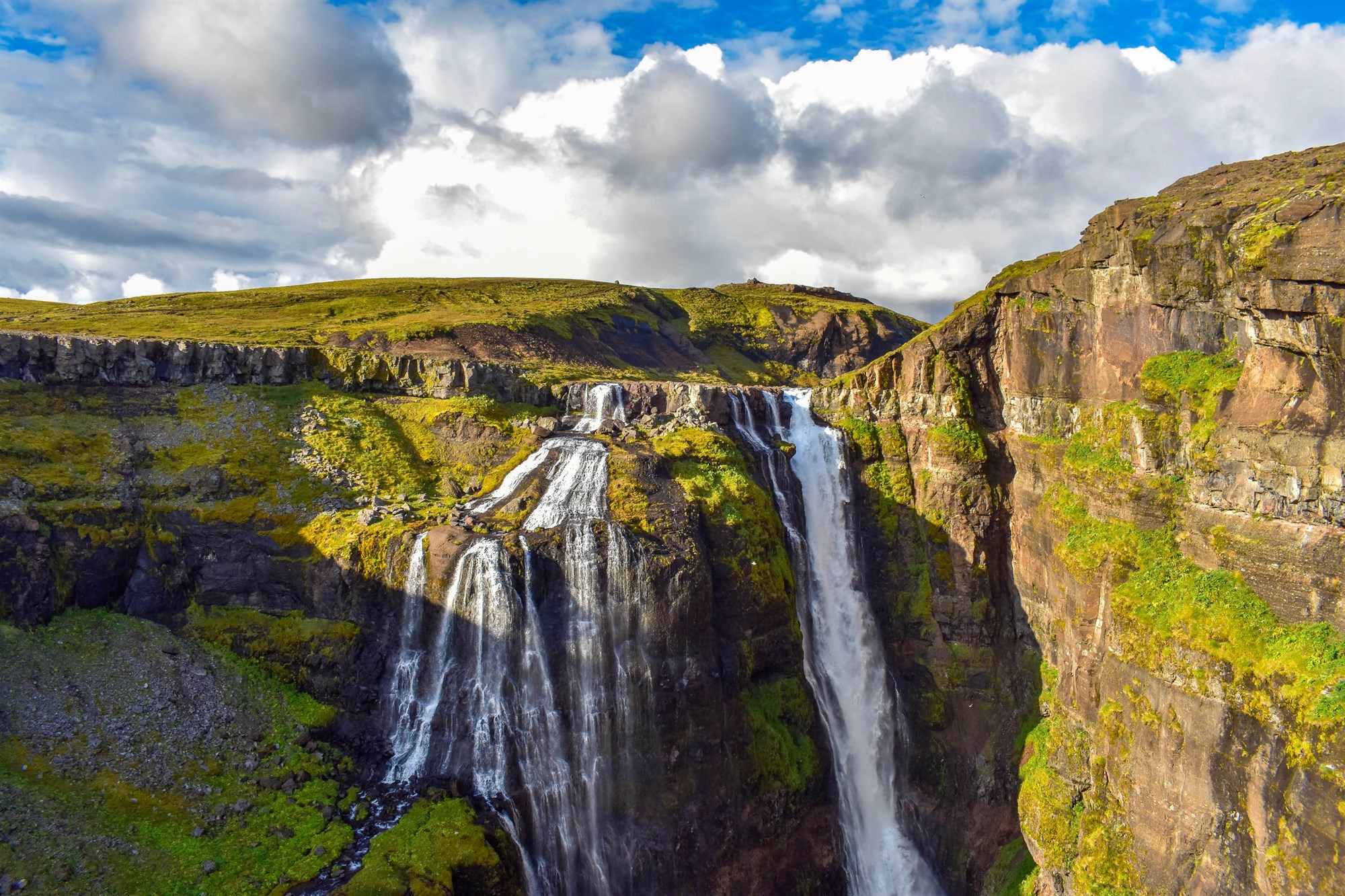 The Glymur Waterfall Hike is an easy to moderate, 6-kilometre hike along clearly signposted and marked paths. This route should take between 4-6 hours to complete and the main challenges you'll encounter are some steep climbs, which will take you to a maximum altitude of 1180 feet.
By completing this hike, you'll be rewarded by visiting one of the tallest waterfalls in Iceland. Because Glymur is only easily accessible by foot and has a river crossing, it's much less touristy than other popular waterfalls in Iceland, making it somewhat of a hidden gem. To reach the Glymur waterfall, you will hike along the picturesque Hvalfjörður, and encounter the stunning Þvottahellir which translates to "laundry cave" - a reference to the old fjord inhabitants who used it to hang their laundry when it rained.

The Brennisteinsalda-Bláhnúkur Loop - Landmannalaugar
10km | 5-6 hours | Some steep climbs
The Brennisteinsalda-Bláhnúkur Loop is a moderate, 10-kilometre hike that takes an average of 5-6 hours to complete. The paths are well-trodden, and there are plenty of clear signposts to guide you in the right direction. The main challenges on this trek are some steep climbs, but the good thing is that you'll be well rewarded for your endeavours with stunning panoramic views of Landmannalaugar's multicoloured mountains.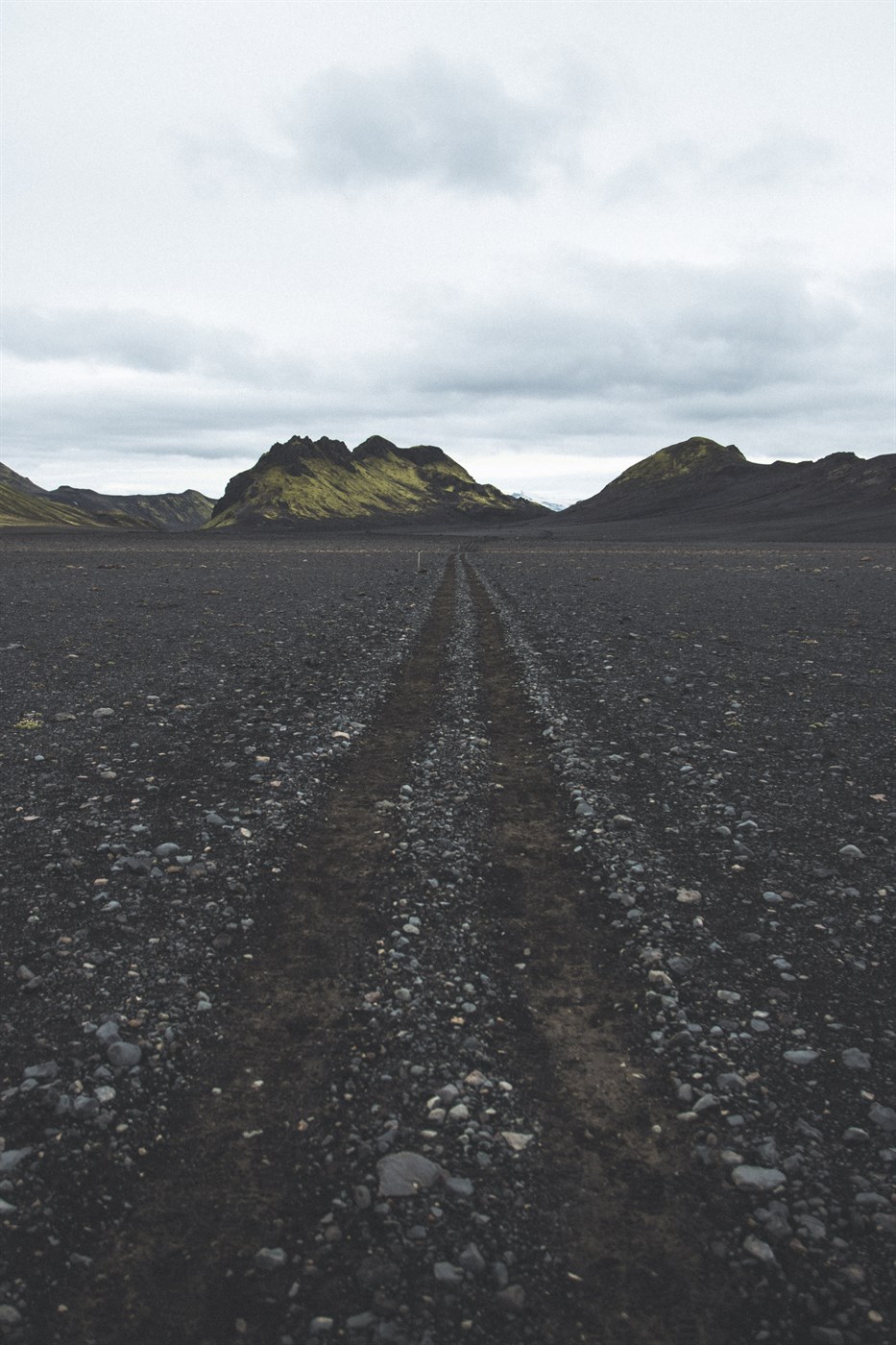 Because of the geothermal nature of the area, you can even treat yourself to a hot spring bath in one of the natural pools you'll encounter on this route.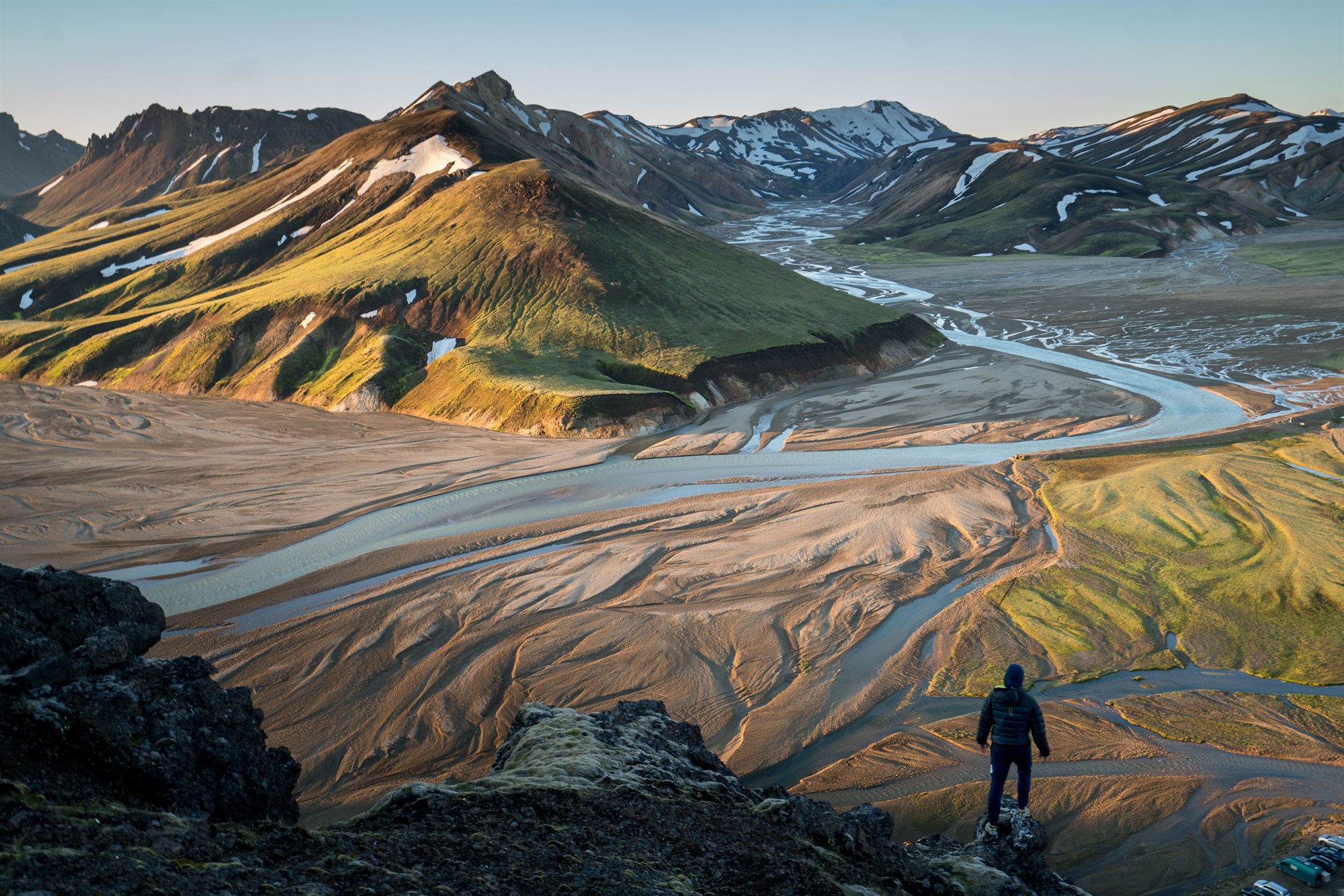 The first part of this trek will take you through the steaming sulphur springs of the black obsidian lava field and then lead you up to the Brennisteinsalda summit where the panoramic views are sure to leave you speechless! From Brennisteinsalda, you'll have a short but steep climb up the distinctly beautiful Bláhnúkur known for its unique blue colour, at the top of which you'll be greeted with gorgeous views of the surrounding rhyolite mountains and the Laugahraun lava field.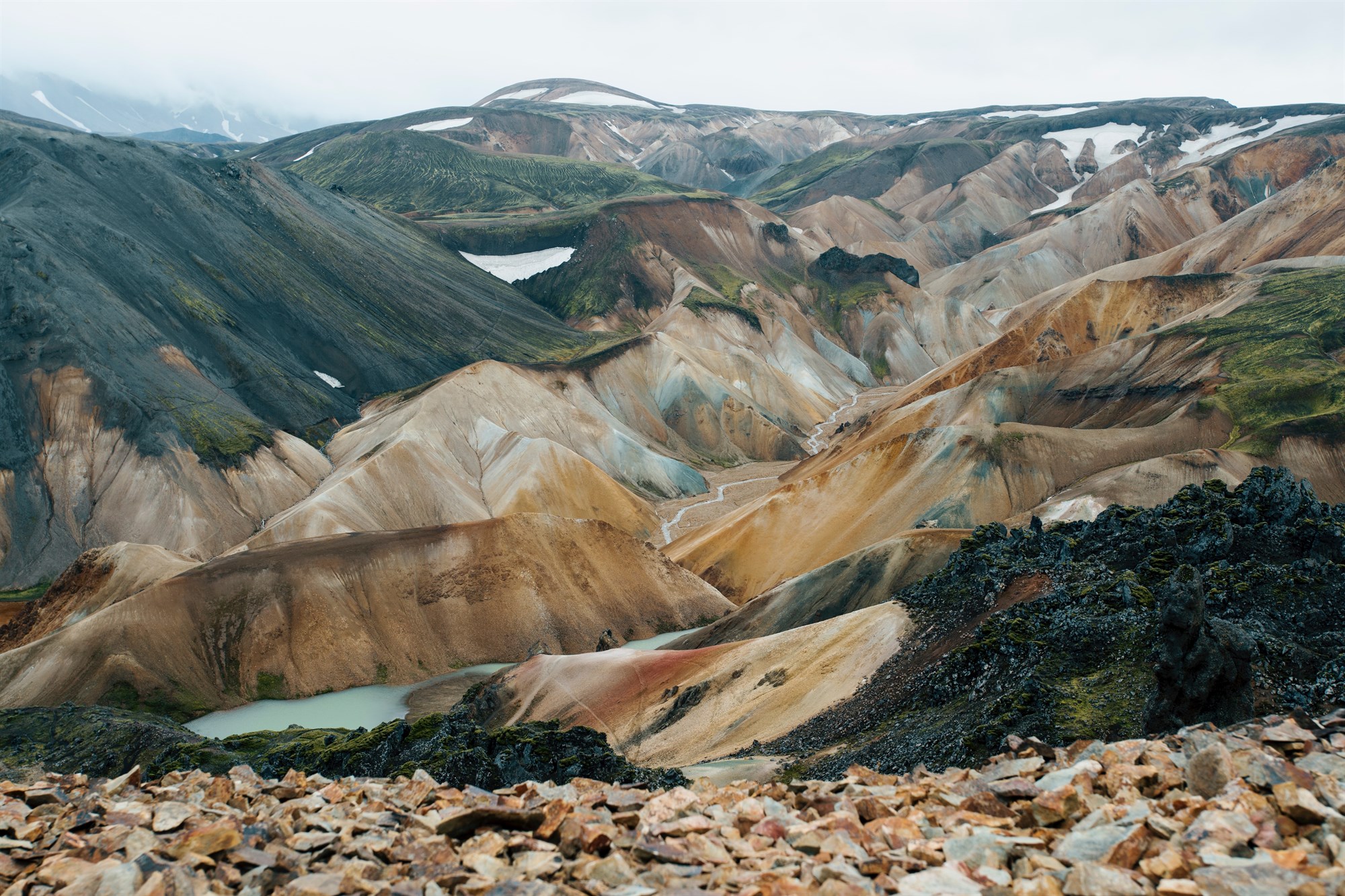 Hvannadalshnúkur Summit Hike
24km | 12-15 hours | Challenging
The Hvannadalshnúkur summit hike up to Iceland's highest peak is a must for any serious explorers looking for the ultimate trekking challenge. This 24-kilometre hike across tricky glacier terrain with deep crevices and steep sections is not for the faint-hearted and requires plenty of physical and mental resilience and is only recommended to those with mountain climbing experience.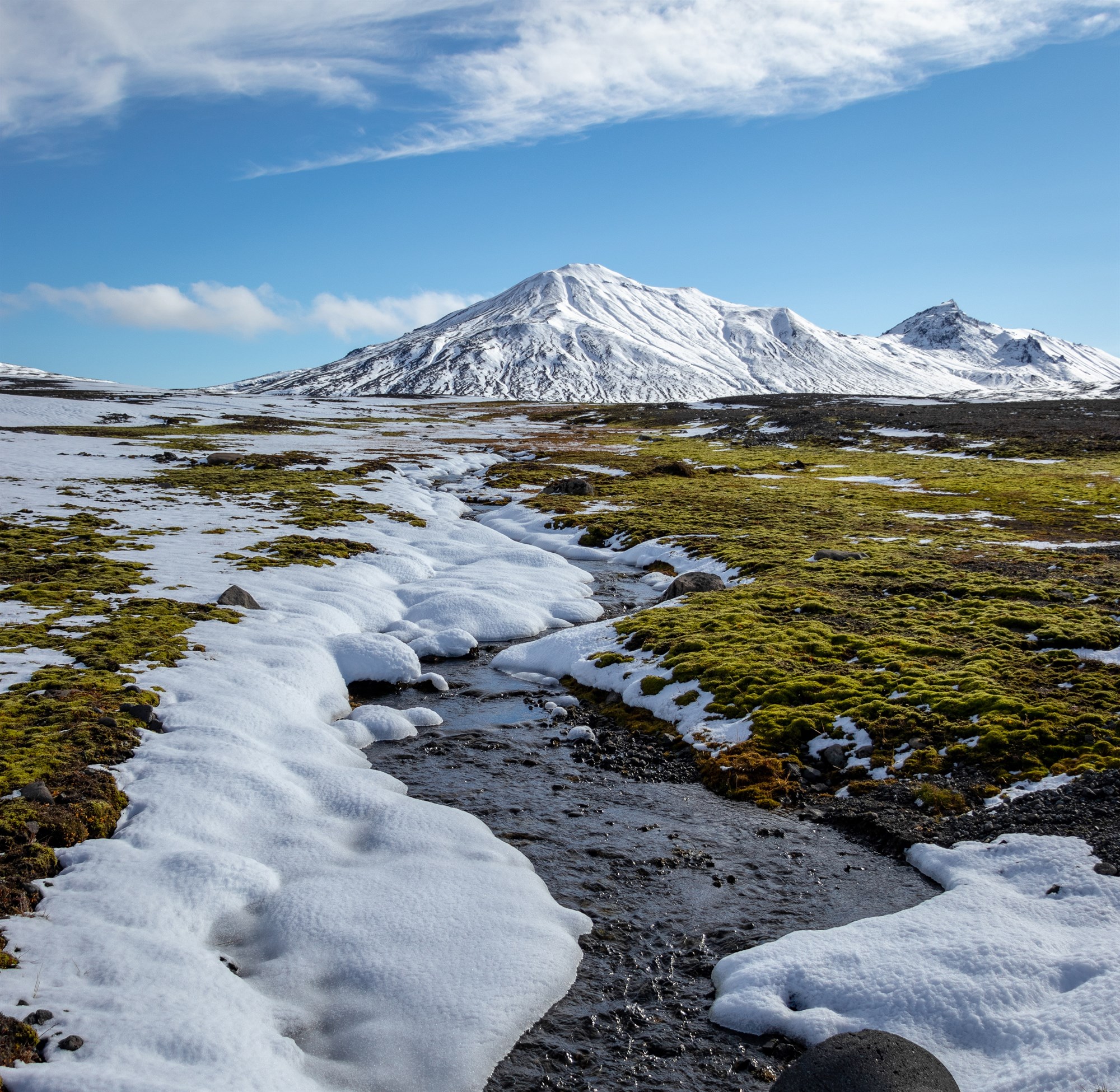 Located on one of the largest glaciers in Europe, Vatnajökull, the trek also passes above Öræfajökull, the largest active volcano in Europe, hidden under the immense sheet of ice.
Whilst this trek requires a high level of strength and stamina to complete, it is widely regarded as very safe and, of course, truly unforgettable! Completing the Hvannadalshnúkur summit trek should take between 12-15 hours, after which you'll be equal parts exhausted and exhilarated!

The Fimmvörduháls Volcano Hike - Thórsmörk
10km | 6-7 hours | Moderate to challenging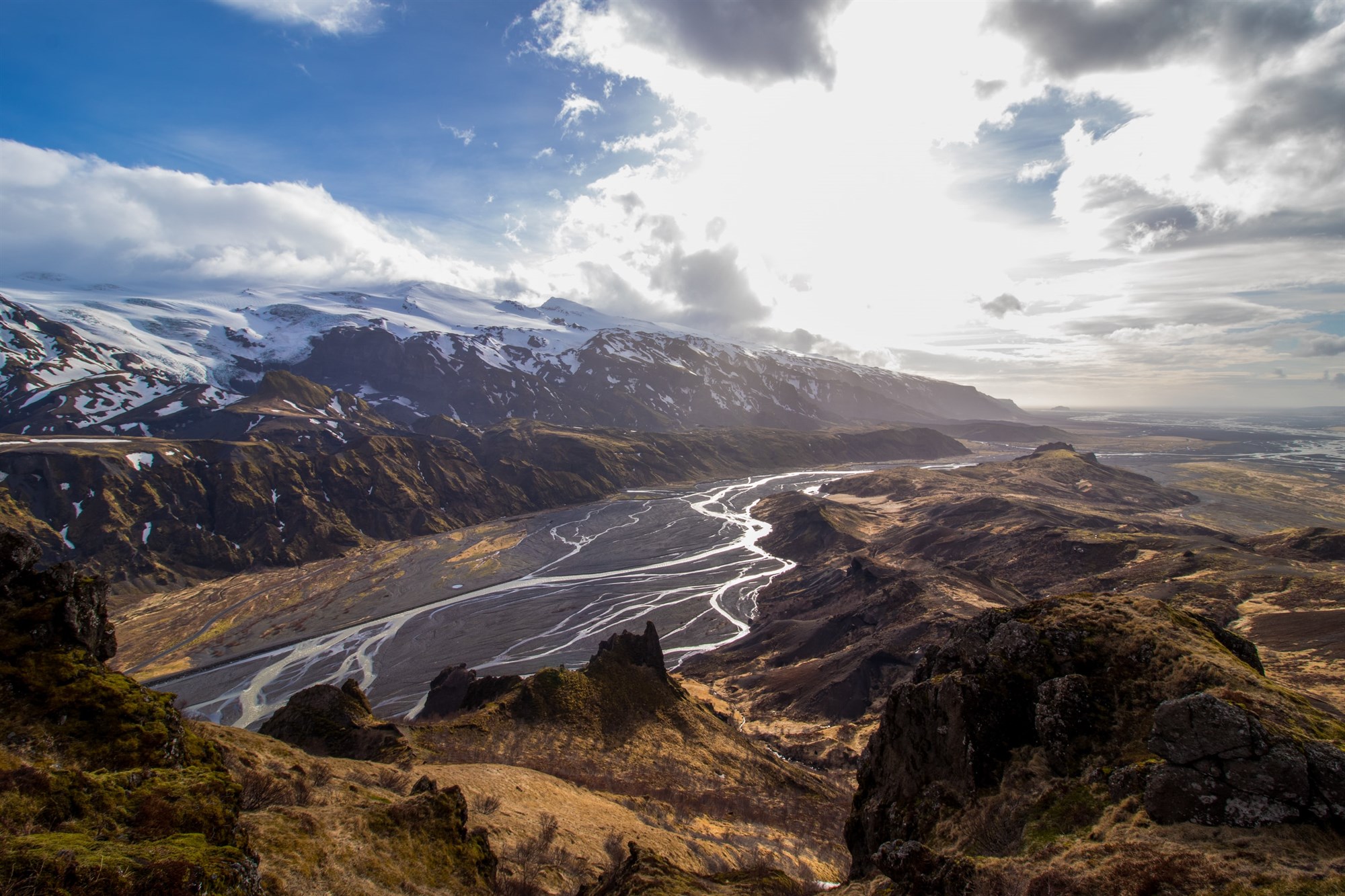 The Fimmvörduháls volcano hike in Thórsmörk is a moderate to challenging 10-kilometre hike up the Fimmvörduháls Pass to the volcanic craters of Magni and Modi which were formed after the Eyjafjallajökull volcanic eruption in 2010, before returning to Thórsmörk. The trek should take between 6-7 hours and hikers should be wary of steep climbs and potential bad weather.
Once you reach the summit, the views of the highlands across the valley are truly magical and have to be seen to be believed! As well as steep elevation changes on this hike, you'll be treated to a hike through a forest and get stunning glimpses of glacier-carved valleys!
The best multi-day hikes in Iceland
If you're seriously looking to get off the beaten path, then embarking upon any of the following multi-day hikes is a challenging, but rewarding way of immersing yourself in the Icelandic wilderness. You'll need plenty of stamina and a decent pair of walking boots, but we can attest that there really is no better way to explore Iceland!
The Laugavegur Trail
55km | 4 days of 4-7 hours per day
The Laugavegur is widely renowned as one of the most beautiful trekking destinations in the world, and if you're going to do just one trek in Iceland, we would recommend it be this one! Vast black lava fields, miles of vibrant land covered in a green mossy carpet, jaw-dropping multicoloured mountains, and steaming hot springs are just a few of the natural wonders you can expect to encounter on this epic trek.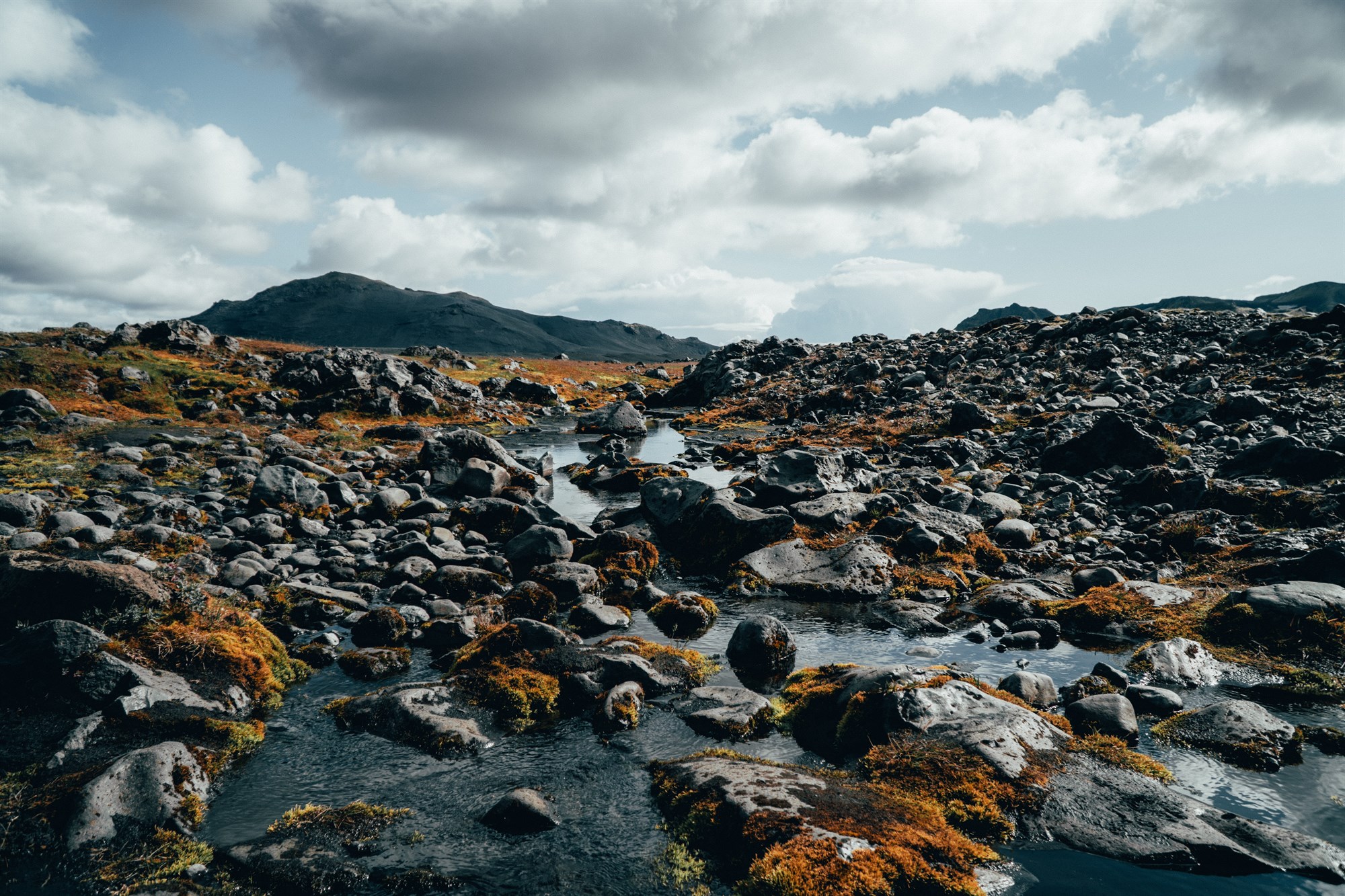 This is considered to be a moderately challenging trek, covering 55 kilometres and taking on average 4 days with 4-7 hours walking per day. Because of its popularity, the paths are clearly marked out and well signposted to help guide you in the right direction. The main challenges you may face are lots of inclines and declines as well as the potential for bad weather and snow-covered areas on the more elevated section of the trail.
The trek starts in a beautiful geothermal area which will make you feel like you have landed on Mars, a stark contrast to the fairytale-like greenery and glaciers of the Thórsmörk valley where the trek concludes. You may also encounter the majestic arctic fox but fear not, as these beautiful animals pose no danger to humans and will likely scatter once they sense human presence.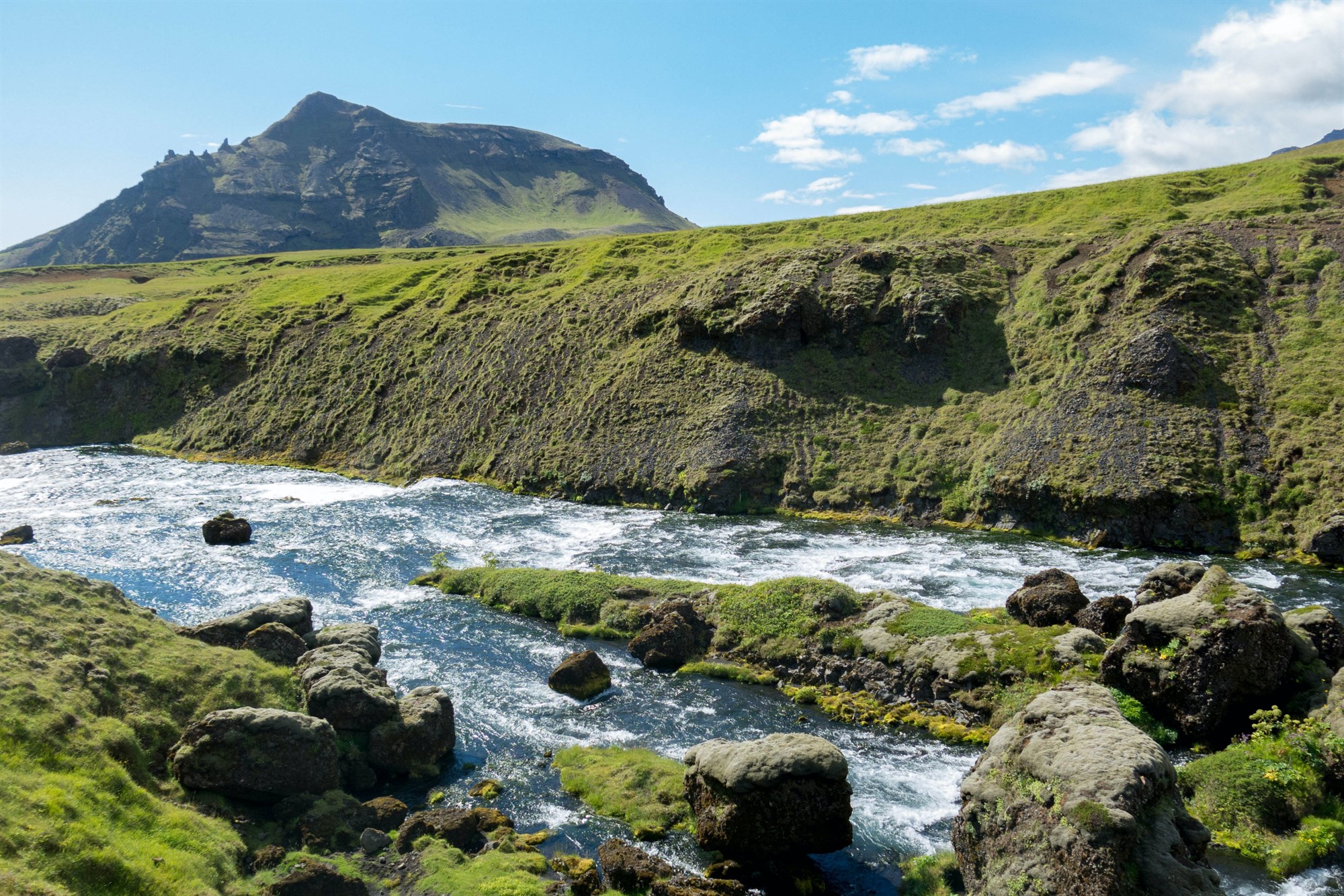 For the overnight stops, you have the choice of either camping or spending the night at one of the mountain huts which can be booked in advance through the Iceland Tour Association.
The Fimmvörduháls Trek
25km | 2 days
The Fimmvörduháls trek is sometimes referred to as the little brother of the Laugavegur trail, but despite its shorter length, you won't be short-changed in terms of stunning views and glorious scenery.
Around half the length of Laugavegur, this 25-kilometre trek should take around 2 days to complete and is ideal if you only have a couple of days for hiking in Iceland. It's a moderately difficult hike with lots of elevation changes and snow-covered paths at the most elevated points but is easily manageable by anyone who is in good physical condition.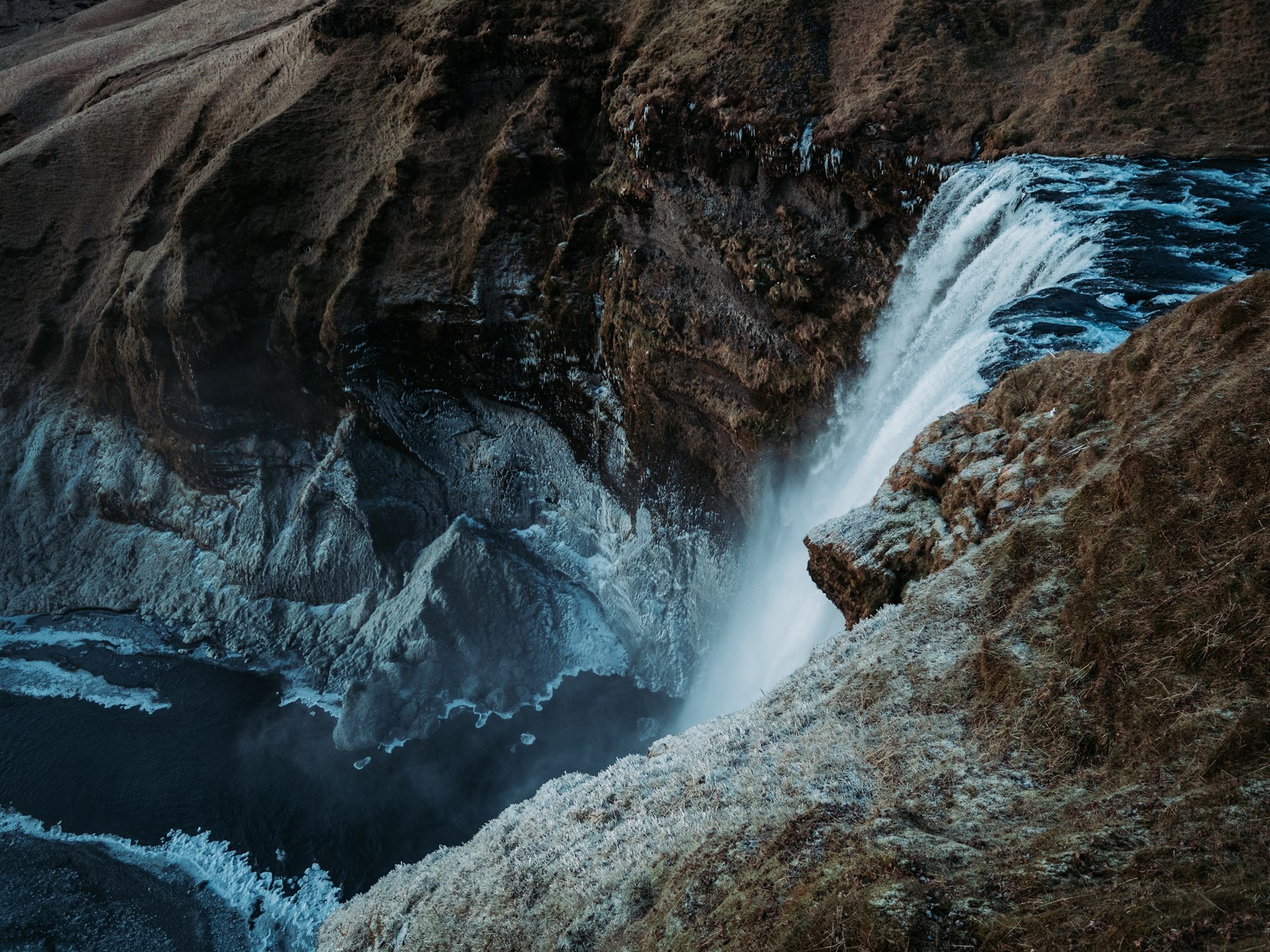 The trek begins in Skógar at the famous Skógafoss waterfall, which makes for an immediate Instagram worthy photo spot in itself. Along the rest of the trail, you will encounter many more immense waterfalls and stunning landscapes, making this one of the many epic hikes you simply can't afford to miss!
The Hornstrandir Trek
136km | 6 days of 4-7 hours per day
The Hornstrandir trek is one for the more adventurous hikers who want to get off the beaten path and feel like they're well and truly 'lost' in the wild.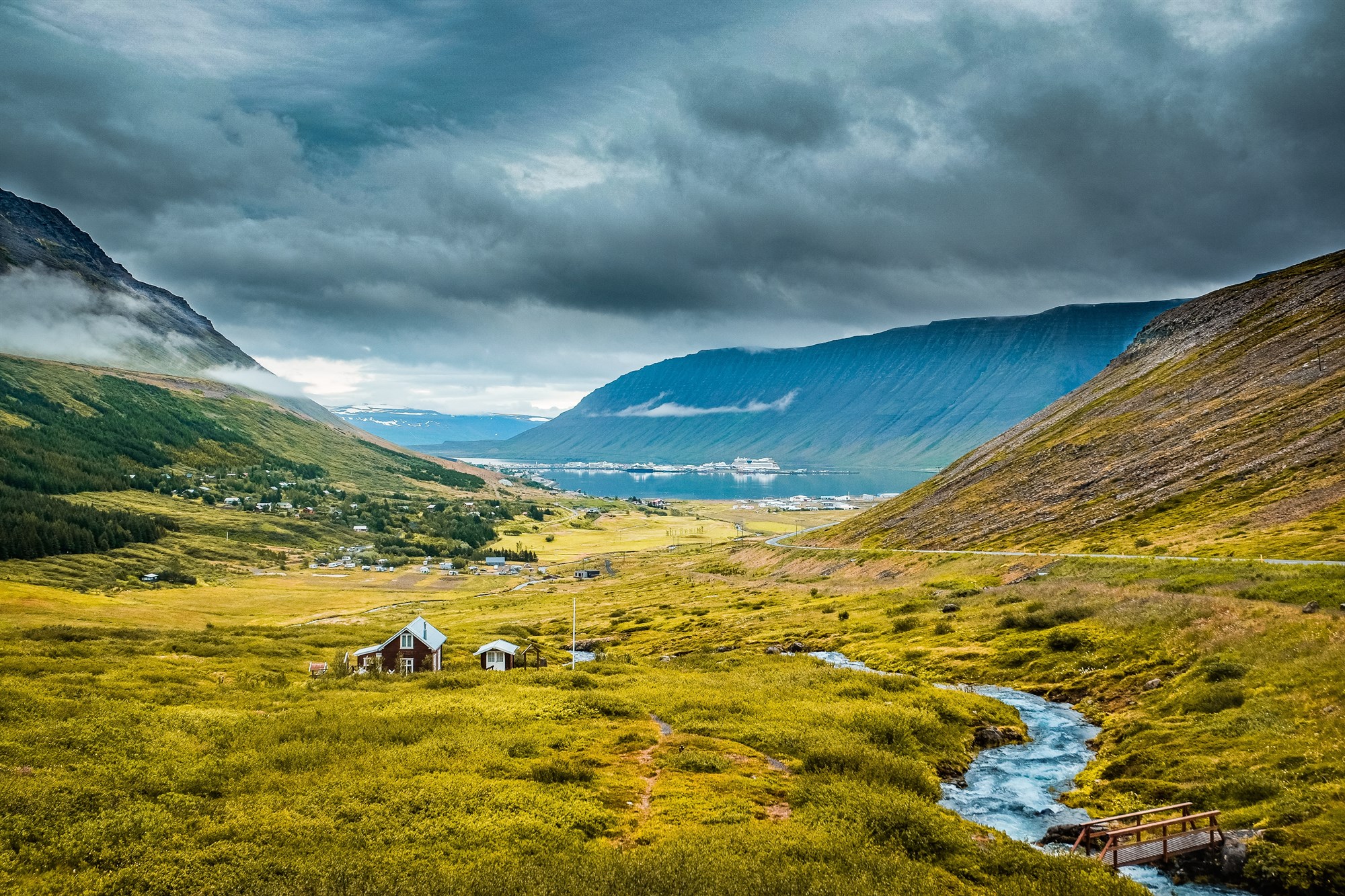 This 86 mile, moderate to challenging trek should take around 6 days to complete with 4-7 hours walking per day. Unlike the other hikes we have mentioned, this route is much less maintained and has a lack of facilities and clear signage to guide you. Despite its challenges, you'll be richly rewarded with the immense wilderness and views spanning hundreds of miles.
It's important to note that the Hornstrandir trekking region is only accessible by boat during the midsummer period and hiking is only allowed from late June to mid-August. You will have to be careful when hiking here as there are strict preservation rules regarding the delicate land. Also, bear in mind that there are no facilities, so if you intend on tackling the entire route, you will need to be able to carry camping equipment and at least 6 days worth of food.
The Kjölur Route
48km | 2-3 days of 4-7 hours per day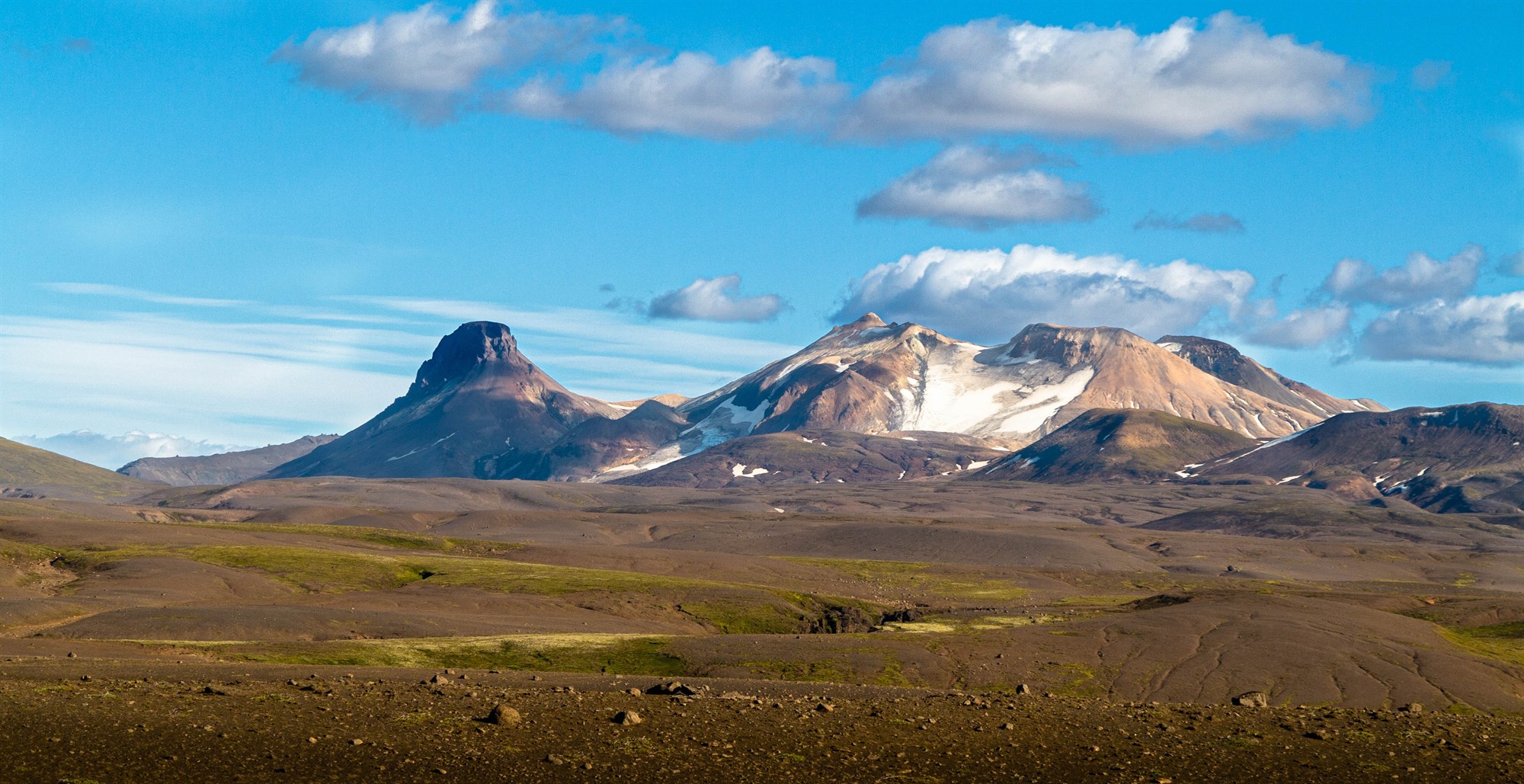 The Kjölur trek, or the haunted highway as it's ominously dubbed, is a trek deep in the Highlands between two immense glaciers.
This moderate to challenging, 48-kilometre route should take between 2-3 days to complete with 4-7 hours walking per day. The Kjölur route is one of Iceland's less travelled paths, however, it is well signposted to help guide you in the right direction. The main challenges you'll face on this hike are dynamic weather conditions, so ensure this is something you consider carefully when packing for the Kjölur trek.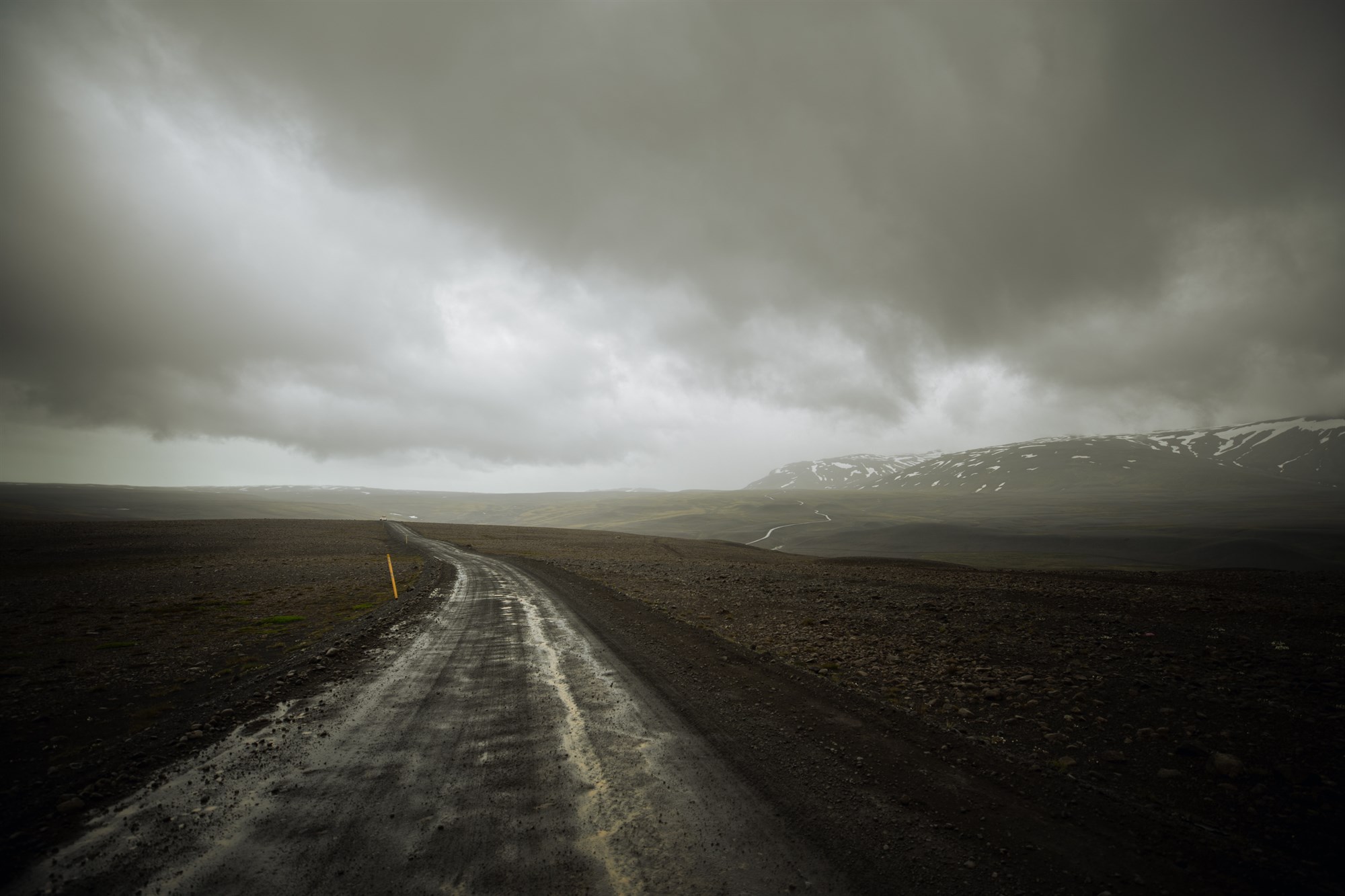 The trek starts at Hvítárnes and terminates at the hot springs of Hveravellir where a well earned bathing opportunity awaits. The beautifully colourful flora and fauna you'll encounter on this trek is something that will stand out as you pass the Langjökull glacier.

Things to consider before hiking in Iceland
Before you can even think about packing and lacing up your hiking boots, there are a few things you should consider and plan ahead to make sure your trip is as safe and enjoyable as possible.
Our preferred time of year to hike in Iceland is during the summer months. The daylight infinite, the weather is at its most temperate, and hiking huts and facilities are open. If you are new to hiking, or to Iceland, then we'd always suggest that you start with smaller hikes, or find a guide to take you on your trek.
To ensure you know exactly what you're in for, as well as carry sufficient equipment, you should consider the distance of your proposed hike and evaluate your physical fitness to get an idea of how long it should take you to complete.
Although it is very unlikely that you will need to use it, you should also ensure you know the Icelandic emergency service's phone number (112) and have the means to call them should you need emergency assistance. There is also an app; 112 Iceland, which we suggest downloading. This is the official app of the Icelandic Emergency Services and we consider it an essential download. The app has two major functions. The red button, when pressed, will send your GPS location directly to the 112 response centre. Even if your phone is displaying 'no signal' the response team say to push it anyway as you may have enough to send the text message The second function is triggered by pushing the green button. This is a 'check in' and acts as a security feature. It will send your location to the emergency services database. It only saves your last five locations that you checked in at, so use liberally. We find that the peace of mind is nice to have.
What to pack for hiking in Iceland
If you are only doing a short day trek, you probably won't need to pack much more than some warm clothes, a sturdy pair of hiking boots, a camera to capture those breathtaking views, and a bottle of water and some snacks for sustenance.
Don't worry about carrying lots of heavy bottles of water as luckily, most hikes in Iceland have access to beautifully crisp drinkable spring water in the form of rivers and streams where you can conveniently refill your bottle along the way.
Alternatively, for longer multi-day hikes, in addition to the above we recommend taking a much larger backpack to accommodate a sleeping bag and camping equipment should you choose to camp. Even if you intend on staying in one of Iceland's mountain huts, you will still need to bring a sleeping bag as bedding is not provided.
We also recommend taking an old fashioned map and compass with you to help you navigate the rugged open expanse of the Icelandic wilderness. This is especially true if the weather suddenly makes conditions more challenging.
A first aid kit is also essential for hikers in Iceland as it can take rescue crews a long time to navigate the wilderness to reach you.

Staying safe on Iceland's hiking trails
Hiking in Iceland should be a safe and pleasant affair. However, as with hiking anywhere else in the world, there are risks and potential dangers which you should be aware of and take precautions to protect yourself and fellow hikers against.
Firstly, as already mentioned, making sure you pack adequately will go a long way to keeping you safe on any hike in Iceland. The essential things to remember are warm clothes, a first aid kit, and a map and compass.
For longer hikes, there is a real danger of dehydration. Whilst you can indeed fill up your bottle from rivers, you should still carry some water bottles with you in case of long stretches without access to water. You should gather information about your intended route and be aware of how many water sources there are along the way and where they are located. As well as water, energy bars are a great way of ensuring you can refuel and avoid fatigue.
Be aware that phone signal may be patchy in some of the more remote areas of Iceland. We recommend that you ensure you have access to offline routes and maps. Google allows you to download offline maps directly to your iPhone or Android device. We also have very good personal experience with the AllTrails hiking and trails app. The app not only allows you to find, research and save routes, but you can also download the routes for offline use; allowing you to navigate unfamiliar terrain with ease.
Finally, don't overestimate your abilities and attempt a hike that you think might be too challenging. As well as beautiful scenery, hiking is just as much about the physical aspect and you want to make sure your fitness levels are sufficient enough to allow you to take your time, enjoy the walk, and still have energy to get yourself back home.