A Guide To The 9 Best Breweries In Iceland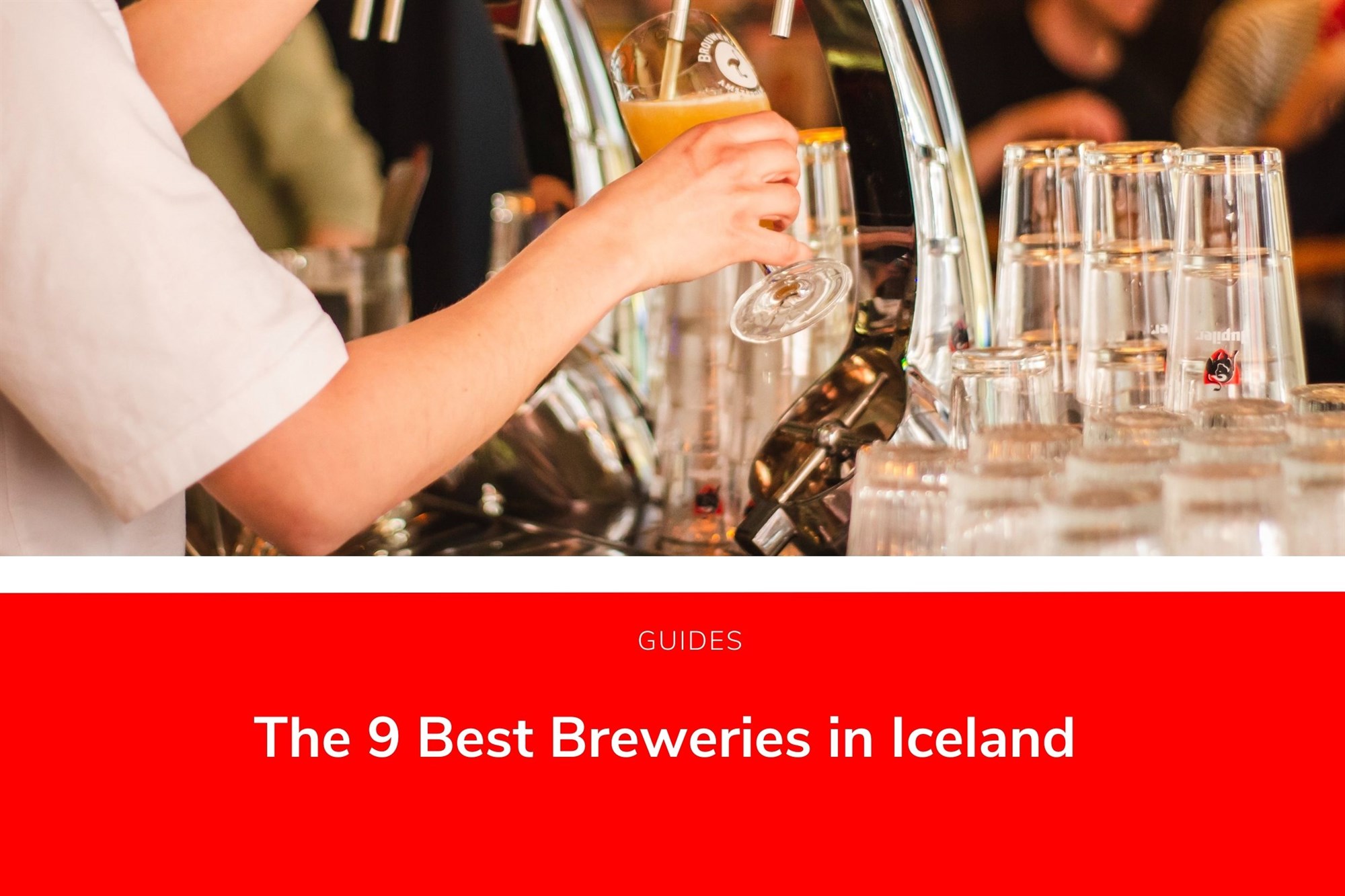 With a population of just 363,000 people and home to 30 breweries, it may be hard to believe that beer with an alcohol content of 2.25% or more was prohibited in Iceland up until 1989. Since then, beer has become an integral part of Icelandic culture and is the most popular alcoholic drink of choice, with an annual "Beer Day" on March 1st to celebrate the end of the 74-year prohibition.
Icelandic brewers pride themselves on producing delectable hoppy beverages made using pure Icelandic water which adds a subtle yet unique signature flavour to locally produced beer.
Interested in visiting Iceland's breweries and sampling their finest craft beers? Our guide explores the very best mouth-watering locally produced beers that Iceland has to offer and the breweries in which to find them. What are you waiting for? Grab your glass and get ready to say Skál (Icelandic for "cheers").
Want to jump to a particular brewery? Use the links below to take you there!
1. Steðji Brewery - Borgarfjörður
Opened in 2012, the Steðji Brewery is a family-owned brewery located on the west coast of Iceland. A key feature of Steðji is the 600-year-old glacier that feeds into the natural spring water used in the brewing process, giving the beer a unique, fresh taste.
Steðji is a proud "farm brewery" located in the stunning Borgarfjörður region in the West of Iceland. Renowned for their freshness, the brewers at Steðji aren't afraid to experiment with some of the more odd flavours - chocolate and algae to name a few. If you wish to visit this fascinating brewery, guided tours are available for groups of 6 and above.
Steðji made the international press in recent years when they introduced the controversial Súrhvalur beer, which translates as "sour whale". To the astonishment of the world, this beer is brewed with a giant whale's testicle that has been cured in kombucha.
A whale's testicle weighing around 7kg or 16 Ibs goes into brewing each batch of this truly unique beer. While this may put many people off, you may be rewarded for trying a sample as the brewers at Steðji are adamant that Súrhvalur is good for your digestion.
If you wish to sample Steðji's unique produce without taking a tour, you can purchase their beers from the ATVR (liquor store) and at Microbar in Reykjavík.
View this post on Instagram
2. Kex Brewing - Reykjavik
Kex Brewing has one ambition and one ambition only - to create great beers. The Kex brewer's motto is "good beer makes the world just a little bit of a better place", and we couldn't agree more! The unique brewery produces a variety of craft beers for draft, as well as cans and bottles in limited quantities. You can sample their delicious brews at the hipster haven that is the Kex Hostel Bar, as well as in the following locations:
Hverfisgata 12 – The nameless pizza place
Mikkeller and Friends
Hotel Holt
Skál at Hlemmur Mathöll
Skúli Craft bar
Bjórgarðurinn
View this post on Instagram
3. Jón Ríki - Höfn
Located near Höfn on the South East coast, Jón Ríki is a family-owned brewery and restaurant that focuses on local produce and quality malts. As a result, this quaint microbrewery produces some excellent fresh food that goes hand in hand with their selection of innovative craft beers. Jón Ríki is a great place to stop for a drink and bite to eat if you're travelling to Jökulsárlón, the Skaftafell area or simply find yourself on the South East coast section of the Ring Road.
View this post on Instagram
4. Kaldi Brewery - Akureyri
Looking to combine your love of spas and beer? Look no further than the legendary Kaldi Brewery in North Iceland, near Akureyri. Founded in 2006, Kaldi is the oldest microbrewery in Iceland and definitely the most international; Czech barley is mixed with Icelandic spring water, and hops from the USA, Australia, Czech Republic, and New Zealand go into the beers that Kaldi produce.
You're probably wondering where the spa part comes into this. Well, along with delicious beer, Kaldi offers a truly unique spa experience involving wooden tubs filled with a blend of Icelandic spring water, non-alcoholic beer, yeast and hops. They recommend you soak in the beer-filled tub for 25 minutes and wait for at least 4 hours before showering in order to feel the full benefits of the spa. It is claimed that beer has a soothing effect on the body by relaxing the muscles and rejuvenating the skin. The best part of Kaldi's beer spa? If you are old enough you can enjoy an unlimited supply of draft beer whilst you relax in the tub!
5. Segull 67 - Siglufjörður
Segull 67 is another small, family-owned craft brewery located in an old converted fish factory in a characterful little fishing village of Siglufjörður in North Iceland. Three generations of brewers help produce this popular brand of beer, meaning a little bit of history goes into each bottle!
The story behind the name Segull 67 comes from the Icelandic word for 'magnet' which is why the logo is a magnetic needle pointing north inside a compass. The number 67 is said to be a number the family associates with good luck. Does this mean that drinking Segull 67 beer brings you good luck? We couldn't possibly say, but it can't hurt to try it for yourself!
You can book a brewery tour on the Segull 67 website, or purchase their beer at most ATVR stores.
View this post on Instagram
6. Borg Brugghus - Reykjavik
If it's variety you look for in a brewery, then we think Borg Brugghus in Reykjavik is the place for you! Opened in 2010, this brewery now offers an incredible 72 different beers! What's even more astonishing is that Borg Brugghus uses mostly local ingredients, having been responsible for harvesting the very first Iceland-grown hops in 2016. This made waves in the Icelandic brewing industry which had previously had to import all of the hops and barley used in beer production from abroad.
You'll find all your classic beers at Borg Brugghus, but if unusual is what you're looking for then they will definitely have something that appeals to you. Like the sound of beer laced with lactose or a lager with a buttery caramel biscuit aftertaste? If not, why not try their carbonated mead with subtle tones of mint and vanilla?
View this post on Instagram
7. Gæðingur Brewery - ​​Skagafjörður
Housed in what was once a stable for cattle, Gæðingur is a wonderful microbrewery based in Skagafjörður, northern Iceland. Árni Hafstað, Gæðingur's owner, claims that the process of brewing beer requires three essential ingredients: passion, experience, and equipment, with a particular emphasis on passion.
It is clear that brewing quality beers is nothing short of a passion for Árni, opening a craft beer bar in Reykjavik, as well as a MicroBar and MicroBar & Brew in Kópavogur in the years since opening Gæðingur in 2011.
One of Gæðingur's most popular beers is the 5.6% stout Þorrabjór that comes in a variety of flavours including liquorice, coffee, herbs, and toasted malt.
8. Einstök - Akureyri
Einstök may be a brand you are already familiar with, with their signature ales available in more than 22 other countries including the USA, Canada, and the UK. The original Einstök brewery is located right by the Arctic Circle in North Iceland near Akureyri, and despite the distance, has a special connection with Scotland. To celebrate their shared Viking history, Einstök produced Icelandic Wee Heavy ale made with smoked Icelandic barley and Icelandic angelica root.
The Einstök philosophy is to make quality ale and master their small selection of brews rather than trying to create a vast collection of mediocre beers, and we think they do a pretty superb job of it!
View this post on Instagram
9. Ölvisholt - Selfoss
Another farm brewery, Ölvisholt is a brewery built on the site of an old dairy farm and founded in 2006 by two neighbours who share a passion for great beer. Located on the South Coast near Selfoss, Ölvisholt's old cowshed has been converted into a taproom open to thirsty visitors, serving up all of their classics along with their latest craft brews. You can simply drop into their taproom to sample their delicious beer, or book an open brewery tour to learn more about this rustic microbrewery.
You can find Ölvisholt beer at nearly all major bars and ATVR liquor stores in Iceland, and the brewery has even started to export their beers to the USA and Sweden, with further international expansion expected in the coming years.
View this post on Instagram

Thirsty yet?
That rounds off our list of top 10 breweries in Iceland. Already decided which beer you would like to sample first? If you want to explore Iceland's award-winning breweries in person, you will need a way of getting you and your group around. Just remember that driving above the legal alcohol limit in Iceland is illegal as well as incredibly dangerous, so remember to nominate a designated driver before visiting. Don't worry, nearly all breweries can provide equally delicious non-alcoholic options so you won't be missing out!

If you're looking to rent a car in Iceland, Lotus Car Rental provides a wide range of affordable rental cars, available with an unmatched level of cover.