Where To Find The Best Fast Food In Reykjavik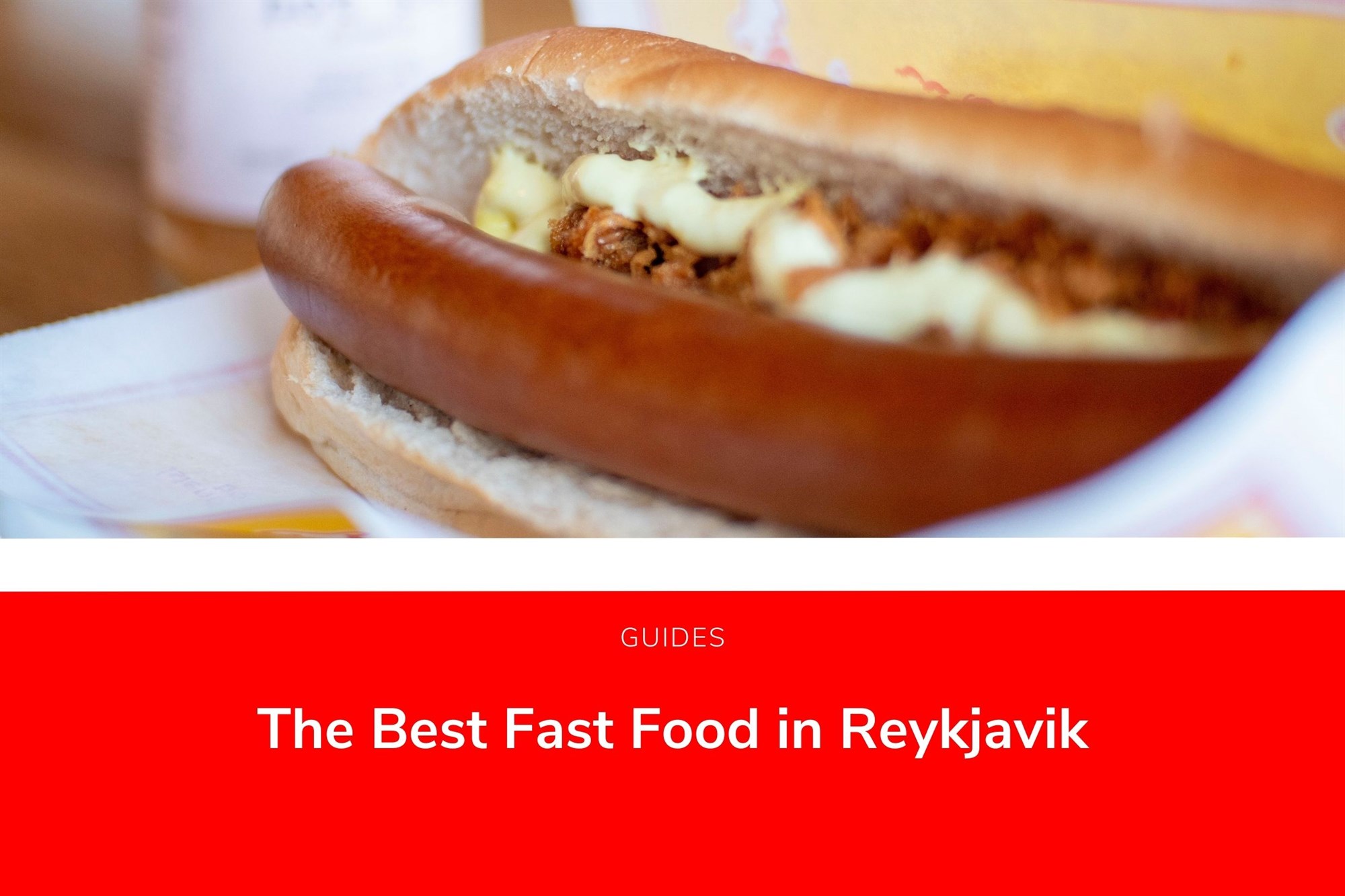 Craving some fast food in Iceland after a long day of exploring? When people think of Iceland, they think of the stunning natural landscapes, amazing wildlife, and bitterly cold winters. Unlike many European countries that have at least one popular dish to their name, Iceland does not pride itself first and foremost on its cuisine. This isn't to say that you can't have a good meal in the land of fire and ice, and there are several excellent fast food restaurants and street food stalls in the capital city, Reykjavik, that will provide you with delicious dishes to fuel your Icelandic adventures.
For all the foodies out there, here are our picks for the best fast food spots in Reykjavik.
Want to jump to a particular restaurant? Use the links below to take you there!
Grandi Mathöll
Grandi Mathöll is a food hall located in the old harbor district of Reykjavik, offering a wide range of Icelandic fast food options across several vendors. This is a great place to sample some of the local specialities such as tender lamb stew, fried shrimp, or a delectably juicy lamb burger and there is no better place to do that than at Fjarhusid. Afterwards, why not wash it down with a tipple from Lax and sit back and enjoy the relaxed atmosphere in this cosy food court. 
View this post on Instagram
Bæjarins Beztu Pylsur
Hot dogs, or pylsur, are a popular bite to eat on Reykjavik's streets and many locals will tell you that there is no greater place to sample one in Iceland than at Bæjarins Beztu Pylsur.
The popularity of this stand means that there may be a large queue, but fear not as service here is speedy and efficient meaning you should be tucking into your hot dog in no time! Choose from a range of delicious additions including honey mustard, ketchup, remoulade, and crunchy onions to give your hot dog that authentic Icelandic twist. 
View this post on Instagram
Hlemmur Mathöll 
Hlemmur Mathöll is another food hall, bizarrely located in Hlemmur, Reykjavik's largest bus station! But fear not, this isn't simply a commuter's snack bar, and lots of locals make the journey here specifically for the delectable range of food and friendly buzzing atmosphere available here. 
There is a little bit for everyone in this food hall, from fluffy pastry and sweet cinnamon buns at Brauð & Co, high quality organic local refreshments at the Tea & Coffee Cafe, to tasty pizza places and gourmet snack shops.
View this post on Instagram
The Fish & Chips Vagninn
While we can't say fish and chips is the most traditional fast food you will find in Iceland, we can say without doubt that The Fish & Chips Vagninn parked in the west part of Reykjavik's main harbour is a street-food connoisseur's paradise. 
The delectable food on offer at this friendly red food truck gives a serious new meaning to the word "fresh", with fish and chips available in a variety of options and with seriously moreish toppings. We highly recommend tasting the amazing tartar sauce to take your fish and chips to the next level! You can enjoy your meal on one of the nearby benches with a beautiful view overlooking the harbour.
View this post on Instagram
Hlöllabátar
Forget Subway, if you're looking for a fresh and substantial sandwich meal to fuel the day's adventures, then look no further than Hlöllabátar! Located in downtown Reykjavik, this is the takeaway place to go in Iceland for large portions and low prices. What's even better, the food is always fresh and you can often get a drink included with your meal for free. Grab a footlong sub with chips, onion rings and a drink and either takeaway or enjoy in their cosy sit down area. 
View this post on Instagram
Mandi
Fancy combining a takeaway in Iceland with a hint of Middle Eastern cuisine? Then Mandi is the go-to place for you! Offering all of the classic takeaway staples including shawarma, kebabs, pita bread and hummus, all available with a hearty portion of fresh salad and vegetables. This is a great place to come if you've worked up an appetite during the day as the portion sizes will certainly not disappoint even the hungriest of diners. 
Mandi is also a great option for those looking for meat and dairy free options, with their range of falafel wraps a firm favourite amongst vegans! For more vegan food gems, check out our article on the must-visit vegan restaurants in Iceland. 
View this post on Instagram
Lemon
Looking for fast food in Iceland with a healthy twist? Lemon is perfect for those craving a fresh and quick lunch in Reykjavik. Offering what many argue to be some of the best sandwiches in the country, this cafe also sells delicious vegan and vegetarian-friendly street food options making it a popular choice for food lovers of all tastes. 
As well as some of Reykjavik's finest fast food, Lemon also offers delicious, and in some cases bizarre, freshly-pressed juices that are perfect for stocking up on vitamins and detoxing.
View this post on Instagram
Lamb Street Food
For a real, authentic taste of Iceland, be sure to visit Lamb Street Food. Offering deliciously cooked Icelandic lamb in traditional Icelandic flatbread known as flatkaka, this fast food restaurant is a popular hit with locals just as much as with tourists. The thing that really sets Lamb Street Food apart from other fast food places in Reykjavik is their range of innovative and delicious sauces that take their dishes to the next level. 
Fear not vegans, Lamb also offers equally tasty falafel options that can be combined with delicious skyr coleslaw and kale salad, as well as their famous sauces, for a meal that will have you coming back for more every time!
View this post on Instagram
Noodle Station
The cold in Iceland often calls for a warm noodle soup to warm you up on the inside, and there is no better place to find one than at one of the four Noodle Station kitchens around Reykjavik. Choose from either beef, chicken, or veggie noodle soup all packed with fresh and vibrant ingredients. If you choose to have yours spicy, be warned that it can pack quite a punch! 
View this post on Instagram
Hamborgarafabrikkan
Famous for its Captain burger, a thick and juicy patty topped with garlic roasted mushrooms, caramelised red onion, bell peppers, chili berry sauce, cheddar cheese, and served with a generous portion of irresistible french fries, Hamborgarafabrikkan is one of the best burger joints in Reykjavik. 
As well as your choice of traditional burgers, Hamborgarafabrikkan also offers some interesting options worth trying including the Mr Peanut Butter burger or the Hammborgaramuffin which is a muffin that looks like, but thankfully doesn't taste like a savory burger!
View this post on Instagram
Tommi's Burger Joint
There is a fierce debate amongst takeaway fanatics in Reykjavik as to whether our previous pick, Hamborgarafabrikkan, or Tommi's Burger Joint serve the best hamburgers. We think they are both so good it's impossible to call, so why not try both and decide for yourself? 
Tommi's offers everything you want in a traditional burger, with juicy beef grilled to perfection and accompanied by creamy melted cheese, onions, lettuce and pickles. They also sell equally scrumptious vegetarian burgers. In addition to their savoury delights on offer, they also make arguably the best milkshakes in all of Iceland!
View this post on Instagram
Bastard Brew and Food
Bastard Brew and Food is the perfect fast food choice in Iceland for you pub and music lovers out there. This cosy establishment serves up delicious comfort food options including nachos dipped in hummus and pesto, or pretzels with home-made jalapeno cheese sauce. If you're looking for a substantial meal, Bastard's burgers and meaty platters will certainly not disappoint, and you can wash it down with one of their irresistible craft beers made in their very own brewery!
If you consider yourself as something of a beer connoisseur, why not explore several other of Iceland's wonderful beer factories with our guide to Iceland's 9 best breweries.
View this post on Instagram
Hungry Yet?
If this article didn't get you in the mood to get stuck into some of Iceland's best fast food restaurants, then we don't know what will!
Fast Food in Iceland Map
If you're planning on visiting any of the restaurants listed, you'll need a way of getting around. Here at Lotus Car Rental, we offer a wide range of high quality rental cars available with an unmatched level of cover. Book your rental car today.