Iceland as Shooting Location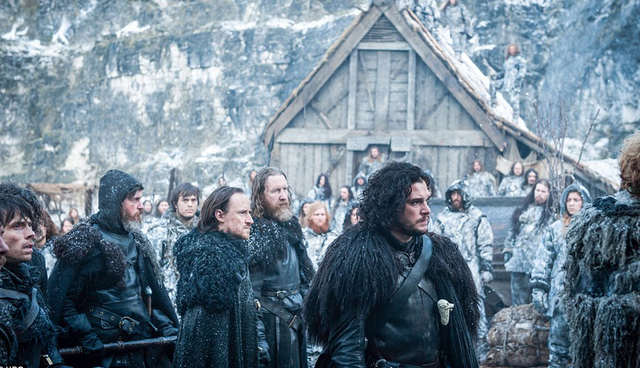 The Game of Thrones
Considering Iceland's unique nature, it will probably come as no surprise that numerous foreign productions for cinema as well as television have been shot in Icelandic locations, either partly or completely. You would, after all, be hard pressed to find a spot on this globe that features as many diverse sides of nature. The landscape – often referred to as otherworldly, is therefore highly popular when filming for sci-fi or fantasy related material. Let's recap a few of them and see if you already guessed they were in fact shot in Iceland.
Ice is something Iceland has plenty of – well, dough! – and production companies therefore come for the ice. Among films shot in Iceland for the icy backdrops were "Lara Croft: Tomb Raider" featuring Angelina Jolie. The scenes were shot at the famous Jökulsárlón glacier lagoon. Ice was also the focal point of the producers of "A View To A Kill" (1985), Roger Moore's last James Bond film. The opening sequence has Bond doing spy stuff in Siberia until spotted by Russians, of which he disposes with the usual panache. Only it wasn't Siberia, but, again – Jökulsárlón, Iceland. Bond would return 17 years later in the guise of one Pierce Brosnan in the film "Die Another Day" in 2002. That time around he was invited by the prime baddie to an entire palace of ice on Vatnajökull glacier.
"Batman Begins", Christian Bale's first outing as the caped crusader, had scenes set in the Himalayan mountains but actually shot in Svíafellsjökull glacier. Bale and co-star Liam Neeson had a memorable fight atop the glacier, and legend has it they nervously complained afterwards about frequent cracking sounds emerging from the ice beneath. Director Christopher Nolan apparently got something of a taste for Iceland; he would return to shoot some key scenes of his science-fiction "Interstellar" a few years later, again on Svínafellsjökull glacier.
Desolation and dramatic landscapes are easily found in Iceland and this has repeatedly been recognized by filmmakers. Ridley Scott shot some vital scenes from "Prometheus" near Dettisfoss waterfall, reputed to be the most powerful in Europe. The imposing waterfall can also be seen in Tom Cruise's dystopian sci-fi, "Oblivion" as well Jarlhettur mountain area and Hrossaborg crater. The desolate black sands near Vík fit "Noah," director Darren Aronofsky's biblical drama perfectly. Legendary filmmaker Terence Malik was one to recognize the harsh beauty of Námafjall geothermal area and the Krafla lava fields for some memorable scenes in his award-winning film, "The Tree of Life".
And how can we cap this countdown off without mentioning "The Game of Thrones"? The cast and crew have come repeatedly in the last few years to shoot season after season, which is hardly surprising; the landscapes are indeed perfect for a narrative of fantasies and landscape you hardly believe is real. But do come on over, these places can be visited around the country.
Safe travels and enjoy the ride : )