Everything You Need to Know About Iceland's Seasons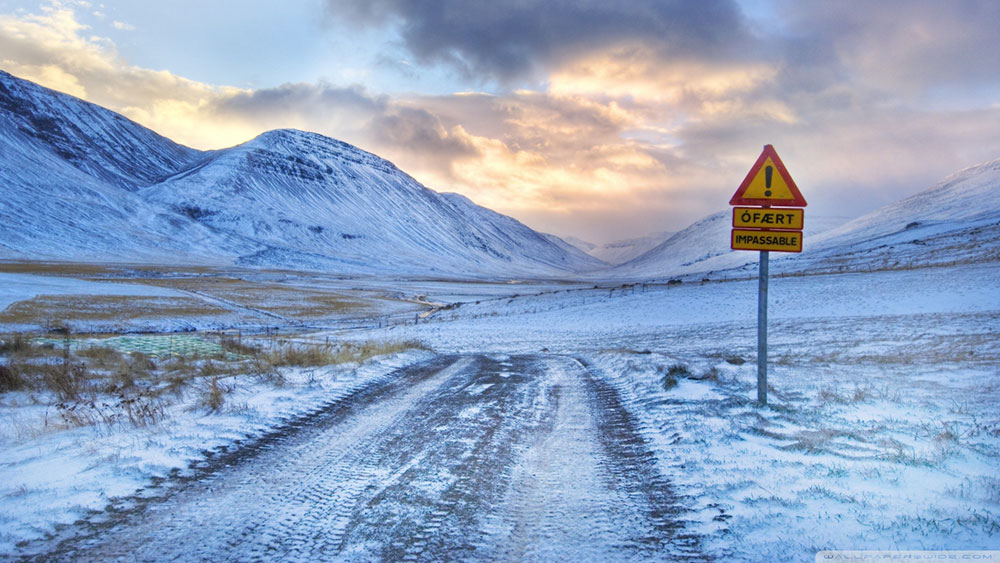 Iceland is a beautiful country and remains one of the most popular tourist destinations in the world, with over 2 million visitors each year. Much of the country's popularity is attributed to the beautiful landscapes and scenery and endless outdoor activities, such as hiking trails or seeing the Northern Lights. But the country is also known for its slightly unpredictable weather. It's not uncommon to see sunny, clear skies, only for there to be a full-on blizzard an hour later. This phenomenon is so common that Icelanders have a word for it: gluggaveður.
If you ever visit Iceland, you'll probably hear a resident say, "If you don't like the weather, just wait five minutes!"
Iceland's Unique Weather
Despite its name and location just south of the Arctic Circle, Iceland has four distinct seasons — but they might not be exactly what you'd expect. A warm Atlantic current called the Gulf Stream runs through Iceland's water, which brings mild winters and cool summers to the region. In the capital, Reykjavik, you can expect low-30s°F in the winter and high-50s°F. 

Image Source
The seasons in Iceland are truly unique and spectacular. And no matter the season, you could almost always visit glaciers, volcanoes, hot mineral springs, waterfalls, caves, and even get to see the Northern Lights. The best thing you can do is to rent a car, so you don't miss any of these exceptional experiences. If visiting Iceland is on your bucket list, then learn more about the country's distinctive seasons to know what to expect. 
Winter
In Iceland, winter usually ranges between December, January, and February. The lowest temperature is about 28°F with a high of 37°F. During these months, you'll expect to see lots of snow, blizzards, and plenty of icy roads. Since Iceland is close to the Arctic Circle, it experiences something close to polar nights. Polar night is the opposite of midnight sun, where the sun's discs aren't visible at all — meaning the night lasts for more than 24 hours.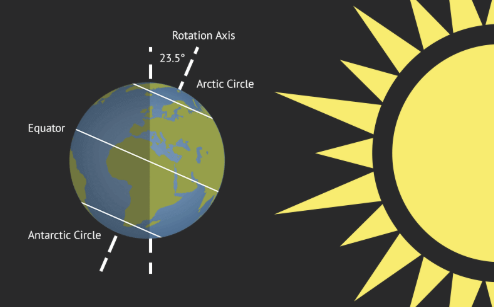 Image Source
Because of its axis, perfect polar nights aren't very common in Iceland. The country doesn't experience this phenomenon as much as more northern countries like Norway, Sweden, and Finland do. However, there are several days of the year where you only get a few hours of sunlight:
December 1: Sunrise at 10:45 am and sunset at 3:45 pm

January 1: Sunrise at 11:19 am and sunset at 3:42 pm 

February 1: Sunrise at 10:09 am and sunset at 5:14 pm
It's unique experiencing sunrise so late in the morning, but many tourists love the change of pace. Tourists also love to experience the readily available winter activities, like glacier hikes, snowmobile tours, geothermal pools, and seeing the Northern Lights on a clear night. 
Planning to see the Northern Lights? Winter is the perfect time to do so. Here is a handy map of Iceland, highlighting the areas with extra light pollution. You'll want to leave city centers and find total darkness: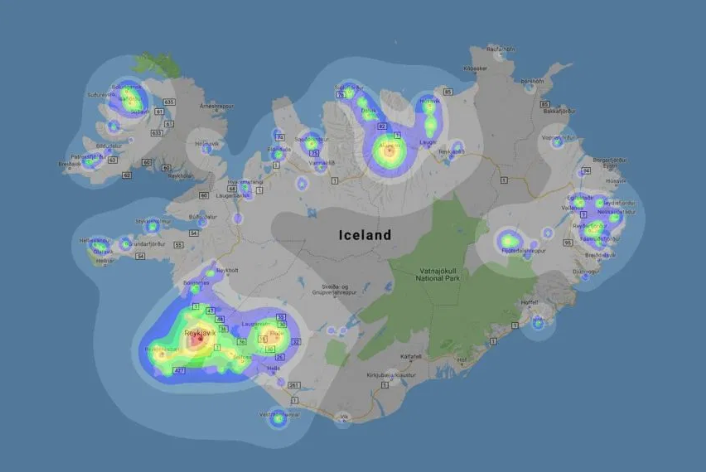 Image Source
You also don't want to miss out on the fun holidays. Icelanders love to celebrate, so if you're visiting in winter, be sure to attend these holiday events: 
December 24: Yule. Locals decorate Yule trees, drink hot mulled wine, and put gifts under the tree for elves. 

December 31:

New Year's Eve

. Locals make giant bonfires, dance, sing, and set off fireworks that light up the night sky. 

January 23: Torrablout. A traditional holiday associated with a sacrifice to the gods, the locals have large feasts with lots of food.
Spring
Spring in Iceland lasts throughout March, April, and May. Temperatures are typically a low of 30°F and a high of 50°F. As you can see, spring temperature is fickle. It almost seems like the weather is stuck between winter and summer, with a mix of blizzards, rain, and sunny skies. During these few months, locals check the weather every day, several times a day. Even so, spring is a beautiful time in Iceland. Grass begins to grow, trees bloom, and flowers blossom. Animals like whales and exotic birds make their way back to the country after leaving for the winter. And when the weather calls for it, whale watching and visiting bird sanctuaries are great.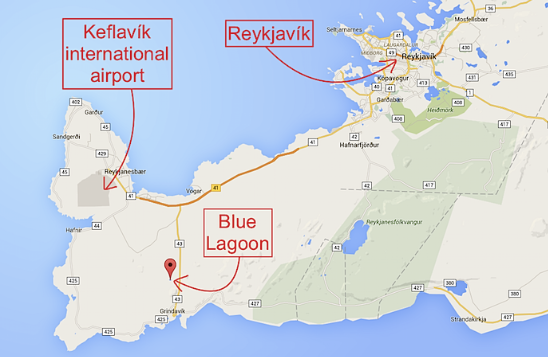 Image Source
But no matter the weather, people love visiting geothermal spas like the famous Blue Lagoon — which attracts more than 1.3 million visitors each year!
Summer
Summer is during June, July, and August. July is the warmest month of the year, with temperatures reaching a high of 70°F. In the northernmost parts of the country, the high might only reach the upper 50s°F. Because of its warmer temperatures and long days, summertime is the most popular time for tourists. Locals and visitors alike love to spend time doing outdoor activities, such as: 
Visiting waterfalls

Going hiking

Whale-watching and puffin excursion

Camping

Day trips around the Golden Circle

Partying at

summer festivals

Visiting national parks

Sightsee lava fields and black sand beaches
People also love to celebrate Midsummer, which occurs each year to celebrate the longest day of the year. According to folklore, seals turn into humans, cows can speak like humans, and elves come out of their hiding places at night. Midsummer festivals might include two days of nonstop celebrating, including programs, music, dance, arts, and all kinds of other activities. You can expect up to 21 hours of sunlight on some of the sunniest days of the year, with sunrises and sunsets as such:
June 1: Sunrise at 3:23 am and sunset at 11:29 pm

July 1: Sunrise at 3:05 am and sunset at 11:56 pm

August 1: Sunrise at 4:33 am and sunset at 10:32 pm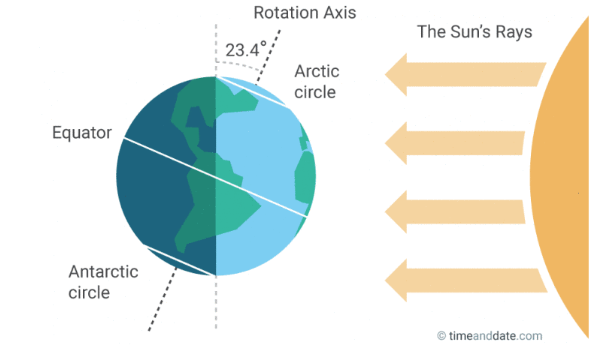 Image Source
These are undoubtedly long days — but sometimes Iceland sees longer. Because of its location on the earth's axis, Iceland in the summertime has a lot of midnight suns. The midnight sun is when the sun doesn't go below the horizon so that days last for well over 24 hours at a time. If you're not used to this, it might be wise to invest in some blackout curtains!
Autumn
Autumn months occur during September, October, and November. When visiting, you can expect a low of 32°F and a high of 51°F. During these months, the weather might be a little crazy. You can expect a mix of high winds, rain, and snow, with October being the wettest month of the year. 
Image Source
Best of all, starting in October, you can begin to see the Northern Lights depending on how clear the skies are. Autumn is also the beginning of other activities, such as: 
Day hikes into the Highland regions or mountaintops (there are overnight hikes and camping trips available during the warmer months) 

Boat tours of the Jökulsárlón glacier lagoon are open until the end of October, where you can see icebergs slowly moving towards the ocean

River rafting, glacier tours, and even some whale-watching if you're lucky!
Like New England in the United States, autumn in Iceland is breathtaking. The air is crisp and fresh, and the colors from the changing leaves are bright and vibrant. A mix of new snow with autumn colors makes for beautiful hikes, sightseeing, and photography. 
Conclusion
Iceland is unique in the sense that it has the best of both worlds where it's never too cold, but never too hot either. Of course, the weather can be unpredictable, but the natural landscapes are breathtaking — even if you are experiencing gluggaveður! Just in case, be sure to prepare for your time in Iceland by packing the essentials:
Bring an array of clothing for rain, snow, and cool temperatures

Don't forget your hiking boots since the terrain is uneven 

If you're visiting in the summer, bring a sleeping mask for those midnight suns

Be sure to

rent a car

so you can explore the natural landscapes
No matter the season, there's so much to enjoy in Iceland. If you're planning a trip to this magnificent country, then remember these key tips:
Winter

has the shortest days, but wintertime in Iceland is arguably one of the most beautiful times of the year! During the colder months, you can see the Northern Lights and celebrate Yule in the city center. 

Spring

is a combination of cooler and warmer temperatures, which means many of the tourist hotspots reopen. You can go hiking, take day tours, explore the Golden Circle, and even go whale-watching if the weather allows for it. 

Summer

is unique for many reasons. For starters, it's the most popular time for tourists to visit, with the ability to go whale-watching, hiking, experience summer festivals, and enjoy longer days. You also get to experience the midnight sun, which is a rare phenomenon! 

Autumn

is spectacular for sightseeing and hiking. The tourist season usually calms down by then, which allows more room for the tail-end and start of seasonal activities, like summer festivals or catching a glimpse of the Northern Lights. 
Whatever the season that you visit Iceland, you're sure to enjoy what the climate has to offer.