The Best Day Trips and Tours from Reykjavík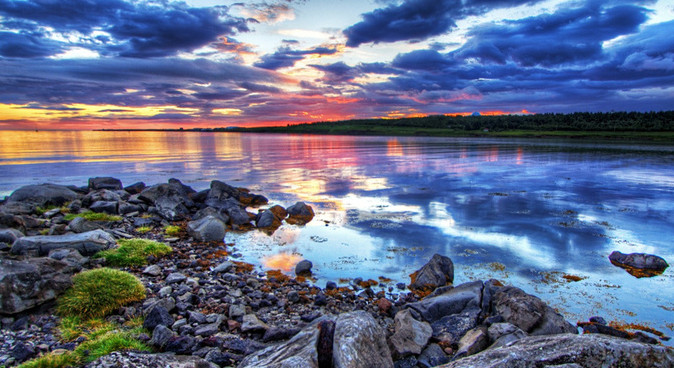 Nauthólsvík Reykjavík
Iceland has a lot to offer. Whether you are looking for a city break or one full of nature, Iceland is a destination of rising popularity for tourism. The Capital, Reykjavik is a vibrant city with unique people, culture, history, nightlife, and a thriving arts scene. But the real draw for most people visiting Iceland is its stunning natural beauty.
If moonscapes of ice, jagged volcanoes, plentiful waterfalls, breathtaking glaciers, geothermal pools and lava caves sound appealing to you, you may have found your next destination.
There are many ways to access some of these natural wonders. But renting a car is one of the easiest, and it certainly provides the most freedom. The good news is renting a car in Iceland is easy and straightforward, so you won't have to rely on local transport or join a bloated tour group.
So now with a couple of the minor details out of the way, we can get to real fun: an insider's review of some of the best day trips from Reykjavik. Enjoy!
1. The Blue Lagoon from Reykjavík
Distance: 49.2km
Time: Approximately 50-minute drive time
It only makes sense to start with the Blue Lagoon. It is one of the most popular and well-known destinations, making it an absolute must-see on your trip to Iceland.
If you feel like a relaxing float in warm geothermally heated waters, making a quick jaunt here is a great way to spend a few hours outdoors. The dreamy pastel blue shade of the water is due to its high silica content, forming a cleansing soft white mud on the bottom of the lake. It's up to you if you want to rub it on yourself though!
The Blue Lagoon's water is minerally-rich and renews every 2 days. Though it is not artificially disinfected, the water is found to contain no environmental bacteria, fungi or plants. The only organisms live in the water are some blue-green algae.
In our opinion, the Blue Lagoon puts the Dead Sea to shame (in terms of floatable water) .t's the image that many people have in their minds when it comes to Iceland, so even if you are not keen on public bathing, it is worth the photos. It's a short distance from Reykjavik to the Lagoon, entry prices are reasonable, and best of all, it's open year-round!
2. Volcano tours in Iceland
Iceland is blessed with a large number of volcanoes scattered throughout the country. Spending some time checking them out is a must. 
What type of volcano is Eyjafjallajokull?
Eyjafjallajokull is the most famous Volcano given its history. It is a stratovolcano, one of the most common volcanoes around. Its conical shape is down to the many layers of hardened lava, tephra (rock fragments ejected by a volcanic eruption), pumice and volcanic ash. I The volcano erupted in March 2010 and later again in April, creating an enormous ash plume which disrupted air traffic all over Europe.
But beyond Eyjafjallajokull there are many other choices, such as:
Thrihnukagigur

Snæfellsjökull

Hekla

Katla
Grab your map of volcanoes in Iceland, jump in your rental car and make it the best day tour seeing the volcanoes of Iceland! 
But of course, exercise some caution as well. Active volcanoes obviously present their own set of risks and we encourage all tourists to research into the volcanoes and their volatility before travelling at their own risk.
3. Take a day trip to the Snaefellsnes Peninsula
Distance: 156km
Time: Approximately 2-hour drive from Reykjavík
Snaefellsnes Peninsula is another extremely popular destination for visitors. In a way, this small geographic area is a microcosm of the country itself. with a wide range of natural sights on display in a small area. Snaefellsnes boasts countless lava caves, hot springs, and waterfalls. It's a wonderful place to trek around, get some fresh air, and take in the marvels of Icelandic nature. 
Where is Snaefellsnes Peninsula?
Snaefellsnes Peninsula is in the western part of the country and roughly a 2-hour drive from Reykjavik. The route there takes you along the "ring road" (Iceland's Highway 1), along the way you'll pass through the Hvalfjörður tunnel and see quite a few other sights making the drive there enjoyable in and of itself.
4. South Coast of Iceland Tour from Reykjavík
Another great way to spend a day is to take a short trip along the south coast of Iceland. There is a well trodden guided tour route here. And while tours can be fun, we prefer the nomadic method.
By renting a car in Iceland and going solo, it means you can see the sights at your own pace The sights include spectacular Skogarfoss waterfall along with Skaftafell National Park. You can even take a boat ride on Jokulsarlon glacial lagoon without having to rely on a group of tourists that you had never met before today!. Many iconic movies and TV shows such as Game of Thrones and The Star Wars Saga were shot in this area of Iceland. Once you see it for yourself, you'll know why.
5. Langjökull Glacier from Reykjavík
Distance: 150km
Time: 2-2.5 hours drive
No trip to Iceland would be complete without seeing a glacier up close and personal. And when time is of the essence, Langjökull is your best bet as it's the closet glacier to Reykjavik. Glaciers cover roughly 10% of the landmass of Iceland. But they are not to be trifled with.
Glaciers are dangerous and should not be approached without guidance or experience. No one should attempt driving up a glacier on their own. That said, taking a day trek on one or driving a specialized vehicle with guidance can be an unforgettable experience. Langjökull is one of the most easiest to access, and although there are many others, it stands as our recommendation for tourists.
So there you have it. Five of the best days trips and tours from Reykjavik. Although this is barely scratching the surface of the plans you could dream up. Sometimes another good strategy is to ditch Tripadvisor and Lonely Planet, hit the road in your rental car and see what you stumble upon. Oftentimes the best travel experiences aren't planned, they simply happen.