Reynisfjara: The Black Sand Beach in Iceland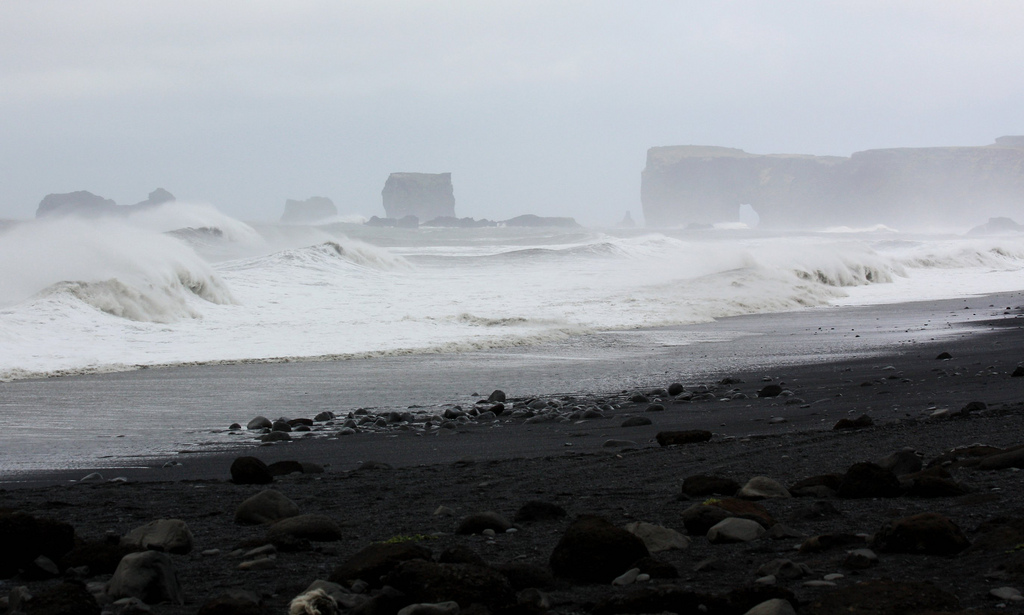 waves on black sand beach in Iceland
The black sand beach in Iceland is one of the most popular tourist destinations in the country. The beach, called Reynisfjara, is located in the south coast of Iceland about 10 km from the town of Vik. Reynisfjara features a beautiful cliff of regular basalt columns resembling a rocky step pyramid. The area also has amazing birdlife, including guillemots, fulmars and puffins; perfect for those who want to spot a little of the local wildlife. 
How was Reynisfjara Formed? 
According to folklore, two trolls attempted to drag a ship to land but were turned to stone as daylight broke, turning them into the Reynisdrangar stacks - the ominous basalt sea stacks that rise from the ocean. Despite the natural beauty, Reynisfjara can be dangerous. The water is very cold and the rip currents are very strong. 
HOW FAR IS REYNISFJARA FROM REYKJAVIK?
If you're planning a day trip from Reykjavik, then Reynisfjara Beach can easily be incorporated into your trip as it's located just 180 km from Reykjavík on the South coast. This will take you around three hours to drive one-way to the beach, but there are plenty of places to stop off on the way. 

From Reykjavík you could stop at the Reykjadalur Hot Springs thermal river for a (free!) hot soak in the natural hot springs. The iconic Skógafoss waterfall is nearby, too, as is the little town of Vik (10km from the beach), Kirkjubæjarklaustur (78 km). Seljalandsfoss Waterfall is to the south of Reynisfjara (61 km). 
If you are travelling to, or from, the East of Iceland  Skaftafell National Park is 150 km away making it the perfect mid-point for a break in your road trip.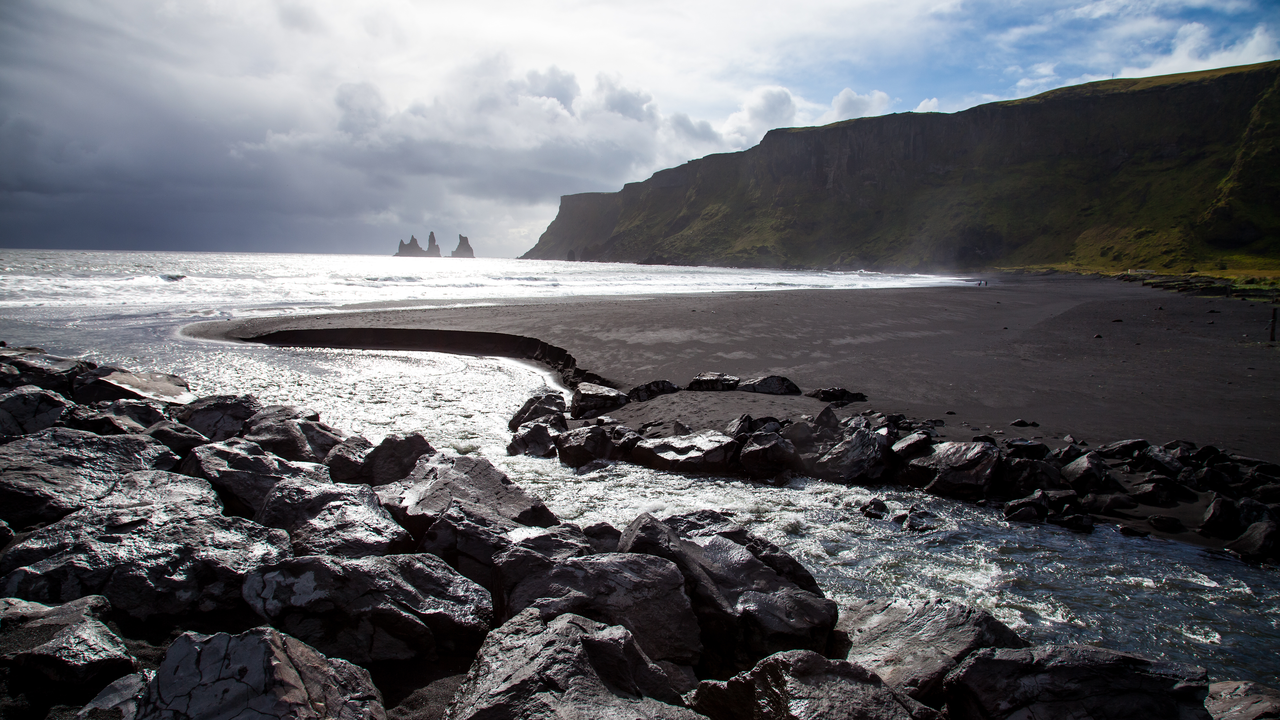 WHY IS REYNISFJARA's SAND BLACK?
Black sand is a result of the volcanic nature of Iceland. The sand at Reynisfjara is black because it originates from incredibly eroded volcanic rocks, such as basalt, which is also black. Black extrusive igneous rocks are formed from lava that has cooled down and turned black in the process as it hardens. 
Don't expect there to be fine black sand when you arrive at Reynisfjara either! The beach contains different sizes of black pebbles and stones, given the shore's origins as volcanic rocks such as gabbro, olivine, rhyolite and tholeiite. 
HOW TO BE SAFE IN REYNISFJARA
The waves on beaches in South Iceland can be incredibly dangerous. There have been plenty of unfortunate, fatal accidents where tourists have been sucked into the sea by sneaker waves. 
We completely understand that tourists want to capture as many memories as possible of Iceland's beautiful landscape. With that in mind, follow the below tips to be safe in Reynisfjara:
Do not walk too close to the waves 

Do not swim in the waves

Do not turn your back to the sea or the waves

Do not let children wander the beach unsupervised

Do not be tempted to do any of the above just because the waves appear peaceful, it only takes 1 second for a sneaker wave to capture someone
WHERE ARE THE OTHER BLACK SAND BEACHES IN ICELAND? 
Reynisfjara is the most popular black beach in Iceland. However, there are lots of other black sand beaches in Iceland that you could also visit on your trip here too:
HOW LONG DOES IT TAKE TO VISIT REYNISFJARA?
We would recommend giving yourself an hour minimum to visit Reynisfjara to appreciate it in all its glory. This will give you enough time to walk along the beach (not too closely), check out the caves and the beautiful rock formations. 
On the other hand, if you are on a tight schedule, you could easily visit Reynisfjara in half an hour. This would give you enough time to have a brief walk along the beach and take photographs.
Reynisfjara is the most beautiful black sand beaches that Iceland has to offer. Yes, it can be dangerous. But as long as you follow the rules and recommendations of Icelandic authorities and this blog, you won't regret visiting one of the most memorable landscapes during your trip. 
Whether you are planning a camping trip or one of sightseeing and luxury, we have the perfect rental car for all your excursions in Iceland.